This DIY Kids handprint ornaments is super easy to make and makes an awesome keepsake Christmas ornament that you can keep for years to come to remember the kids being small. This Handprint Snowman Ornament is a simple homemade Christmas ornament to make with the kids!
Handprint Snowman Ornament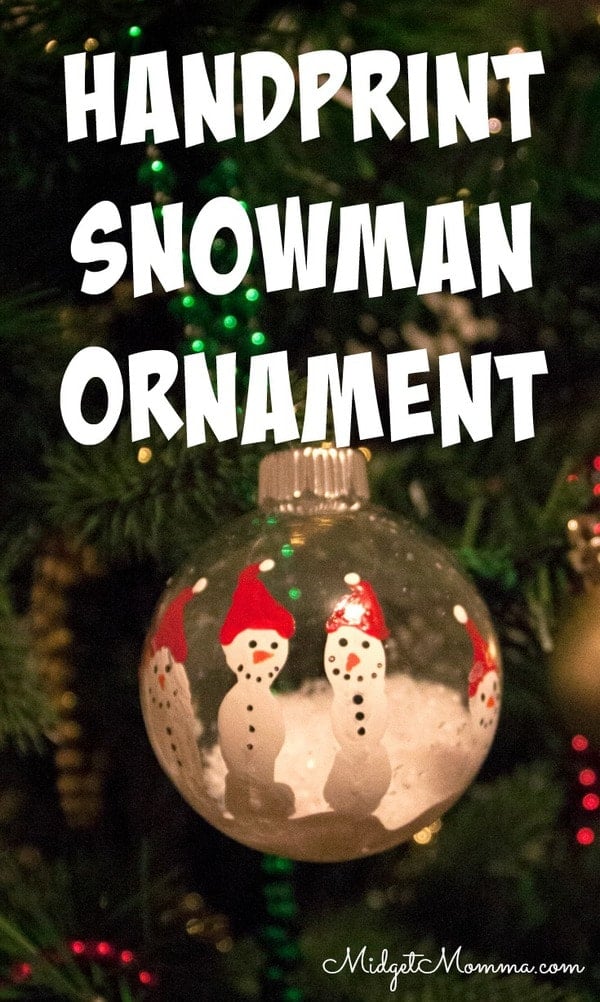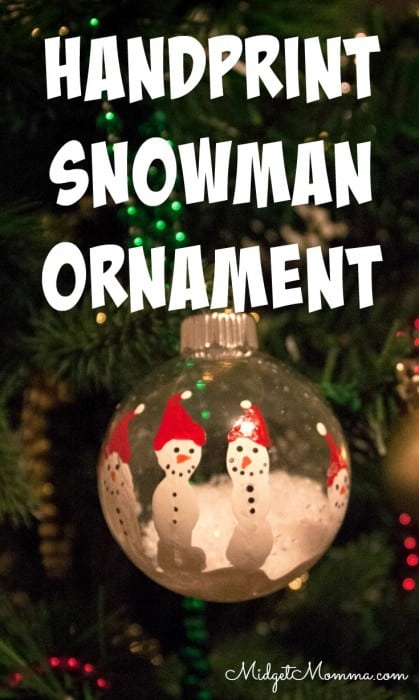 Snowman Keepsake Ornament
Every holiday I always try to come up with some way of capturing my children's handprints in a special way and this year I came up with this Handprint Snowman Ornament. A lot of the times I do some sort of canvas art but I'm starting to run out of room on my walls. This ornament is a great keepsake that will not take up a lot of space.
Looking for Christmas Handprint Ideas? Check these out!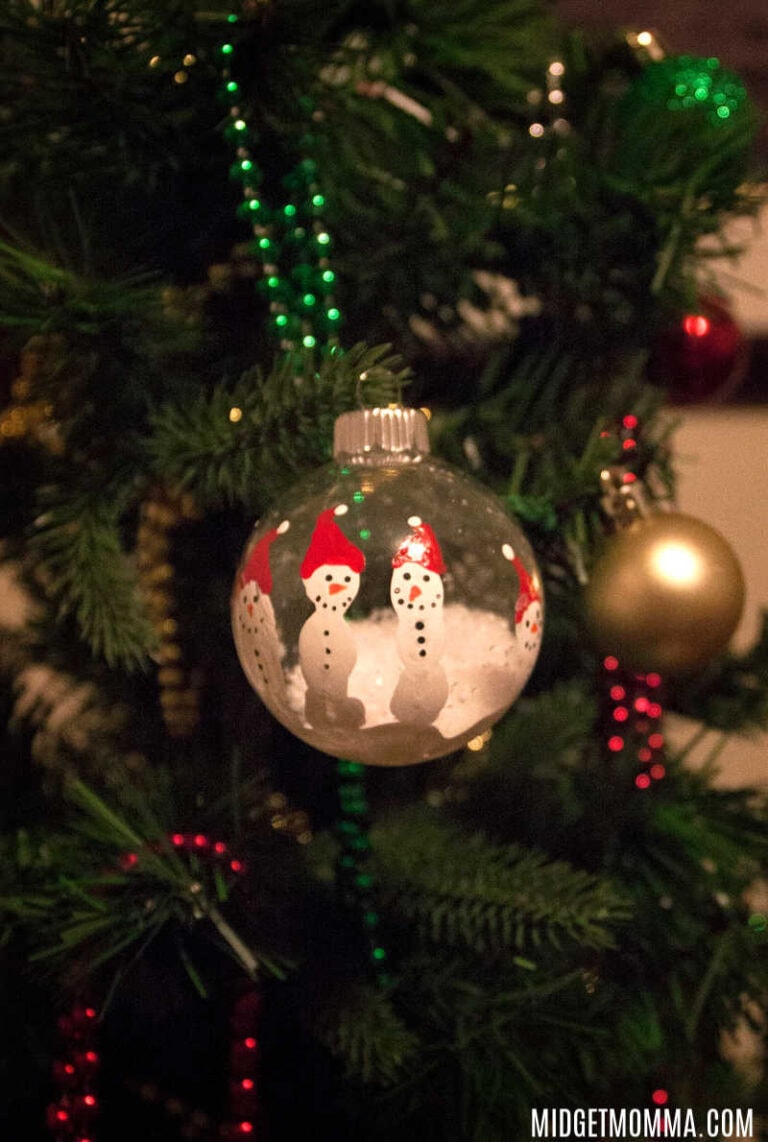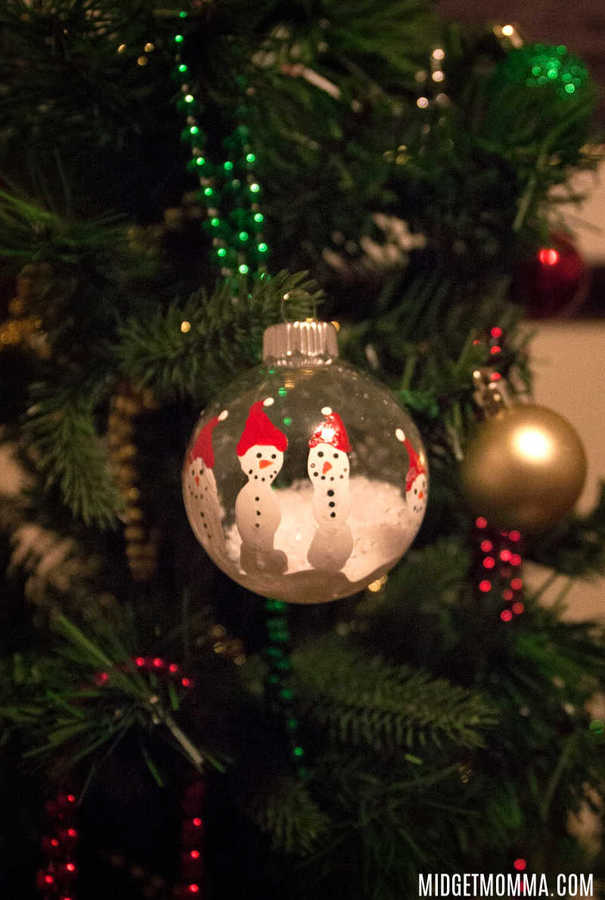 Air Dry Clay Christmas Ornaments
I have done ornaments that use salt dough but I found out the hard way that if the seal doesn't dry out long enough in the oven they will eventually mold. I have since switched to only using air dry clay because they will hold up and they will last and I do not have to worry about having a broken heart because a DIY ornament we made has to be thrown out.
Looking for more Christmas Crafts? Check these out!
Tips for making Air Dry Clay Christmas ornaments
If you're trying to do this with a younger child try to make sure you have someone there to help you open up their hand. This is not the best craft for a baby because the fact they don't like to have their hands open.
I was able to find the fake snow for this Handprint Snowman Ornament craft at my local craft store they also have it on Amazon. You can also snag the clear ornaments cheap on amazon.
Looking for more DIY Keepsake ornaments? Check these out!
Check out 16 Christmas Crafts for Kids to find even more Christmas Crafts to do wit the kids!
Handprint Snowman Ornament Supplies
Glass or plastic clear ornament
White, red, black and orange Acrylic paint
Thin Paintbrushes
Foam brush
Fake snow
Handprint Snowman Ornament Directions
Paint your child's hand white making sure you cover their whole underside of their hand.
Have them open their hand and place the ornament in their hand. Have them slowly wrap their fingers around the ornament, making sure to press down on each of their fingers.
Next have the kids remove their hand and wash it clean. Let the paint completely dry.
Using your thin brush paint on two small dots for the eyes and small dots in the shape of a smile on the top portion of each snowman finger. In the middle portion of the fingerprint at three small dots for the buttons.
With your orange paint, paint a small carrot for its nose.
With your red paint paint on a scarf and a hat to keep your snowman warm. On the top of the hat and a small white dot.
Let the Handprint Snowman Ornament dry for 24 hours.
Have fun making this Handprint Snowman Ornament with the kids, these are also a great gift idea for the grandparents, we all know grandparents love personalized gifts.
More Christmas Fun for Kids
You can Facetime Santa for a fun Santa Phone Call!
Looking for Christmas Crafts to do with the kids? We have lots of those too! So be sure to check out the Easy Christmas Crafts for Kids, for LOTS of fun Christmas Crafts Ideas to do with the kids.
There are so many tasty christmas treats that the kids will love and they are all perfect for any kids Christmas parties that you might have. Some of our favorite Christmas treats are Santa Hat Cupcakes and Whoville Cookies ! But you can check out the full list of Kid Friendly Christmas Treats and pick out your favorites to make with the kids!
If you are looking for cookie recipes we have you covered there too! Check out our Beautiful Christmas Sugar Cookies, and Christmas Tree Desserts Recipes!
Does Elf on the Shelf come to visit your house? If so make sure you check out these awesome Elf on the Shelf Ideas!
135 Funny Elf on the Shelf Ideas 
Elf on the Shelf Kitchen Ideas
50 Quick Elf on the Shelf Ideas
Elf on the Shelf Ideas from Reader Krystal!
If you are doing Elf on the Shelf, then be sure you also print out the Elf on the Shelf Rules and the Elf on the Shelf Welcome Letter!