I have become addicted to making handprint crafts with the kids, even more so I have fallen in love with making handprint towels with the kids handprints. My newest one is a Reindeer handprint towel and it is oh so cute! If you are looking for an adorable homemade gift with kids handprints or an adorable way to decorate for the holidays you are going to love this Reindeer handprint towel too!
Reindeer Handprint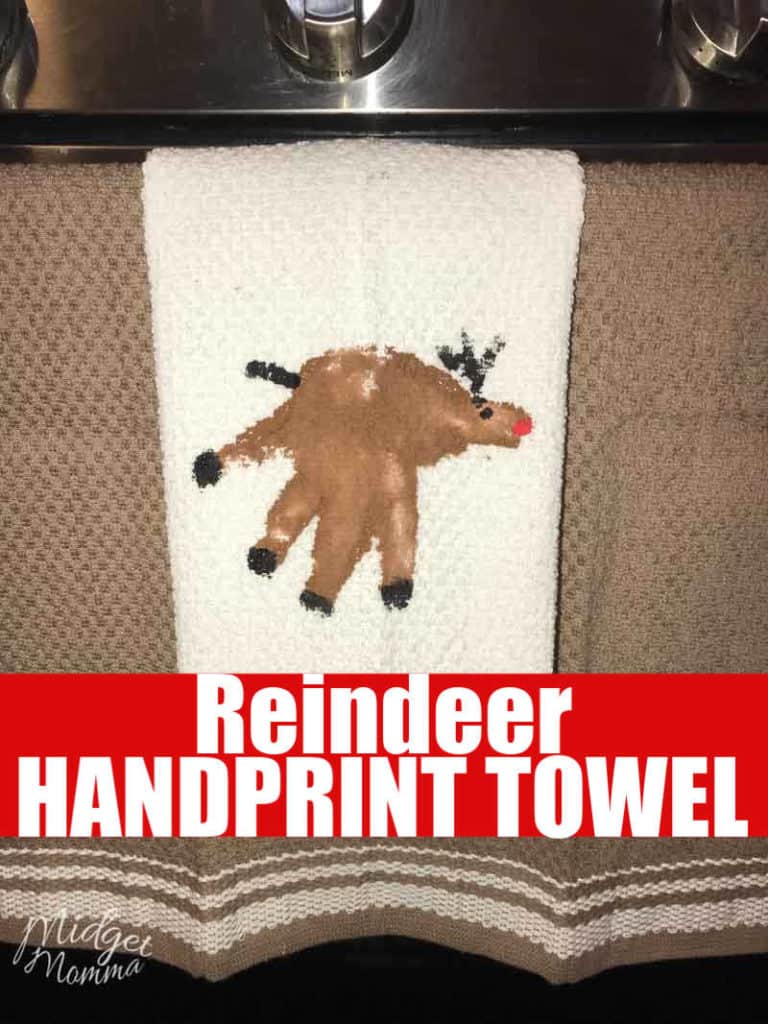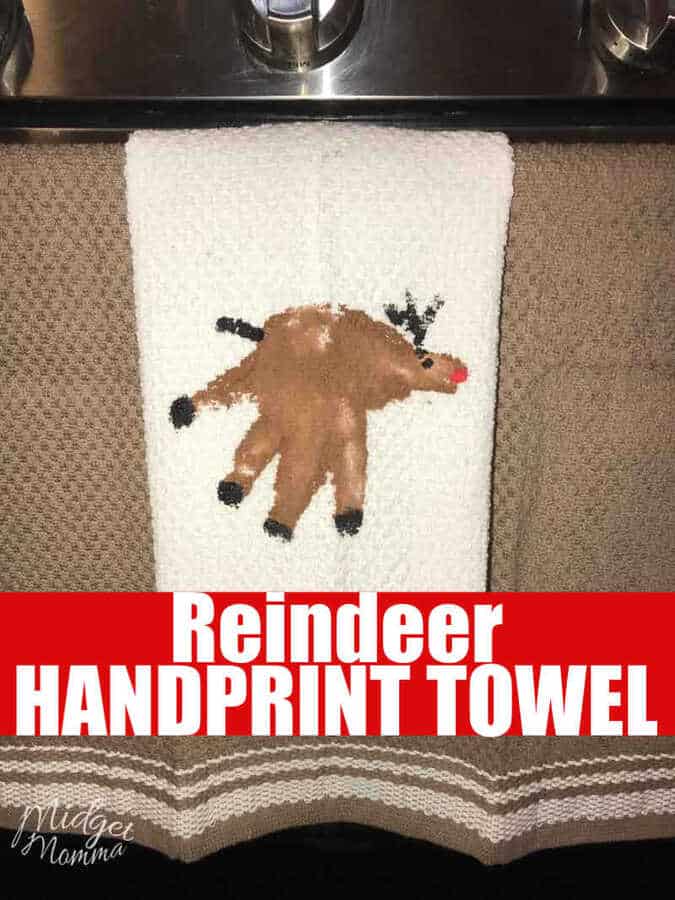 Reindeer Handprint Towel
I have made quite a few different handprint towels recently, so if you love little kids handprints as much as I do, make sure you check out the other ones I have created at the bottom of this post! They are all so adorable, it may end up causing you to spend a full afternoon getting crafty in the kitchen making a big ol mess. That is totally, ok — making messes is one of my specialties, although I am pretty sure I make my husband cringe when he hears the craft cabinet open.
When making these Reindeer handprint towels I highly suggest having a container of baby wipes at the table with you. You are going to get messy kiddos with this fun Christmas craft, but it is totally worth it!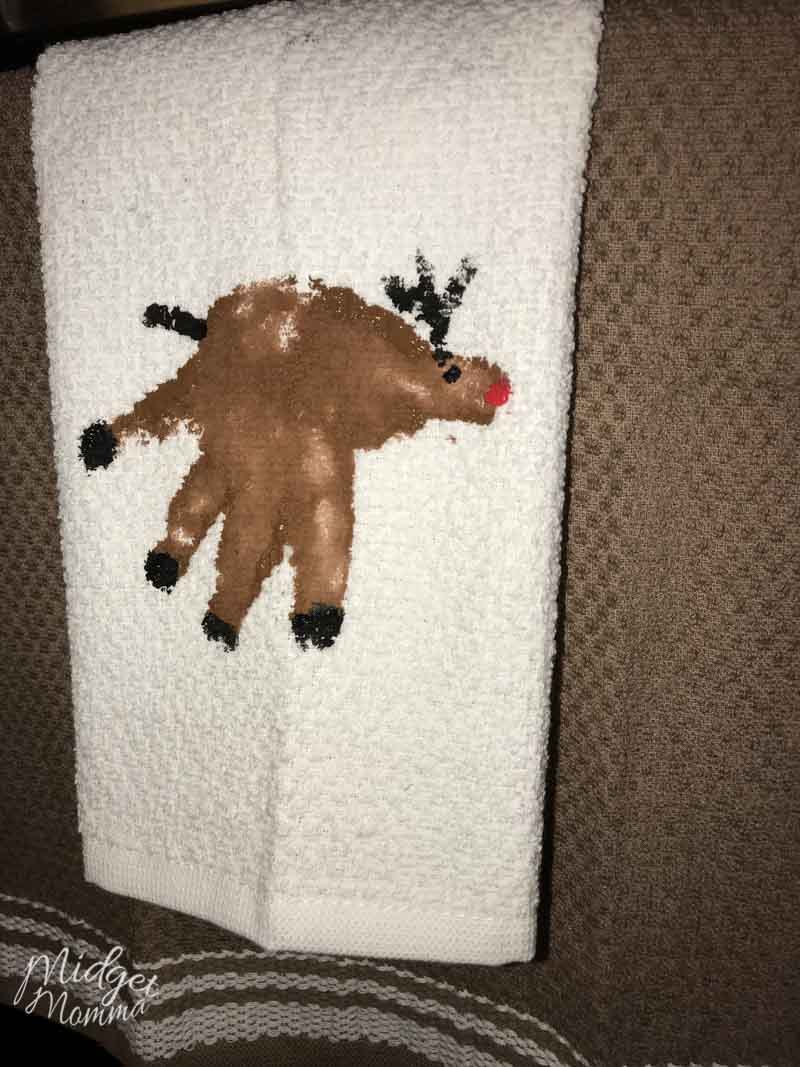 Having baby wipes on hand makes it so you are able to wipe off the paint from their little hands before they leave the table. They won't make them perfectly clean but it will make it so you avoid painted handprints on your wall while they walk to the bathroom to finish cleaning up their hands!
Reindeer Handprint Craft
I am a big fan of Christmas and everything that goes along with it. I love making Christmas cookies, including Christmas Oreos, Grinch Cookies, and homemade sugar cookies along with soo many other different cookies.
I also love making fun Christmas treats for kids like Reindeer Poop Christmas Cookies,  Santa Hat Cupcakes, snowman cookies, Christmas Tree Brownies and Rice Krispie Christmas Trees.
And yes I love getting super crafty and making Christmas handprint art with my kids. Some of our other favorites to make are Snowman Handprint Ornament, Santa Handprint Ornament, Christmas Tree Footprint Ornament with air dry clay, Grinch Handprint Ornament  and the Mistletoe Footprint Canvas!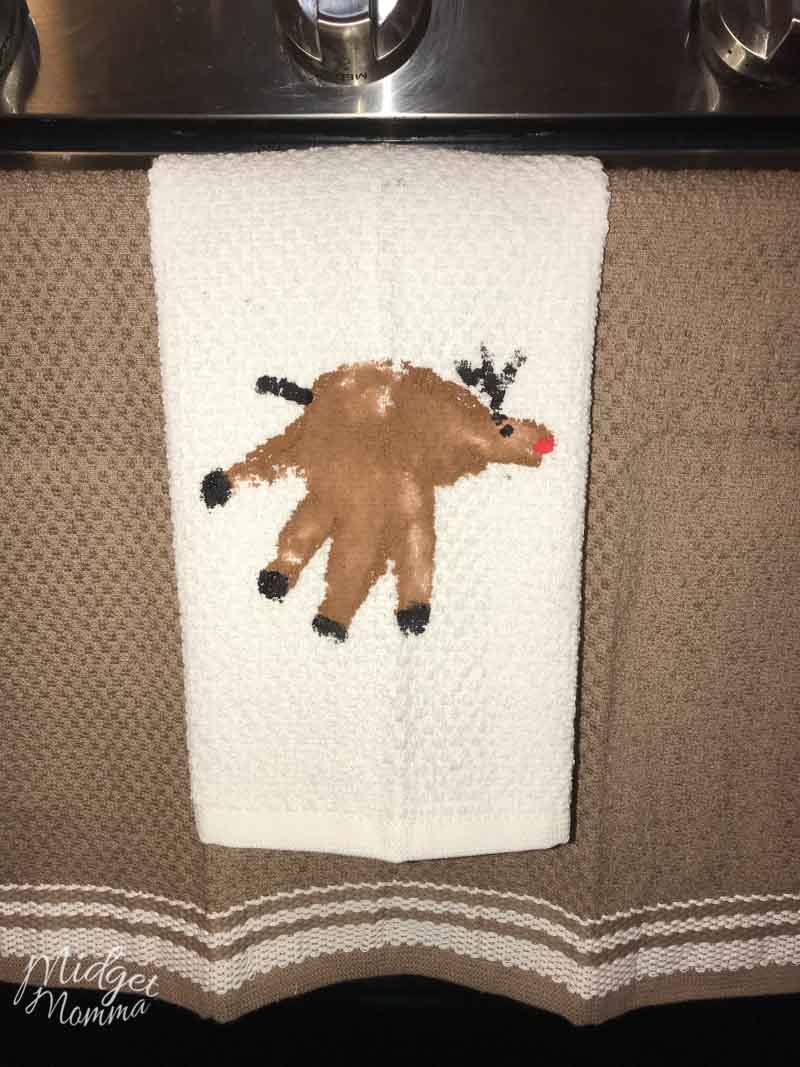 How to Make Reindeer Handprint towels
Reindeer Handprint towels supplies
Teatowel
Black, Red and brown fabric paint – This here is a great NonToxic Fabric paint 
Paper plate
Foam paint brush – You can grab a 25 pack for around here
Reindeer Handprint towel Directions
Take your paper plate and squirt the orange paint on it.
Fold you towel how you want it to be when you hang it on the stove bar, and then turn it upside down. You want the hand prints to be going in the opposite direction of how you want it to hang because it is much easier then turning a kids hand in different directions.
With your foam brush paint your child's hand with the Brown paint except for the tips of their fingers. Use the black paint to paint the tips of all 4 fingers except the thumb with a little bit of black fabric paint.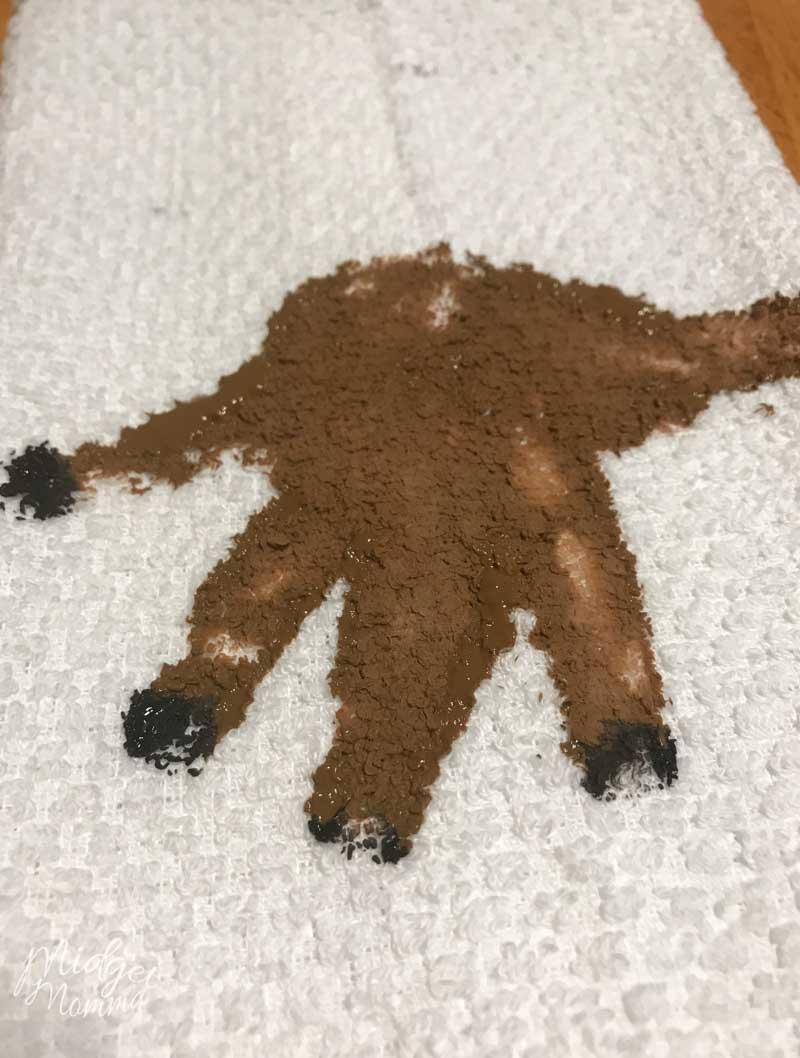 Carefully place child's hand onto the tea towel to make a reindeer. The black is the hooves and the brown is the rest of the body.
Do this for each reindeer you want on the towel. We did 2 reindeer, but depending on the size of your kids hand you will want to put 1-3 handprint reindeer on the towel.
If you want to make the brown paint darker, after your kids have done their handprints you can go over the reindeer handprint with more brown paint.
Using your thin paint brush and black paint a small black dot for the eye, a line on his backside for the tail and the antlers.
Then using a fine point brush pain the red nose on the reindeers face if you want to make him Rudolf. You can also give him a black nose if you are wanting to make a Reindeer friend instead of Rudolf.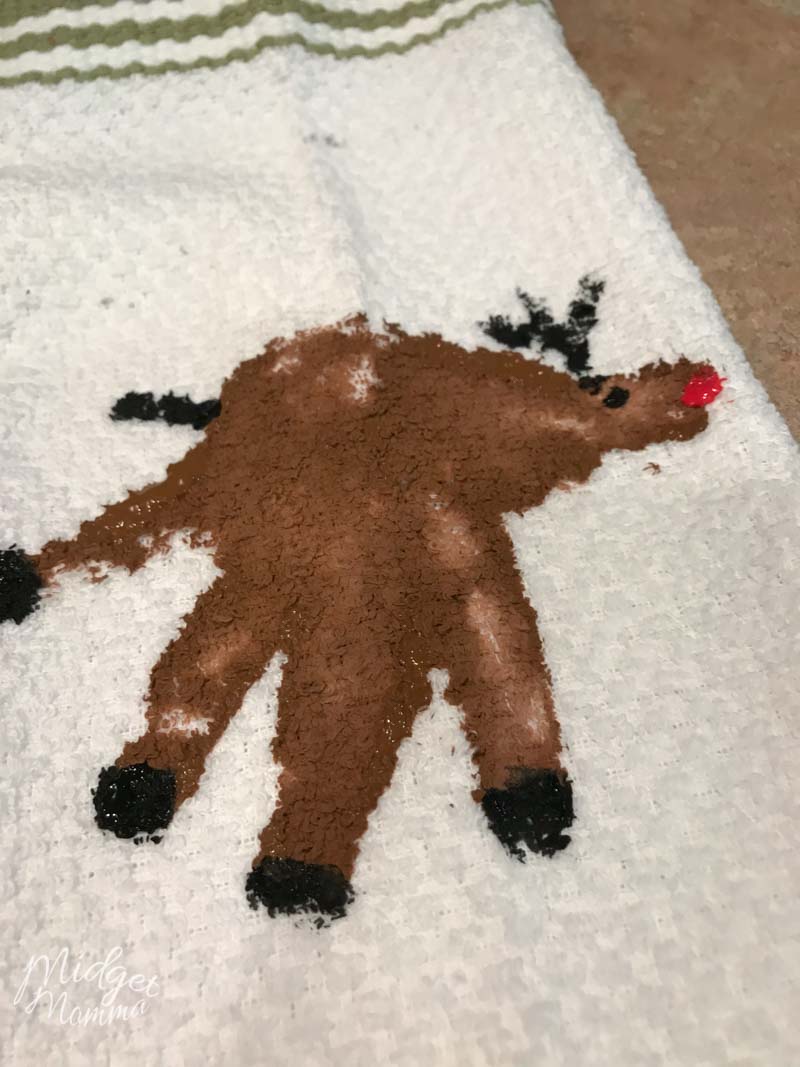 If you want to add the date to the bottom of the towel, use the thin black paint brush to put the date on the bottom.
Allow the paint to completely dry before use.
Follow the directions on your fabric paint when washing your towels.
Check out these other great Handprint Towel Ideas!
Christmas Tree Handprint towel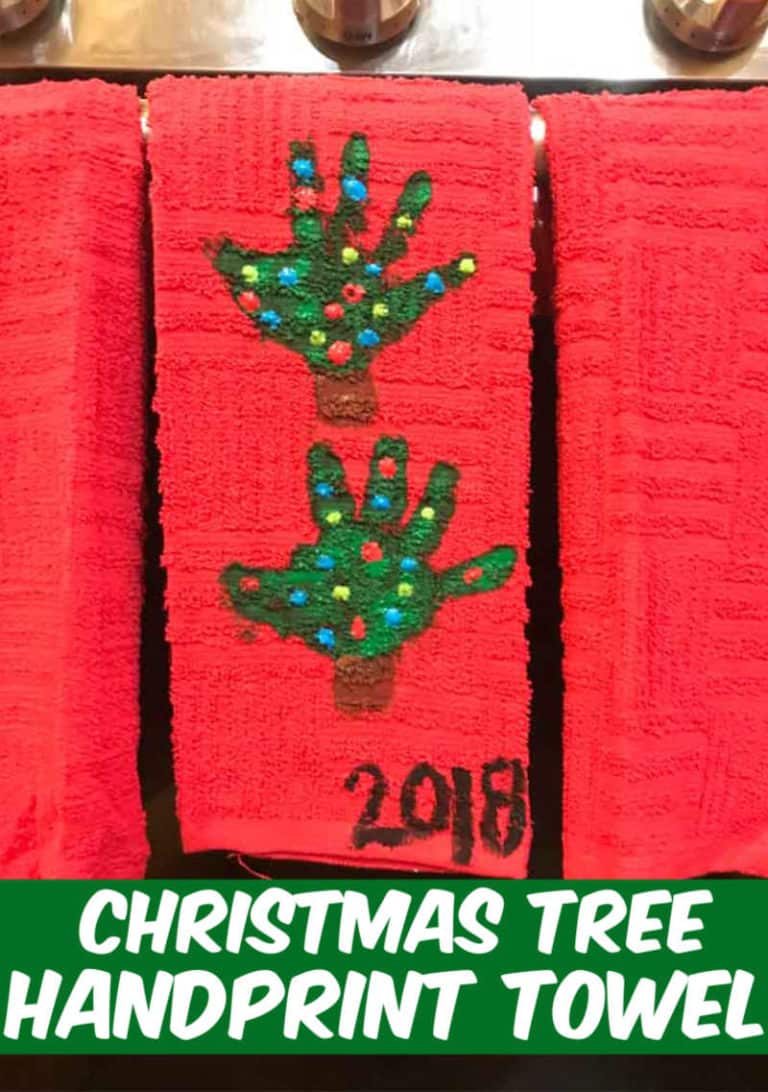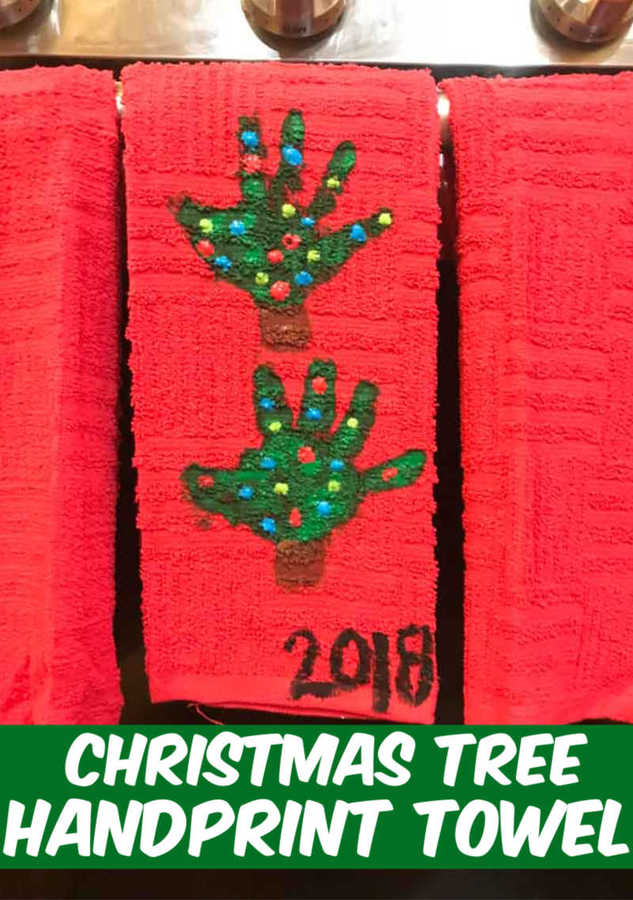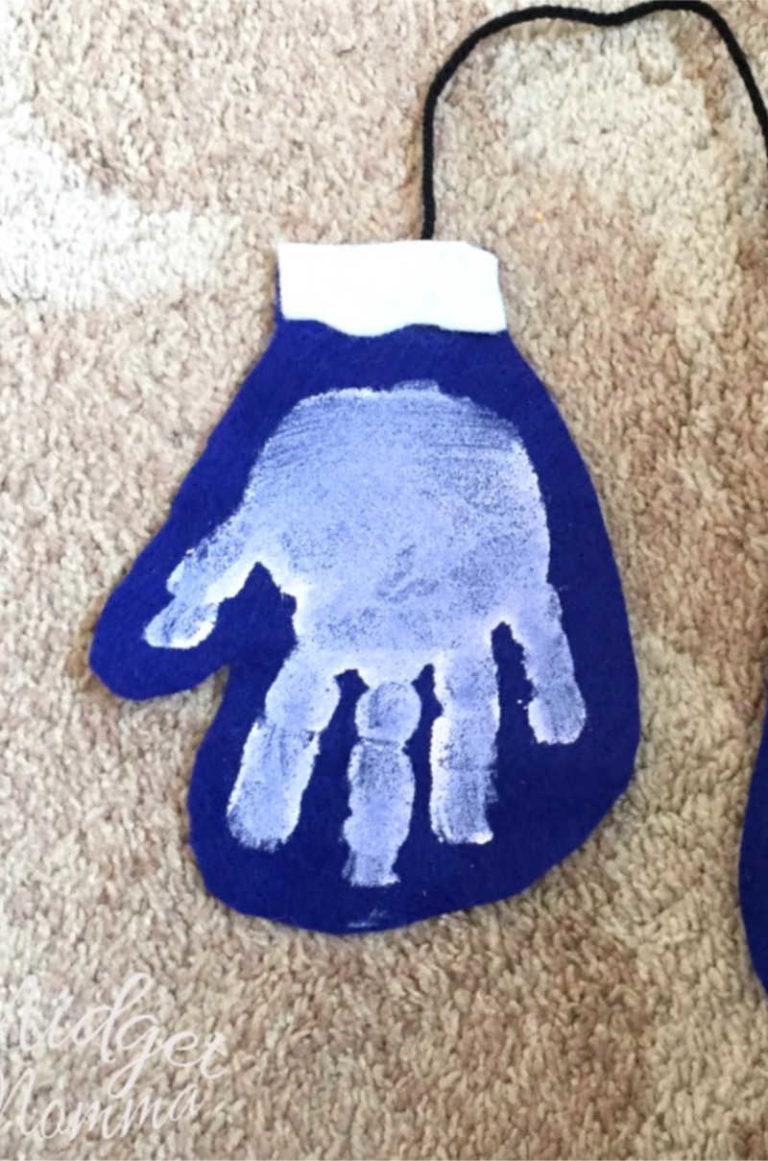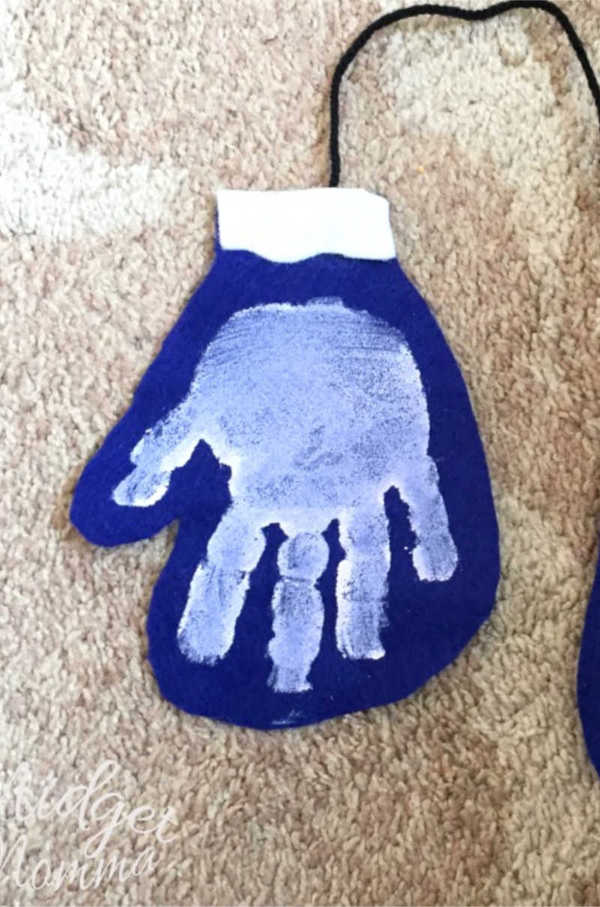 Paper Reindeer craft with printable template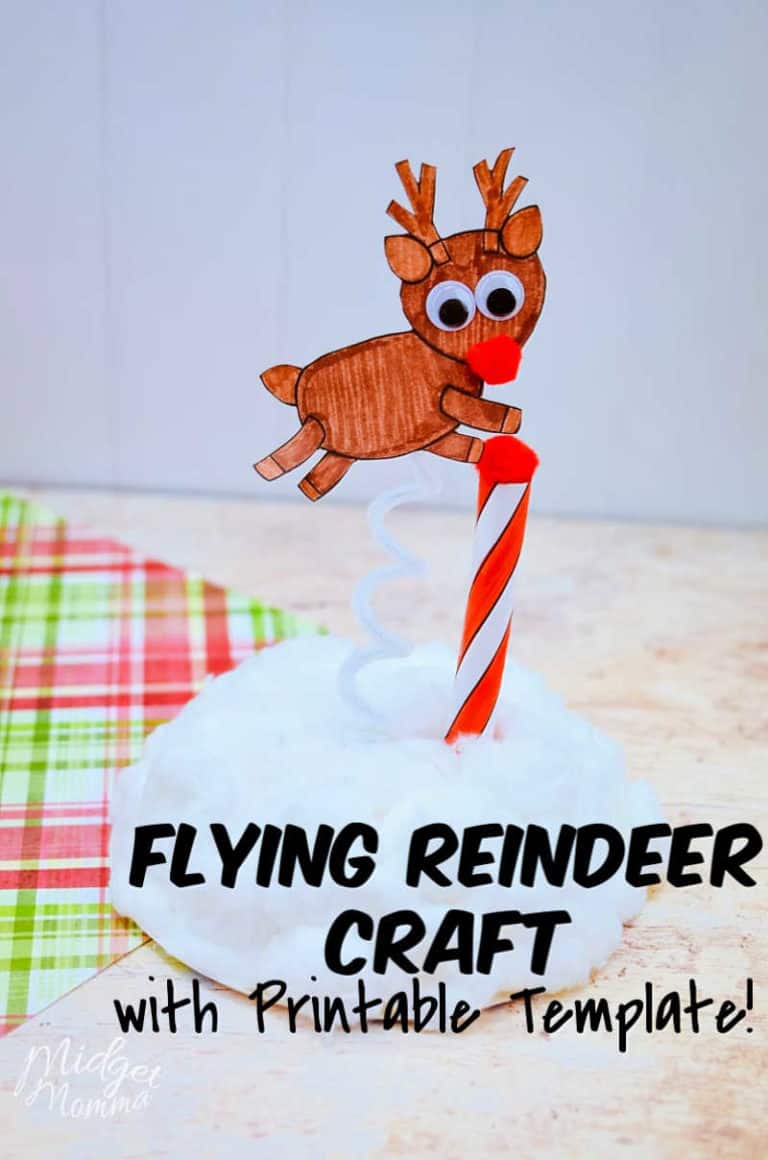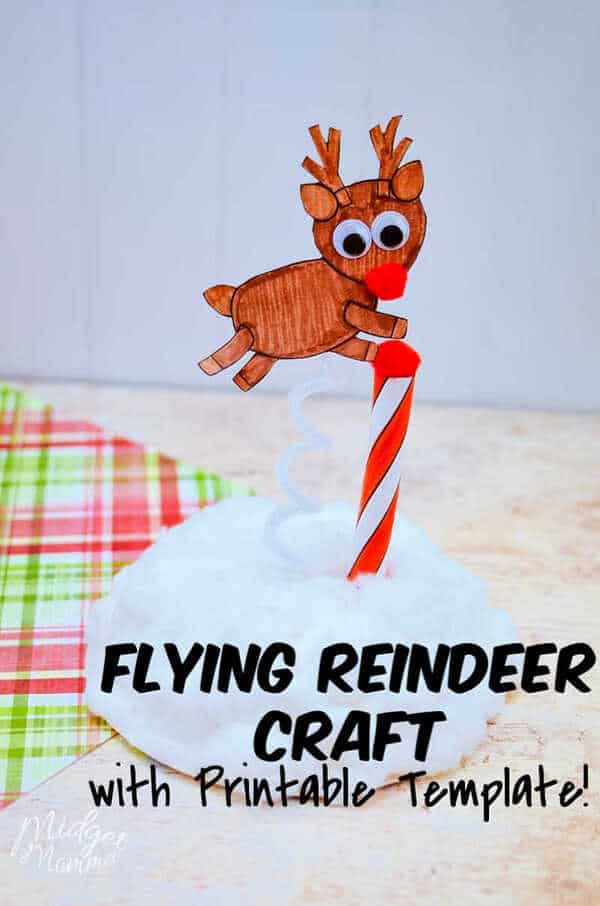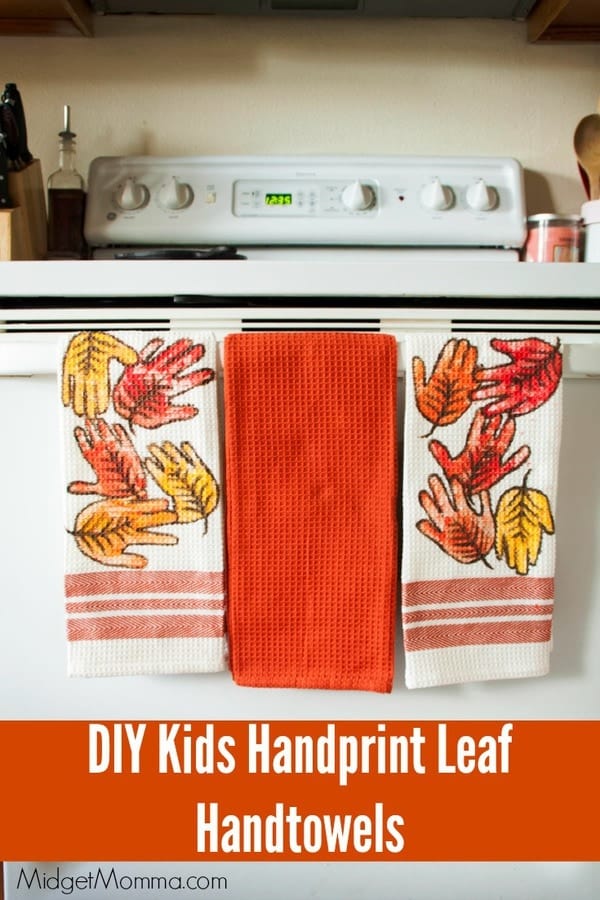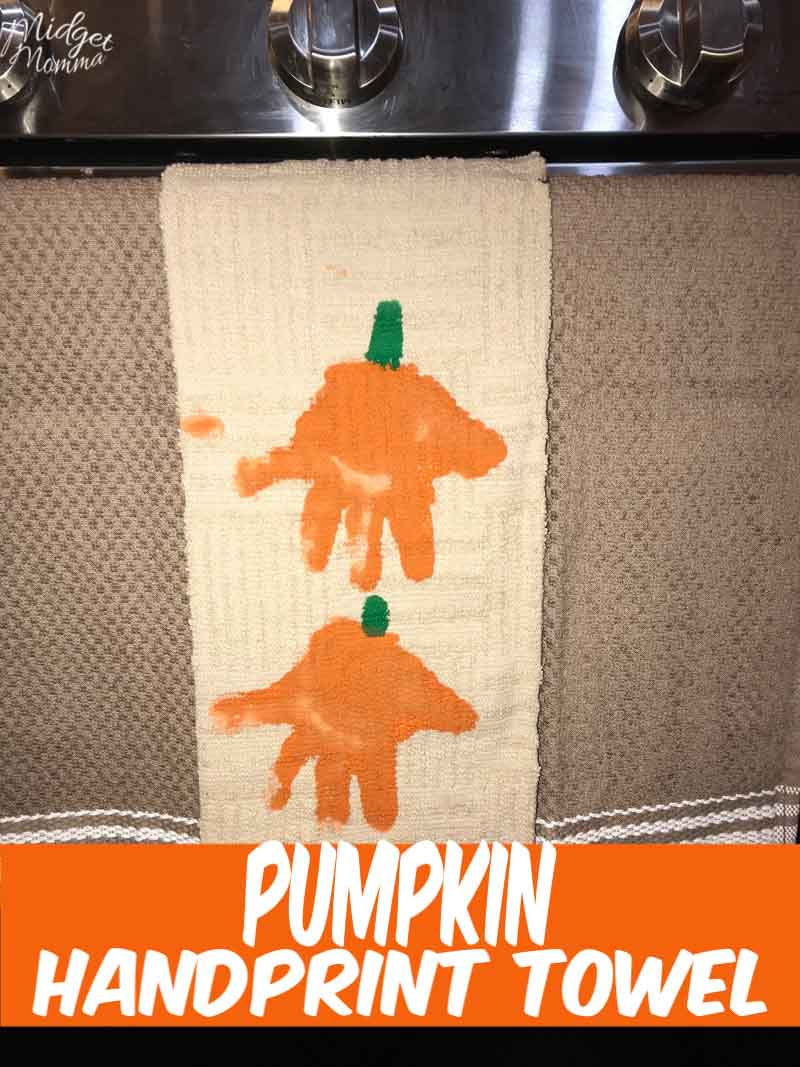 More Reindeer fun for Christmas that you will love!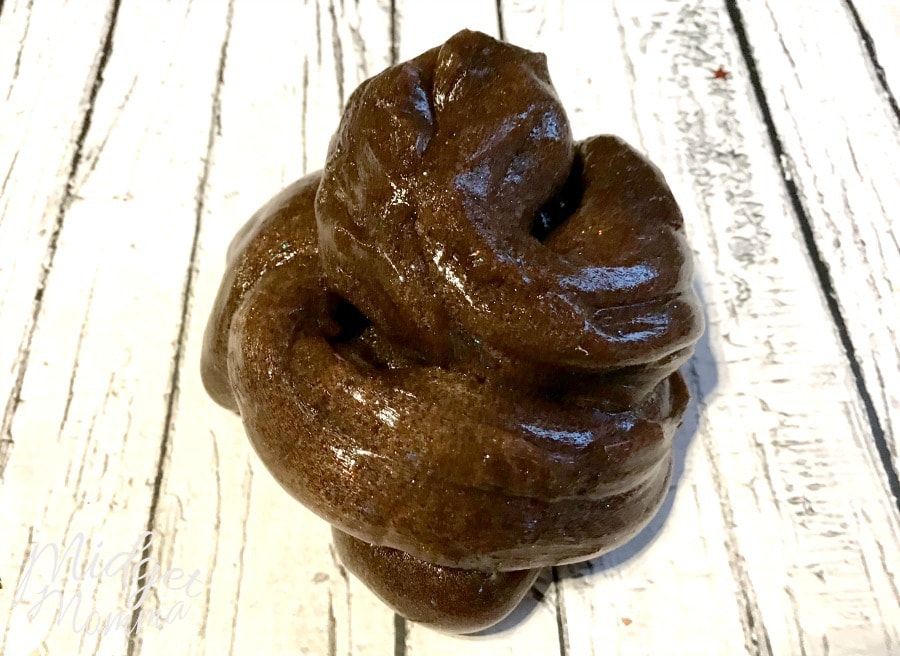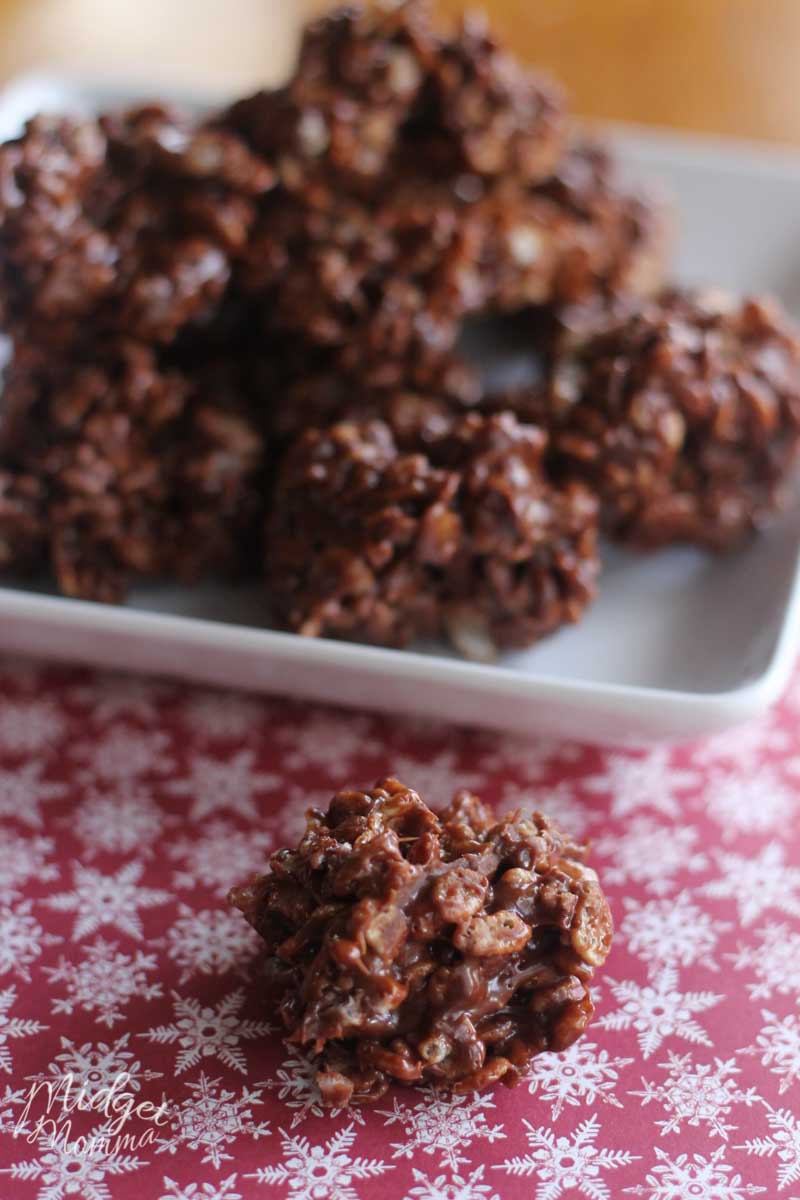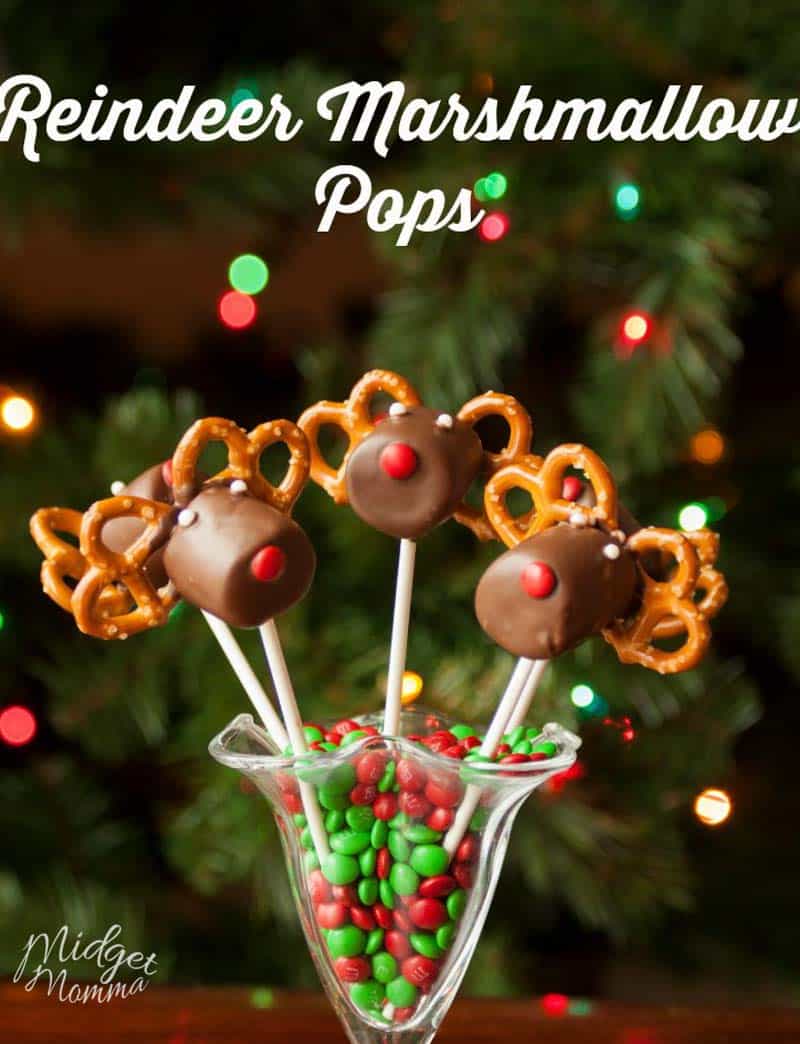 More Holiday fun to check out!
Elf on the Shelf Letter – Perfect Elf on the shelf printable letter that you can print out and have your elf on the shelf bring with him or her when he comes to visit! Plus this Elf on the Shelf Rules printable is awesome to print out and hang on the wall for the kids!
You should also check out these funny elf on the shelf ideas! There are over 135 Elf on the shelf Ideas that kids will love! If you are running short on time, then make sure you check out this list of Quick Elf on the Shelf ideas!
Plus be sure you check out these other fun things to do with your Elf on the Shelf!
Kitchen Elf on the Shelf Ideas
Dollar Store Elf on the Shelf ideas
You can Facetime Santa for a fun Santa Phone Call! You can also call Santa with Santa's Phone number!
There are so many tasty Christmas treats that the kids will love and they are all perfect for any kids Christmas parties that you might have. Some of our favorite Christmas treats are Santa Hat Cupcakes and Whoville Cookies!
But you can check out the full list of Christmas Treats for kids and pick out your favorites to make with the kids!
If you are looking for cookie recipes we have you covered there too! Check out our Beautiful Christmas Sugar Cookies, and Christmas Tree Desserts Recipes!
If you are looking for super fun Christmas Crafts we have more of those too! 
Christmas Tree Handprint towel
If you are stuck on what to get gift wise make sure you check out our Gift Guides! 
Christmas Gifts for Girls (Ages 6-9)
Christmas gift ideas for teenage Girls
Join the newsletter
Subscribe to get our latest recipes right in your inbox every time we post a new one!