I can not lie, I have this thing about cute treats for the holidays and making treats that look like well known holiday symbols. They are so much fun, the kids love them, they look cute, taste good and are all in all just plain ol fun to make and eat! This goes for these Chocolate Dipped Snowman Nutterbutter Cookies as well. You can add them to any holiday cookie basket or have the kids decorate them and they are perfect for the holidays!
You will need royal icing for making these, use this easy royal icing recipe for the best ever royal icing. Plus when melting your chocolate follow these How to Melt Chocolate in a Double Boiler directions to do it easily.
If you are looking for other AWESOME Holiday treats make sure you check out our list of 18 AWESOME Christmas treats for kids! Some of our favorites are Christmas Tree Brownies, Santa Hat Cupcakes, Reindeer Poop Christmas Cookies and Rice Krispie Christmas Trees !
Chocolate Dipped Snowman Nutterbutter Cookies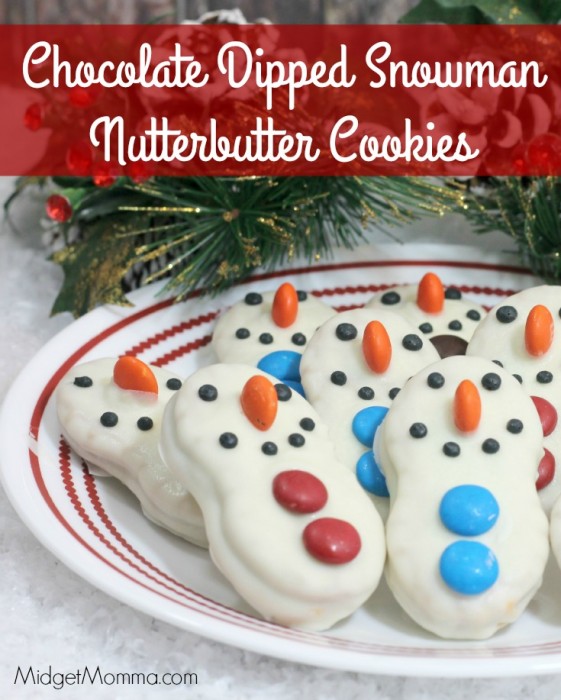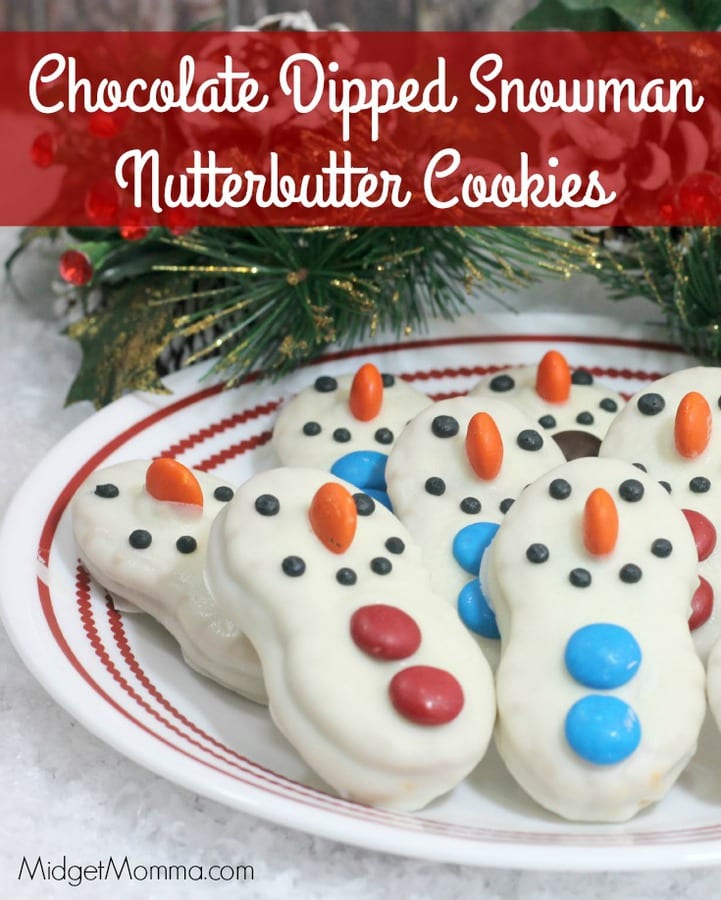 Chocolate Dipped Snowman Nutterbutter Cookies Ingredients:
1 package  Nutter Butter Cookies
1 package of Ghirardelli White Chocolate Wafers
Variety of  colors M & M candies
Royal Icing
Chocolate Dipped Snowman Nutterbutter Cookies Directions:
Line a cookie with wax paper.
Using a double boiler melt the white chocolate wafers.
Dip each Nutter Butter cookies entirely into the melted  white chocolate.
Make sure that the cookie is fully covered with the melted white chocolate.
Remove the cookie from the melted chocolate then using a fork .
 Lay the white chocolate covered cookie on the wax paper to dry.
Now for decorating them it is easy, Refer to the picture of the cookie to decorate them. Place two  matching colored M & M"s on the lower half of the cookie. Stand one orange M & M on it's side directly below the candy eyes and place it as the nose. Allow to dry completely.
Mix your royal icing and then scoop all of the black icing and put it into a piping bag with #2 tip. Using the black icing and make two black dots for the eyes in the middle of the top half of the Nutter Butter cookie. Using the same black icing make a smile with four smaller black dots under the nose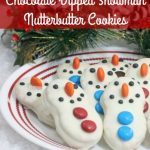 Chocolate Dipped Snowman Nutterbutter Cookies
Pin Recipe
Print Recipe
Ingredients
1

package Nutter Butter Cookies

1

package of Ghirardelli White Chocolate Wafers

Variety of colors M & M candies

Royal Icing
Instructions
Line a cookie with wax paper.

Using a double boiler melt the white chocolate wafers.

Dip each Nutter Butter cookies entirely into the melted white chocolate.

Make sure that the cookie is fully covered with the melted white chocolate.

Remove the cookie from the melted chocolate then using a fork .

Lay the white chocolate covered cookie on the wax paper to dry.

Now for decorating them it is easy, Refer to the picture of the cookie to decorate them. Place two matching colored M & M"s on the lower half of the cookie. Stand one orange M & M on it's side directly below the candy eyes and place it as the nose. Allow to dry completely.

Mix your royal icing and then scoop all of the black icing and put it into a piping bag with #2 tip. Using the black icing and make two black dots for the eyes in the middle of the top half of the Nutter Butter cookie. Using the same black icing make a smile with four smaller black dots under the nose