Doing crafts with my kids is one of my favorite things! With Christmas coming I am in planning mode for Christmas crafts to make with them. The only issue I have is that I am starting to make crafts now because I can not wait. I just can not help it, I love Christmas! This Flying Paper Reindeer Crafts with Printable Template, is one that can also be used as a decoration!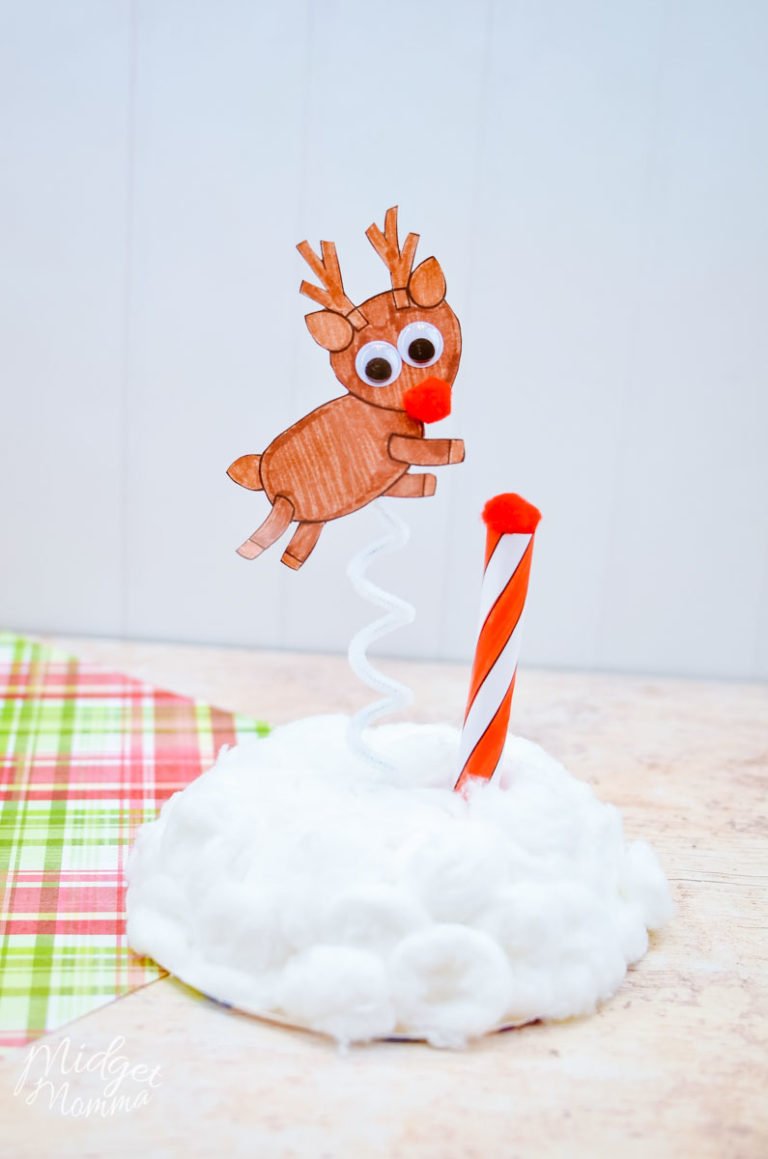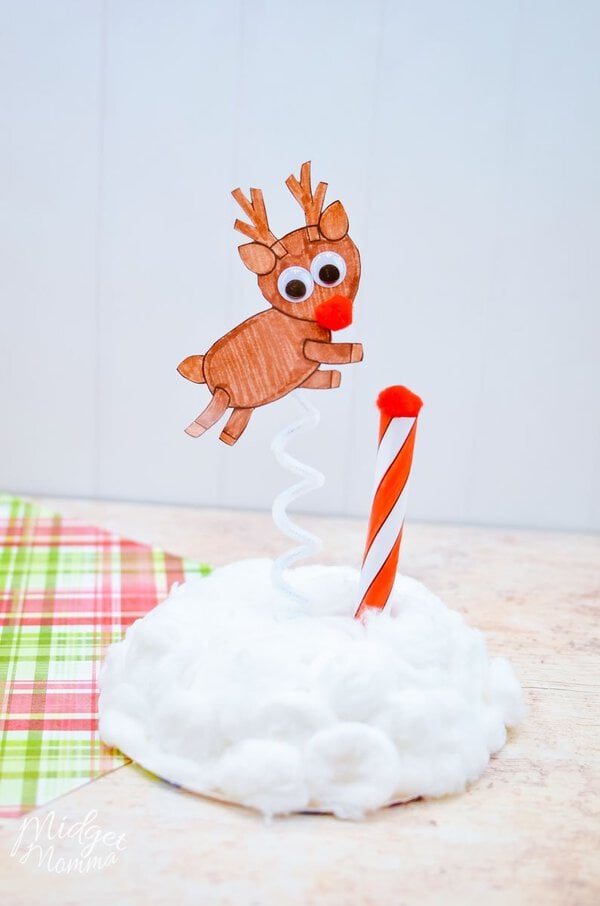 Flying Paper Reindeer Crafts with Printable Template!
You can easily make this reindeer for a group of children or a classroom of children, just make sure you have enough supplies for each child to create the craft.
If you are doing this craft with a large group of younger kids, I would cut all the pieces out ahead of time.
How to Make Flying Paper Reindeer
Before getting started making this paper reindeer craft, watch the video tutorial. It makes it so much easier to understand the process of making this fun reindeer craft.
Flying Paper Reindeer Crafts with Printable Template Supplies
Before getting started be sure you print out the Reindeer and North Pole template be sure to print out as many sheets as your are going to need, ie if you are making 5 then print the sheet 5 times. The supplies listed below are for making 1 reindeer craft, so you will need to get as many supplies for as many as you are making.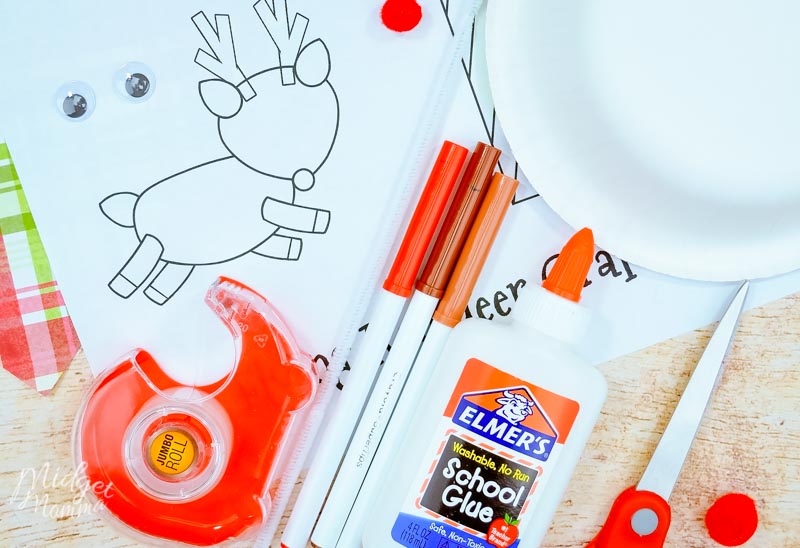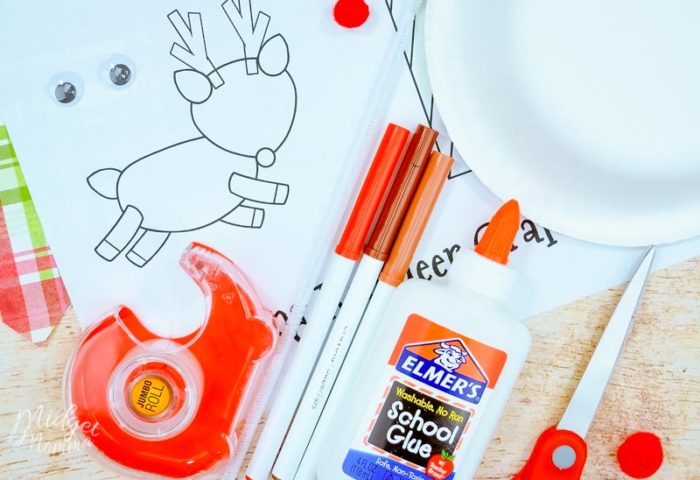 I also found this craft pack on Amazon, that has red and white pipe cleaners and red pom poms that would be great for making this craft!
pipe cleaner – White, green or red.
scissors
scotch tape
small google eyes – Personally I like the self adhesive ones so there is less glue mess.
paper bowl
brown marker
red markers
Flying Paper Reindeer Crafts with Printable Template Directions
To get started making this reindeer craft, you are going to want to get all of your supplies ready. Print the Reindeer and North Pole template, here.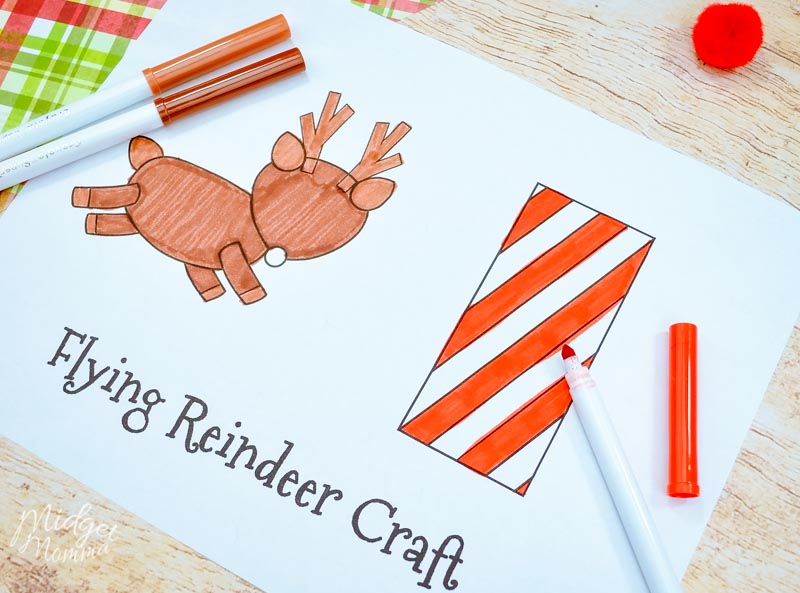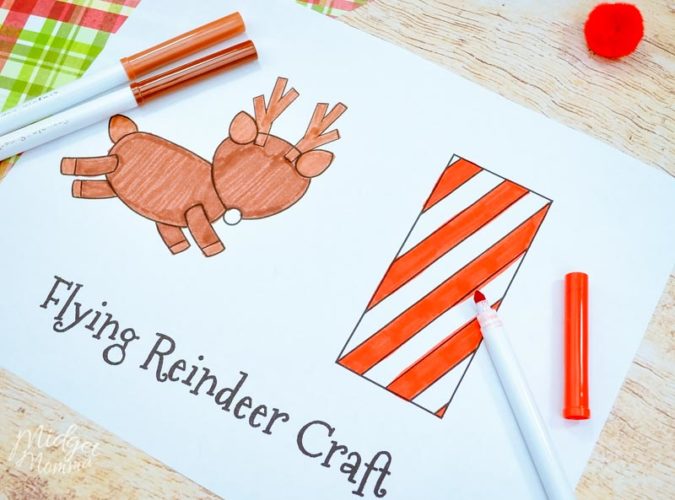 First you are going to color your Reindeer and North Pole using red and brown markers. Have the kids color every other stripe on the North Pole.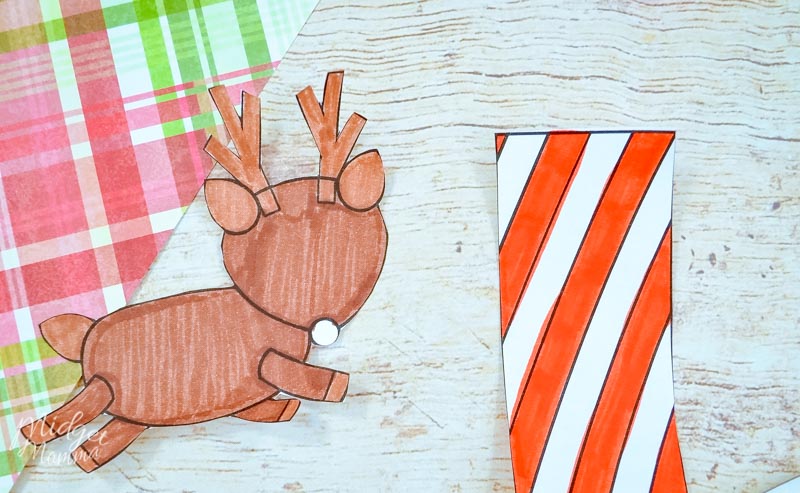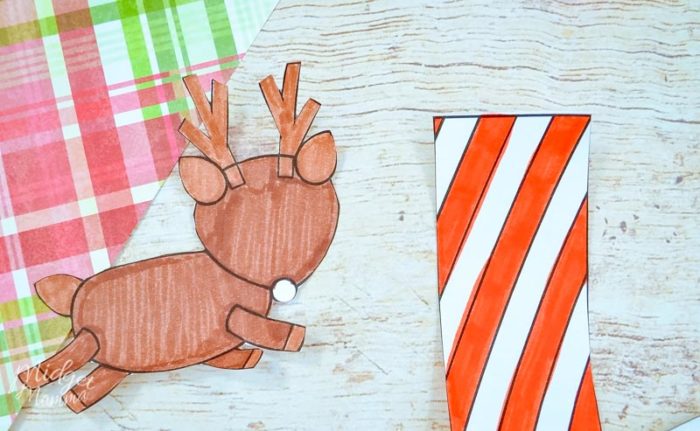 If you are having kids who are older do this craft, have them color and then cut their reindeer and the north pole out. If you have younger kids doing this Christmas craft, I suggest having them color the pieces first and then you cutting them out for them.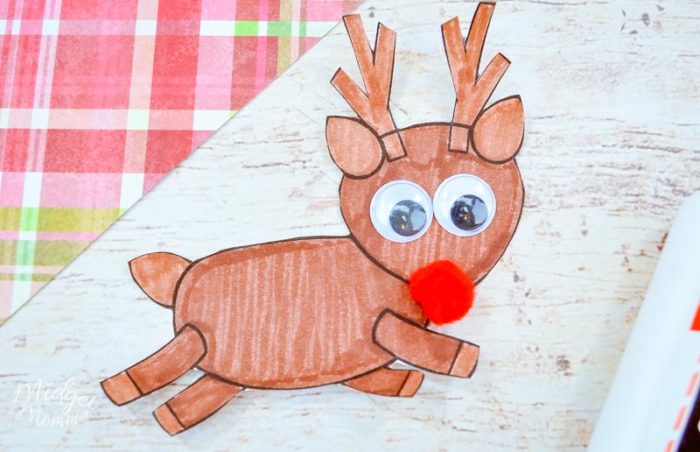 Now it is time to put the reindeer eyes and nose on. If you are using self adhesive google eyes just peel the backing and put them on. If you are using nonadhesive google eyes, put a small drop of glue on the back and place them on the face. Next take the small red pom pom, place a small drop of glue and then place it on the reindeer where a nose would be.
To create the spring, you are going to use a pipe cleaner. You can use, white, green or red and it will match the craft and it will look super cute! Wrap the pipe cleaner around the marker, creating a spring.
Straighten one end of the pipe cleaner and tape it to the back of the reindeer using the scotch tape.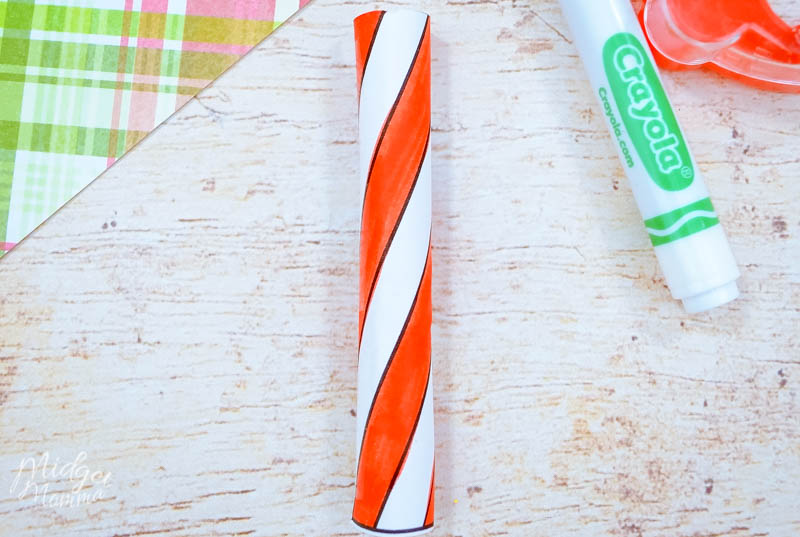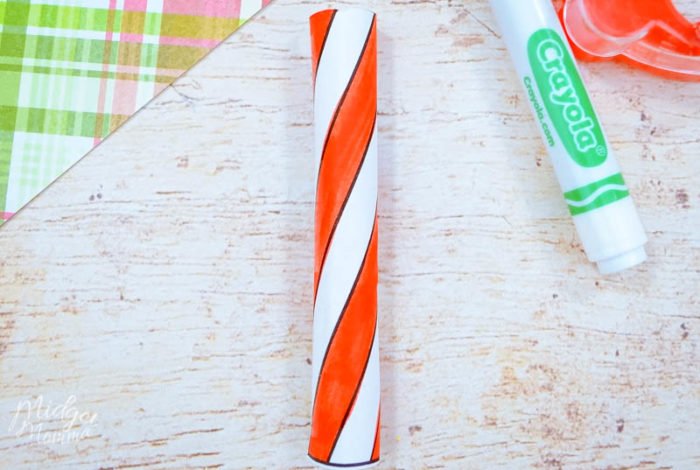 Roll the North pole template into a cylinder shape. I find it easiest to use a marker to do this. Just wrap the paper around the marker, then tape it and slide it off the marker.
Cut 4 slits on one end of the North Pole, bend the pieces outward. Using tape secure them down on the paper bowl.
Using the scissors carefully, poke a hole in the center of the bowl.
Flip the bowl so the bottom is facing up, then put a generous amount of glue around the entire bowl.
Take a cotton ball and stretch and fluff it as much as you can. Then flatten it out a little bit and place it on top of the glue on the paper bowl. Continue adding flattened cotton balls to the bowl until its completely covered. You could also use fluffy cotton, if you do not have cotton balls.
Take your pipe cleaner and the end that does not have the reindeer on it thru the hole you cut out in the bottom of the bowl. You want the reindeer to be sticking out on the side you glued the cotton balls on to. Use the scotch tape to secure the pipe cleaner on the inside of the bowl.
Get your medium sized red pom pom and put a circle of glue on one side. Then place it on top of the North Pole.
Tada! You now have a Flying Reindeer!
More Holiday fun to check out!
You can Facetime Santa for a fun Santa Phone Call!
There are so many tasty Christmas treats that the kids will love and they are all perfect for any kids Christmas parties that you might have. Some of our favorite Christmas treats are Santa Hat Cupcakes and Whoville Cookies !
But you can check out the full list of Kid Friendly Christmas Treats and pick out your favorites to make with the kids!
If you are looking for cookie recipes we have you covered there too! Check out our Beautiful Christmas Sugar Cookies, and Christmas Tree Desserts Recipes!
Elf on the Shelf Letter – Perfect Elf on the shelf printable letter that you can print out and have your elf on the shelf bring with him or her when he comes to visit! Plus this Elf on the Shelf Rules printable is awesome to print out and hang on the wall for the kids!
You should also check out these funny elf on the shelf ideas! There are over 135 Elf on the shelf Ideas that kids will love! If you are running short on time, then make sure you check out this list of Quick Elf on the Shelf ideas!
Plus be sure you check out these other fun things to do with your Elf on the Shelf!
Kitchen Elf on the Shelf Ideas