I have to say I have been slacking on fun crafts for my daughter with all the craziness of getting things ready for the holidays. Thankfully I belong to a really amazing mommy and me group and they put together this really cute craft for the kids this week. It was just such a great craft I had to share it with you guys. If you can't find paper plates that are already green you can go ahead and simply paint your plates green. If you would like you can change up the decorations however you would like. You could use fun stickers or foam shapes as your ornaments. Star stickers can be tricky to find. So if you can't get your hand on any you can cut small stars out of paper and put a small piece of double sided tape on the back to create your own stickers.
Paper Plate Christmas Tree Craft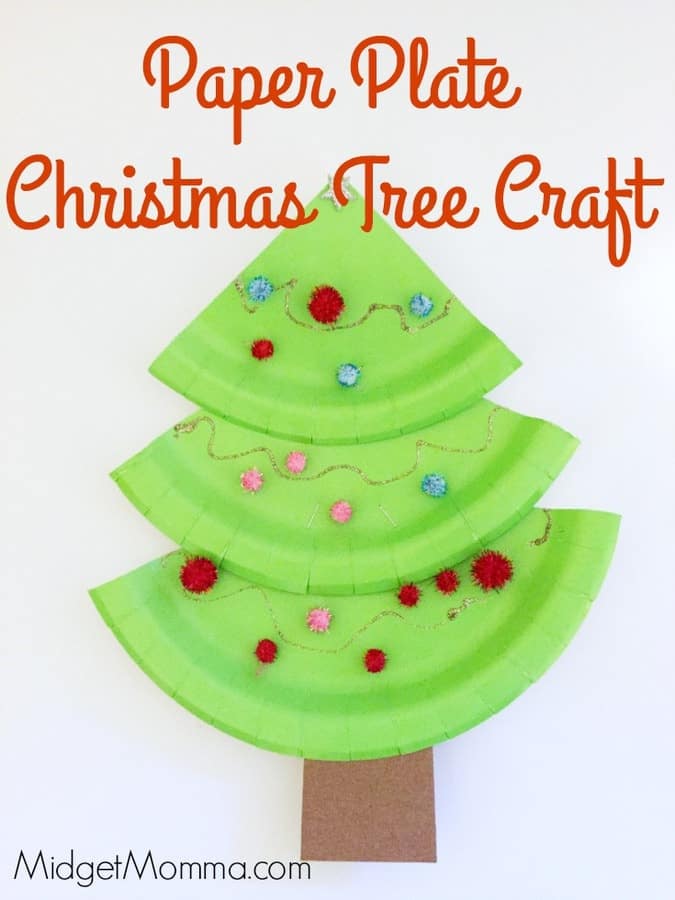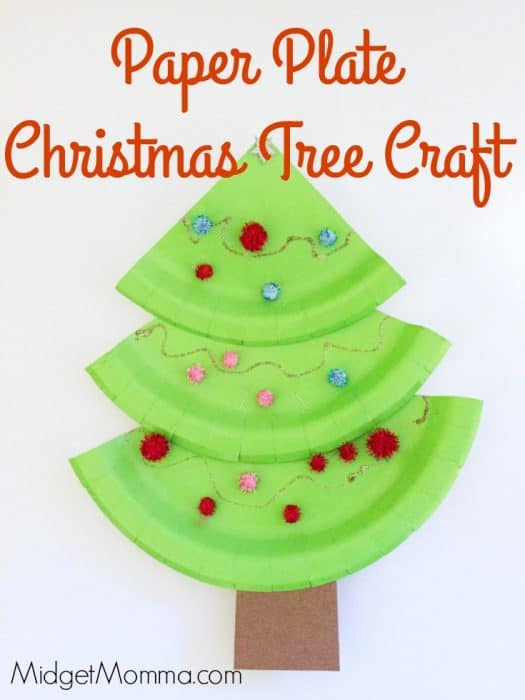 Paper Plate Christmas Tree Craft Supplies
Green paper plates
Stapler
Glitter puffy paint
Small pom poms
Elmer's glue
Star Stickers
Brown construction paper
Paper Plate Christmas Tree Craft Directions
Cut your paper plate into thirds. Take one of the pieces and cut it a bit smaller than the other two. Layer them together with the smallest one on top, staple your plates together. Cut out a rectangle out of the paper and staple it to the bottom of the tree. Let your child add some garland with the puffy paint in a wavy line across each layer. Dab small dots of glue all over the tree. Stick the pom pom on each dot of glue. Let the glue completely dry.
More Christmas Fun for Kids
You can Facetime Santa for a fun Santa Phone Call!
There are so many tasty christmas treats that the kids will love and they are all perfect for any kids Christmas parties that you might have. Some of our favorite Christmas treats are Santa Hat Cupcakes and Whoville Cookies ! But you can check out the full list of Kid Friendly Christmas Treats and pick out your favorites to make with the kids!
Does Elf on the Shelf come to visit your house? If so make sure you check out these awesome Elf on the Shelf Ideas!
If you are doing Elf on the Shelf, then be sure you also print out the Elf on the Shelf Rules and the Elf on the Shelf Welcome Letter!
Looking for Christmas Crafts to do with the kids? We have lots of those too! So be sure to check out the Easy Christmas Crafts for Kids, for LOTS of fun Christmas Crafts Ideas to do with the kids.
If you are looking for cookie recipes we have you covered there too! Check out our Beautiful Christmas Sugar Cookies, and Christmas Tree Desserts Recipes!
Join the newsletter
Subscribe to get our latest recipes right in your inbox every time we post a new one!