Elf on the Shelf planning can take a lot of work. It is a nightly activity that while we love doing it for the kids, is not always something we love getting done. This list of Lazy Elf on the Shelf Ideas is for just those times. The times when you really don't feel like doing it but it has to be done.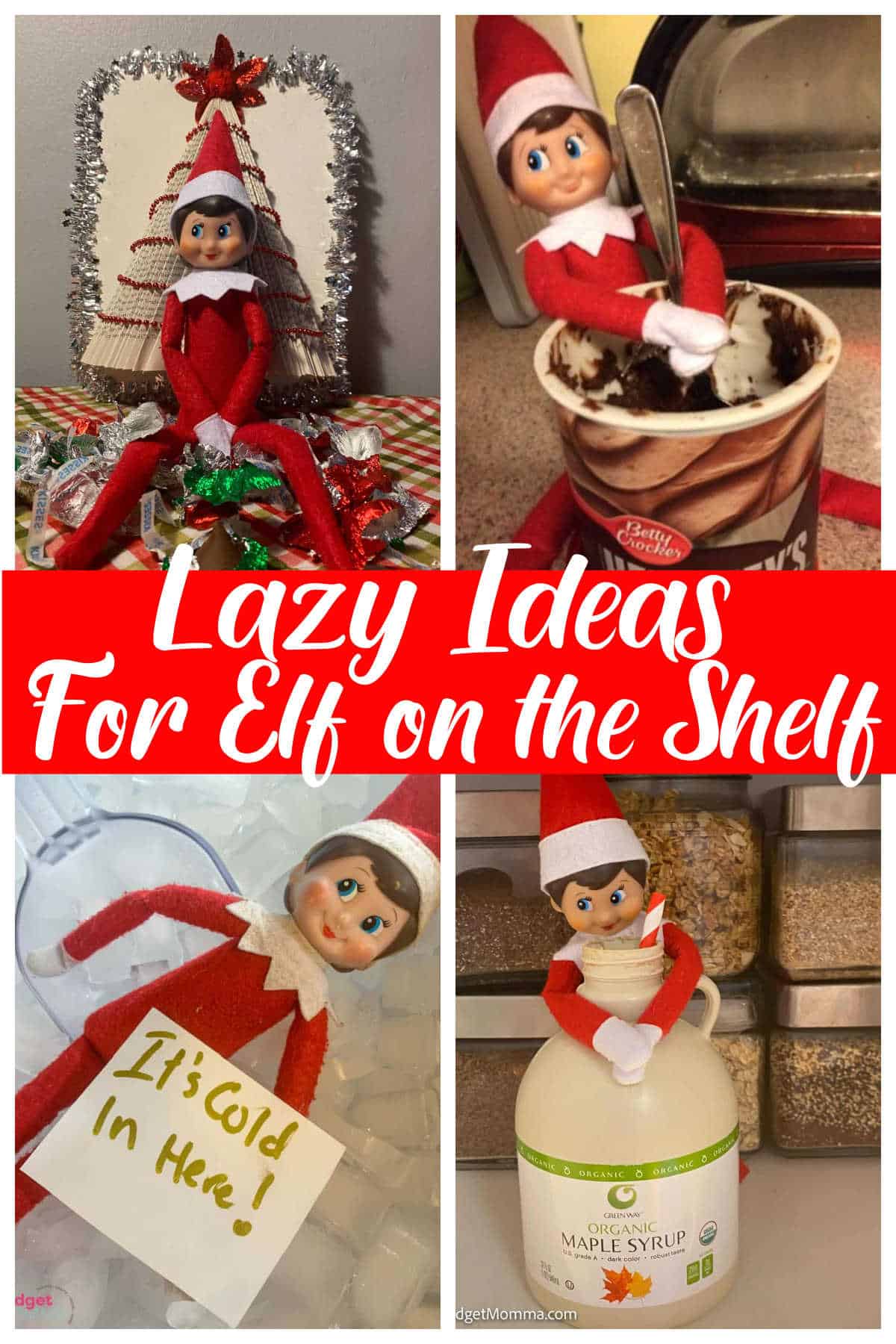 Lazy Elf on the Shelf Ideas
The Elf is here and let's all be honest not everyone wants to create some extravagant elf on the shelf idea every single night. It can be time-consuming. So I have compiled a great list with photos of lazy elf on the shelf ideas. They are perfect for anyone who just wants to be "lazy". Because truthfully, spending an hour at night getting him or her all set up is not always possible.
If you have never done Elf on the Shelf, then check out how to Start elf on the shelf! It is filled with all the information you need to know before getting started with elf on the shelf. Then you can use all of these elf on the shelf ideas to have a ton of fun during the self visiting season!
Plus you can print the 24 Easy Elf on the Shelf Ideas calendar so you don't have to worry about planning, just follow the calendar and have your elfy fun each day!
Elf on the Shelf Printables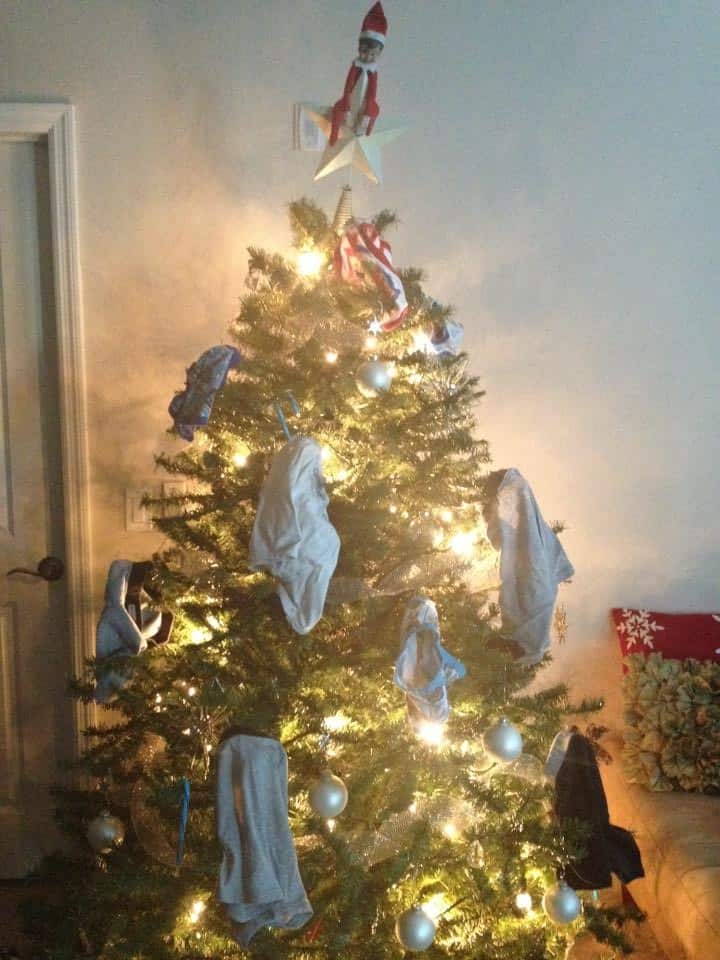 Undies on the tree Elf on the Shelf Idea
Grab the family's undies, boxers and briefs will work well too and toss them on the tree. Set the elf on the tree and done in just a few mins.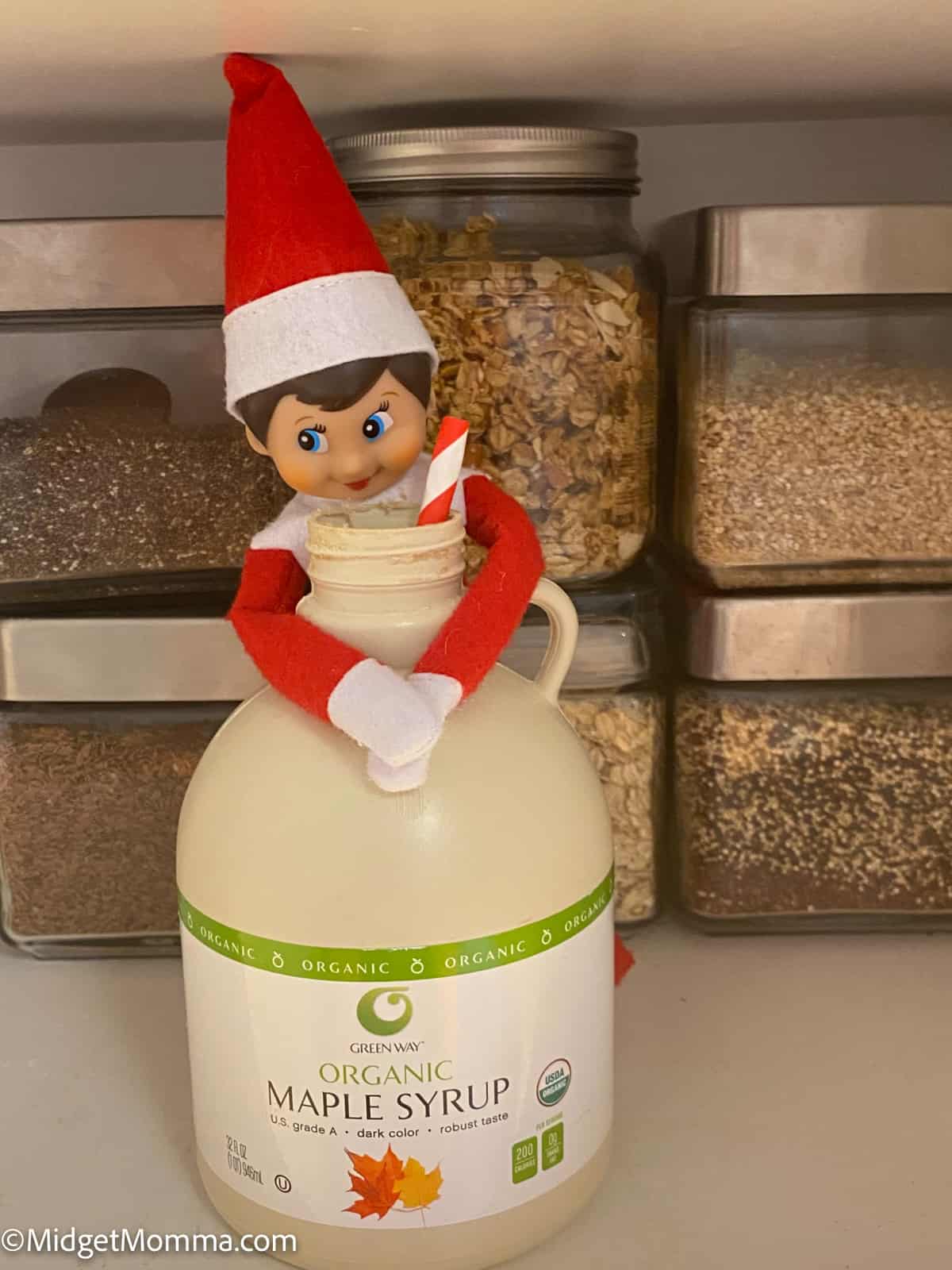 Drinking Maple Syrup
Getting into trouble is always a hit when it comes to the elf, and when an elf wants to be naughty a trip to the pantry for a bottle of maple syrup and a straw makes for the perfect drink! No one other than the elf could drink a bottle of maple syrup and not be hyper on sugar!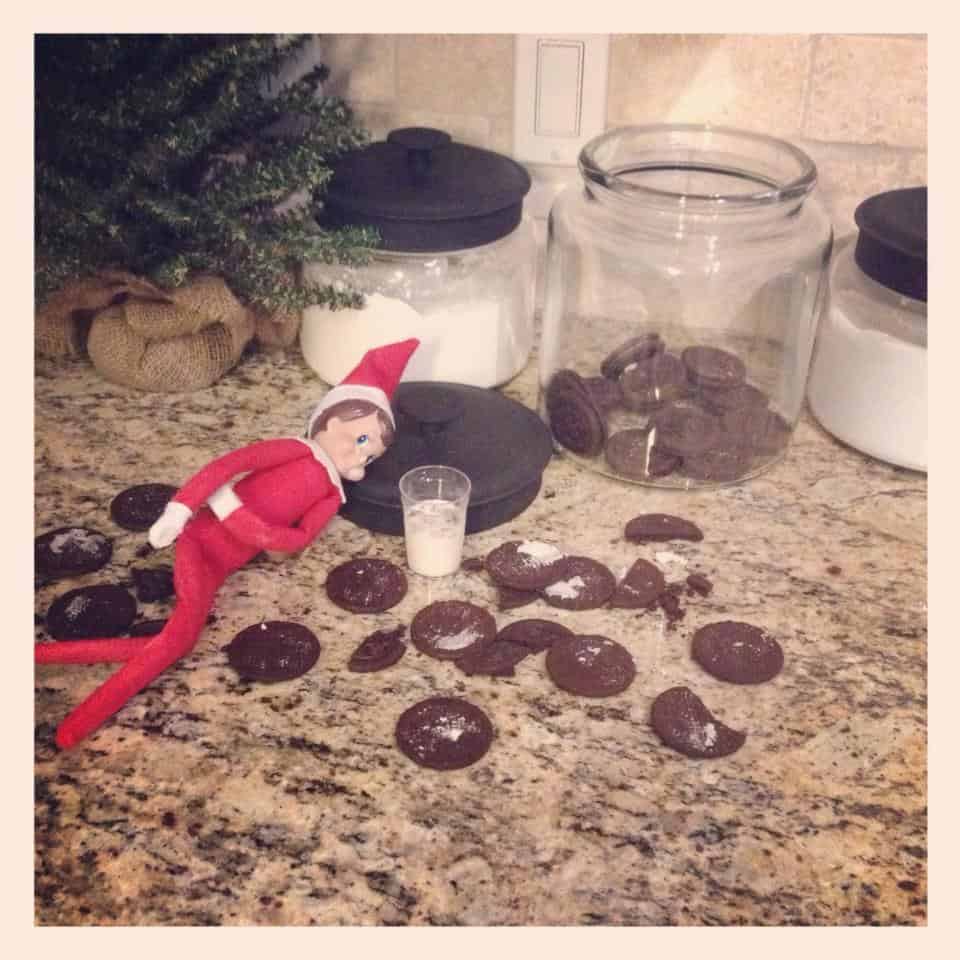 Cookies and milk
Elves love cookies and so do moms! Eat a few, leave a mess behind and let the elf have some fun.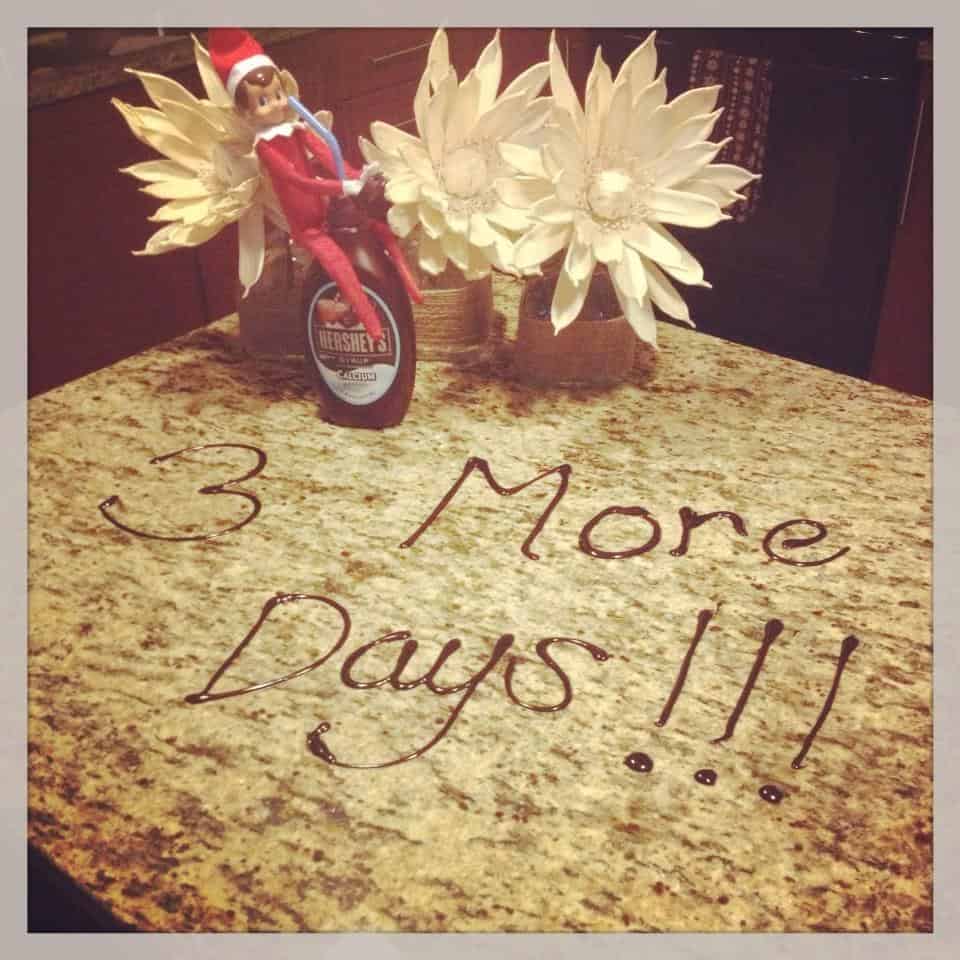 A Quick Count down reminder
A bottle of chocolate syrup is all you need for this one! Leave a note on the counter in chocolate syrup with how many days are left until Christmas.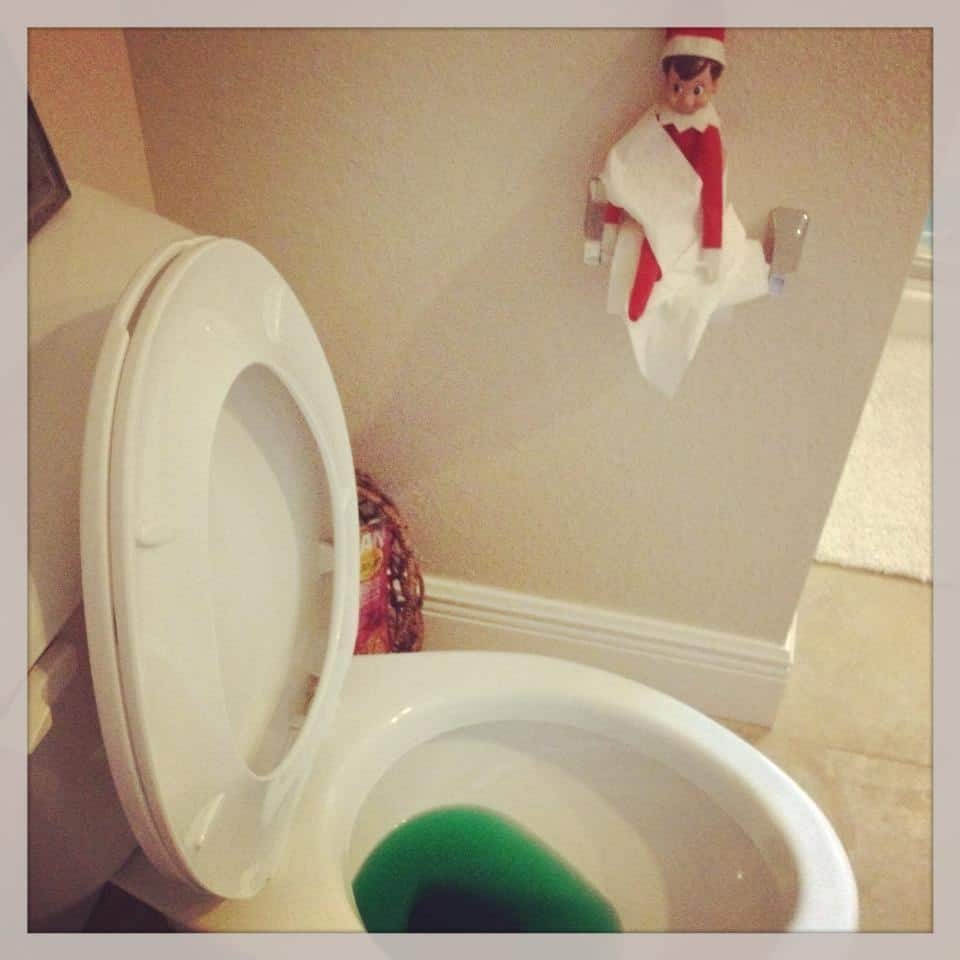 Elf Potty time
A few drops of green food coloring (since elf pee is green) and then wrap the elf in some toilet paper and that is all there is to it. Kids love it, not sure why kids love all things gross but they do!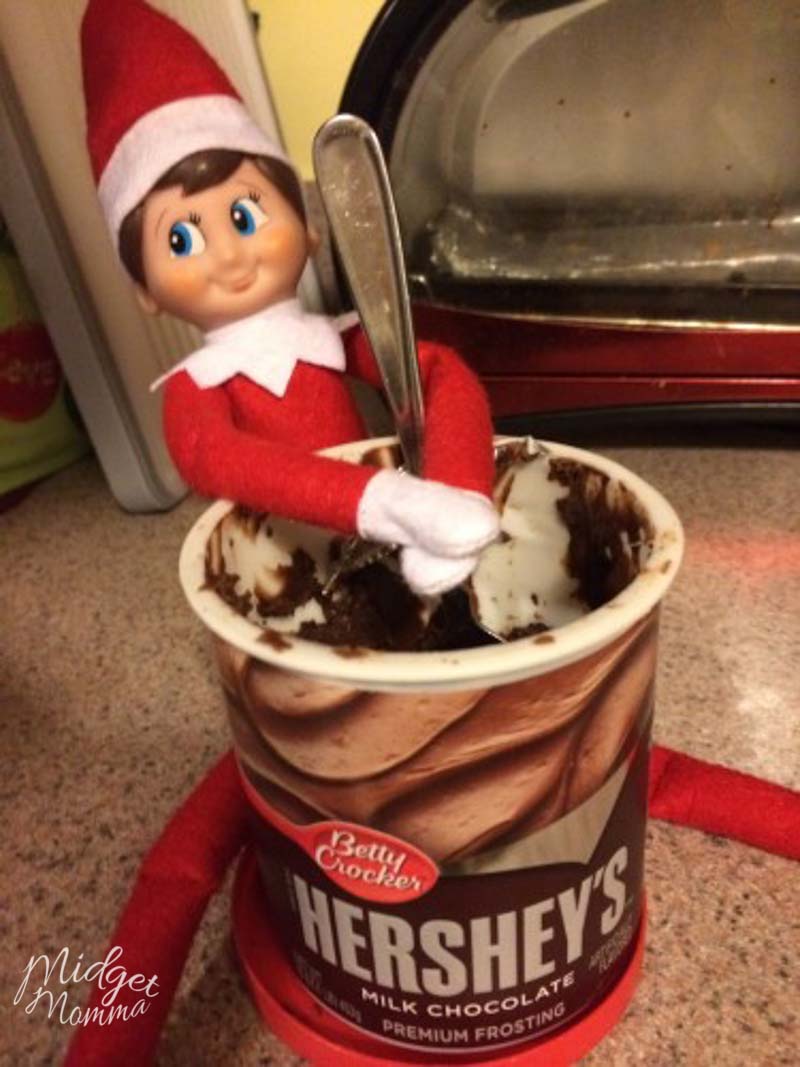 Elf has a sweet snack
A tub of frosting and a spoon are all you need for this one. Place them on the counter, smudge a little frosting on your elf's face and done!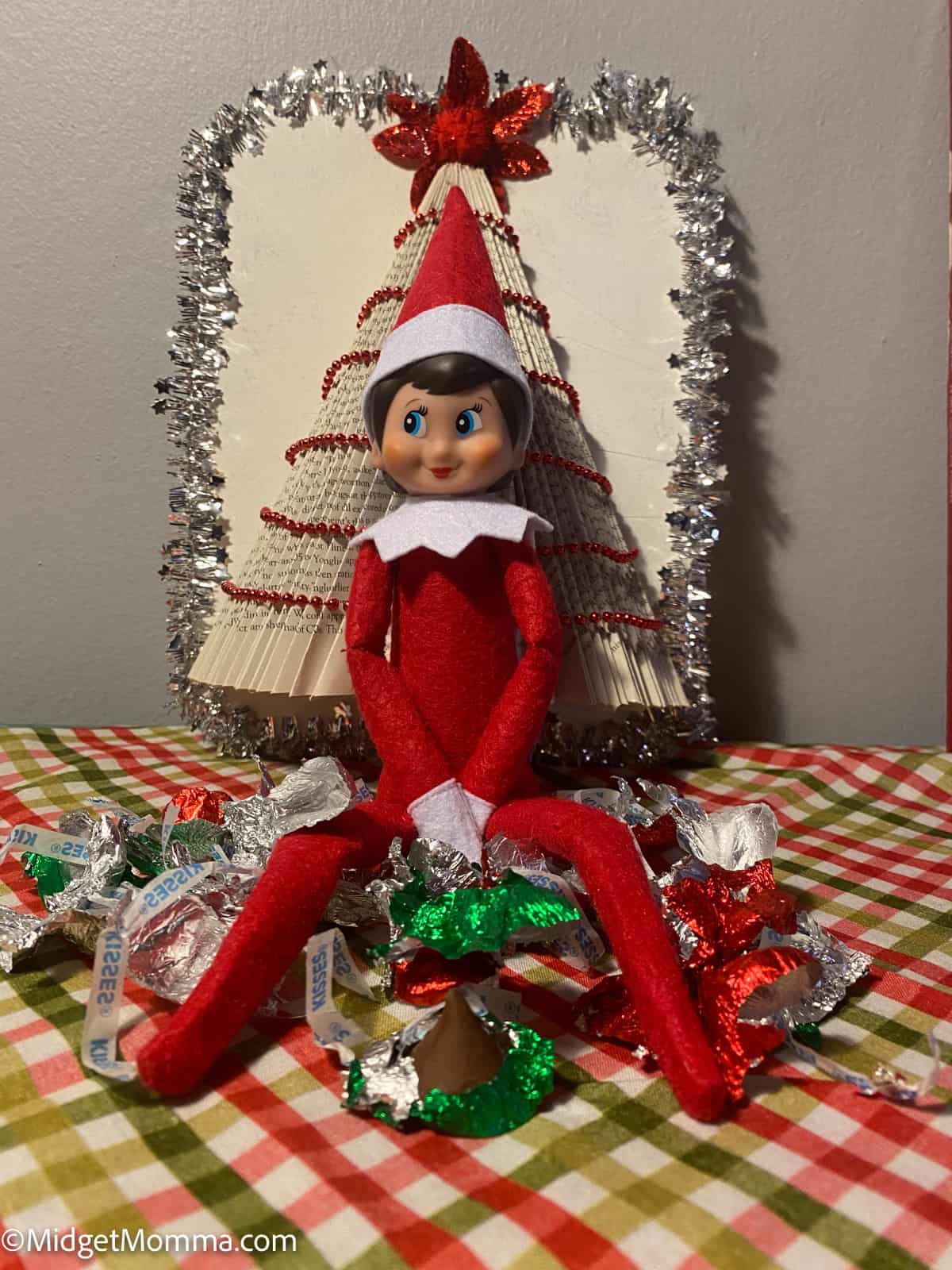 Eating all of the Christmas candy
Sometimes you don't have time even for the simplest of setups, and that's ok, so place the elf in a box of candy or amongst some wrappers from chocolates. If you can, smear a little chocolate on the face. This is a mischievous setup but also so quick to do if you have run out of time or even forgotten in the morning.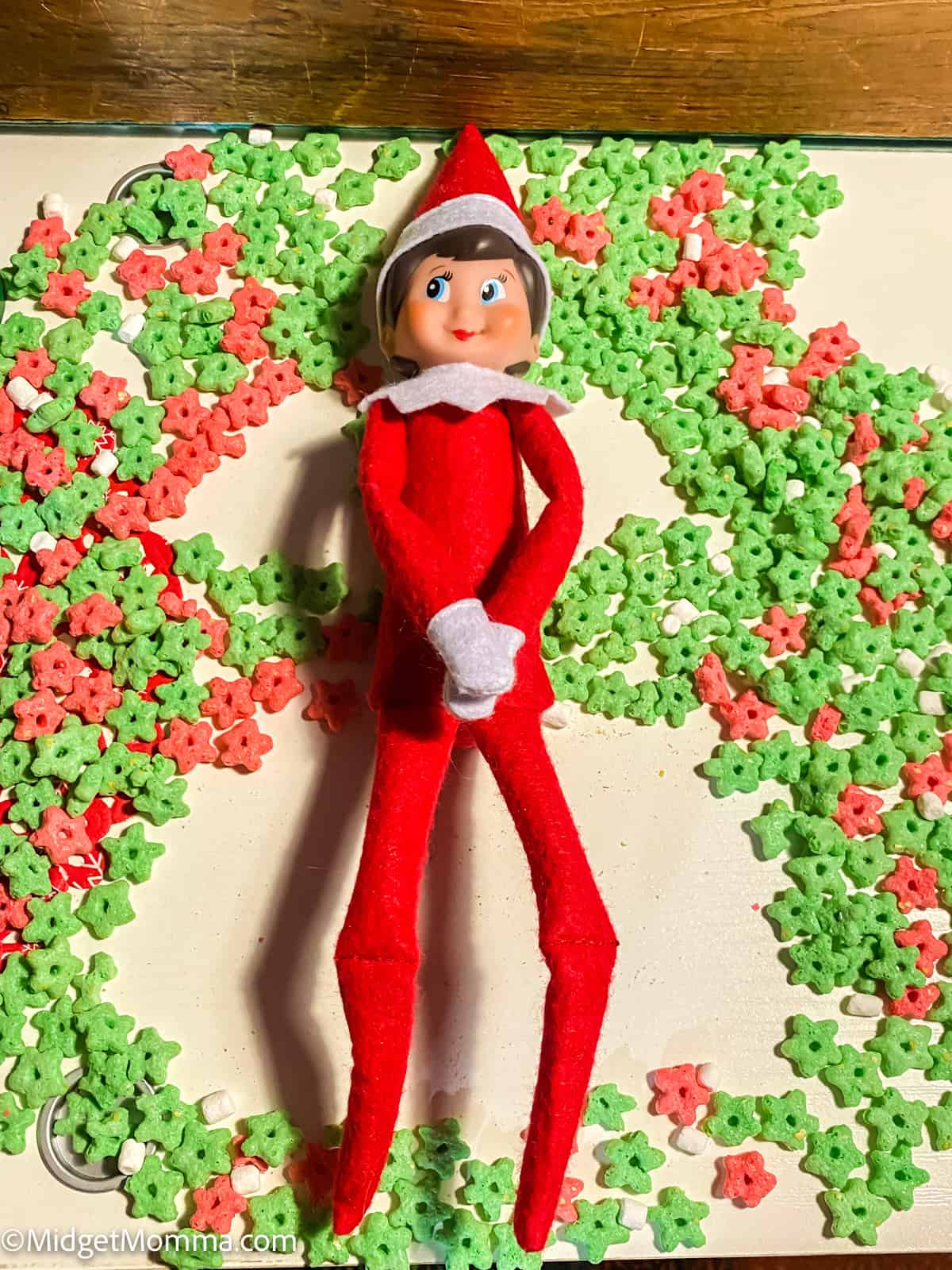 Cereal Angels
Any cereal will do and just like when you make snow angels in the snow, the elf can make angels in cereal! Just pour cerael on the counter or table, and palce your elf in the center.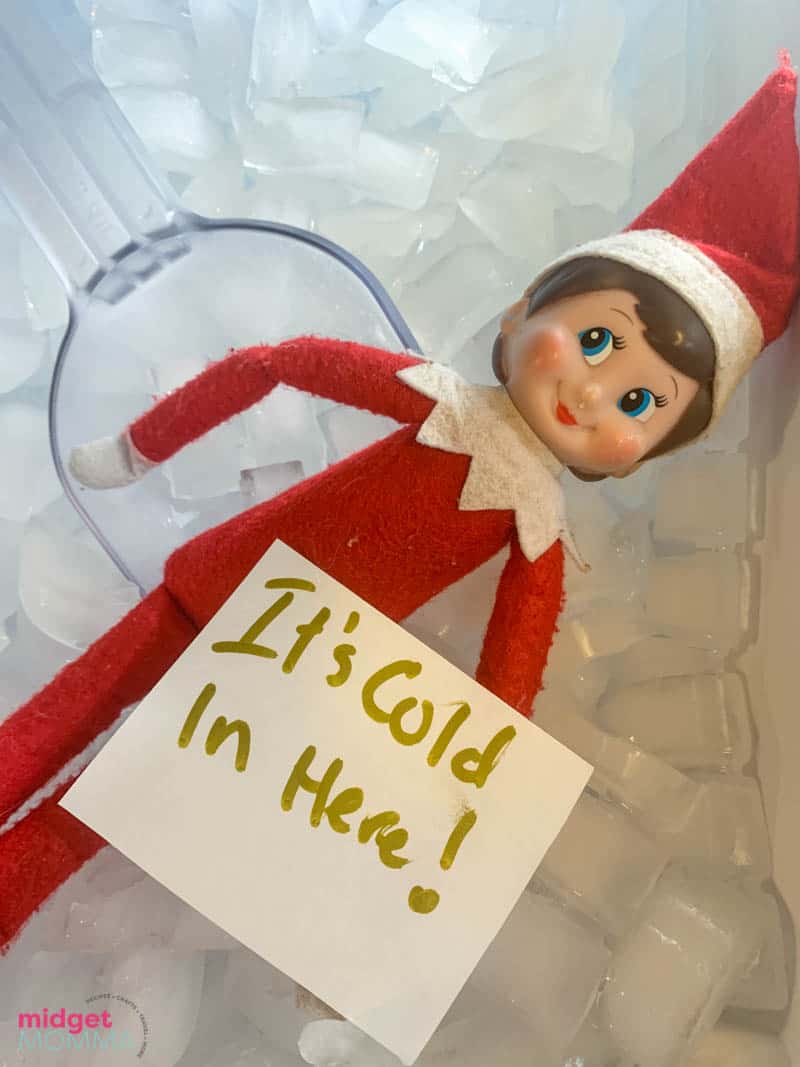 Elf in the Ice tray.
It's freezing in here! Plop him or her in the freezer, in an ice cube tray or in the ice drawer with a little note.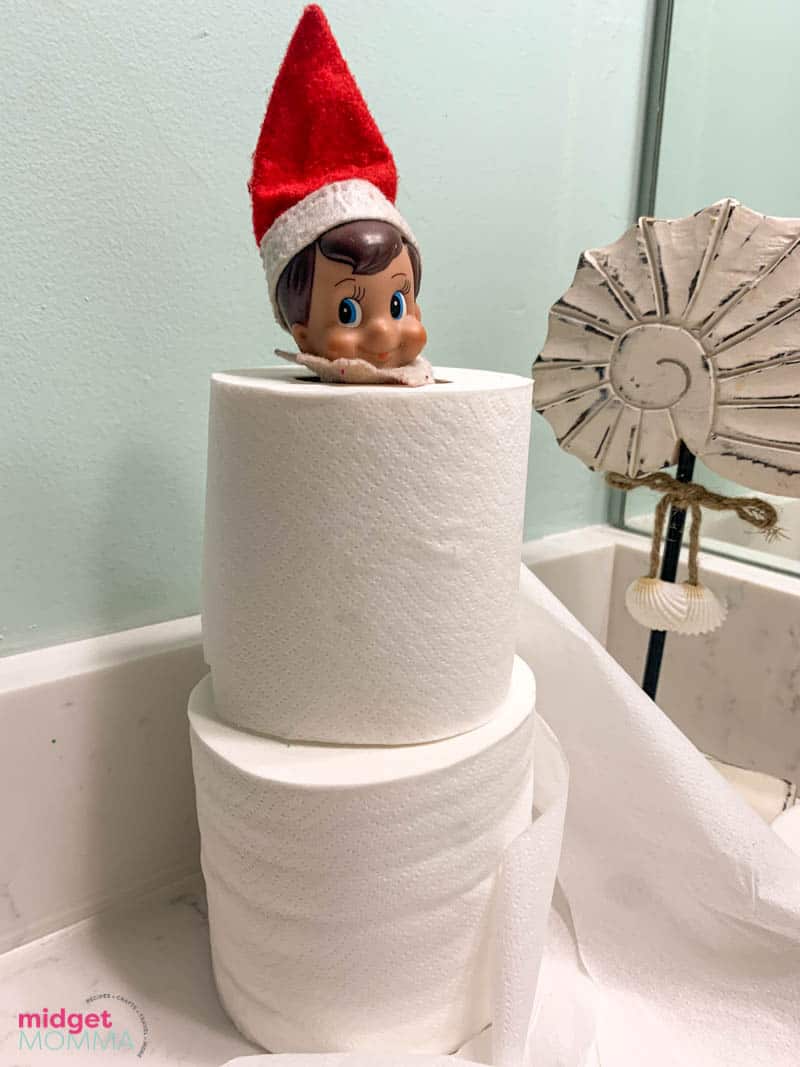 Stuck in toilet paper.
Grab some toilet paper rolls and stick him or her in, then just leave them in the bathroom for the kids to find.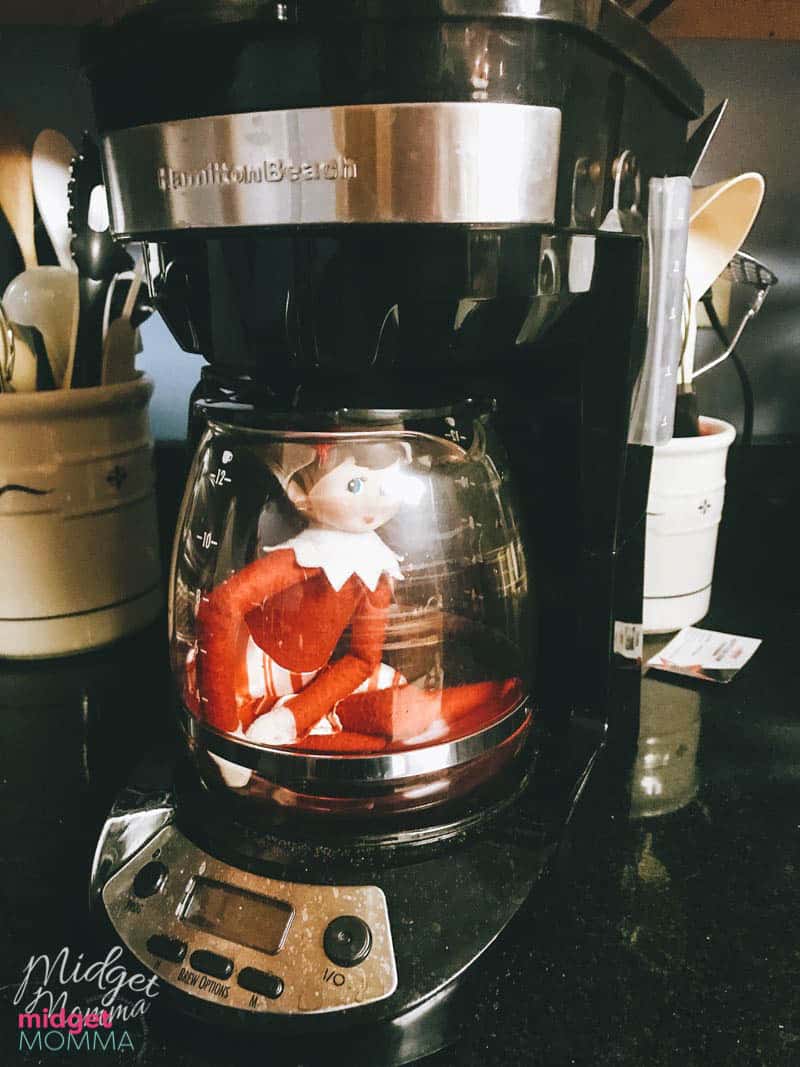 Elf hiding In the Coffee Pot
Make sure you won't need coffee in the morning first but a great hiding spot is in the coffee maker!
Check out these other great Elf on the Shelf ideas
More Christmas Fun for Kids
You can Facetime Santa for a fun Santa Phone Call!
There are so many tasty Christmas treats that the kids will love and they are all perfect for any kids Christmas parties that you might have. Some of our favorite Christmas treats are Santa Hat Cupcakes and Whoville Cookies !
But you can check out the full list of Kid Friendly Christmas Treats and pick out your favorites to make with the kids!
If you are looking for cookie recipes we have you covered there too! Check out our Beautiful Christmas Sugar Cookies, and Christmas Tree Desserts Recipes!