Need gift ideas for the kitchen? We've got you covered with ideas for everyone, including chefs, cooks, bakers, foodies, and friends. Find the perfect present for anyone who loves to cook or eat with this list of kitchen gift ideas.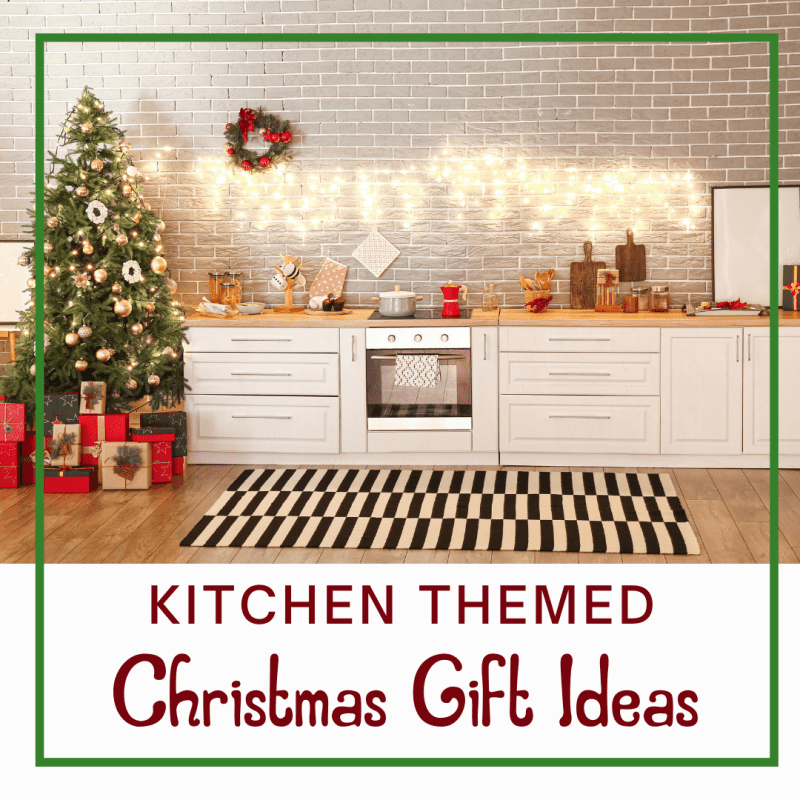 If you're looking for kitchen gift ideas – we've got you covered. Check out our list of the best kitchen gifts for any occasion, including stocking stuffers and holiday presents.
Kitchen Gift Ideas
A list of kitchen gift ideas, perfect for the person who has everything and cooks up a storm. Gadgets to make their life simpler plus cute decor ideas!
These beautiful rolling pins are also perfect for more than just cookies and pies. Use your new rolling pins for cakes and other sweets or for savory items like homemade noodles or pasta!
You can also use these rolling pins to work with clay and other art mediums. Imagine being able to easily give your pottery a beautiful decorative texture in seconds!
Fry Force 360 degree Technology cooks food quickly and evenly with little to no oil.
12 One-Touch Cooking Functions allow you to air fry, bake, dehydrate, and more - with just a tap.
Easily adjust temperature and time on the display that offers Guided Cooking Prompts, notifying you when to add food after preheating and turn food during cooking.
Non-stick basket and crisper tray are easy-to-clean and dishwasher-safe for hassle-free cleanup.
Perfect Crisp System makes food crispy on the outside and moist and tender on the inside.
Express Heat System cooks food up to 30% faster than an oven
Includes removable, nonstick and dishwasher-safe pan and crisper tray
No wires No mess! The MeatStick is able to be inserted and left in the meat for the entire cooking process. Don't mess with tangled wires, or the need to constantly open the grill just to check your temps.
With its Xtender built-in premium charger, you can get your temp signals from up to 260 feet away outside or 100 feet away inside.
Just turn it on and it's good to go; no setup or pairing required.
From oven to table, you'll be proud to add these exceptional pieces to your kitchen - or give to your favorite baker as a gift
Unique diamond-infused non-stick coating is beautiful and durable for easy cleanup and years of use
Set includes:
Large baking sheet: 11.5 x 17.2 x 1 inches
2 Round pans: 9 x 1.5 inches
Oblong pan: 13 x 9 x 2 inches
Medium baking sheet: 15.2 x 10.2 x 0.75 inches
12 Cup Muffin Pan
Loaf pan 9.25 x 5.25 x 2.75 inches
The beautiful gold and navy blue design make this a great starter or start-over set for any kitchen.
Measuring cups and measuring spoons stack and nest for easy storage
Includes:
4 measuring cups: 1, 1/2, 1/3, and 1/4 cups
4 measuring spoons 1 and 1/2 tablespoons, 1 and 1/2 teaspoons
Large and small whisks
If you are a fan of mise en place, you are going to love the Prepdeck! This is like the ULTIMATE prepping station that any home cook will love! The case folds open into a cutting board.
There is plenty of space for the storage containers on top and there is a slot to knock your cut/trash pieces into. No more discard bowl & a dozen ingredient bowls all over your counter!
Plus it comes with an accessory set underneath. My favorite so far is the juicer, because it fits perfectly on top of the containers. And every container has measurements on it, in both imperial and metric.
Definitely grab the Prepdeck Plus - you won't regret it! It comes with an XL container set, a mobile device stand (making it easier to cook along with your favorite food bloggers!), an extra cutting board/case, an adjustable measuring spoon, and extra containers.
If you have anyone with a sweet tooth on your holiday shopping list this year, you have got to get them a Cookie of the Month subscription!
We tried a variety box and everyone loved them. The Lemon Moon was definitely a favorite, but the Ginger Honey Snaps were a close second. I'm looking forward to ordering a "Build your Own Cookie Tin" once we agree on which ones to try next!
This set of 11 kitchen utensils is perfect for any foodie just getting started in their own home or someone wanting to upgrade their mismatched set.
All of the utensils have a smooth wooden handle and food-grade silicone and it comes with a matching utensil crock.
They are dishwasher safe, stain-free, and easy to handwash too.
FinaMill's patented design is unsurpassed among spice grinder machines. Say goodbye to flavor contamination and hello to the delicious taste with their interchangeable pods. They are so easy to switch back and forth between with one hand.