These sweet candied walnuts make the perfect snack! You can also use them as a topping for salads, yogurt, and more! This simple candied walnuts recipe is also perfect for gifting when you are wanting a tasty gift idea.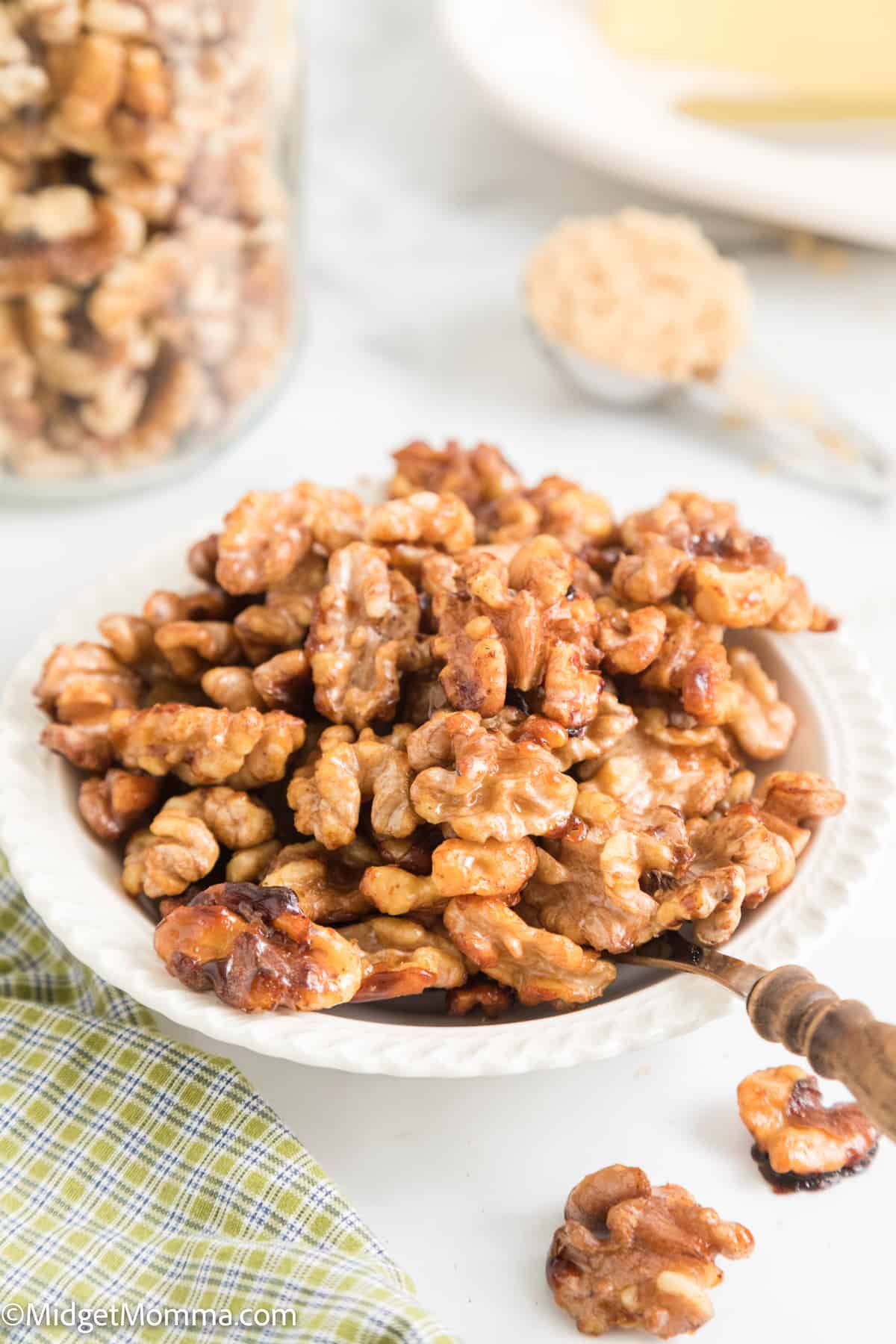 Candied Walnuts Recipe
Candied nuts are one of my favorite treats to enjoy. The combination of sweetness with the crunchiness of the nut makes it a combo that I can not resist. It is no joke when you make these that if you don't put the bowl away when you are eating them you all of a sudden look and see that you have eaten them all!
Candied walnuts only need a few minutes of prep time and then a few minutes of cooking time. Then comes the hard part, waiting for them to cool and set so you can enjoy them!
Many people think of candied nuts as being a holiday thing, but in our house, they are an all-year-long thing. These sweet and tasty nuts are one of my favorite snacks to enjoy. They are also amazing when put on top of yogurt, granola, and other recipes. During the summer months, I really love putting them on top of my salads.
This candied walnuts recipe is so simple to make, has just a few ingredients and once you try it I am sure you are going to be making candied walnuts often! 
If you love candied nuts then you should totally try my Candied Pecans recipe and my Cinnamon Sugar Pecans recipe.
Recipes with Walnuts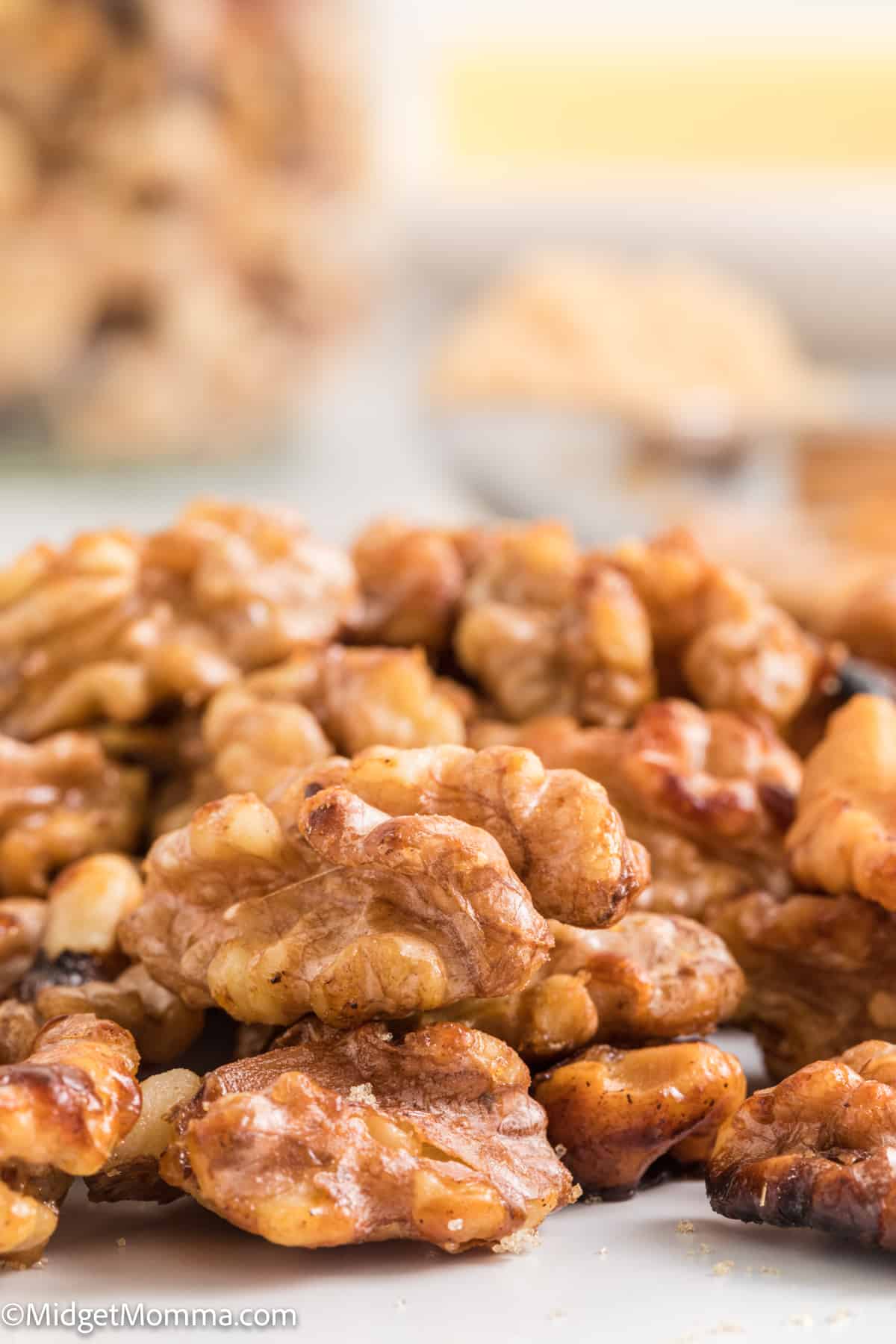 What Are Candied Walnuts?
Candied walnuts are a sweet snack made by coating walnuts in a sugary glaze. The process involves cooking the walnuts in a mixture of sugar and sometimes other ingredients such as spices or flavorings, until the sugar caramelizes and forms a crispy coating around the nuts. This results in a sweet and crunchy treat that is often enjoyed on its own as a snack or used as a topping in various dishes.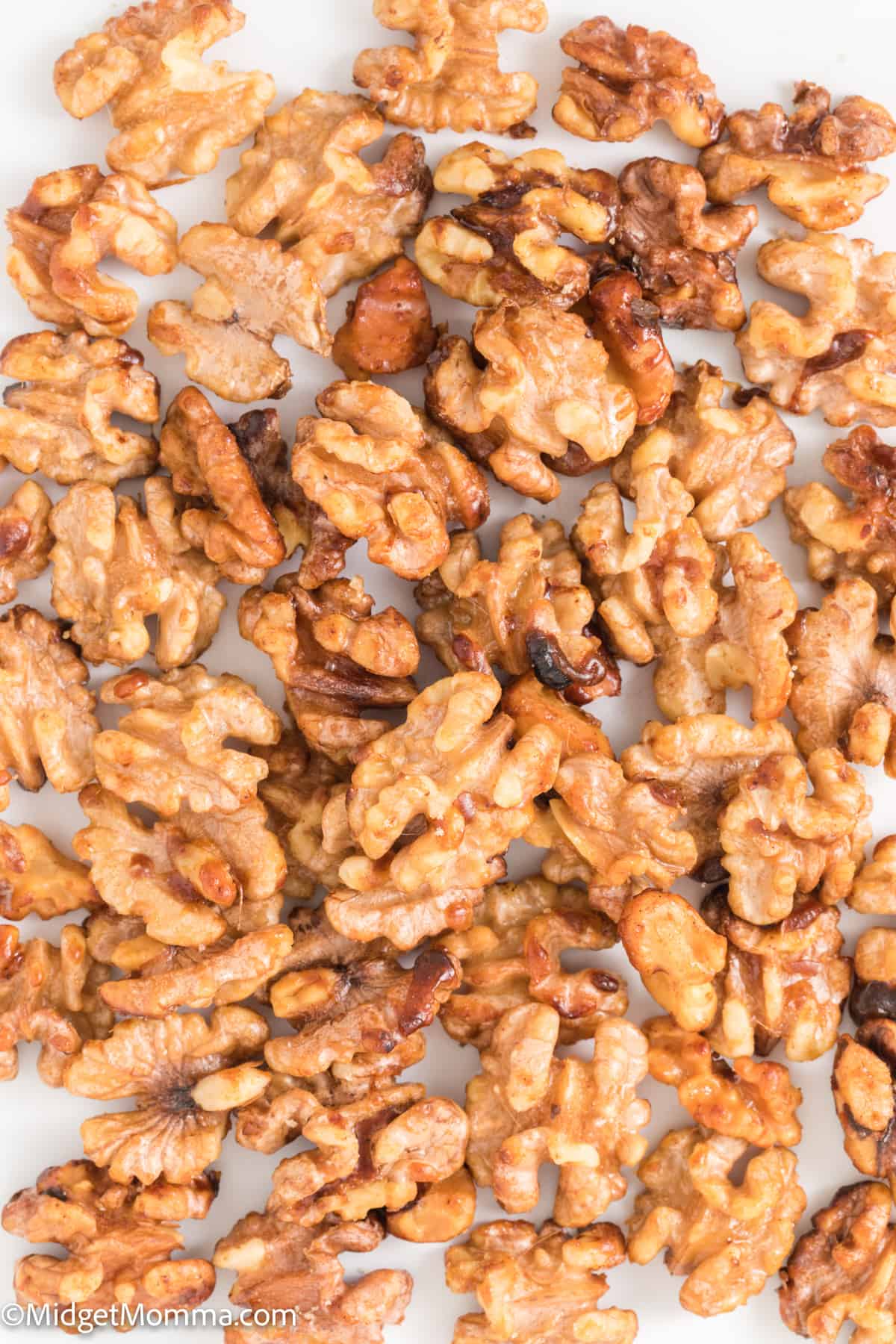 Uses for Candied Walnuts
Candied walnuts are a delightful treat that can add a sweet and crunchy element to a variety of dishes. Here are some popular uses for candied walnuts:
Salads. Sprinkle candied walnuts over salads for an added crunch and sweetness. They go particularly well with salads that feature fruits like apples, pears, or strawberries.
Desserts. Use candied walnuts as a topping for ice cream, yogurt, or as an ingredient in cakes, cupcakes, and cookies. They can add a sweet and nutty flavor to various dessert recipes.
Snacks. Enjoy candied walnuts on their own as a delicious snack. They make for a satisfying treat for those craving something sweet and nutty.
Cheese platters and Charcutier Boards. Pair candied walnuts with cheese platters and Charcutier boards to provide a contrast of textures and flavors. They complement soft cheeses like brie and blue cheese particularly well. We love making baked brie when making cheese platters and our apple pie baked brie cheese tastes amazing when you add in some candied walnuts.
Trail mix. Add candied walnuts to homemade trail mixes along with other nuts, dried fruits, and seeds for a sweet and savory snack.
Garnish for dishes. Use candied walnuts as a garnish for various dishes like roasted vegetables, sweet potato casserole, and even savory dishes like chicken or fish for added texture and sweetness.
Baked goods. Incorporate candied walnuts into bread, muffin, and brownie recipes for a delightful texture and flavor contrast.
Holiday treats. Create festive treats during holidays by using candied walnuts in recipes such as holiday cookies, pies, and tarts.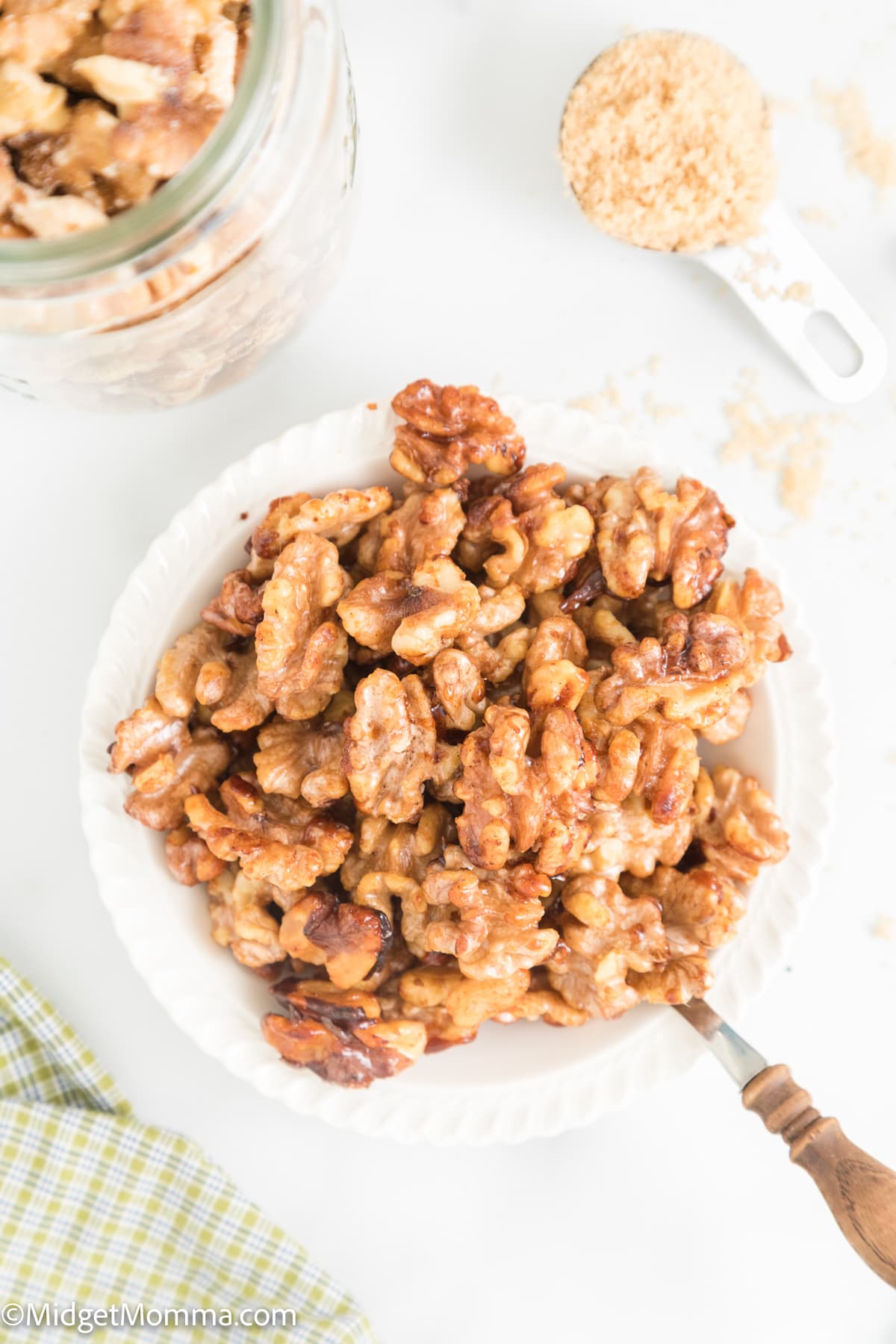 Variations of this Recipe
Use White Sugar. I like the taste of the brown sugar when making candied walnuts but you can also use white sugar. 
Add Cinnamon. If You want to make cinnamon and sugar candied walnuts you can. Just add 1 tablespoon of ground cinnamon to the sugar on the stove before heating the sugar mixture. 
Add different spices. Adding spices such as nutmeg, or allspice to add a warm and aromatic flavor to the candied walnuts. 
Add Extracts. Add a few drops of vanilla extract, almond extract, or maple extract to change up the flavors. 
Make it Spicy. For a spicy kick, consider adding a pinch of cayenne pepper or chili powder to the sugar mixture to create sweet and spicy candied walnuts.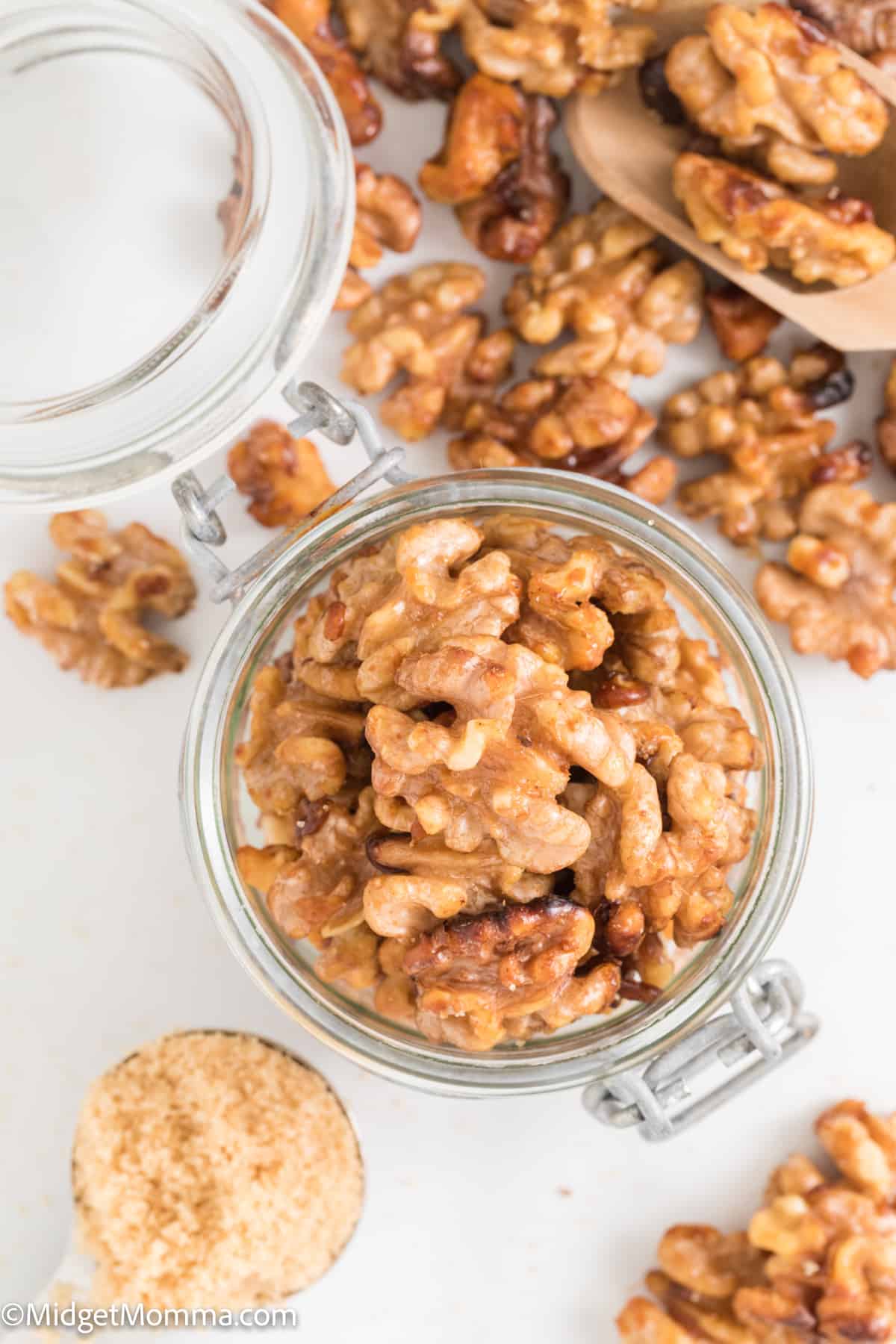 Tips for Making Candied Walnuts
Use a heavy pan. You can use a cast iron pan, non-stick skillet or saucepan when making this recipe but you will want to use a heavier pan to avoid burning the sugar. 
Be ready with all of your ingredients and supplies. Before getting started make sure you have everything you need near you. Once the walnuts are done cooking you will not have time to look for a spatula or wooden spoon since this recipe cooks quickly. 
Pay attention when cooking. This recipe cooks QUICK. I mean REALLY quick. From the time the butter is melted until the nuts are coated and cooked is max 5 minutes. You can easily burn your nuts if you are not paying attention to them cooking. 
Keep Stirring. To avoid burning the nuts and to make sure they are all covered in the melted sugar and butter mixture so they are the perfect caramelized candied nuts you want to be sure that you are stirring the whole time they are cooking. 
Don't touch them until they are cooled. The nuts will be hot, and the sugar coating on them will be hot. Trust me when I say you do not want to touch them until they are fully cooled – I let mine cool for 20-30 minutes before I touch them.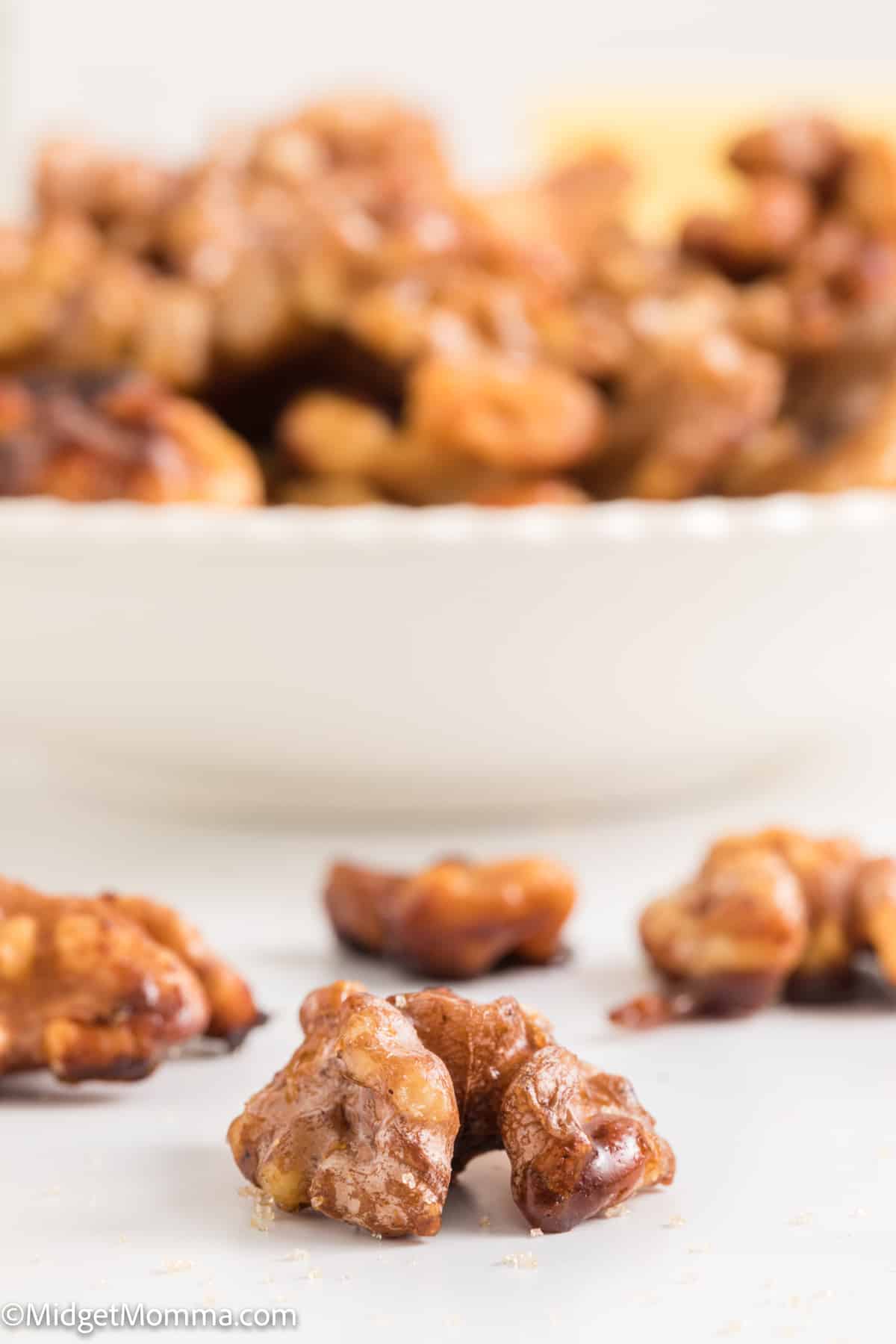 Why are my candied nuts sticky?
Insufficient cooling time. Immediately after baking, the walnuts might remain slightly sticky be sure to allow ample time for cooling and solidification is necessary. 
Excessive humidity. If where you are storing the nuts is too humid it can cause the nuts to soften and become sticky.
Not enough Cooking time. When you are cooking the nuts in the melted sugar you want to make sure that the butter and sugar is fully melted and coated on the walnuts.
Can I make this with Chopped Walnuts?
Yes! While I love walnut halves because they are perfect for snacking and putting on top of recipes and salads chopped walnuts are great for putting with oatmeal or yogurt. When you are topping yogurt or oatmeal with candied walnuts smaller pieces are better and you will want to use chopped walnuts instead of walnut halves.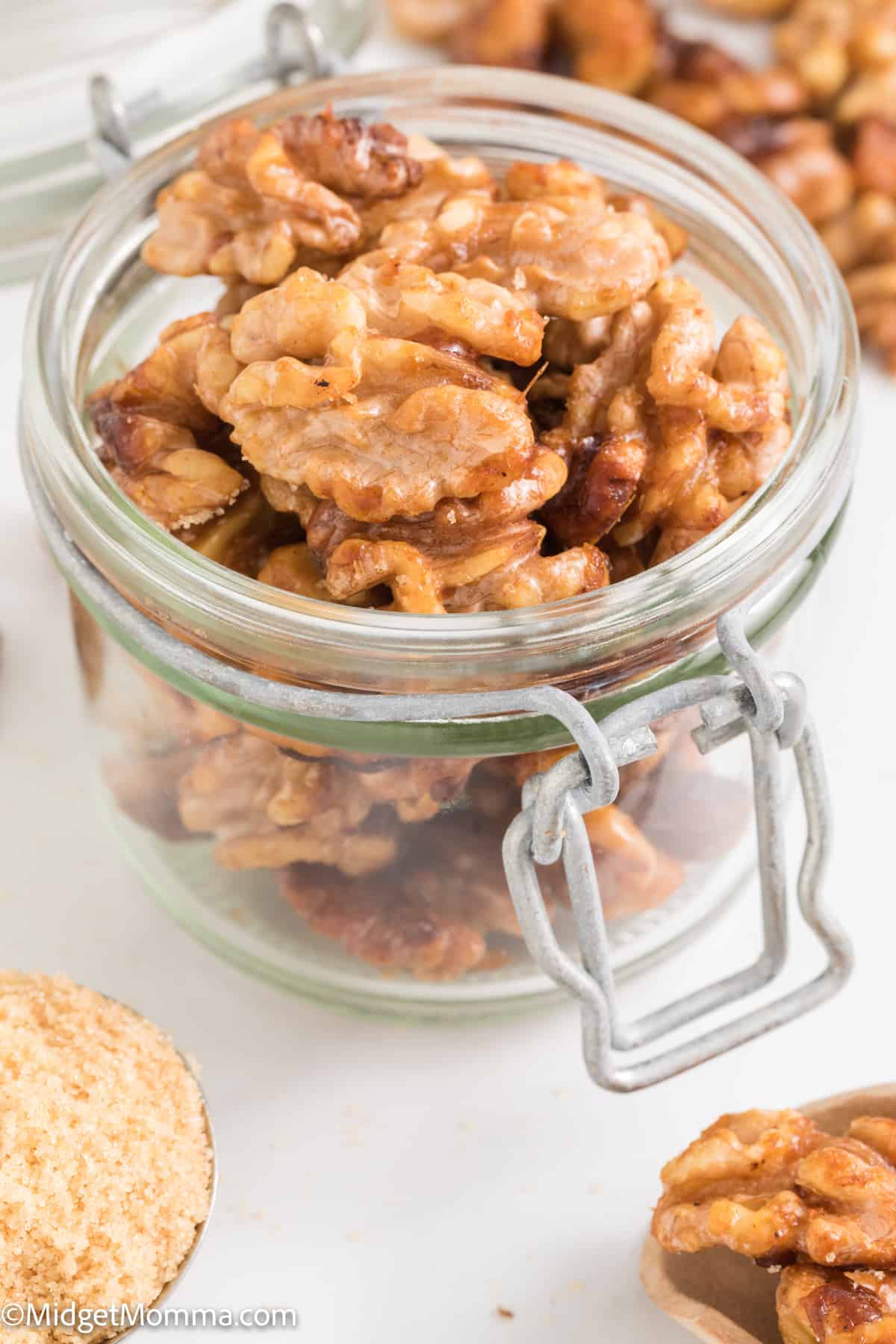 How long do Candied Walnuts last?
While candied walnuts can last for 2-4 weeks when stored at room temperature. Over time, they may lose their crunchiness and freshness so I like to enjoy them within 2 weeks of making them. Since this recipe is so easy to make, I suggest making smaller batches if you do not think you will eat them all before they will get soft instead of making a large batch and storing it for longer.
How to Store Candied Walnuts
Once completely cooled, store the candied walnuts in an airtight container at room temperature.
Can you freeze candied walnuts?
Candied Walnuts can be frozen with excellent results. To freeze them, place in an airtight container and store for up to 2 months.
When thawing, allow them to come to room temperature outside of the container to prevent softening or stickiness.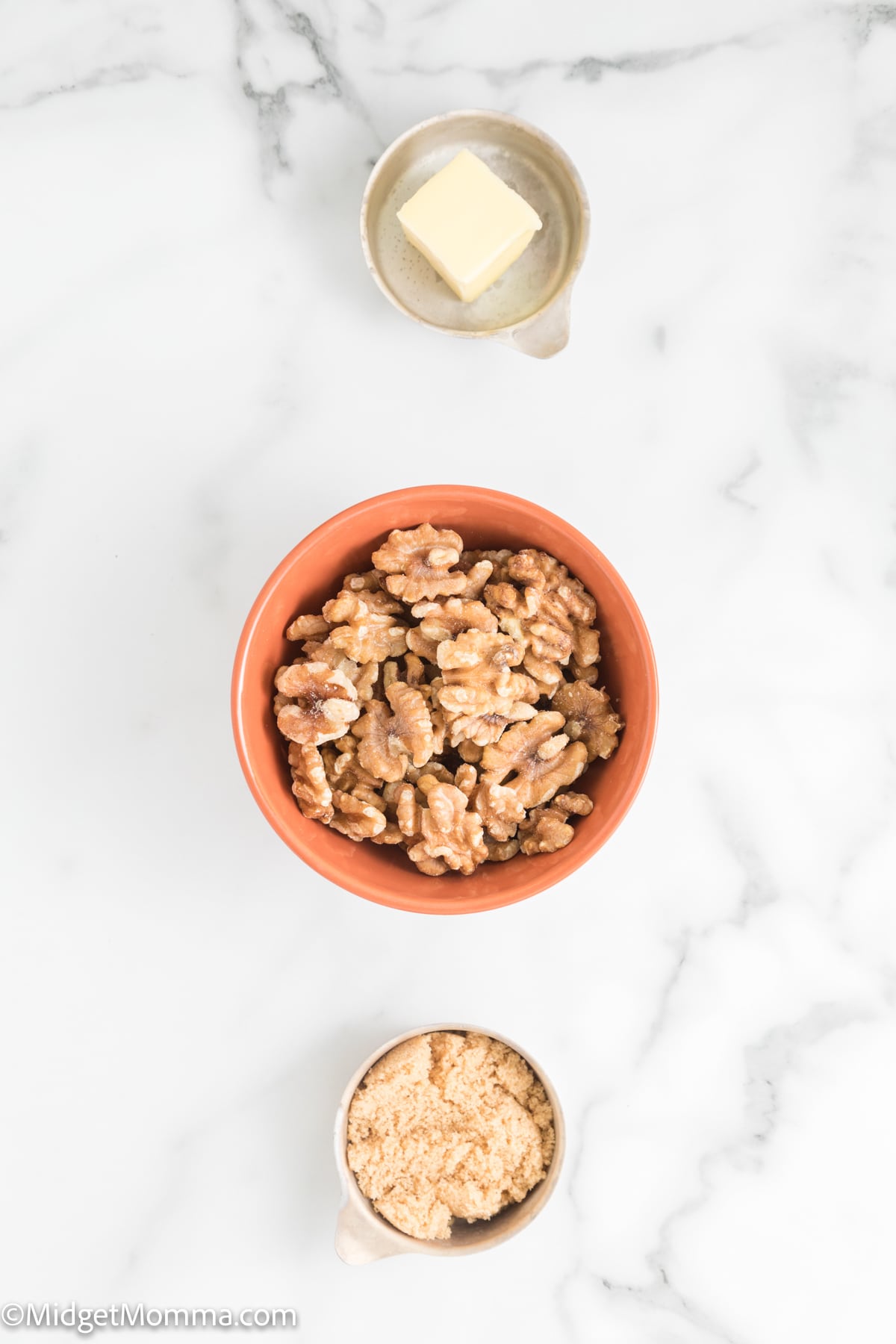 Candied Walnuts Recipe Ingredients
Butter. For this recipe you will want to use salted butter, if you do not have salted butter add a pinch of salt to the saucepan with the butter before melting it. 
Raw Walnut halves. You do not want to use chopped walnuts as the pieces will be super small if you want to
Brown sugar. You can use homemade brown sugar or store-bought brown sugar. 
How to make Candied Walnuts
Line a baking sheet with a silicone mat, parchment paper, or wax paper. I prefer to use a parchment-lined baking sheet. 
Place a non-stick skillet or saucepan over medium-high heat and add the butter. Heat the butter until melted.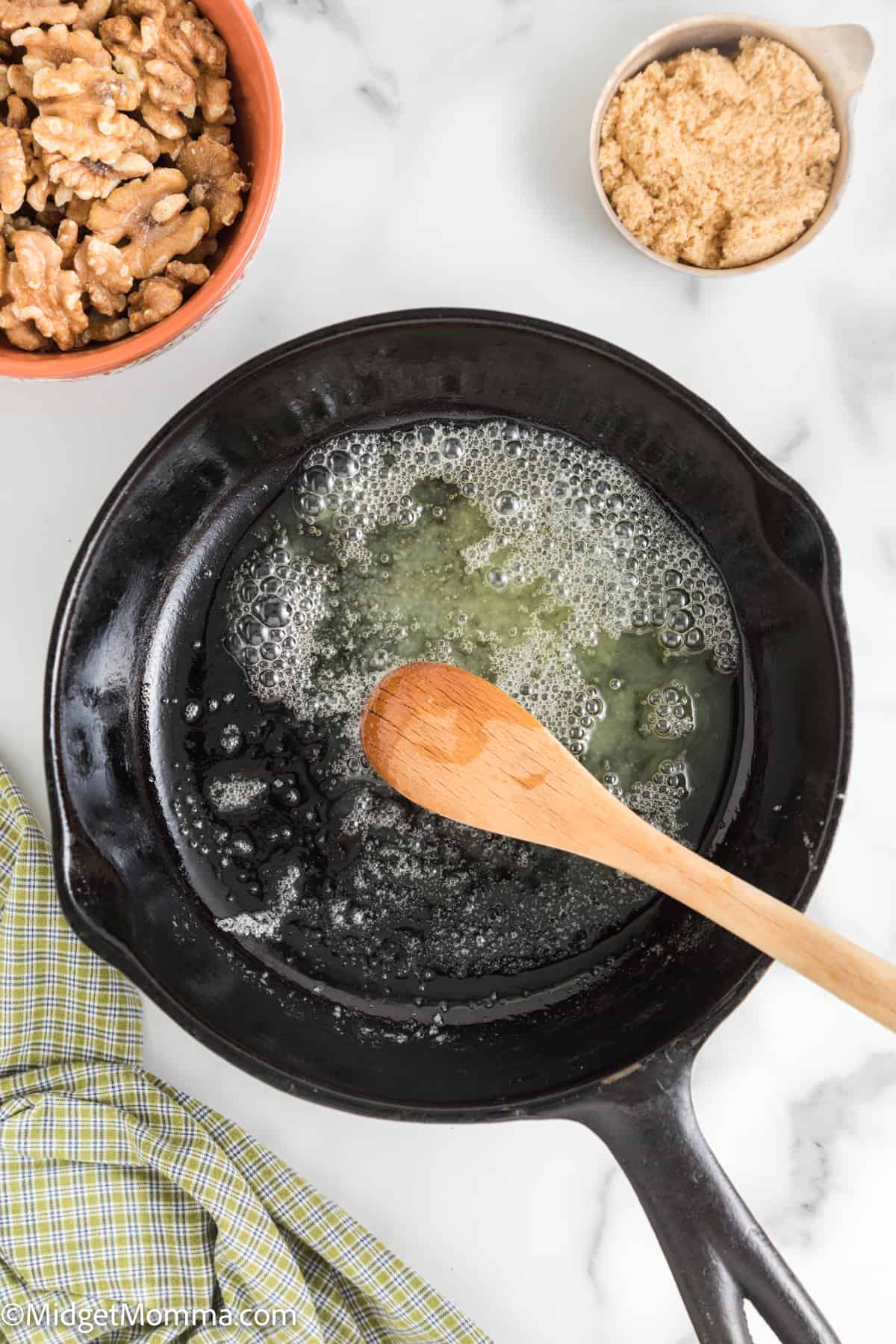 As soon as the butter is melted add the walnuts and brown sugar, and stir until they are thoroughly coated. You will see the brown sugar start to mix with the butter and melt while coating the walnuts.
Cook the walnuts over medium-low heat until the sugar starts caramelizing, typically taking around 3 minutes. If the sugar is not melting turn the heat up just a little bit. You want to avoid having the mixture reach the boil stage while you are cooking them.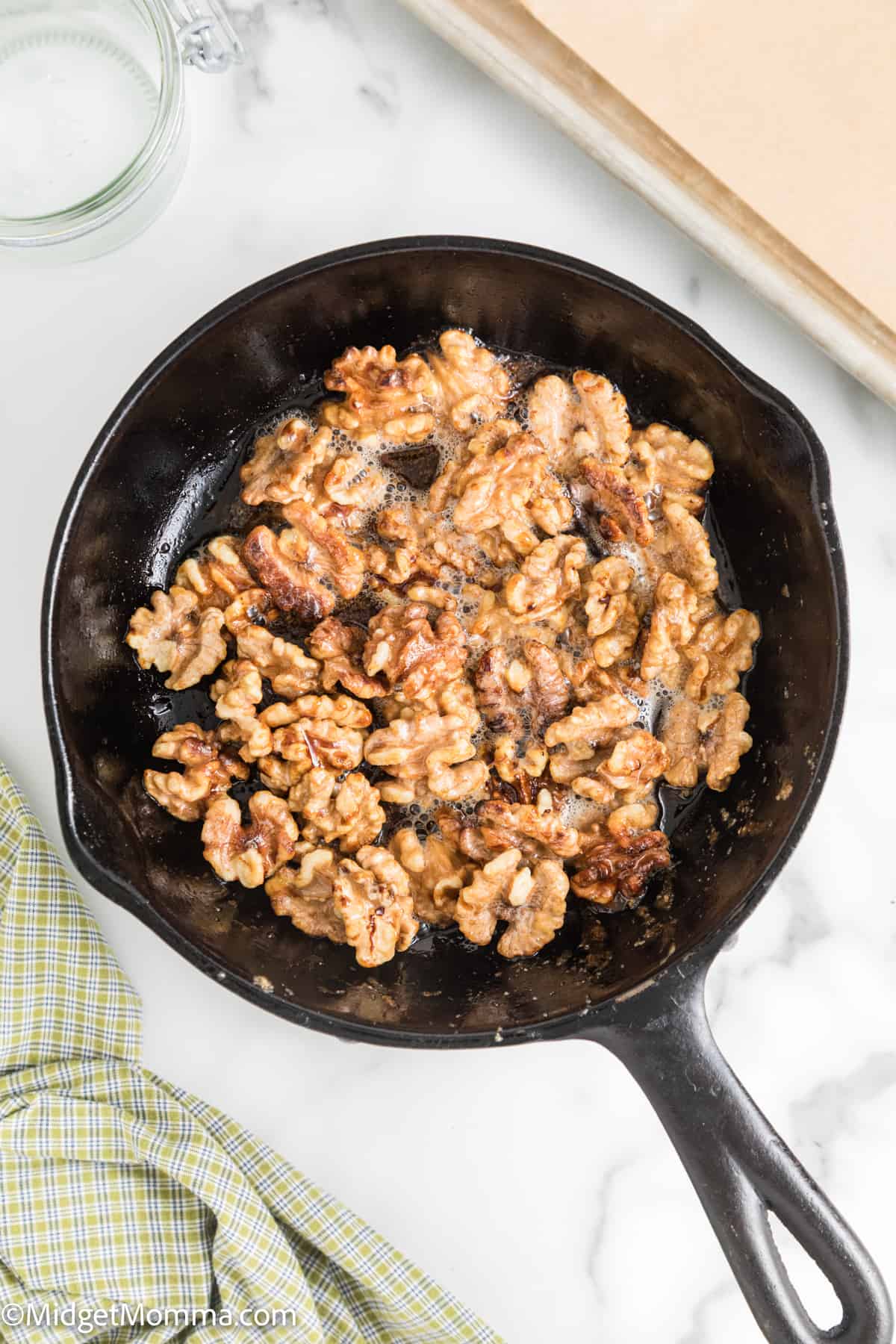 Pour the cooked walnuts onto your prepared baking sheet, and spread the walnuts so they are not touching each other.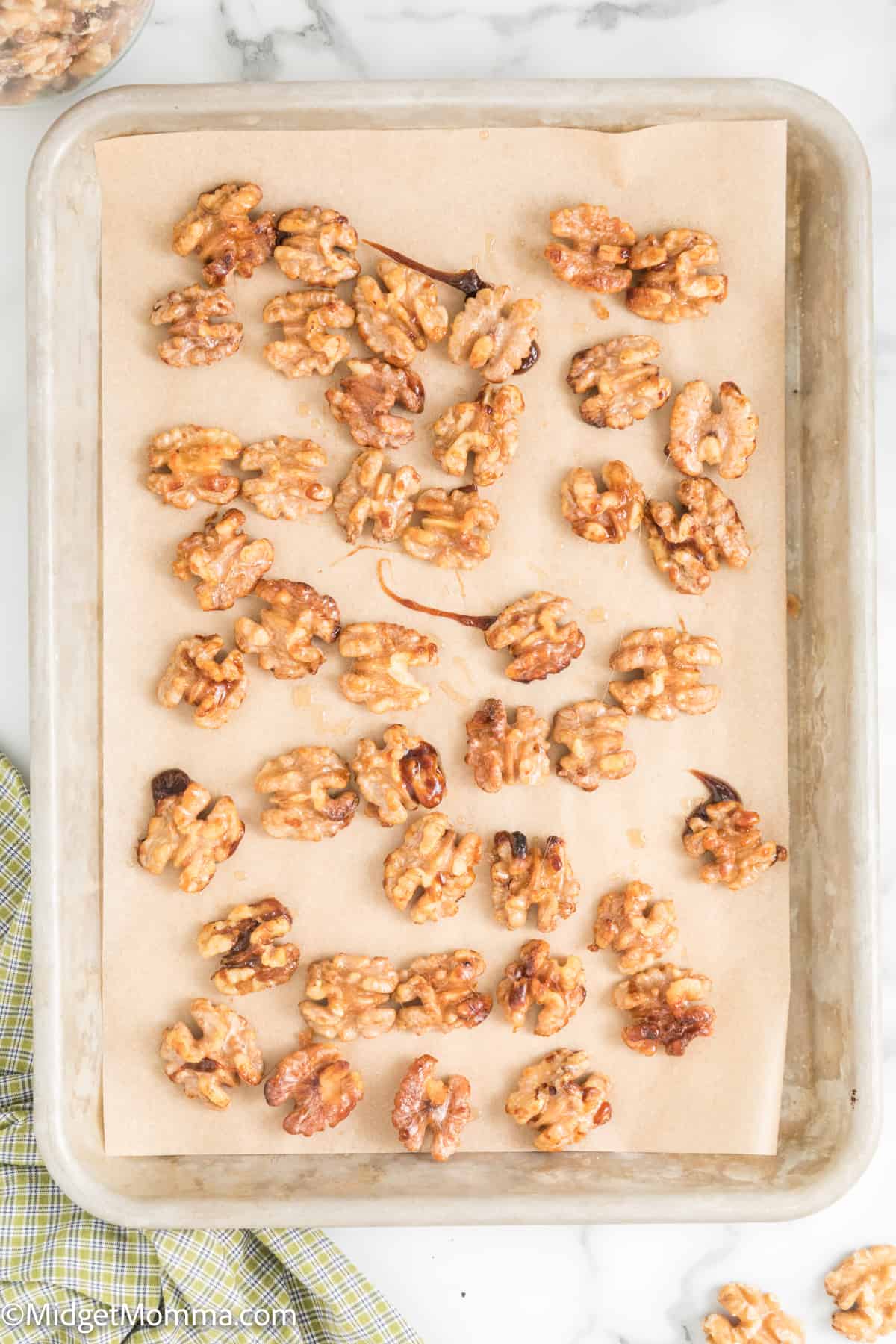 Allow the walnuts to cool completely until they are not sticky to the touch before storing. As the nuts cool the candy coating will harden on them.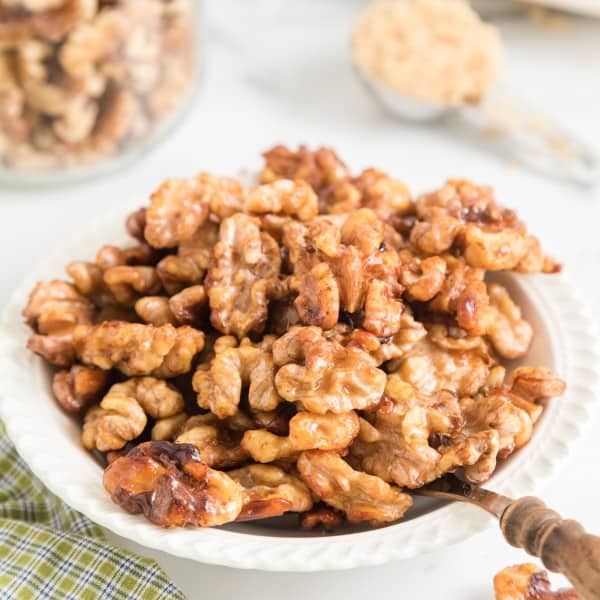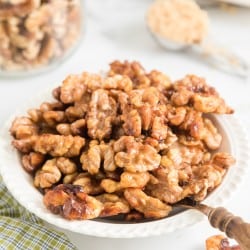 Candied Walnuts Recipe
Servings
These sweet candied walnuts make the perfect snack! You can also use them as a topping for salads, yogurt, and more! This simple recipe is also perfect for gifting when you are wanting a tasty gift idea.
Ingredients
2 tablespoons butter
1 cup walnut halves
2 tablespoons brown sugar
Instructions
Melt the butter in a small skillet over medium heat.

Stir in the pecans and brown sugar, making sure they are well coated.

Cook pecans over medium heat until the sugar begins to caramelize, about 3 minutes.

Spread out pecans on a wax paper lined baking sheet to cool.
Calories: 264kcal | Carbohydrates: 10g | Protein: 5g | Fat: 25g | Saturated Fat: 5g | Polyunsaturated Fat: 14g | Monounsaturated Fat: 4g | Trans Fat: 0.2g | Cholesterol: 15mg | Sodium: 47mg | Potassium: 139mg | Fiber: 2g | Sugar: 7g | Vitamin A: 181IU | Vitamin C: 0.4mg | Calcium: 35mg | Iron: 1mg
candied walnuts, how to make candied walnuts
Snack
Join the newsletter
Subscribe to get our latest recipes right in your inbox every time we post a new one!