Crock Pot Chex Snack Mix
Looking for a new snack to make this holiday season? This Crock Pot Chex Snack Mix Recipe is the perfect recipe for any occasion. It's easy to prepare and can be made in just minutes! With only 9 ingredients, you'll have plenty of time to enjoy your family and friends during the holidays!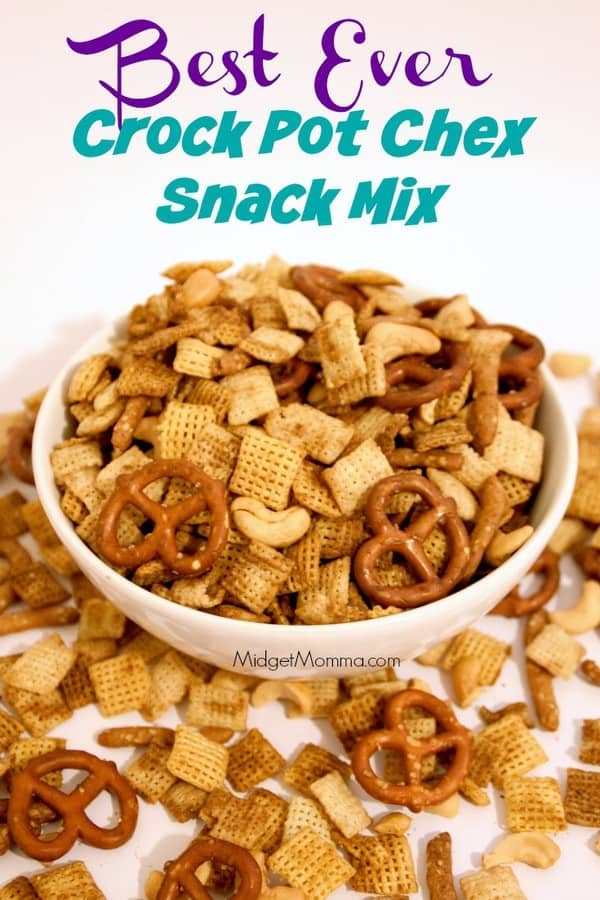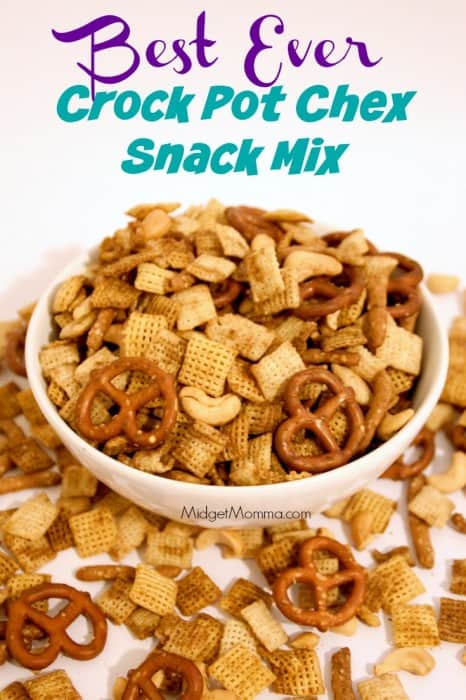 Crock Pot Chex Snack Mix
The Crock Pot Chex Snack Mix is a great recipe to have for parties or when you're hosting friends and family. It's perfect for those times where you want your snack to be both crunchy and full of flavor. The particular recipe that I've made here is a mix of classic Chex cereal, cashews, and pretzels with just the right amount of butter and seasonings.
This Crock Pot Chex Snack Mix is the BEST EVER! It is sure to be a hit at any party you go to or if you are just looking for a yummy snack. I love to be able to make my own snacks because I know what is being put in it. I am able to add more garlic or less salt depending on my personal taste.
How do you keep chex mix from getting soggy?
One of the biggest thing with making this Crock Pot Chex Snack Mix is to make sure you have the lid cracked. If you leave the lid on all the way the moisture will stay in it and will lead to a soft mix. If you have a lid that doesn't want to stay open you can place a wooden spoon sticking out to keep it open.
Why Make Chex Mix In The Slow Cooker?
I love making my own snacks but I don't have time to stand over the oven. By making this in the slow cooker, I can easily throw everything in the cooker and be done with it. I come back and stir it from time to time, about every 30 minutes, but I do not have to stand over the oven to watch it.
It also frees up the oven for other things. During the holidays, if I am busy baking or cooking, I don't want to take up the oven space making this treat. Making it in the slow cooker lets me have the oven for other things.
Can I Make This in An Instant Pot?
If you wanted to make this in the Instant Pot you can easily adapt the recipe. You will mix everything together like you would in the slow cooker, but then add it to the Instant Pot instead. Set the timer for 30 minutes. Once the cook time is done, do a natural release for 10 minutes and then you can do a manual release.
How Long Does Chex Mix Last
If you are making this recipe, chances are the it will disappear in a few days. It never lasts in our house. However, if the mix is stored in an airtight container and kept at room temperature, it will last for up to 4 weeks.
Why did my chex mix burn?
To prevent burning, you want to make sure you stir the mix about once an hour. This keeps the flavors combines and prevent having the snack burn on the bottom of the slow cooker.
Is this is a low point snack?
If you are following Weight Watchers, this treat comes in at 4 points on Weight Watchers per 1/2 cup serving on all plans.
Chex Snack Mix is always a hit at parties or just to have on hand for the kids to snack. If you portion into snack baggies in advance, this can last for a few weeks! I love it as a go-to snack in my bag when out and about. Add a piece of fruit alongside it, then you'll have a big snack that satisfies your cravings!
If you're looking for a new snack that will come together quickly this holiday season, give this crock pot chex mix recipe a try! This delicious recipe includes everything from classic cereal like Chex to pretzels with just enough buttery goodness tossed in.
Crock Pot Chex Snack Mix Ingredients
6 Tablespoons butter, melted and hot
1/4 cup Worcestershire sauce
1 Tablespoon seasoned salt
1 teaspoon garlic powder
3 cups rice Chex
3 cups corn Chex
3 cups wheat Chex
2 cups pretzels
1 cup cashews
Crock Pot Chex Snack Mix Directions
Melt your butter in a medium bowl. Stir in the Worcestershire sauce, salt, and garlic.
Add cereal, pretzels, and cashews to your crock pot.
Slowly pour the butter mixture over the cereal making sure you mix well.
Place your cover on making sure you leave the lid cracked and cook on low for 3 hours, stirring every hour so that the mixture does not burn.
Then spread the mixture out onto a sheets pan until it cools to room temperature.
Serve, or store in a sealed container for up to 3 weeks.
Serving Size: 1/2 Cup
More Snack Recipes: