Everyone is going to love this Nesquik Banana Sushi Snack!
For the #Disneykids Playdate received a box full of goodies to throw an amazing playdate. In that box I received a canister of Nesquik. Now sure I could have just stir it in some milk and called it a day. But I wanted to turn it into a new snack the kids have never had before.
So many kids love the combination of bananas and peanut butter, so I figured to bring them together in a wrap, well kind of LOL. I made this Nesquik Banana Sushi snack that the kids all loved. They were soo good, even the adults loved them!
Adding in the Nesquik gave them a hint of a chocolatey flavor mixed with the peanut butter and the banana.
If you are looking for more recipes for your own Disney party check out these 🙂
Mickey Mouse Rice Krispie treats
Nesquik Banana Sushi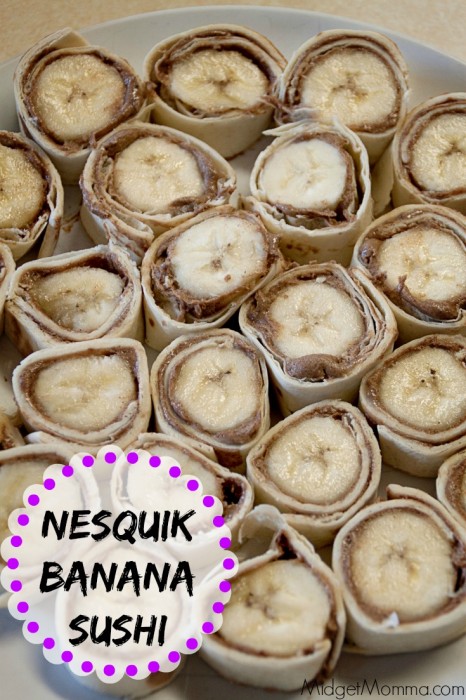 Nesquik Banana Sushi Ingredients
1/2 cup peanut butter
2 tablespoon Nesquik
4- 8 inch tortillas
4 bananas
Nesquik Banana Sushi Directions
Stir together the peanut butter and Nesquik until its well combined in a bowl.
Divide the peanut butter mix in quarters and spread it on each tortilla.
Place a banana in the center of each tortilla and roll them up.
Slice the rolls into individual pieces.
You can easily double or triple this Nesquik Banana Sushi recipe if you are having more people. My kids also like to have this in their lunches as just a roll up instead of being cut up. This is a great recipe for the kids and the adults for a lunch or a party.
If you are looking for even more lunch kids, make sure you check out 101 Kids School Lunch Ideas!
Join the newsletter
Subscribe to get our latest content by email.