Easy Pizza Roll ups are perfect for an easy lunch, quick snack or a party appetizer. With just 3 main ingredients you can customize these pizza rollups to have your favorite pizza toppings and then dip them in homemade pizza sauce for the perfect easy pizza recipe!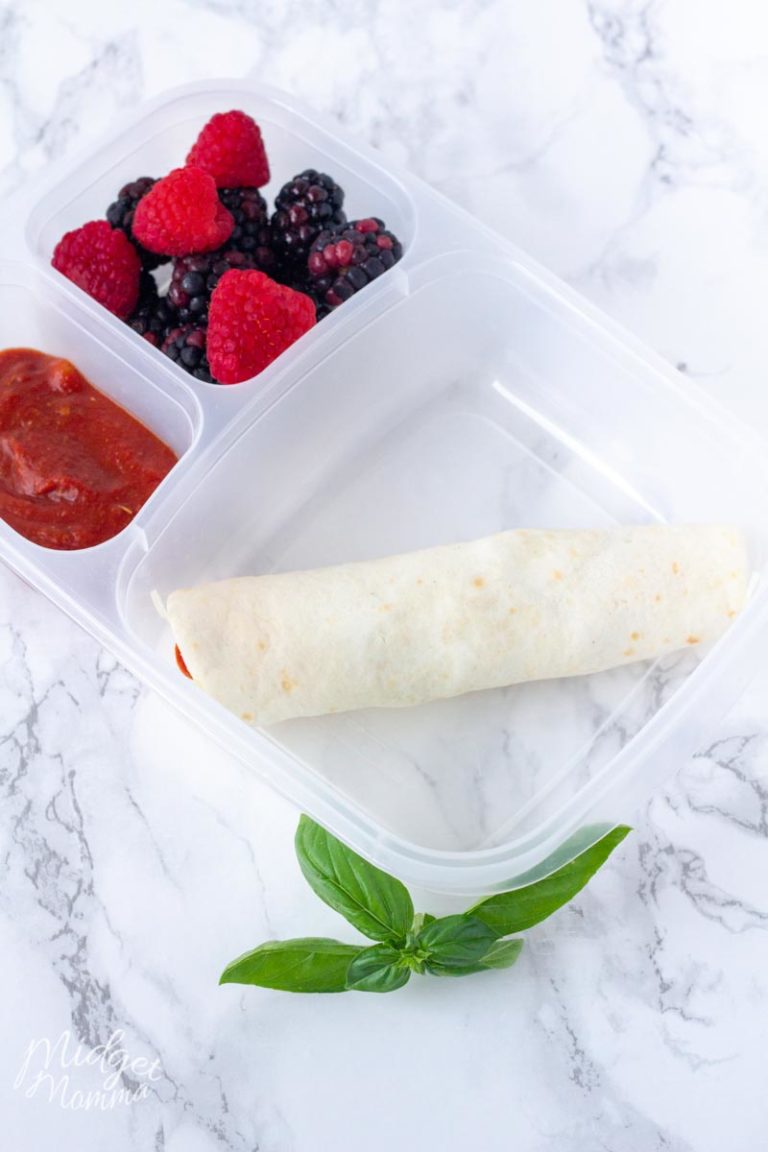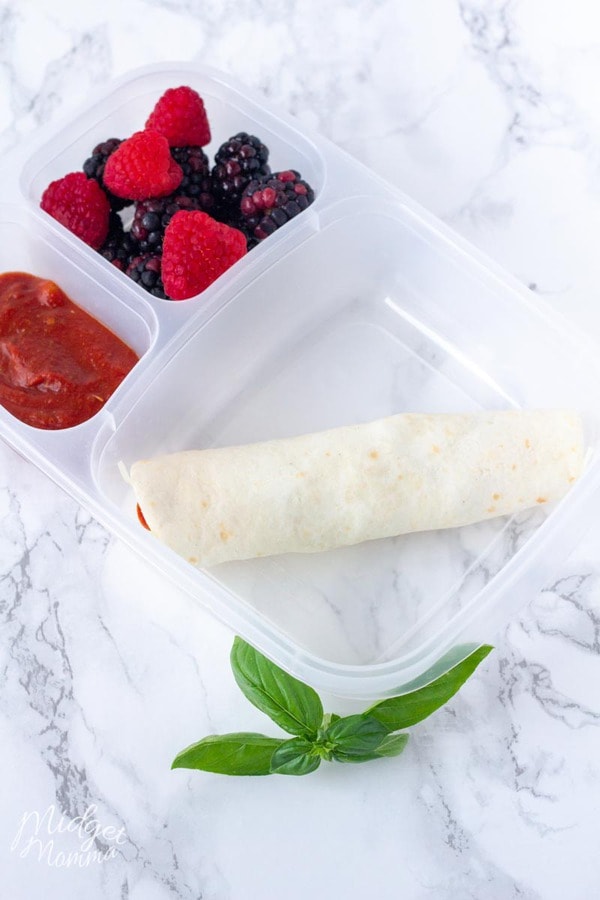 Pizza Roll Ups
We love rollups in our house, my kids favorites are french toast rollups, Nesquick Banana Rolls, grilled cheese rollups and these pizza rollups. The kids like them because they are fun and I like them because they are super easy to make!
If you are looking for an incredibly easy but tasty lunch idea for the kids then you are going to love this Pizza Roll ups recipe! All of the ingredients are rolled up nicely in a tortilla, warmed up and then served with pizza sauce! My kids and their friends always love it when I make them a Pizza Roll up for lunch!
Right now I need easy healthy lunch ideas for the kids. I am starting to not want to make lunches in the middle of the day that take up a lot of time so I am on this quick and easy lunch kick. These pizza rollups are a perfect quick, easy and healthy lunch idea for kids.
Easy Pizza Kid Lunch Ideas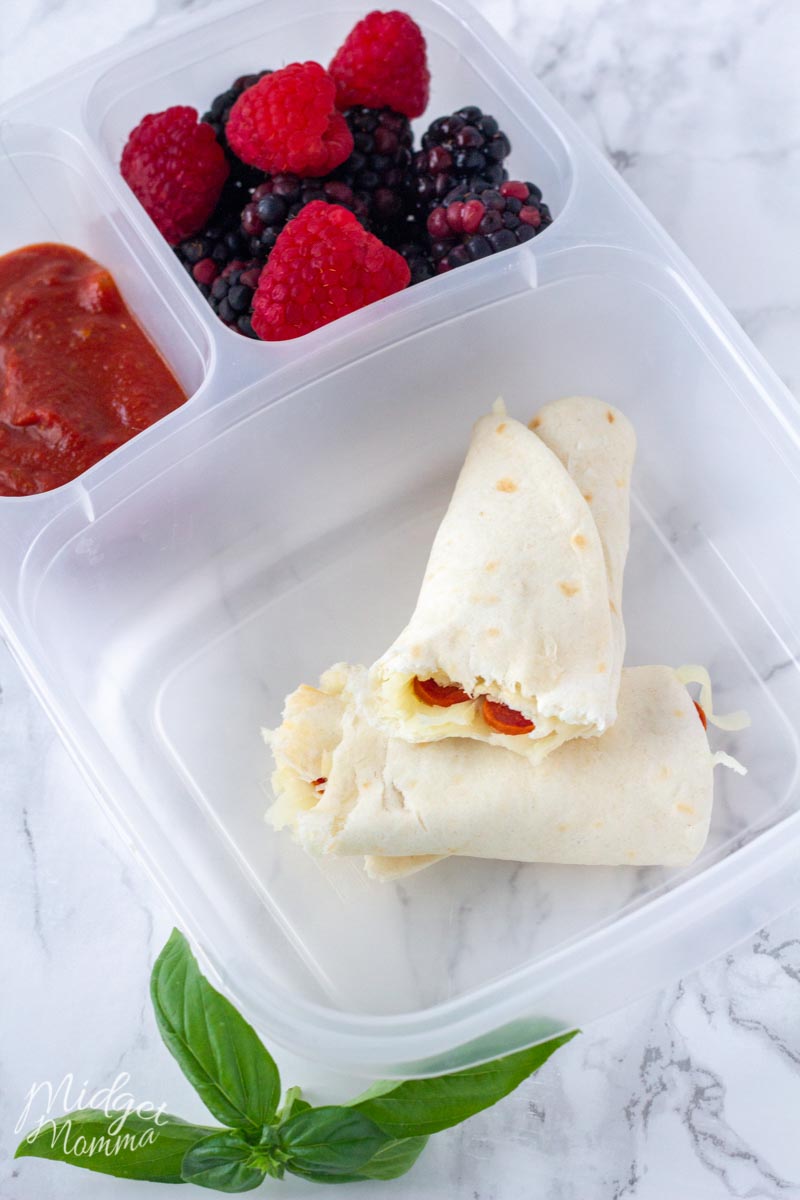 Pack them in the lunchbox!
Most of the time when I make these we are at home. However they make an incredibly easy DIY lunchable for the kids to pack for school lunch too!
You can totally pack the kids Pizza Roll ups in their lunch box! Just make them in the morning and put them in an insulated container to keep them warm until lunch time! Then just use a small rubbermaid container to hold the sauce!
Some great things to use to pack the kids lunches and keep them warm and cold are the: 
What to serve with Pizza Rollups
I like to use the lunch box containers that have compartments, mainly the ones with one large section and then 2 smaller ones. In the large section I put the pizza roll up and then the pizza sauce in one of the smaller ones.
When packing pizza roll ups in the kids lunch box, pack them their favorite sides like fruit, veggies slices or anything else that the love to have in their lunch! If you are looking for even more lunch kids, make sure you check out 101 School Lunch Ideas!
Lunchbox Ideas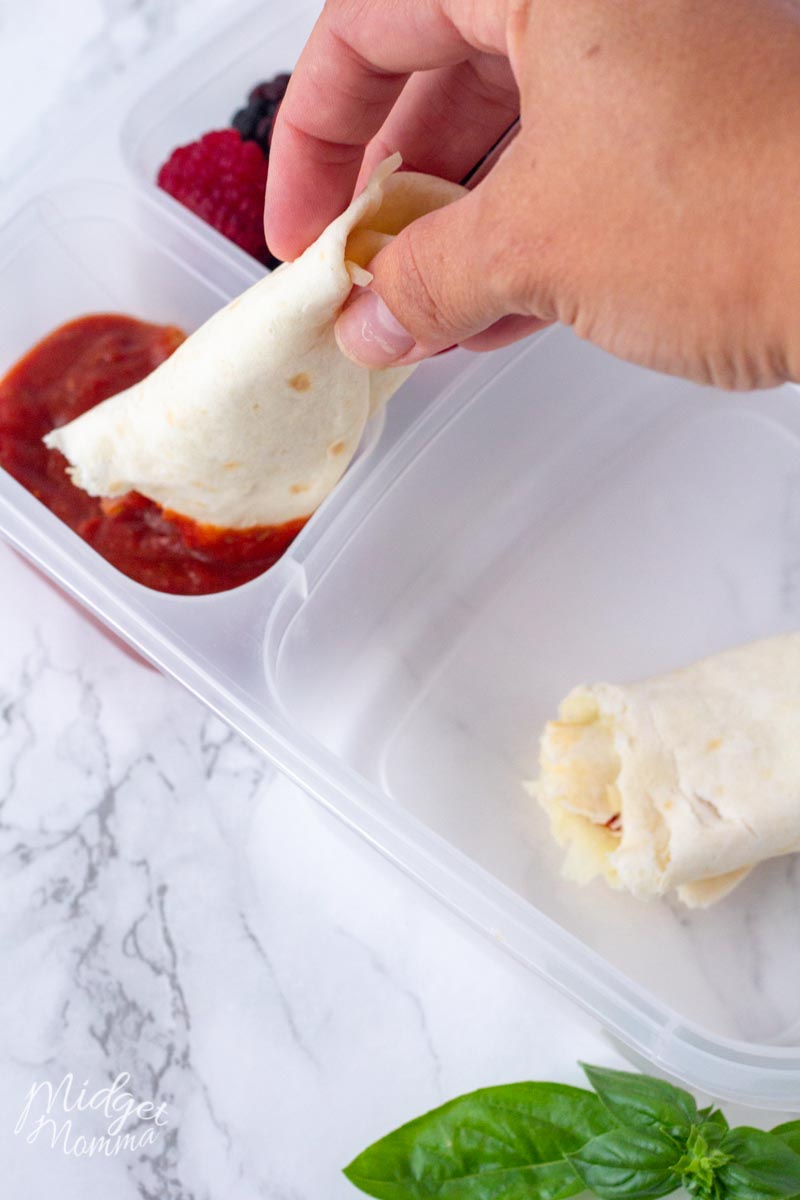 Easy Pizza Appetizer!
If you are having a party, these pizza roll ups also make a great appetizer! Just make a bunch of them, cut them in half and serve them on a platter with homemade pizza sauce for dipping!
Easy Appetizer Recipes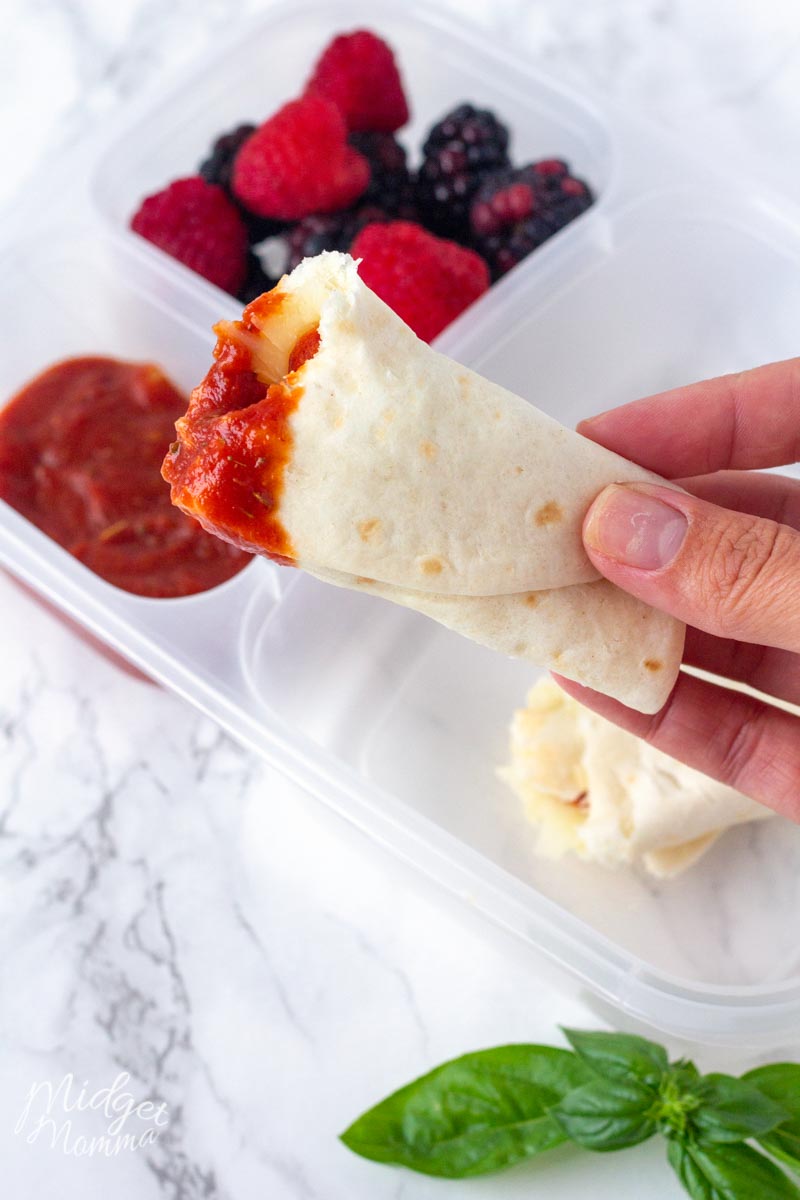 Pizza Roll up Filling Ideas
There are lots of things that you can include in your pizza roll ups. The great thing about this easy pizza recipe is that everyone can make their own pizza rollups exactly how they want them.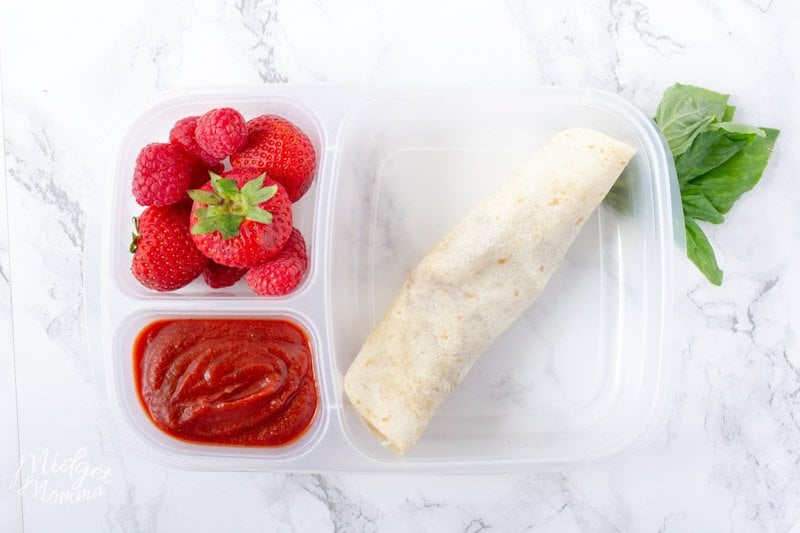 Pizza Roll ups Ingredients
How to Make Pizza Roll Ups
This Easy Pizza Roll ups recipe will make 1 pizza roll up but the recipe is super easy to double, triple or make however many you need. For my kids who are younger I normally make 2 pizza roll ups. For the older kids I suggest making 3.
Lay out tortilla, top with cheese and pizza toppings.
Heat in the microwave.
Roll up and serve with pizza sauce for dipping.
More Pizza Recipes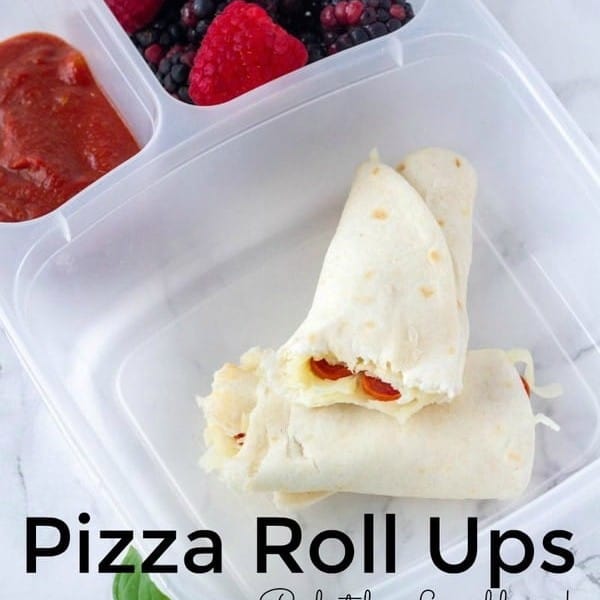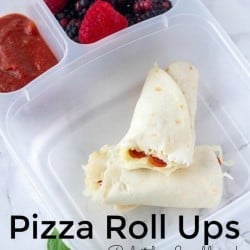 Pizza Roll up
Servings
Super easy Pizza Roll up is made with your favorite pizza ingredients and tortillas! All of the ingredients are rolled up nicely in a tortilla, warmed up and then served with pizza sauce!
Ingredients
1 tortilla
1/4 cup mozzarella cheese
1 tablespoon mini pepperoni
2 tablespoon pizza sauce
Instructions
Place the tortilla on a microwave plate. Sprinkle the cheese and pepperoni onto the tortilla.

Microwave the pizza for 30-45 seconds.

Roll the tortilla up and sever it with the pizza sauce.
Calories: 254kcal | Carbohydrates: 17g | Protein: 12g | Fat: 14g | Saturated Fat: 6g | Cholesterol: 37mg | Sodium: 798mg | Potassium: 186mg | Fiber: 1g | Sugar: 2g | Vitamin A: 320IU | Vitamin C: 2.1mg | Calcium: 173mg | Iron: 1.5mg
Pizza Roll up
Lunch
8 WeightWatchers SmartPoints on the Freestyle Program