Skip the sandwich and enjoy these Keto Italian Sub Rollups! Easily customized with your favorite lunch meat and cheese, this easy low carb lunch is perfect for at home or packing lunch!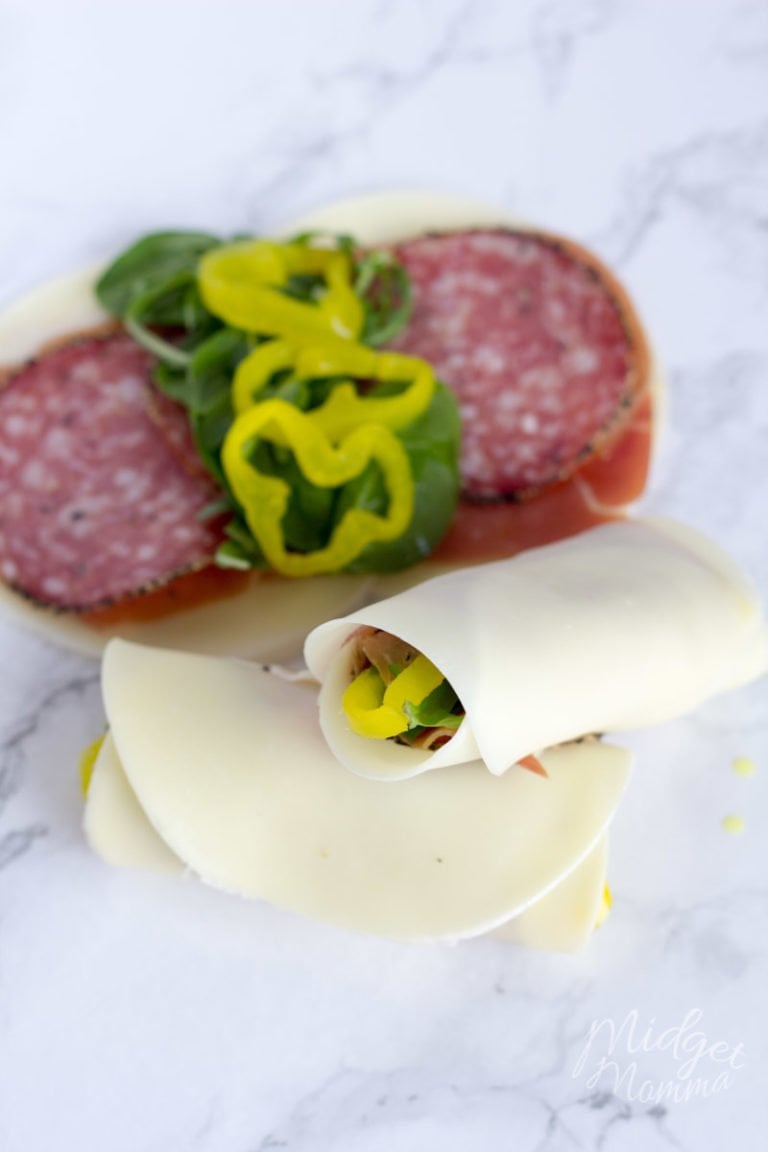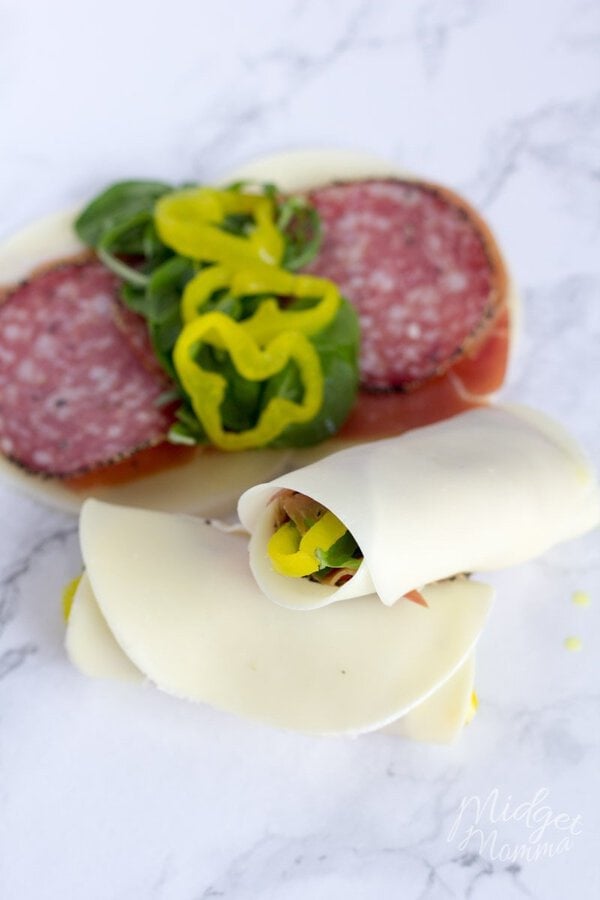 Keto Italian Sub Rollups
If you are looking for an amazing low carb lunch then you are going to love these Italian Sub Rollups! Italian Sub Rollups is a low carb lunch that fits perfectly for anyone who is also looking for an easy no cook keto lunch option. Filled with Italian meats, cheese, pickled peppers, and olives these are so tasty and perfect for lunch! We all love these Keto Italian Sub Rollups!
I personally need lunches that are quick and easy that fall inline with my keto needs of high fat and moderate protein, with as little carbs as I can do like these Italian Sub Rollups. My go to for our busy, busy, busy days has always been a sandwich but eating keto bread is out the window. I shouldn't act like that is a bad thing at all, because not eating bread has helped me not feeling like garbage after eating but it still doesn't mean I don't miss my quick and easy sandwiches.
My kids have been calling these Keto unwhiches because there is no bread, but hey whatever works to get the kids smiling and eating what I am so I don't have to make multiple meals works for me. 😉
Easy Keto Lunch Ideas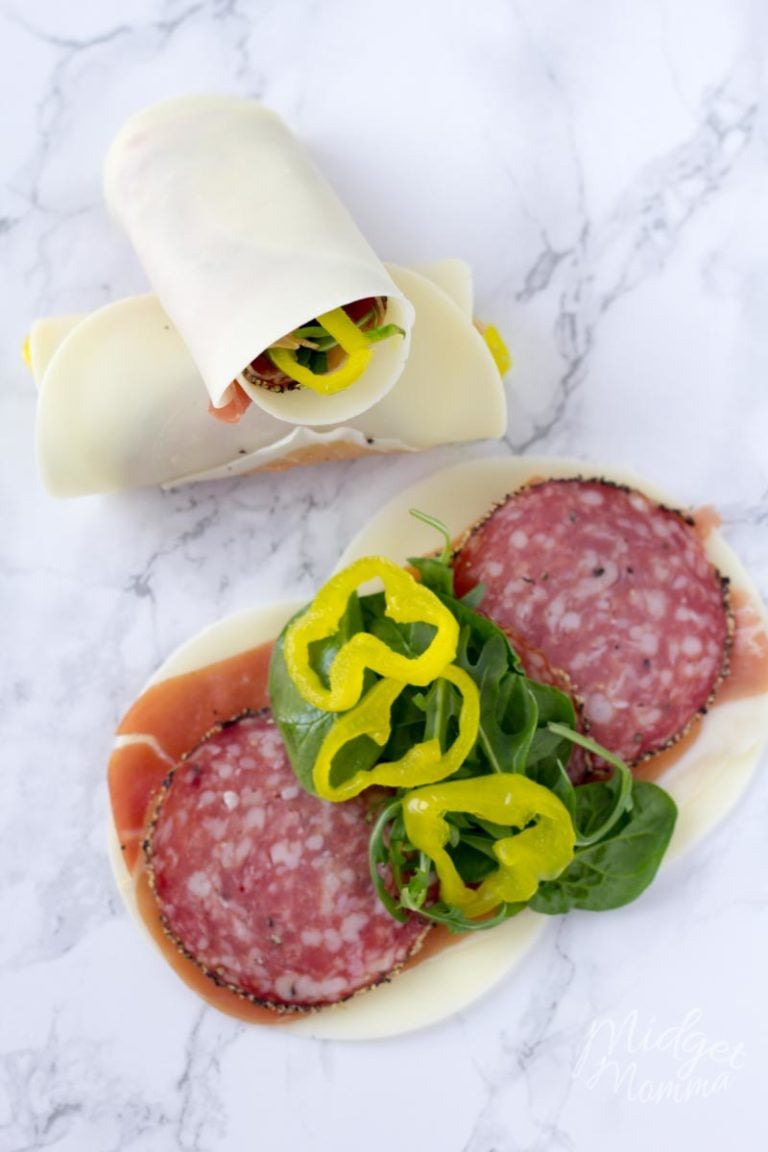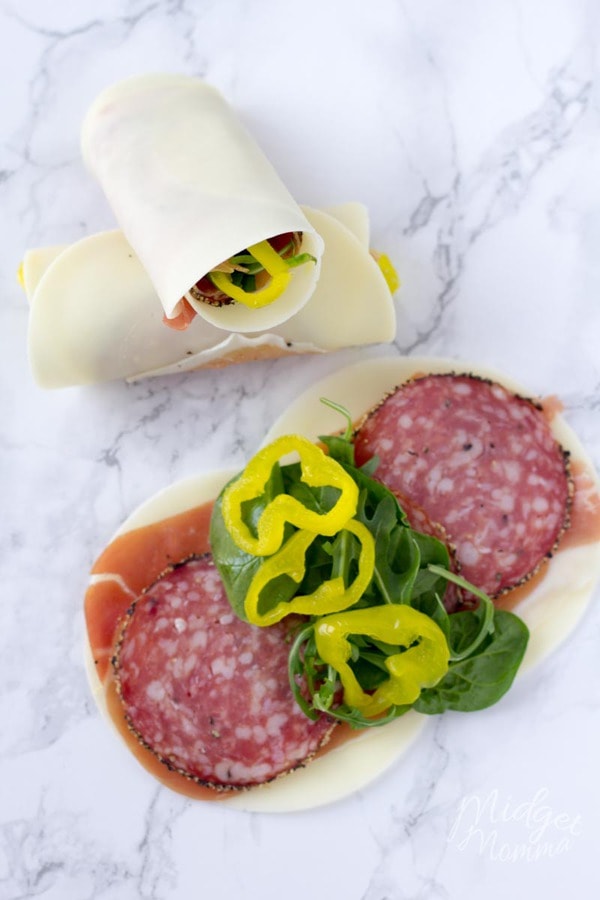 Best Cheese for Sandwich Wraps
My favorite cheese to use when making these Keto Italian Sub Rollups is provolone, the flavor is strong but not so strong that it over powers the Italian roll up.
You can also use swiss cheese, cheddar, Gouda, mozzarella, or munster cheese.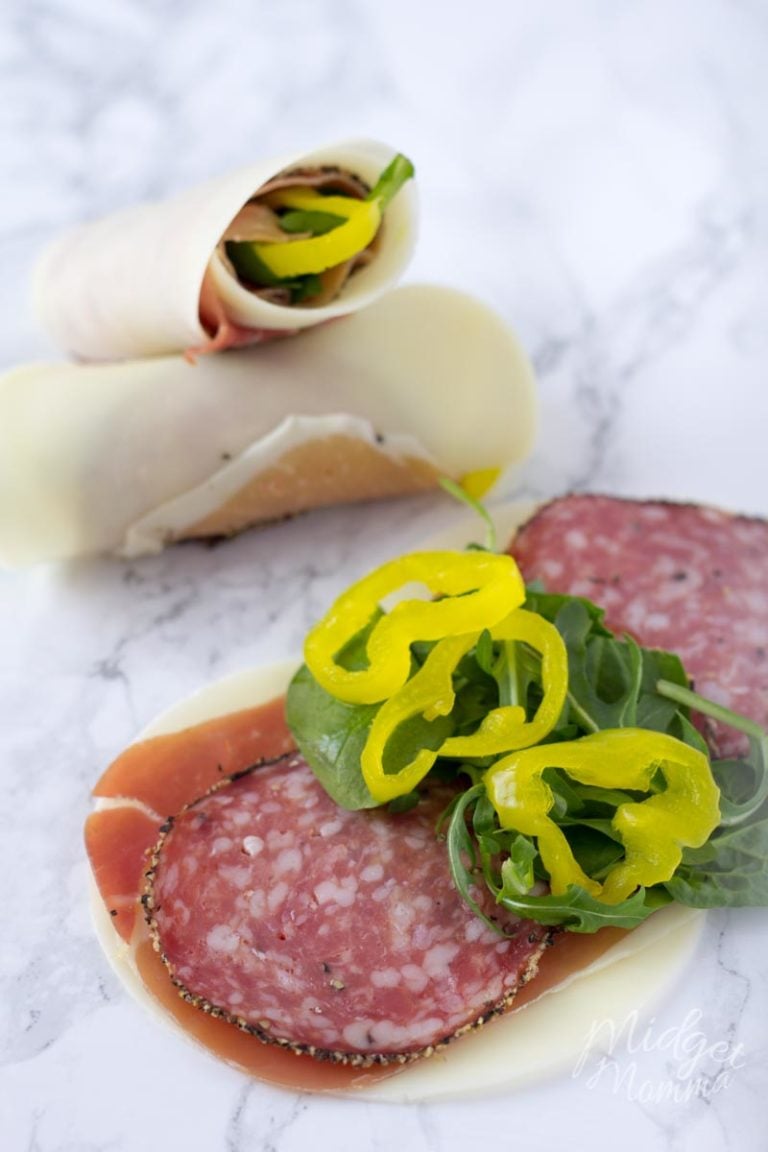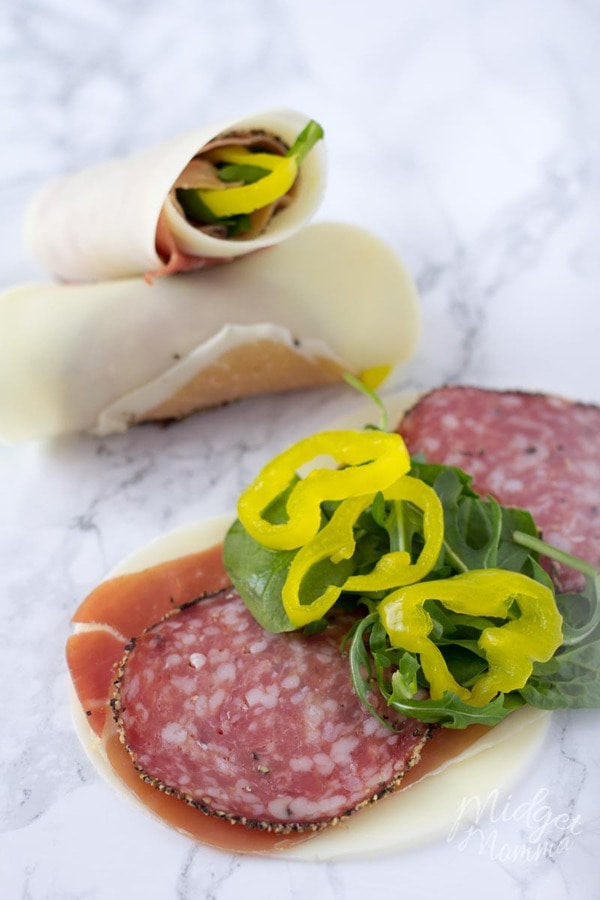 Tips for making this recipe
When making these keto sandwich wraps it is important to layer your items in an order that will make it so everything stays in place and nothing falls out. You will want to lay the biggest sized meat piece first, then layer everything down size wise and then roll it up.
While these look like they are not going to be filling, I am going to tell you now that they are. There are times where I only end up eating 2 of the 3 rollups that this recipe makes.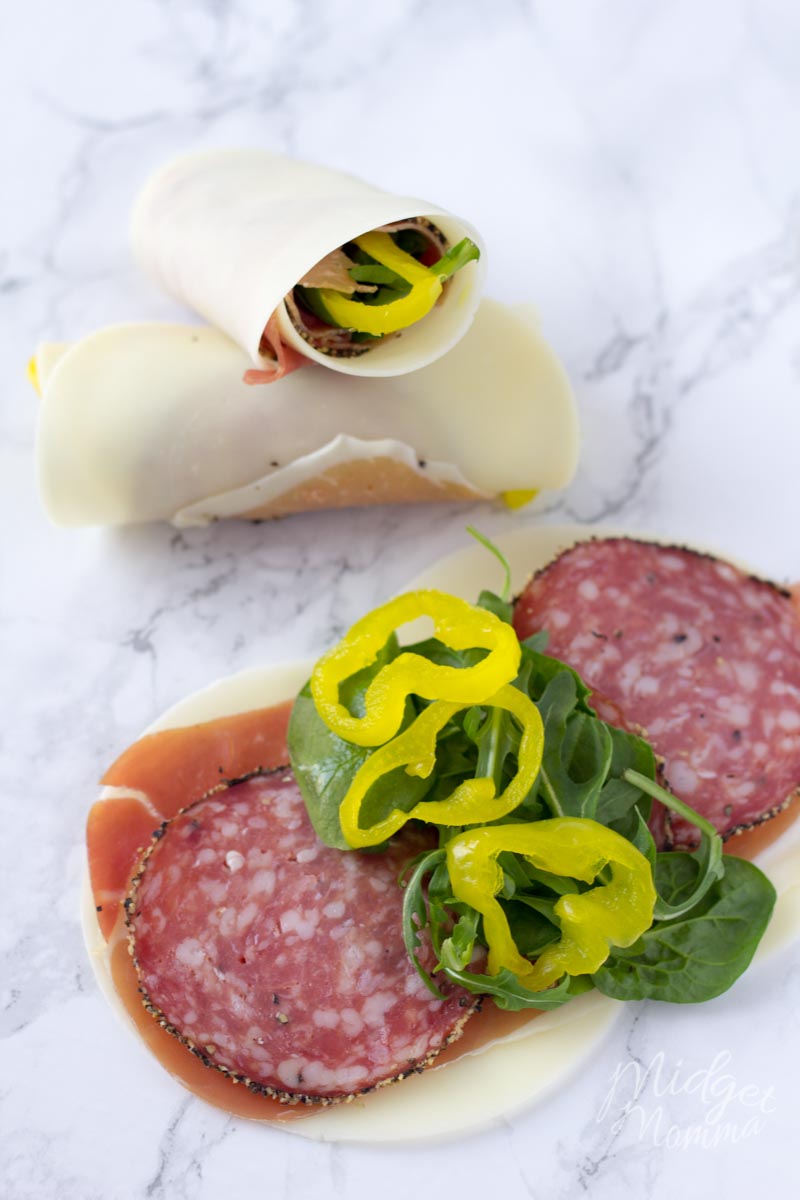 Variations of this recipe
You can add different toppings into the italian roll up as you want, but I am a big fan of the flavor combination that comes with adding banana peppers! Sometimes I also like to add roasted red peppers, jalapeno peppers, and black olives. Depending on my mood I will also sometimes add a little bit of mayo or some olive oil, not always just when I am in the mood for it.
Change up the meat! You can easily change up the meats in this low carb sandwich wrap and use turkey, ham, deli chicken, roast beef and any other lunch meat you enjoy.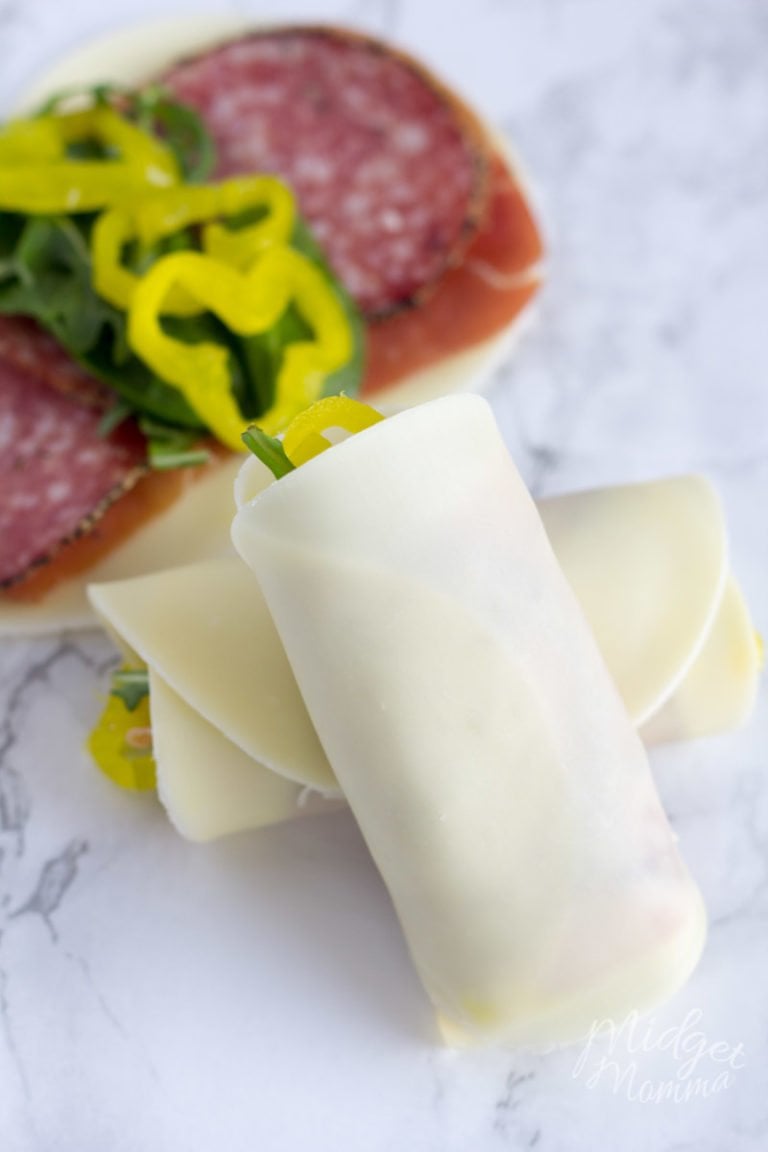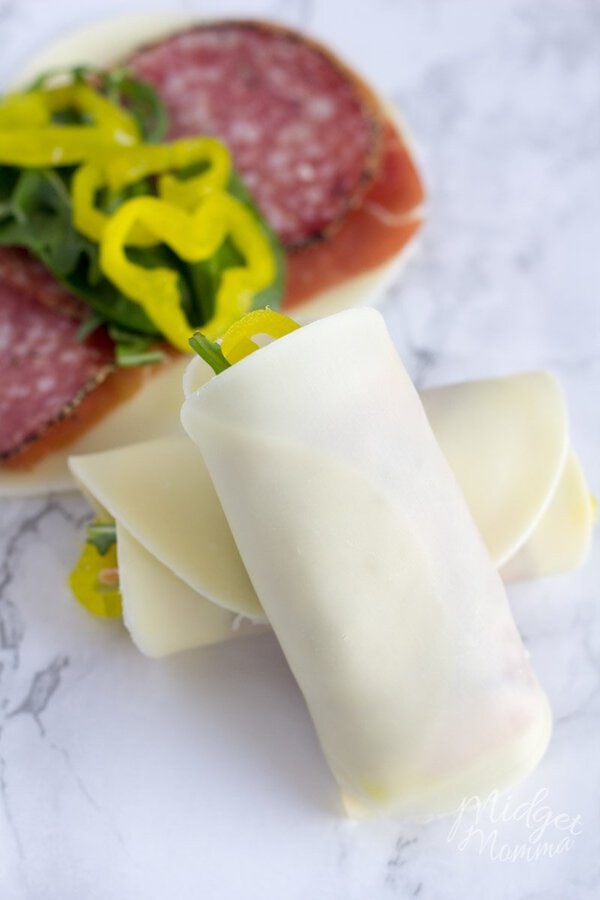 Keto Italian Sub Rollups Ingredients
provolone cheese
prosciutto
salami
lettuce or raw spinach
banana peppers
How to Make Keto Italian Sub Rollups
Layer cheese, prosciutto and salami. Add lettuce and banana peppers. Roll up and enjoy.
Easy Keto Recipes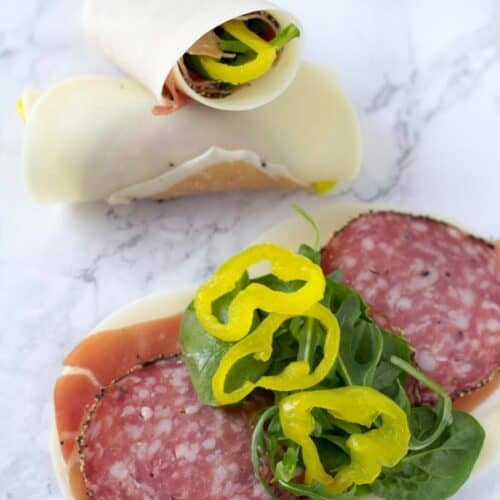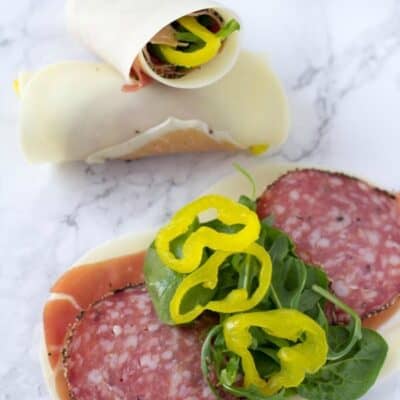 Keto Italian Sub Rollups
If you are looking for an amazing low carb lunch then you are going to love these Italian Sub Rollups! This low carb lunch fits perfectly for anyone who is also looking for an easy no cook keto lunch option.
Print
Pin
Rate
Servings: 1
Ingredients
4.8 ounces Thin slice provolone cheese 6 slices
1.5 ounces Prosciutto 3 slices
3 ounces hard Salami 9 slices
1/4 cup Lettuce
1/4 cup Banana Peppers
Instructions
Lay out one slice of cheese place another slice slightly overlapping the first slice.

Place one slice of prosciutto on top of the cheese.

Place three slices of salami on top of the prosciutto.

Add a small bunch of lettuce to the center of the wrap.

Top those with three slices of peppers.

Roll the cheese up and place the seam side down to keep it close.

Repeat this with the remainder of the ingredients so you are left with three wraps.
Nutrition
Calories: 881kcal | Carbohydrates: 4g | Protein: 62g | Fat: 82g | Saturated Fat: 39g | Cholesterol: 189mg | Sodium: 3401mg | Potassium: 673mg | Fiber: 1g | Sugar: 2g | Vitamin A: 1393IU | Vitamin C: 26mg | Calcium: 1040mg | Iron: 2mg
Share on Facebook
Pin Recipe
Tried this recipe?Mention @midgetmomma or tag #MidgetMommaRecipes
29 Weight Watchers SmartPoints on the Freestyle Program
If you are looking for the best shopping lists for the stores near you, these are our favorite Keto Shopping lists, that will help you know what to look for when you are doing your shopping.