Grinch Fruit Kabobs | Kids Christmas Treats
So you have a holiday party coming up but you have no clue what to bring. You also would love to wow everyone but you skills in the kitchen are lacking. Well these Grinch kabobs are for you. They fruit kabobs are made to look like the Grinch wearing his Santa hat. For some reason when you put things on toothpicks kids love them. My daughter love grapes… only when her Nana is severing them. When ever I try to give her the same grapes she just squishes them or feeds them to our dog. I was shocked i made her these Grinch Kabobs and she love them so much she kept asking for more! I thought she was just going to pick the marshmallows of the top but she loved the whole thing. They are now a snack time staple in our house.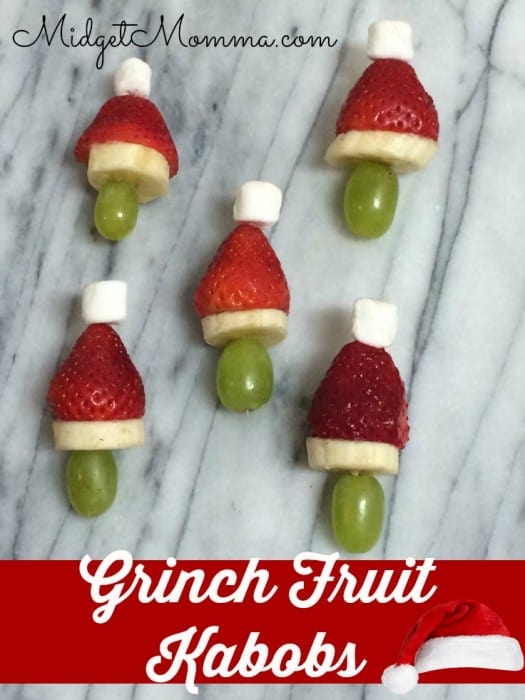 Grinch Fruit Kabobs | Kids Christmas Treats  Ingredients
24 Tooth picks
24 Grapes
24 Strawberries
1 Bananas
24 marshmallows
Grinch Fruit Kabobs | Kids Christmas Treats Directions
Slice the tops of the strawberries. Slice the banana into 24 pieces. Thread one grape, one banana slice, one strawberry with the narrow end facing up, and one marshmallow onto one toothpick to resemble the Grinch's head in his red hat. Repeat with remaining grapes, banana slices, strawberries, and marshmallows.