Tis the season for indulging in all of your favorite sweet treats! I still can remember the smell of the warm holiday spices as they waft down the hallway from our kitchen. It is that great combination of the cinnamon, nutmeg, and ginger which always seem to have a way of making the house smell like a home during the holidays. This recipe for gingerbread cookies is one of my favorites because you end up with these soft chewy cookies rather than a hard crunchy cookie. To me when I have a cookie I like that soft texture because I feel like it's homemade versus a hard one out of a box. Now to get this great texture it means the dough is very sticky and it can be hard to work with if you do not pay attention to these tips I'm sharing with you.
Soft and Chewy Gingerbread Cookies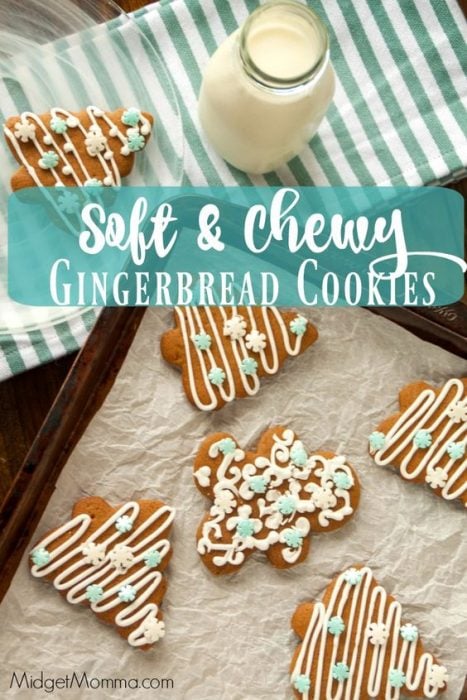 How to Make the BEST Gingerbread Cookies Tips
When you are rolling out the dough you really want to roll it out in between two layers of parchment paper. If you do not own parchment paper and really recommend you keeping some of the house because it is a great baking medium. If not you can work in smaller batches and roll it out in between two Ziploc bags. The reason for this is so you don't have to keep adding extra flour which makes the dough hard and tough.
Making sure you work with your dough while it's still cold. If you're making these cookies with little kids I suggest you make them in small batches at a time when you're rolling them out so the kids have time to cut out the shapes they would like. The first time I made these with my daughter I made the mistake of only dividing the dough in half and when it came time to trying to remove her cookies from her paper they just turned into a pile of mush. So now when I make these cookies I divide them into four equal parts and roll out four separate sheets. My daughter gets her own sheet but I helped her quickly move her shapes onto the sheet pan.
Now the most important Tip I will give you is just to have fun making these cookies. Your family not gonna care if you have a perfect ginger man shape or a ginger man blob as long as they're having fun with you and get a special tasty treat at the end of it all.
Soft and Chewy Gingerbread Cookies Ingredients
3 cups all-purpose flour
1 tablespoon ground ginger
2 teaspoons ground cinnamon
1/4 teaspoon ground cloves
1/4 teaspoon ground nutmeg
3/4 teaspoon baking powder
1/2 teaspoon baking soda
1/2 teaspoon salt
3/4 cup packed dark brown sugar
10 tablespoon butter, softened
1 egg yolk
1 1/2 teaspoon vanilla extract
1/2 cup molasses
1 tablespoon milk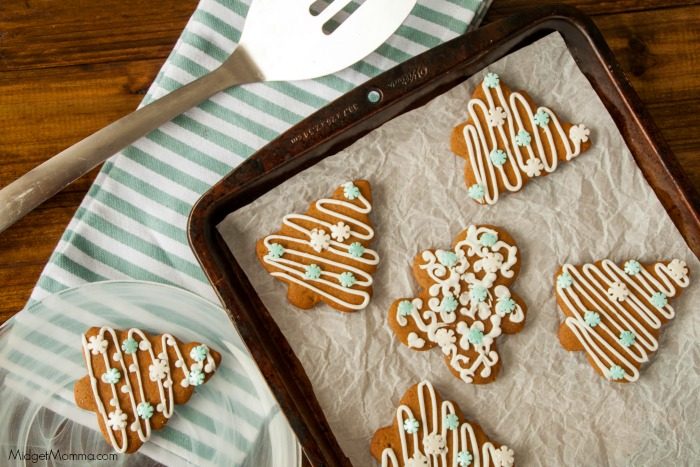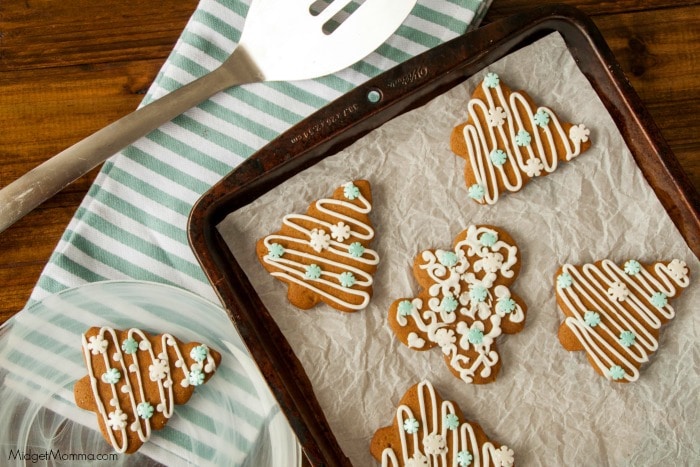 Soft and Chewy Gingerbread Cookies Directions
Preheat oven to 350 degrees.
In a medium mixing bowl, whisk together the flour, cinnamon, cloves, nutmeg, baking powder, baking soda and salt, set aside.
In the bowl of your mixer cream together on medium speed the sugar and butter until light and fluffy, about 4 minutes. Turn your mixer down to low and stir in the yolk and vanilla extract. Stir in the molasses and milk just until combined.
Slowly stir in the flour mixture into the butter mixture, just stirring until combined. Make sure you do not overmix the dough.
Lay out two sheets of parchment paper. Divide your dough in half and place each half onto a sheet of parchment. Top each pile of dough with a new sheet of parchment paper. Roll the dough out in between the paper until the dough is 1/4 of an inch thick. Place the dough onto sheet pans and put them in the freezer for 15-30 minutes or until cold and firm.
Working on one sheet at a time cut out your shapes. With a thin spatula remove the shapes from the parchment and place them on your cookie sheet leaving an inch gap between the cookies. Bake for 8-10 minutes or until firm around the outside of the cookie. Let them cool for 5 minutes on the sheet pan then transfer onto a cooling rack. Reroll any extra dough and repeat these steps.
You may decorate these cookies with royal icing in a pastry bag with a very small hole straight piping tip. While the icing is still wet you can stick on things like mini M&M's or sprinkles.
4 Weight Watchers SmartPoints before royal icing.
We have a lot of tasty Christmas cookie recipes, so make sure you check out the 12 days of Christmas cookies and the Best Christmas Cookie Recipes. Looking for more Christmas fun? Check out these Christmas Treats kids will love and Fun Kids Christmas crafts!
More Tasty Holiday Treats!
Join the newsletter
Subscribe to get our latest content by email.
This post may contain affiliate links. Please read my disclosure policy here