This Pinecone Christmas Cheese Ball is the perfect snack to have at a party! It is shockingly easier to make then you would think and it looks BEAUTIFUL on a tray with crackers or veggies! The beauty of this pinecone cheese ball is just how easy it is to make! It looks like it is going to be a hard recipe to make but making a pinecone cheese ball is actually really easy to do.
Pinecone Cheese ball
Party Cheese Ball
I have never had the pleasure of enjoying a cheese ball until one of my friends brought one to our holiday party. Just after the first bite I was hooked. Not only did it taste amazing but she was able to mold this cheese into such a cute shape, a pinecone cheese ball.
Normally when I go to a party I always volunteer to make the desert, go figure. Yet I have been sucked into the world of cheeseballs and I am always trying to find a new way to make them look even better than a taste. This pinecone cheese ball is by far my favorite one I have come up with so far, which of course is why I am sharing it with all of you!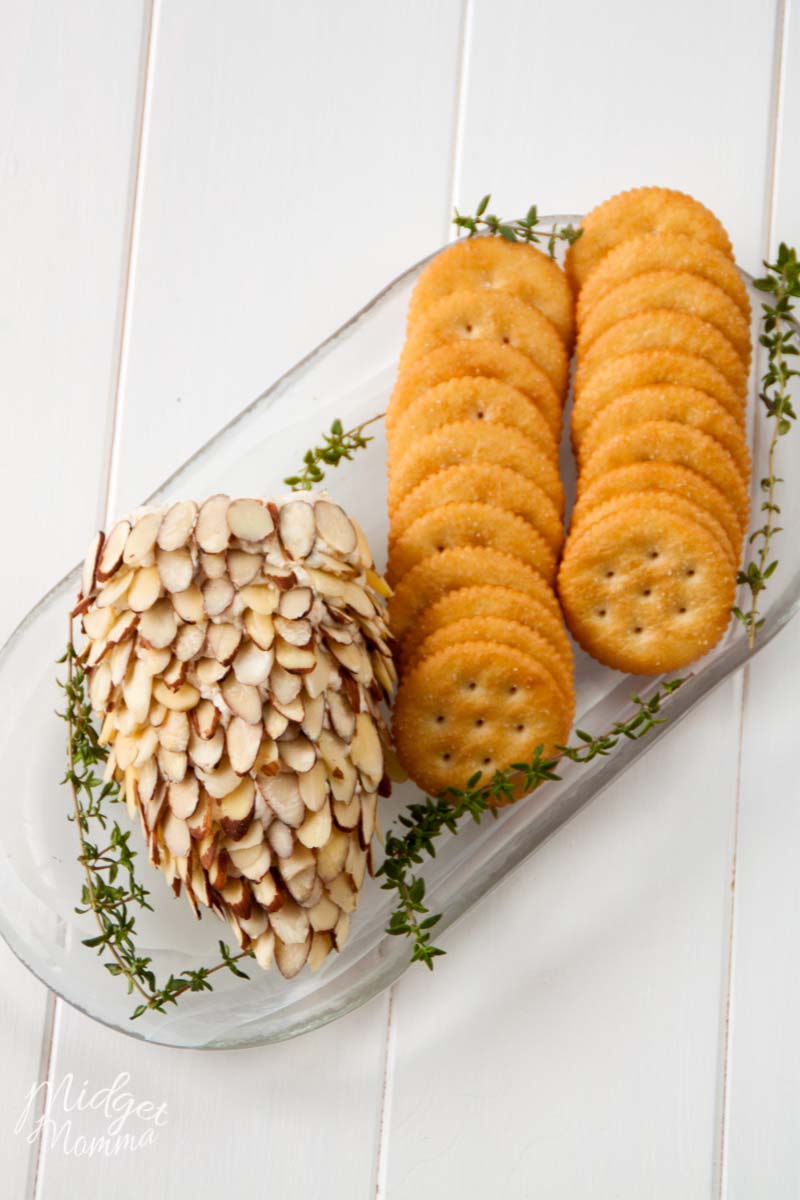 Easy Cheese ball
Now the great part about this cheeseball is unlike my normal baked goods that I bring to a holiday party these are very easy to make.
Some parts do get a little time-consuming like individually placing the almonds into the cheese ball but it is still so simple to do my four-year-old daughter can help. Placing the almonds on the cheese ball is the job I give my kids, so I can get other holiday treats done that I need to make. They love being a part of the holiday baking and treat making!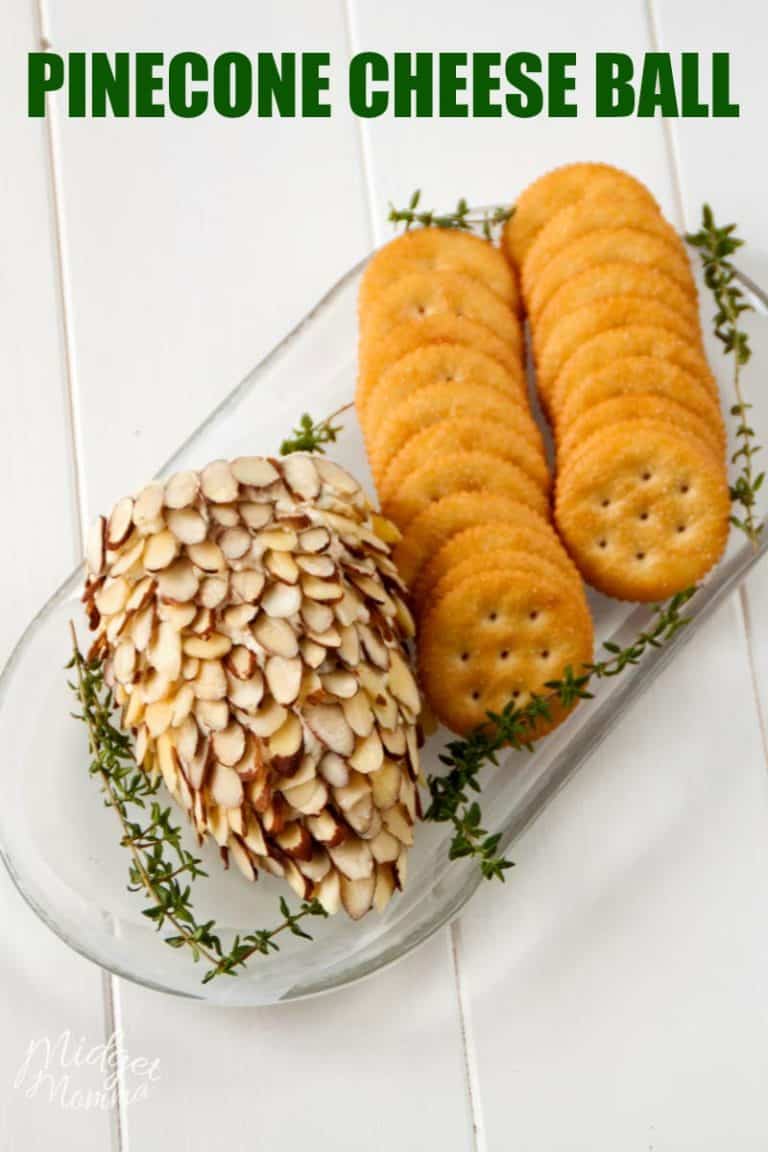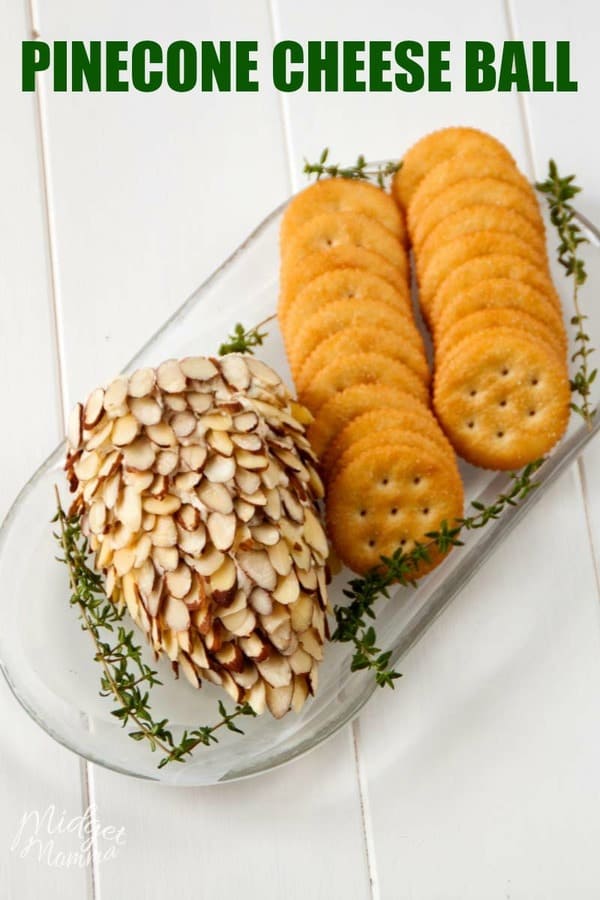 How to shape a cheese ball like a Pinecone
In order to get the great shape I recommend making sure once your cheese is mixed and in the plastic wrap you let it get cool all the way through. If you're in a hurry you can speed up this process by placing it in the freezer and letting it sit for 10 minutes. However, it is best to give yourself the time you need to make it, since it comes out better when you don't rush it.
When it comes to the pinecone shape I recommend using sliced almonds. I love almonds, however on a cheeseball I find using whole almonds is a bit overwhelming. I prefer to have a little bit of nut with a large amount of cheese instead of the other way around. If you want to use whole almonds when making this cheese ball recipe you can, but I prefer the sliced almonds.
How to serve a Cheese ball
When you are having a party the best way to serve a cheese ball is on a platter. I like to go with a simple platter that makes the beautiful cheese ball stand out. Then surround the cheese ball with your favorite crackers and veggies to dip in the cheese ball.
If you want to make a few smaller cheese balls instead of one large cheese ball you can, this way you can have multiple cheese balls on the snack table, with out having an overwhelming amount of food.
When I am having a party I like to make a lot of tasty treats, including chocolate pretzel bites, Easy Caprese Salad Skewers, and fried Macaroni and Cheese.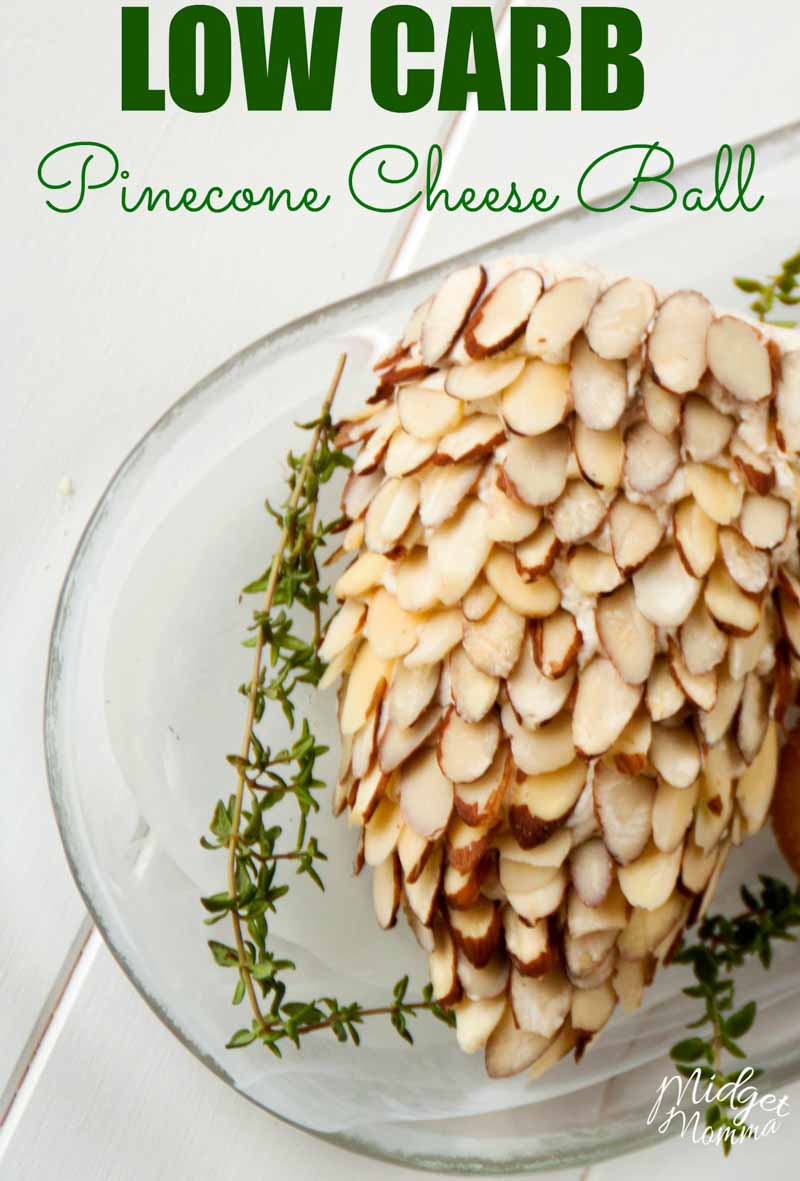 Low Carb Cheese Ball
If you are on a low carb or keto diet then this low carb cheese ball is perfect for you to enjoy at any holidays parties you are having.
If you are looking for more low carb and keto friendly party treats, some of the others that I will be serving this year for my Keto and Low carb friends and family members are bacon wrapped scallops, Buffalo Chicken Dip, Keto Fried Shrimp, Buffalo Cauliflower Bites and Bacon Ranch Pinwheels.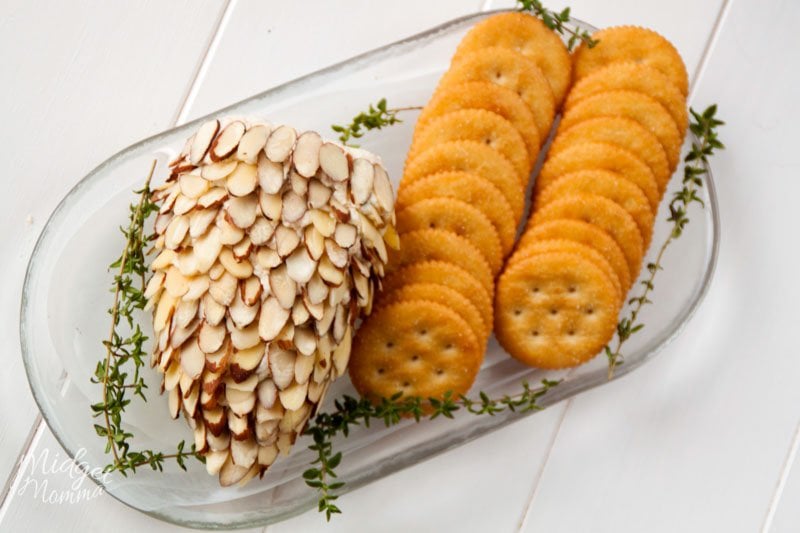 How to Make Pinecone Cheese Ball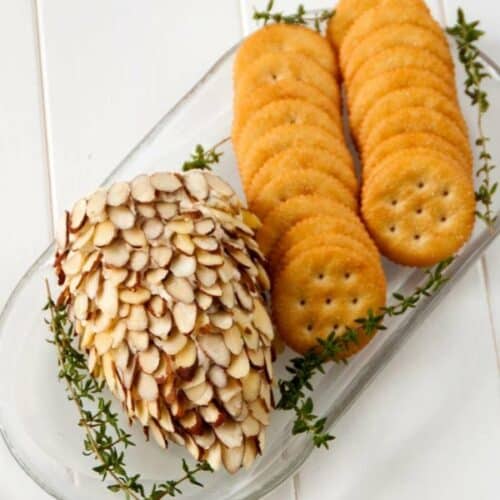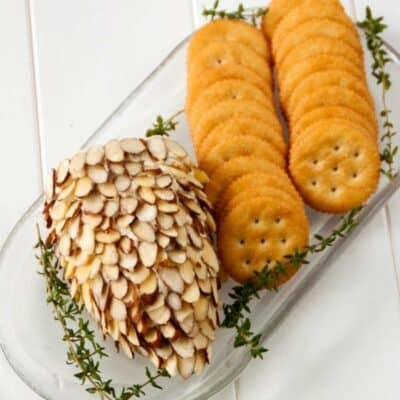 Pinecone Cheese Ball
This Pinecone Christmas Cheese Ball is the perfect snack to have at a party! It is shockingly easier to make then you would think and it looks BEAUTIFUL on a tray with crackers or veggies!
Print
Pin
Rate
Servings: 15
Instructions
n the bowl of your mixer cream the cream cheese and mayonnaise together until there are no lumps.

Stir in the parmesan cheese, cheddar cheese, onions, Worcestershire sauce, garlic, and bacon, just until combined.

Lay down two sheets of plastic wrap onto your counter. Divide the cheese mixture in half and place each half onto one of the plastic sheets. Wrap the cheese up and gently form the mixtures into cone shapes. Place them into the refrigerator for an hour.

Unwrap the cheese balls and place them onto your serving plate. Starting at the point of the cone shape start layering the almond slices in a row working your way up the cone shape till you reach the top.
Notes
Serve the cheese pinecones with your choose of crackers or veggies that you like to dip.
Nutrition
Calories: 220kcal | Carbohydrates: 3g | Protein: 5g | Fat: 20g | Saturated Fat: 8g | Cholesterol: 44mg | Sodium: 218mg | Potassium: 115mg | Sugar: 1g | Vitamin A: 480IU | Vitamin C: 0.3mg | Calcium: 102mg | Iron: 0.5mg
3 Weight Watchers SmartPoints per serving
More Holiday Treats to make for your Holiday Parties!
We have a lot of tasty Christmas cookie recipes, so make sure you check out the 12 days of Christmas cookies and the Best Christmas Cookie Recipes. Looking for more Christmas fun? Check out these Christmas Treats kids will love and Fun Kids Christmas crafts!
Join the newsletter
Subscribe to get our latest recipes right in your inbox every time we post a new one!