It's the Christmas season again. The time of year that is supposed to be filled with child-like wonderment at the lights and excitement. Instead, for so many people, the Christmas season can cause dread and anxiety. Christmas is stressful when you are broke and can't afford presents.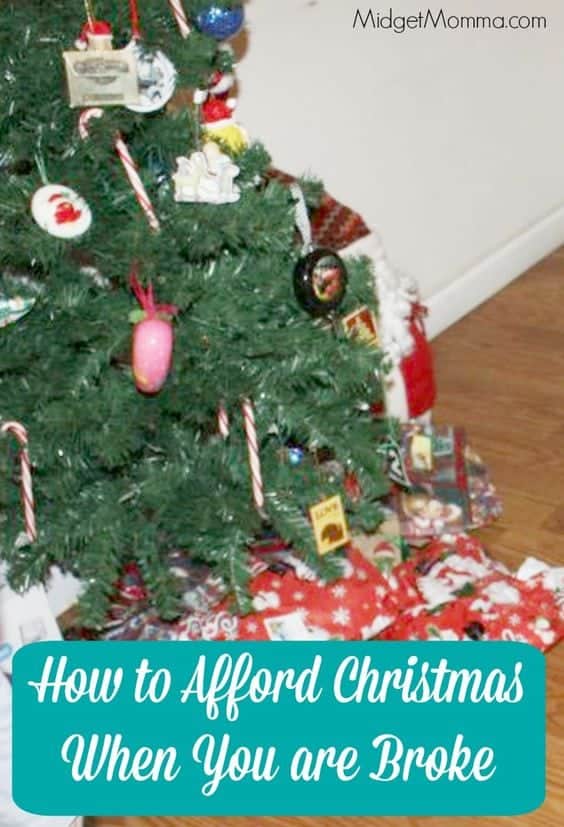 How to Afford Christmas When You are Broke
Look in free groups: This time of year, Facebook and groups like Freecycle are full of people ready to give away new-in-package items. Whether they are giving them away because they want to help someone who can afford to buy gifts, or if they are giving them away because they are trying to make room in their home for the new items that will be coming in for Christmas, it can help you find great items for gifts.
Look in your kitchen: You might have stock piled flour and sugar the last time it was on sale. Maybe you only have small amounts of a lot of different ingredients. If it is in your grocery budget, where you can do without it if you use it, bake someone a present. It doesn't have to be baking. Create a dinner casserole and give that to a friend or family member. Even people who love to do their own cooking will appreciate a night off or a sweet treat. Think outside the box, too. Don't have enough ingredients that you can spare to make dinner. How about breakfast? Maybe create your own waffles and freeze them to give as a gift. Homemade always tastes better. Don't think large scale. Even if this is only an option for one person on your gift list, that is one gift that can be taken care of.
Offer your services: Can you rake leaves, or sew? Are you handy with a camera? Are you great at tutoring? Offer yourself as a present. Offer child care so a mom can have an afternoon to herself. Offer to come do a teen girl's hair for a big dance. Offer parents tutoring for their kids so that is something that they don't have to pay for.
Crafty Creations: Some people look around their house and can see a way to repurpose anything. If this is a skill you have, or you love Pinterest and want to search for a craft, see what you have around the house that can be turned into something nice. Even things like old vases can get a new coat of paint, some sparkles and have new life breathed into them. People love handmade items.
Create a gift basket: Use coupons to get items for a creative gift basket with Personal care items and cleaning supplies. Personal care items are often available for free when you know how to work the deals. Even if you have never had experience in using coupons, deal site walk you through how to get the items for free, or almost free, using printed and digital coupons. You can create a baking basket, a craft basket, a pamper yourself basket, almost anything. There are so many ways to create a gift basket with your stockpile too!
Stay on top of Deals: If you have a little budget to work with you can stretch that a LOOONG Way by shopping deals. You can join the deal hunting facebook group here to help find deals.
Buy Discount Gift Cards: When you are stretching your budget you want to stretch it as much as you can, Raise.com sells discount gift cards. If you use code lhappel you will get a FREE $5 credit! That is a FREE $5 to spend! They have discounted gift cards for places like Target, Walmart, Amazon and more!
And if you are on foodstamps there are somethings you can make and do that use your foodstamps, find out how to use your food stamps for holiday gifts to stretch the budget even more!
Don't let Christmas cause you extra stress. With a little creativity, you can have gifts that your family and friends will love, that do not have to touch your budget at all.