Christmas time can be very stressful if you are struggling financially, but this doesn't mean that you are not wanting to give gifts. Wanting to give to others and not having the financial means to do so can be very stressful and bring down the good mood that you want the season to be, however there are quite a few ways that you can still give gifts to those you love and care about. One of those ways is Using Food Stamps to give gifts.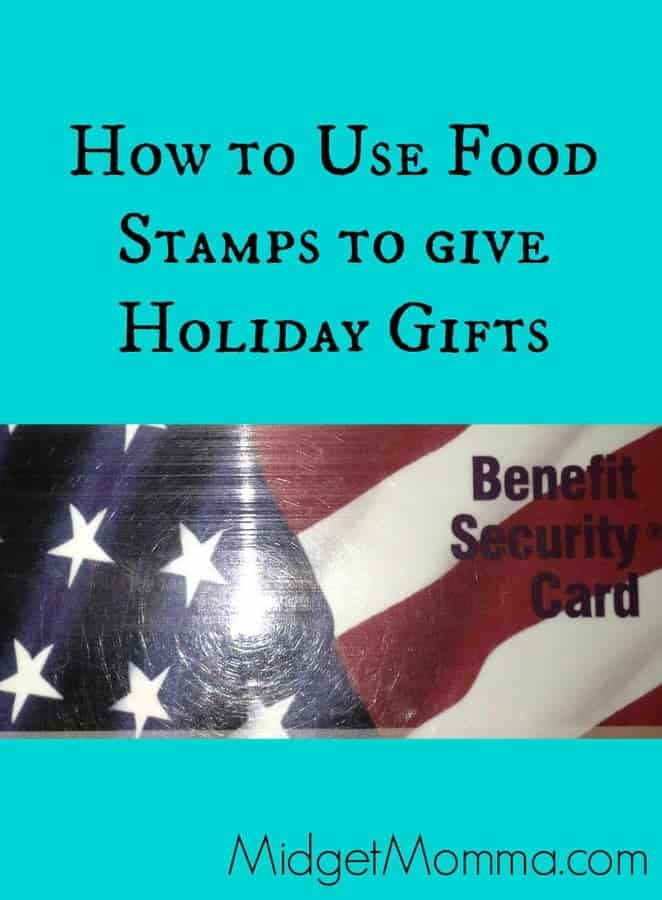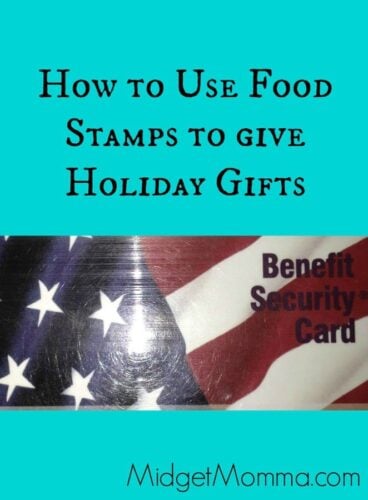 How to Use Food Stamps to give Holiday Gifts
Before anyone jumps on me for this, yes I know Food Stamps are for food for the household, and for everyone to be able to eat. However with good planning and use of coupons those on Food Stamps CAN have extra money on their cards to be able to spread love to their family and friends and I think it is perfectly ok to do so. You can disagree with me on this one, but it is the holiday season, giving to others and showing kindness is a BIG part of it and I don't think we should let silly things get in the way of seeing what the holiday spirit is about.
Please do not do this however if doing so will mean that your family will not have enough to eat, your family and friends will understand and want you to put your household being fed above them receiving gifts. However if you are using coupons with your food stamps and then have extra money this can be a great way for you to have gifts to give to the ones you love.
No one wants to be left out of the gift giving because they can not afford to buy things so I thought what a good list to come up with for the holidays is how to give gifts using your food stamps.
Gift Ideas Using Food Stamps
Bake cookies. There are TONS of amazing cookie recipes out there and some that are fun and festive that making them alone is a labor of love and they are a tasty gift idea. You can find a lot of great cookie recipes here . If you are wanting to make sugar cookies use these step by step directions to make and decorate perfect sugar cookies.
Reindeer Poop: So this one is kinda gross, which makes it perfect for the kids but they are also a tasty treat too! Reindeer poop cookies  are a great one to make for the kids.
Hot Chocolate on a spoon: You can make these Hot Chocolate on a Spoon Snowmen (spoons aren't covered by food stamps but are cheap) and not only do they look pretty they make amazing hot chocolate.
Movie Basket: It doesn't need to be in a basket, it can be in whatever you have, but put things like candy, popcorn and drink mix in and then $1 for a Redbox rental and you have a movie basket.
Cookies in a jar: Follow these simple Cookies in a Jar directions and you can have a pretty gift for someone to make their own cookies.
Flavored Sugar: Easy to make gifts and you can get cheap glass containers at the Dollar store for $1 or use one that you have at home. Some flavors are great for recipes like this Lemon Flavored Sugar
Caramel Apples: You can follow this step by step directions on how to make perfect Caramel Apples and then decorate them in Holiday themes. Only things not covered by food stamps is the Sticks that you will need, but they are cheap to buy. Some ideas for caramel apples are Frozen themed caramel apples, Chocolate Swirl Caramel apples and Caramel Turtle Apples. But you can use your imagination and decorate them how you wish. Or for kids you can add the layer of caramel and give them a basket with everything they need to decorate their own caramel apples. My kids love making caramel apples and decorating them themselves!
Popcorn: I am not talking just your normal popcorn, I am talking about fun flavored popcorn that you can make right at home! Some great ones are Pumpkin Spice Popcorn, S'mores popcorn, Vanilla Butter Popcorn, Birthday cake popcorn, You can also make them into popcorn balls, like these Maple Bacon Popcorn balls!
Coconut Oil Lotion: Even if you do not have essential oils to change the scent this lotion still makes hands super soft and makes a great gift. You can find easy to follow directions for Coconut Oil lotion here
Forever Vanilla: This one is super easy. All you need it a glass jar and a Vanilla Bean. Then you just have to add vodka or rum to it. When giving it as a gift you can put the vanilla bean in the jar and then the instructions on how to make it keep turning into Forever Vanilla. To make forever vanilla you just add the vodka or the rum to cover the vanilla bean and let it sit until it is brown. Then when you use it up you refill the jar again with more vodka or rum.
Fun Holiday Treats: 
There are a lot of fun Holiday Treats you can make from food that not only look super cool and super cute but they are tasty treats too!
Rice Krispie Christmas Trees
Marshmallow Hot Chocolate Cups
Holiday Chocolate Bites Cookies
Fudge: There are MANY different types of fudge that you can make! Then you can put it in to jars or plastic containers or even decorated coffee or formula cans!
White Chocolate Peppermint Fudge
3 Ingredient White Chocolate Peppermint Fudge with M&M'S® White Chocolate Peppermint
Two Ingredient Strawberry Fudge
Quick and Easy 4 ingredient Peanut Butter Fudge
Homemade Baking mixes:
DIY Spa Items:
DIY Bath Bombs: These DIY Bath Bombs are great for relaxing and everything you need except the essential oils is on the food stamp list 🙂  There is also this homemade bath bombs i found that does not need citric acid.
Sugar Body Scrub
After making the DIY Salts and scrubs you can put them together as a gift set and give someone a personal spa day at home made with everything you made 🙂