Ever since my daughter has fallen in love with the movie Frozen she has been in love with snowmen. We used to take her to get ice cream all the time as a special treat but now that it has gotten cold we have changed her special treat to hot chocolate. These snowman hot chocolate spoons are a fun way to turn a warm mug milk to yummy hot chocolate. Just place the spoon into a cup of warm milk and stir until the chocolate is melted. Check out here to learn how to melt chocolate with a double boiler 
Snowman Marshmallows Hot Chocolate on a Spoon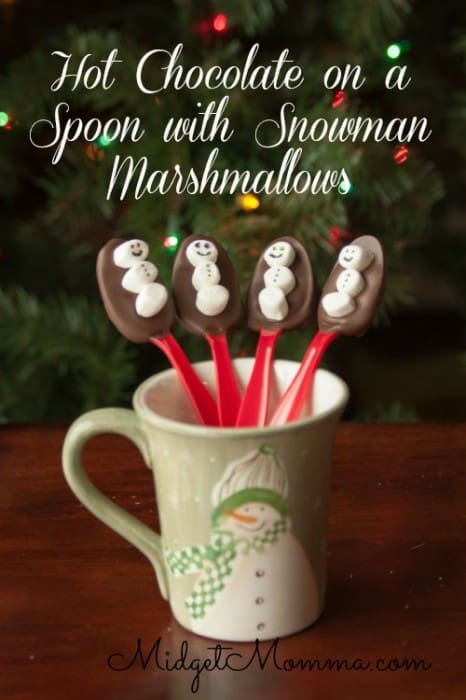 Snowman Hot Chocolate Spoons Ingredients
Dark or milk chocolate
Mini marshmallows
Plastic spoons
Snowman Hot Chocolate Spoons Directions
Melt your chocolate using a double boiler. Dip your spoon into the melted chocolate.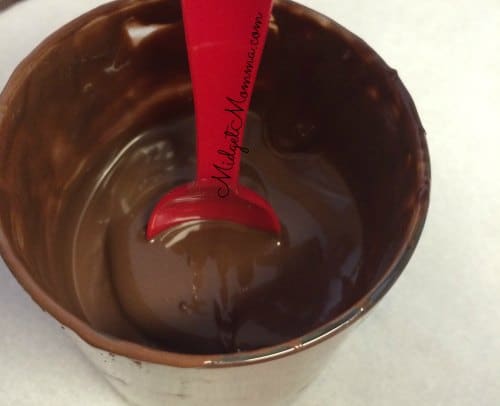 Place the spoon on a sheet pan lined with parchment or wax paper. Place the pan in the fridge for 5 minutes to let the chocolate set up. Dip the spoon in the chocolate again. Place three marshmallows on the spoon. Place the pan back into the fridge for 5 minutes to let the chocolate set up. Using your edible markers draw on your snowman's face and buttons.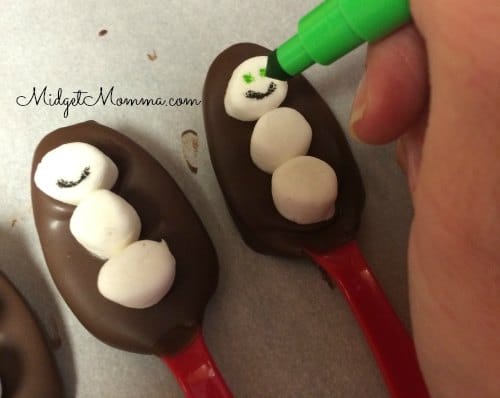 Join the newsletter
Subscribe to get our latest recipes right in your inbox every time we post a new one!
More Holiday fun to check out!
You can have a lot of fun calling Santa with Santa's Phone number and it is FREE!
If you are looking for more Christmas fun for kids make sure you check out 16 Kids Christmas Crafts and this HUGE list of Tasty Christmas Treats for kids, they are all things that the Elf can make the kids or bring the kids as activities if you wanted him too!
When does Elf on the Shelf come? And everything else you need to know about the Elf on the Shelf!
Elf on the Shelf Letter – Perfect Elf on the shelf printable letter that you can print out and have your elf on the shelf bring with him or her when he comes to visit! Plus this Elf on the Shelf Rules printable is awesome to print out and hang on the wall for the kids!
You should also check out these 135 elf on the shelf ideas! There are over 135 Elf on the shelf Ideas that kids will love! If you are running short on time, then make sure you check out this list of Quick Elf on the Shelf ideas!
Make sure you also check out Reasons your Elf Did not move… it might happen sometimes 
if you are stuck on Elf Names, Check out this awesome list of 110 Elf on the shelf names! We have girl elf on the shelf names and boy elf on the shelf names!
This post may contain affiliate links. Please read my disclosure policy here