Every year for Christmas my grandmother would make chocolate fudge. It was unlike any other fudge I have even hard. If smooth and cream with this slight grittiness to it, it was always a hit with everyone. Now that my grandmother has gotten older she don't make her fudge so I have taken on the task to try and recreate it. It failed over and over again because my grandma never has a recipe for anything she makes she just wings it which makes recreating it quite the challenge. Last year my mom and I tried to make three batches of her fudge but not one of them ended up right so I just gave up on making her fudge. One day I decided to try and make some fudge like the kind you find at base pro shop. Well much to my surprise it tasted nothing like that fudge but it was close to my grandmothers fudge. Now it still isn't the same but it was the closest I have ever gotten. If you are looking for the fudge you get at a fair or bass pro shop than this isn't the recipe you are looking for but Old Fashion Chocolate Fudge is the kind you would have found in a old school candy shop.
Old Fashion Chocolate Fudge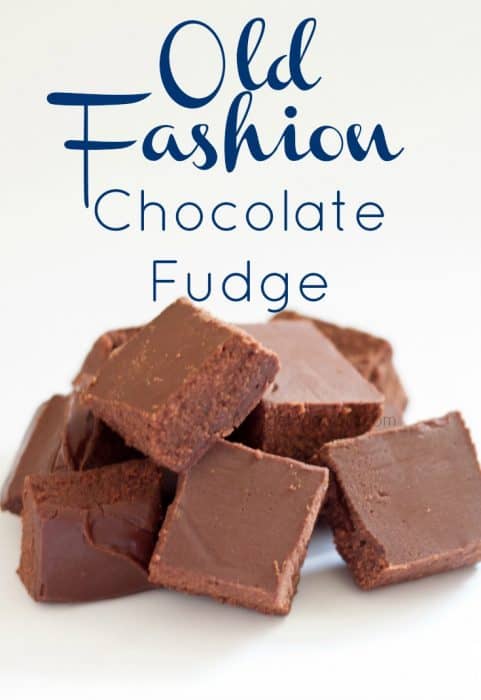 Old Fashion Chocolate Fudge Ingredients
2 cups white sugar
1/2 cup cocoa powder
1 cup half and half
4 tbsp butter
1 tsp vanilla extract
Old Fashion Chocolate Fudge Directions
Grease an 8 x 8 inch square baking pan. Set aside.
In a small sauce pan stir together the sugar, cocoa powder and half and half.
Bring it to a boil, stirring constantly. Reduce heat to medium and simmer. Do not stir again.
Place a candy thermometer in the pan and cook until the temperature reaches soft ball stage at 238 degrees F.
Remove from heat. Add butter and vanilla into the chocolate mixture.
Beat with your mixer until it loses it sheen.
Pour into prepared pan and let cool. Cut into 1 inch squares.
Store in the refrigerator.
This post may contain affiliate links. Please read my disclosure policy here