Homemade Lunchables Pizza is the perfect easy lunch to make for the kids to bring to school. This Homemade Lunchables Pizza is also perfect for a quick and easy lunch at home!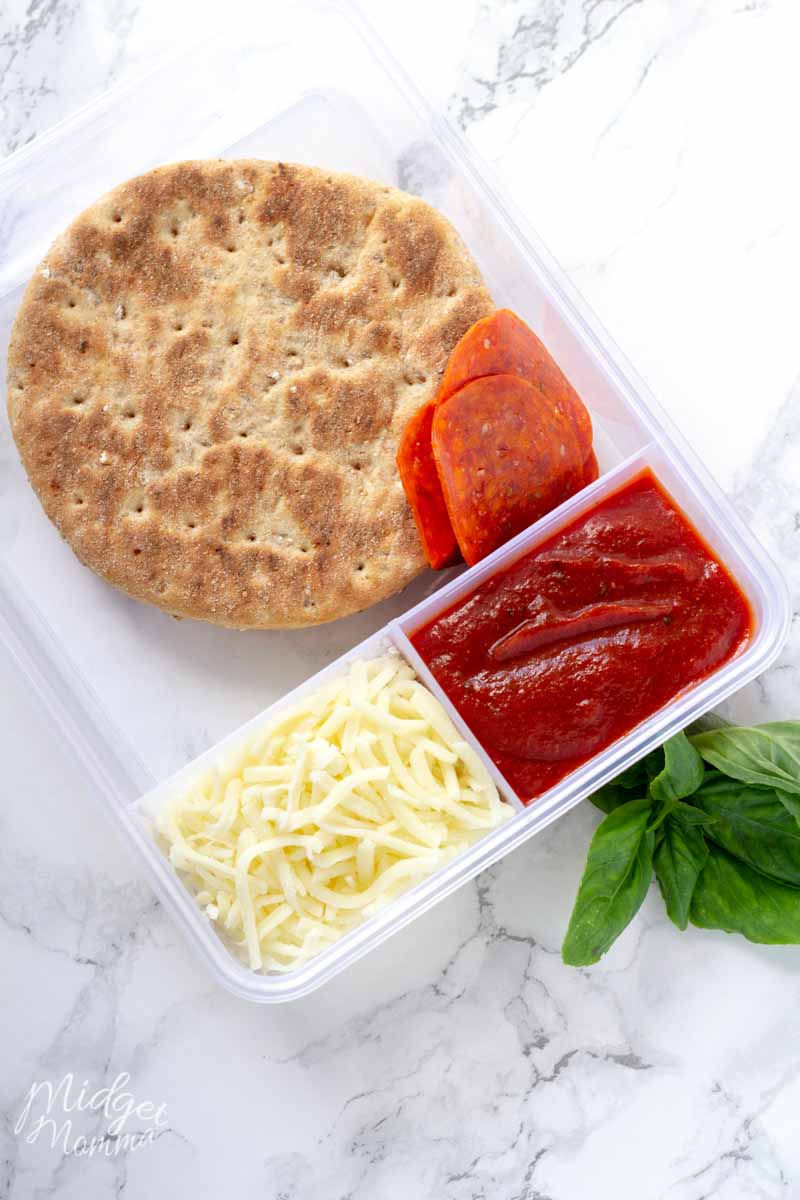 Homemade Lunchables Pizza
Lunchables are one of the coolest things kids can bring for lunch, well according to my kids that is. There is something about lunchables pizza that kids love, not sure exactly what it is but I am pretty sure it is the ability to make their own pizza at lunch time. Which is why my kids love these Homemade Pizza Lunchables!
To save money and give my kids a healthier lunch then those prepackaged lunchables, we make our own. These lunchables pizzas are perfect for the kids lunches and a fun kid friendly healthier lunch option.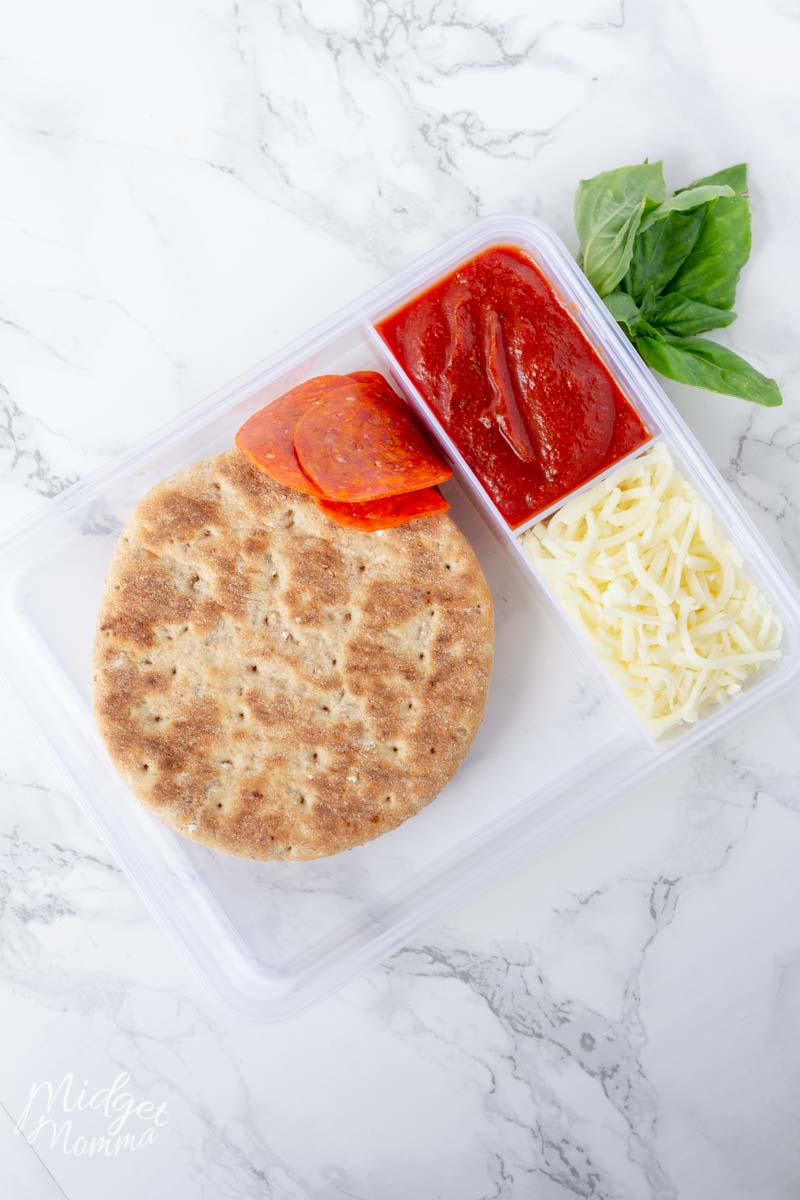 Homemade Pizza Lunchables
As a Mom I am not a fan of the cost for pizza lunchables, they are rather expensive for what you are getting and I have found that I can make homemade lunchables pizzas for a lot less money. If you have never made your own, it is so easy to make your own lunchables!
These Homemade Pizza Lunchables are school lunches that my kids love, and I love them because I also know what all in the meal I am packing for my kids lunches.
My kids forever thought that I was a mean mom because I wouldn't buy them the lunchables at the grocery store and send them to school as their lunch. But since it is super easy to make your own pizza lunchables the kids can have them for lunch at school and as a Mom I know what is in them.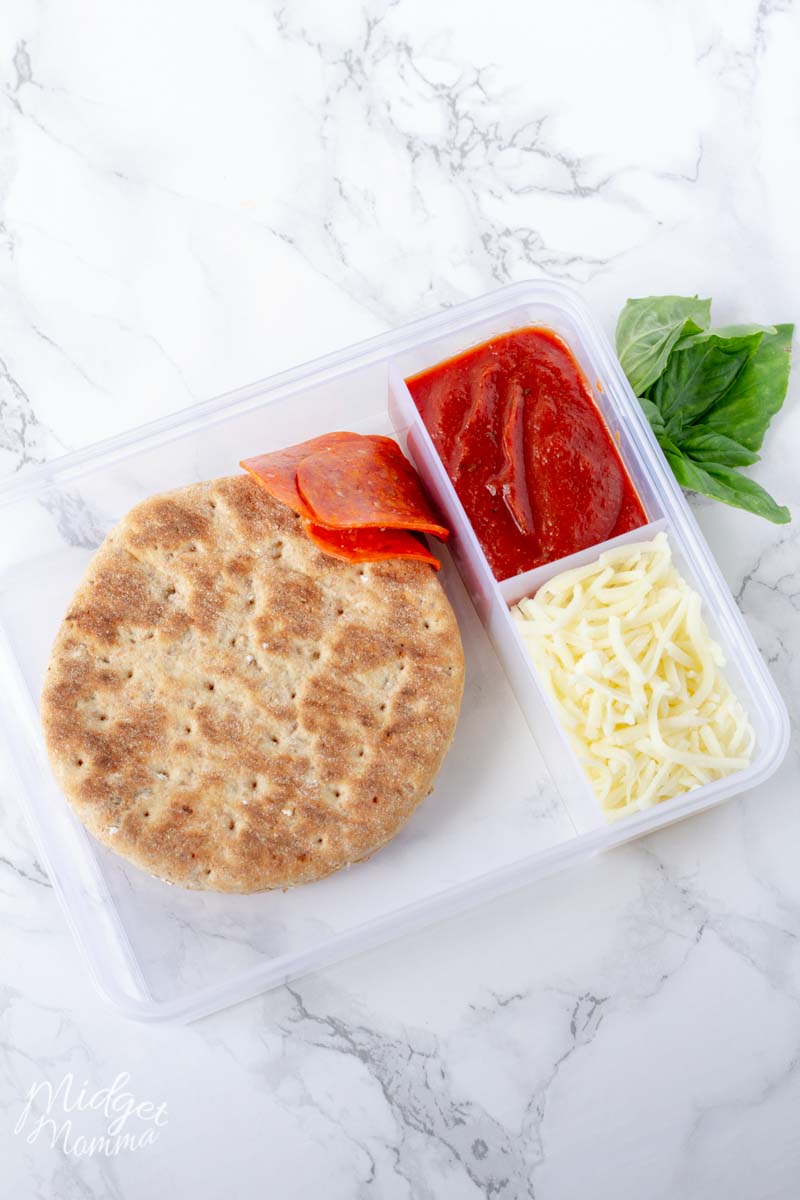 School Lunch Pizza
Making your own homemade lunchable pizzas is also a better option the store bought lunchables because you can change up the toppings to what ever your kid loves. Mine like to change it when we make them and change their toppings. It means if you have a kiddo who loves pizza then really they could have pizza every day for lunch and still not be having the same thing!
Some of our favorite toppings for homemade pizza lunchables are:
Pepperoni
Black Olives
Green peppers
Ham and pineapple
Pizza Lunchables Sides
My kids always like to have more then just the pizza in their lunch box. I try to change up the sides that I put in the lunch box whenever they pack lunch so it is not the same thing over and over again. Here are a few lunchbox sides to add to your kids lunch.
yogurt
fruit
string cheese
side salad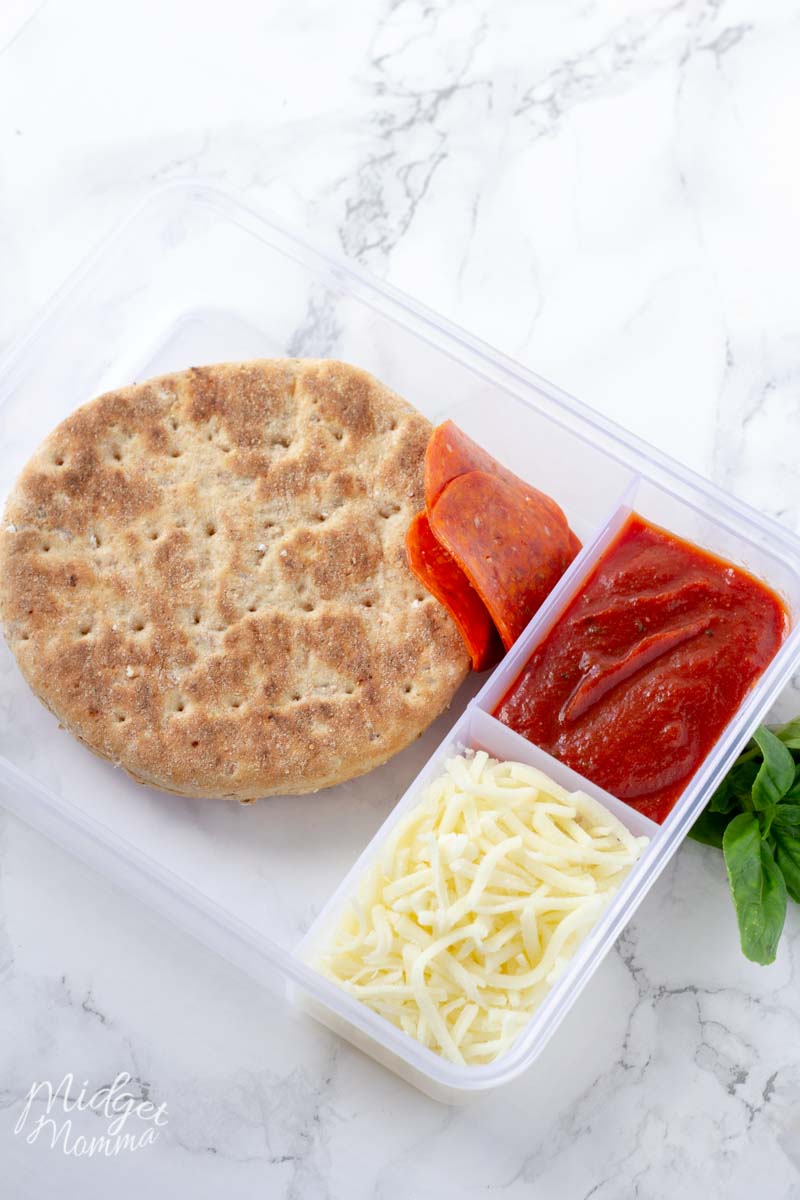 How to Make Lunchables Pizza Sauce
When making this school lunch pizza recipe you can use jarred sauce, however I find that homemade pizza sauce tastes much better. My kids agree and they prefer the homemade sauce to any of the jarred ones I have used.
How to Pack Pizza lunchables
I have found the best way to make your own homemade pizza lunchables is using a bento box. There are many different bento boxes, however this is the one we have.
It is important that you also pack a plastic spoon to make it easy for the kids to spread their pizza sauce. Do your self a favor and grab the box of 100 plastic spoons, it is so much easier then worrying about if the kids accidentally throw them away at school.

Lunchables Pizza Ingredients
crust. We normally use bread thins, however you can also make some  Easy Homemade Pizza Dough and bake it into tiny circles that will fit in the lunch box.
Cheese.
Pizza toppings.
How to Make Homemade Pizza Lunchables
Making this easy kids packed lunch is simple. Get your ingredients together and put them in a lunchbox container. Then when the kids are eating lunch at school they can put together their lunchable pizza!
Easy Lunch Ideas for Kids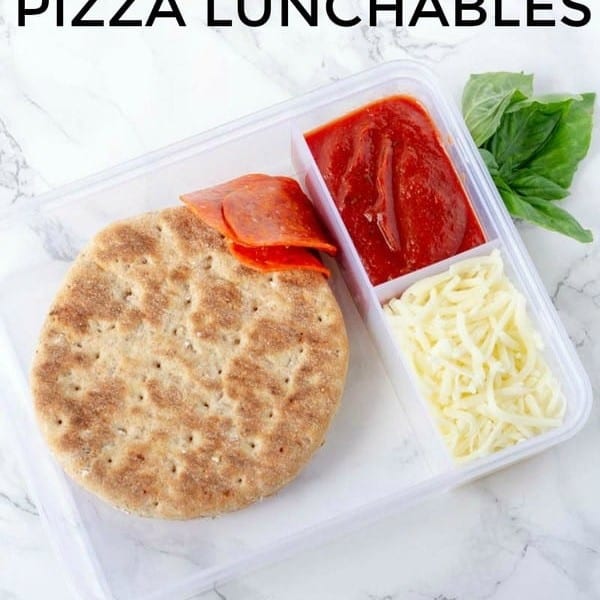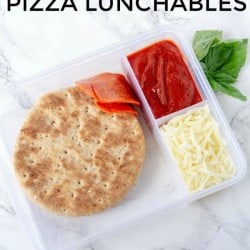 Homemade Pizza Lunchables
Servings
Lunchables are one of the coolest things kids can bring for lunch. This homemade pizza lunchables recipes is perfect for packing pizza in the kids lunch boxes!
Ingredients
1 sandwich thin bread
2 tablespoons pizza sauce
2 tablespoons mozzarella cheese
8 slice pepperoni or any other topping that you choose
Instructions
Place your sandwich thins and pepperoni in the large part of your bento box.

Pour the sauce into one the small part of your bento box.

Place the cheese into the other small part of your bento box.

Allow your child to decorate their pizza how they would like and don't forget to give them a spoon to spread their sauce on the crust.
Calories: 177kcal | Carbohydrates: 2g | Protein: 10g | Fat: 13g | Saturated Fat: 6g | Cholesterol: 40mg | Sodium: 628mg | Potassium: 143mg | Sugar: 1g | Vitamin A: 330IU | Vitamin C: 2.1mg | Calcium: 149mg | Iron: 0.6mg
homemade pizza lunchables, Lunchables pizza
Lunch
8 Weight Watchers SmartPoints on the Freestyle Program
If you are looking for even more lunch kids, make sure you check out 101 School Lunch Ideas!
More Recipes you will love!