Last night my friend gave me some extra chicken wings she had before she left on vacation. Normally I would cook them up and coat them with my franks red sauce. Well it turned out I was out of that sauce and I really didn't want to go to the store just to get some hot sauce. I knew I needed to come up with some other way to make these wings. My daughter was asking for buttered noodles so I thought Parmesan wings would go nice with that and so I came up with these tasty Baked Parmesan Chicken Wings. Now my daughter is not the chicken wing person but boy she kept asking for more and more of them!
Check out these sides that go amazing with this Baked Parmesan Chicken Wings to finish up the meal!
Baked Parmesan Chicken Wings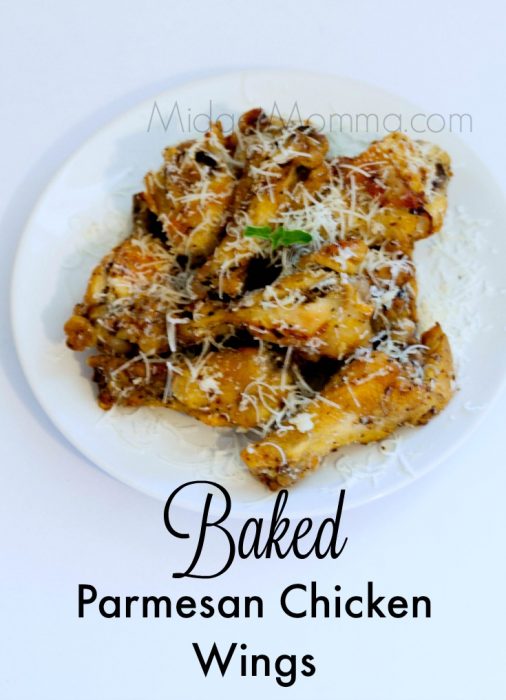 Baked Parmesan Chicken Wings Ingredients
2 Lb. chicken wings
1 Teaspoon garlic, minced
Salt and pepper, to taste
2 Tablespoon butter, melted
1/4 Parmesan cheese, grated
1 Teaspoon garlic powder
Baked Parmesan Chicken Wings Directions
Preheat the oven to 425 degrees and line two sheet pans with parchment paper.
Fill your steam pot with water and bring it to a boil.
Place your chicken wings in the steam pot and boil for 10 minutes.
Dry the wings off on a plate lined with paper towels.
In a bowl mix the wings with the garlic, salt and pepper.
Place the wings on the sheet pan and bake for 20-25 minutes or until golden brown.
Place the butter and chicken wings in a large mixing bowl. Than sprinkle the cheese and garlic powder over the wings, stir to evenly coat the wings.
This post may contain affiliate links. Please read my disclosure policy here