This meal is a great meal to make when you have a lot going on in the afternoon and you know that you will not be home to start dinner. The only thing you will have to do at dinner time is just to set the table and stir in the cheese. With everything going in my life lately I have been needed more and more meals like this. I have a lot of friends who say just pick something up for dinner or get a frozen meal. Well its sad to say but at this point I have spoil myself and my family with our home cooked meals. I would much rather have a home cooked meal than something frozen or from some fast food joint. This meal is also a healthy meal unlike those other options. You can change this up to fit the needs of your family and switch out the vegetables. I used the ingredients I had in my house which is also what makes this Slowcooker Parmesan Garlic Chicken Bake so great. This recipe may look weird for a slow cooker recipe because there is no added liquid. Most people think you need it but the condensation collects at the bottom and makes a nice sauce.
Check out these great side dish recipes to make a complete meal! 
Slow Cooker Parmesan Garlic Chicken Bake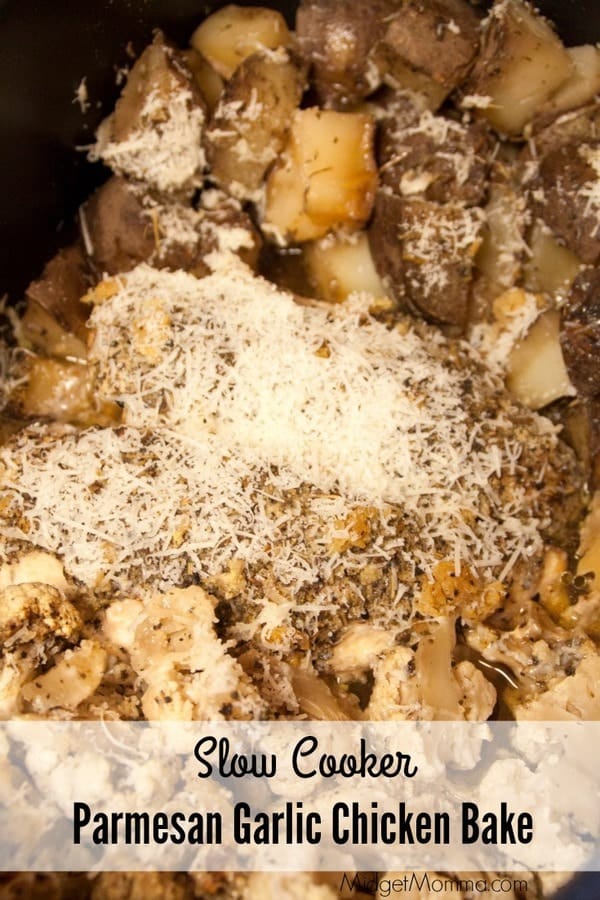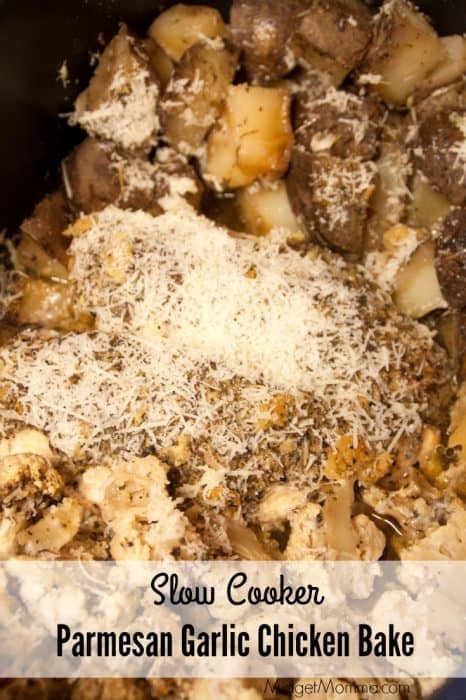 Slow cooker Parmesan Garlic Chicken Bake Ingredients
5 medium potatoes – red or yellow either will work
1 small head of cauliflower
2 tablespoons olive oil
2-3 chicken breast
2 teaspoons Italian seasoning
1/2 teaspoon Goya adobo seasoning
1/2 teaspoon onion powder
black pepper, to taste
3 cloves garlic, minced
1 cup parmesan cheese, grated
Slow cooker Parmesan Garlic Chicken Bake Directions
Cut your potatoes into large chunks.
Cut your cauliflower into small florets.
Drizzle the bottom of your crock pot with the olive oil. Place the chicken in the middle, potatoes on one side and the cauliflower on the other side of crock pot.
Sprinkle the Italian seasoning, Goya, onion powder, black pepper and garlic over the top of all the chicken, potatoes and cauliflower.
Place the lid on the crock pot and cook on low for 6-8 hours.
Sprinkle the whole meal with the parmesan cheese and serve.
12 Weight Watchers SmartPoints per serving, 4 servings.
More Chicken Recipes: 
Slow Cooker Parmesan Garlic Chicken Bake
Rosemary Garlic Chicken Meatballs
Cracker Barrel Chicken and Dumplings
Join the newsletter
Subscribe to get our latest recipes right in your inbox every time we post a new one!