Decorating for Christmas can be a ton of fun & it's so cheerful to look at all the holiday decor. These tips will help you decorate for Christmas quickly so you have more time to enjoy it!
I love decorating for Christmas, I love having it so no matter where you look there is Christmas EVERYWHERE! However I am also lacking in the time department, which means decorating for me needs to be quick and easy.
To get it all done I break it up into 5-10 minute time frames, which also means that is about how much time I spend on each room of the house aside from our living room. I was able to partner with Boscov's to decorate the house, and they have soooo many things that are PERFECT for quick decorating that make your house all Christmasy!
I was able to decorate different places in my house in 5 minutes per area! It was a great thing too since I was able to squeeze in 5 minutes randomly to get it done 😉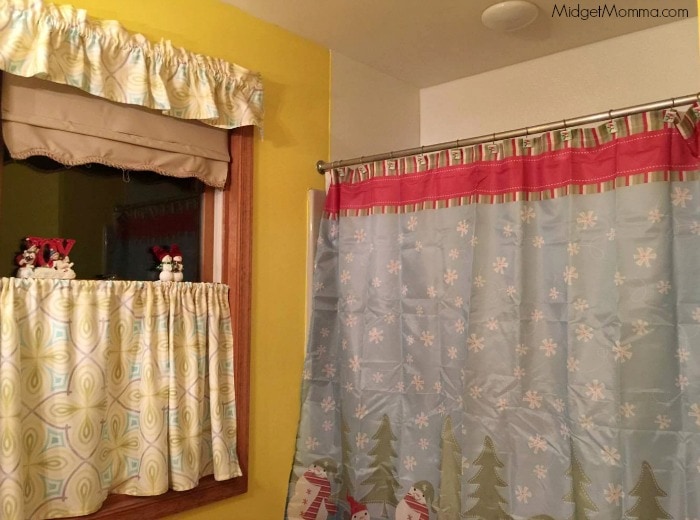 10 Minute Christmas Decorating
The first step to 10 minute Christmas decorating is picking your themes – this may take you a bit longer then 10 minutes if you are like me and get lost while shopping 😉 You want to pick a theme for each room you plan on decorating. After picking my themes it was easy to find things on the Boscov's website to match my theme. Then either order your stuff online or head to the store – bonus that you get FREE Shipping on orders of $49 or more!
10 Minute Christmas Bathroom Decorating
For the Bathroom I went with a snowman theme. I found lots of goodies to make decorating my bathroom easy peasy and I was done in 5 minutes aside from the shower curtain that took up the other 5 minutes LOL – tip if you are short like me grab the stool it makes putting a shower curtain up much easier then standing on the edge of the tub!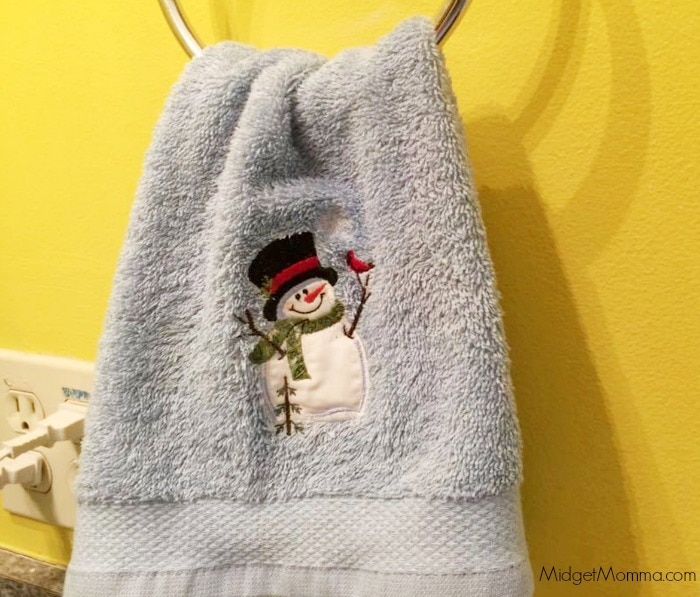 Change out the Shower curtain. I found a super cute Snowman themed shower curtain and it also came with snowman themed shower curtain hooks!
Nick Nacks. I grabbed a few snowmen and then put them on the window.
Candles. I love candles in the bathroom as decorations, normally I have blue and yellow ones. For Christmas decorating I changed them out with the Yankee Candles I got from Boscov's that were red and green.
Nightlights. I found super cute Christmas tree nightlights that change color when they are turned on. It is actually a double win with them because I have decorations and night lights!
Hand towel. Not even 30 seconds to hang a hand towel on your towel rack that matches your theme.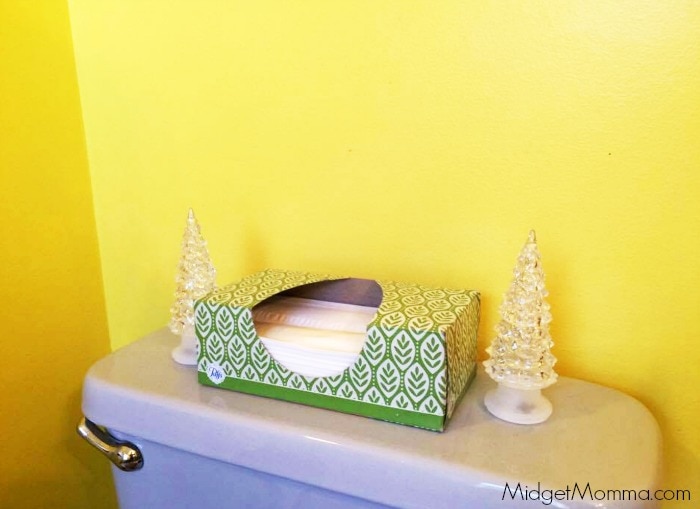 10 Minute Christmas Kitchen Decor:
Decorating my kitchen took less than 10 minutes and I am loving how it looks! It is so easy to decorate the kitchen, they make so many holiday themed Kitchen items that it is so easy to shop!
Kitchen towels. I grabbed two Christmas themed kitchen towels and hung them on the door handle of my oven.
Salt and Pepper Shakers. Not only can you use these but they will look super cute and festive in your kitchen no matter where you put them. Plus if people leave them out they just look like a decoration 😉
Nick Nacks. I LOVE having little Christmas trees as decorations. Plus with nick nacks you can get plastic ones so if the kids happen to touch them and then drop them they don't break 🙂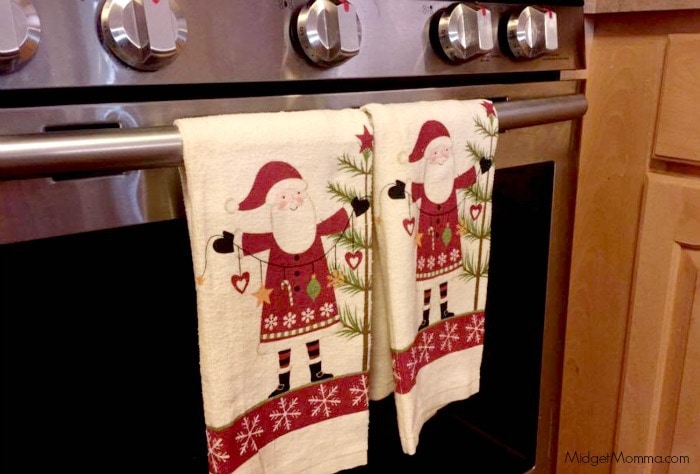 Christmas Hall & Stair Decorating Ideas
This is one place that you might not think to add Christmas decorations, but a little bit can go a long way in making your house look all Christmay and it is sooo easy too!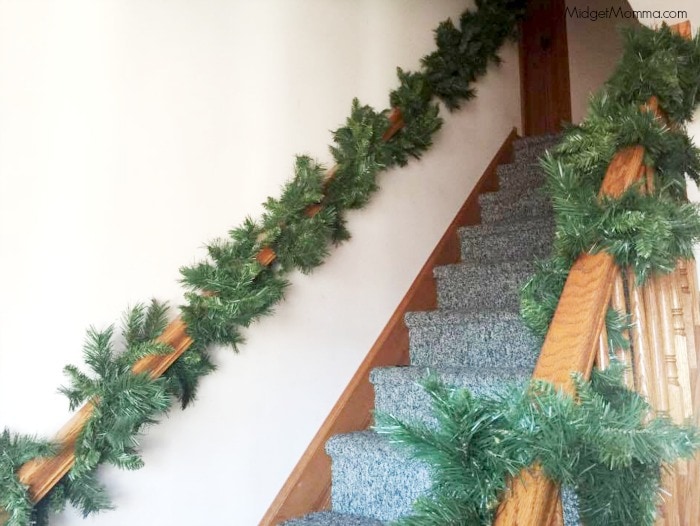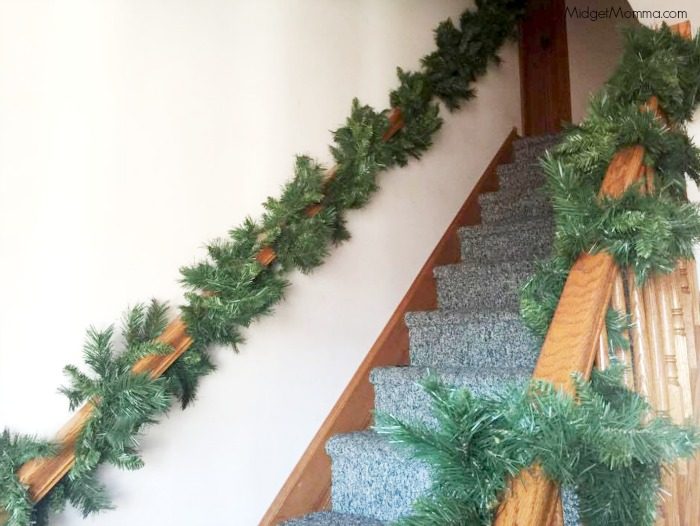 Garland. You can easily take that wooden banister and make it totally Christmas ready in just a few minutes. Personally I like the fake garland, so I don't have to buy it each year!
Holiday Pictures. Grab pictures of the kids and put them in frames of previous years and hang them on the wall. You can find lots of Christmasy photo frames to use!
Getting your house Christmas ready can be done quickly and still look awesome! These quick decorating ideas will help with the time crunch so many of us Moms have on a daily basis but still make it so we have a Christmas decorated house 🙂