This Chicken and Broccoli Alfredo Spaghetti Squash is a combination of two things my family love. My Chicken and broccoli Alfredo and spaghetti squash.
Forever I have been hearing about the amazingness of spaghetti squash and when I went to the pumpkin patch with the kids not to long ago they had some, so I bought it and figured I would try it. Everyone of my friends told me about how you can use it to make ANYTHING that you would normally use to make pasta with in use it in place of pasta so I thought I would give it a try with my all time favorite pasta dish, Chicken and Broccoli Alfredo. Oh my gosh! The flavor was amazing and no one in the house realized it was not pasta until quite a ways into dinner! My kids eat veggies and I am thankful for that but being able to have more fun with our veggies is even better.
When making my Chicken and Broccoli Alfredo Spaghetti Squash I modified my normal alfredo recipe because I wanted to make this be on the healthy end of things!
So now I am sharing this with you and I think when you make it you should skip telling the family it is not pasta and see what they think 🙂
Chicken and Broccoli Alfredo Spaghetti Squash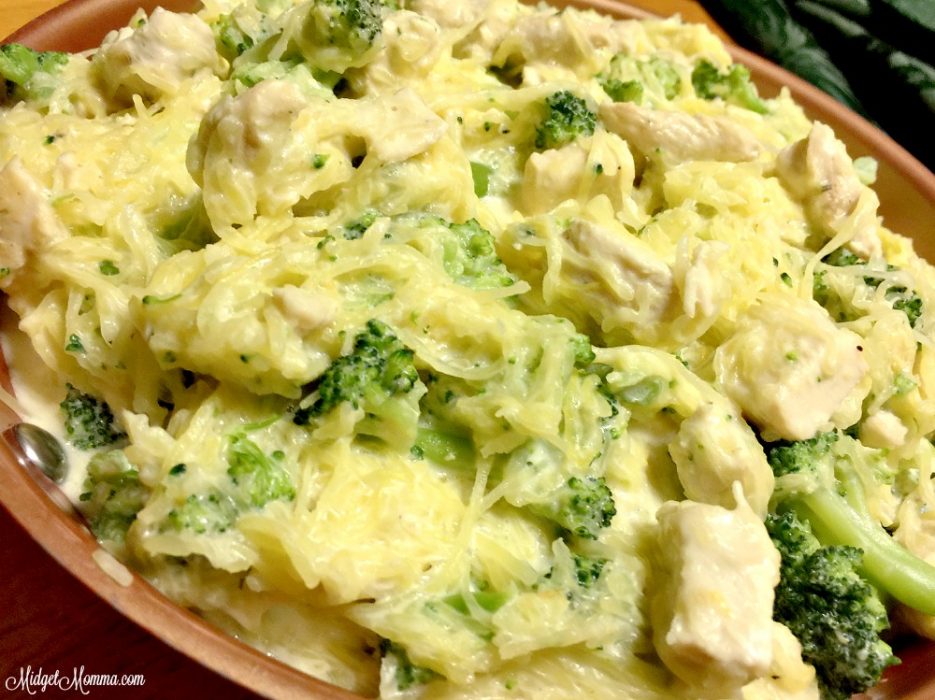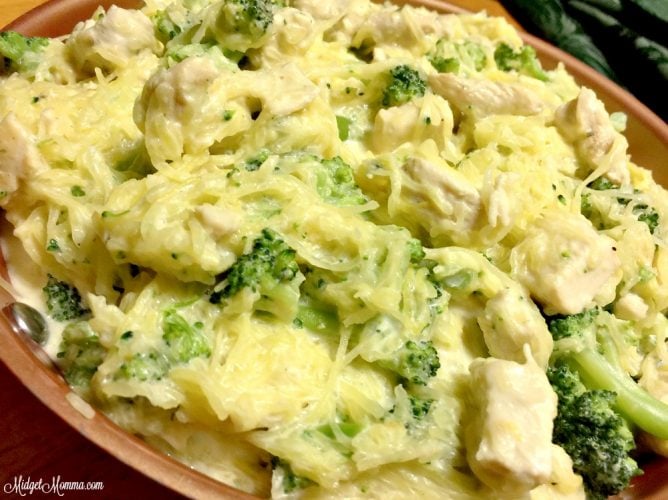 Chicken and Broccoli Alfredo Spaghetti Squash Ingredients:
2 whole spaghetti squash
4 ounces cream cheese
1.5 cups milk
4 tablespoons butter
1/2 cup parmesan cheese
2 cups chicken – You can either bake it, use rotisserie or the precooked stuff in the cooler case at the grocery store.
1 small bag of broccoli – I used a bag of the steam in a bag stuff
1 tablespoon garlic powder
salt, pepper and parsley to taste
Chicken and Broccoli Alfredo Spaghetti Squash Directions:
Preheat oven to 375 degrees.
Cut squash in half and scoop out the seeds with a spoon.
Lay skin side down on a rimmed sheet pan that is lined with aluminum foil.
Bake for 35-40 minutes or until softened. When the squash is cooked Scrape the flesh with a fork to create noodles
While squash is cooling enough to handle heat broccoli and prep your chicken into bite-sized pieces after baking get a large skillet.
In the skillet heat to medium heat and add cream cheese and butter
let melt and stir with a whisk (it will be clumpy), then add in milk and bring to a boil
Once boiling add garlic powder and parmesan cheese. turn heat down to medium-low and add in chicken and broccoli and stir well.
Then add your squash in and stir so everything is coated well with sauce. Let sit on low heat for about 5 minutes to get all the flavors mixed well and the sauce to thicken a little bit.
Add salt and pepper to taste and stir well. then sprinkle parsley on top.
Serve with salad.
When this recipe makes 6 servings, it is 6 Weight Watchers SmartPoints per serving on the Freestyle Program when using Fat Free Cream Cheese and Fat Free Milk.
Looking for more Spaghetti Squash Recipes? Check these out! 
More Chicken Recipes to try:
More Tasty Recipes! Click on the picture to see the recipe!