Are you guys ready for another amazing spaghetti squash recipe? Well this time I am taking you south of the boarder for a little Mexican dinner recipe that you are going to LOVE with these Chicken Enchilada Spaghetti Squash bowls. These chicken enchilada spaghetti squash bowls are a great substitution to the normal high calorie version. If you don't like spicy things you can leave out the chipotle chili and adobo or just add a small amount when making your Chicken Enchilada Spaghetti Squash. If you are looking to make this a vegetarian meal you can switch out the chicken for tofu or black beans for some added protein.
You will also want to try this Chicken Pesto Spaghetti Squash Bowl and Spaghetti Squash Au Gratin, they are amazing recipes too!!
If you use a lot of meat in your meal planning, you should totally check out Zaycon Foods. You order online and it is all FRESH meat including chicken, bacon, hamburger and more! The savings is HUGE compared to what the price is in my local grocery store and it is all fresh, from farm to customer.  Normally the savings I find at Zaycon is 25%-50% off the price that I find in my local stores! Head on over here to check it out!
Chicken Enchilada Spaghetti Squash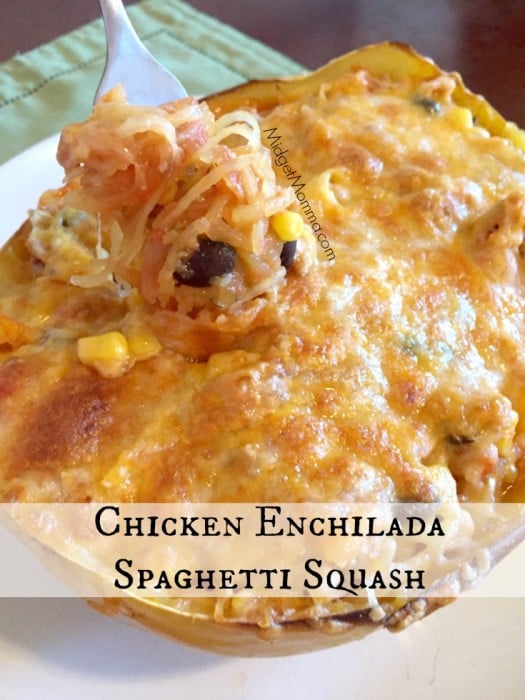 Chicken Enchilada Spaghetti Squash Ingredients
2 small spaghetti squash
2 chicken breast
1 tablespoon oil
1 small onion, diced
1 clove garlic, grated
1 teaspoon cumin, toasted and ground
1 (28 ounce) can diced tomatoes
1 chipotle chili in adobo
1 teaspoon fresh oregano, chopped
salt and pepper to taste
1 (4 ounce) can diced green chilies
1/2 cup corn
1/4 cup cilantro, chopped
1 cup cheddar cheese, shredded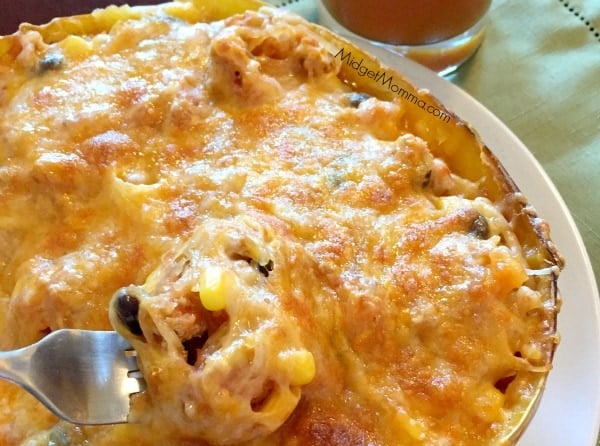 Chicken Enchilada Spaghetti Squash Directions
Preheat oven to 375 degrees. Cut squash in half and scoop out the seeds with a spoon.
Lay skin side down on a rimmed sheet pan, lined with aluminum foil. Cut your chicken in half so you have for pieces of chicken.
Place the chicken on the sheet pan, season with salt and pepper. Bake for 45 mins or until cooked to a touch with a fork.
While the chicken and squash is cooking you can put together the sauce.
In a medium sauce pan saute the onion and garlic in the oil until translucent. Add in the cumin and cook for an extra minute. Place that mixture into a blender with the tomatoes, chili, oregano, salt and pepper.
Blend the mixture until smooth. Pour it back into the sauce pan and simmer of low heat while the squash finishes cooking.
When the chicken reaches 160 degrees take it out and with two forks shred the chicken up.
Scrape the flesh of the squash with a fork to create noodles.
Combine all the ingredients besides the cheese in a large bowl.
Return the mixture to the empty shells and top with the cheese.
Place under the broiler until golden brown.
Makes 4 servings
6 SmartPoints on Weight Watchers FreeStyle Plan per serving
More Awesome recipes – just click on the picture to see the recipe!
This post may contain affiliate links. Please read my disclosure policy here