I love spaghetti squash and the many different ways that you can cook it to have amazing meals. One of our most recent loves has been Spaghetti Squash Lasagna. If you have never had Spaghetti Squash don't be afraid to try it, it is amazing! There are so many different flavors you can add to spaghetti squash, and the wonderful thing is that the squash soaks up the flavors and you end up with amazing meals.
With Spaghetti Squash Lasagna I don't feel the need to have pasta, which has been one of my tricky things to give up while going low carb/keto. I love pasta and I have to have come up with keto comfort food recipes or I will lose my mind. That is why these low carb spaghetti squash lasagna boats are such a big favorite of mine.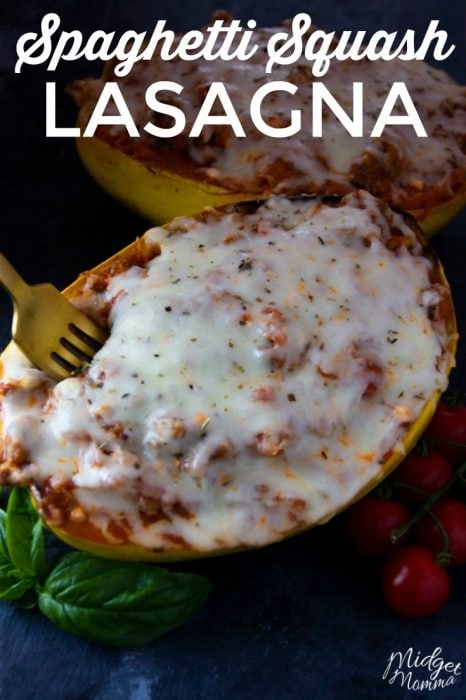 I really want to get this baby weight off from Hannah, so I am trying my best to stick with healthy eating to get rid of the baby weight. After all she is almost 2 and I probably should have been working on getting rid of the baby weight sooner then now. LOL. But when I can still eat tasty foods like this, Italian lasagna stuffed spaghetti squash recipe I am good to go with being on the weight loss train and I don't feel like I am missing out on anything.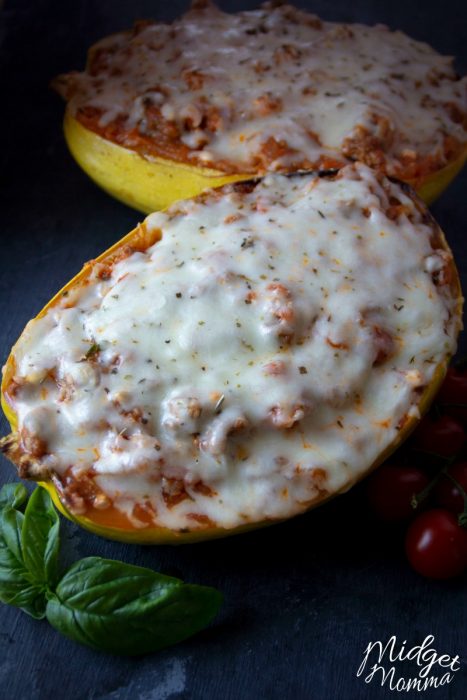 Now there is also a secret that makes this spaghetti squash recipe so amazing. It is one of the tricks I use when making my meat pasta sauces amazing. I use 1/2 beef and 1/2 pork as the meat for my sauce. It makes such an amazing flavor when the two are combined.
I also have introduced the family to Spaghetti Squash Lasagna and they all enjoyed it. They love their pasta as much as I do, but are happy when I made this Spaghetti Squash Lasagna with ground beef too. Which is nice because I don't do separate meals, so I try to make us all happy when I cook dinner. For them I do add in garlic bread or garlic biscuits because they love them, I just skip eating them.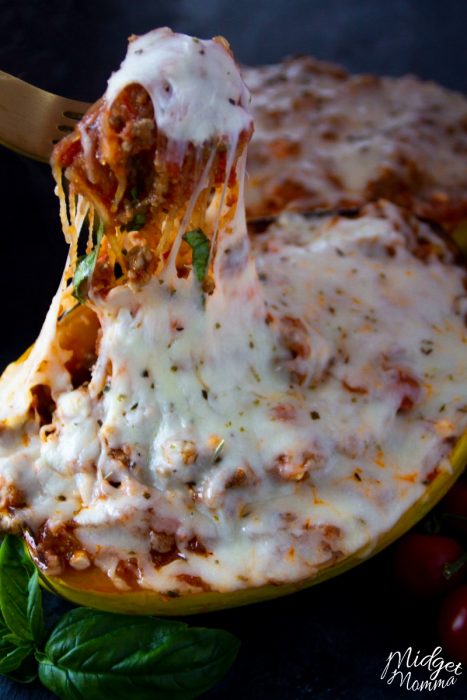 I also serve these Spaghetti Squash Lasagna Bowls with a salad. Depending on the amount of time I have I will also make homemade dressing, my family loves Honey Poppy seed dressing and Homemade Balsamic Dressing, I personally love them too but have been sticking with ranch dressing on my salads lately.
If you are needing a short cut for this spaghetti squash recipe you can use a jarred sauce. If you are wanting to lower the carbs even more then use a jarred sauce like Rao's Marinara Sauce instead of making the sauce yourself.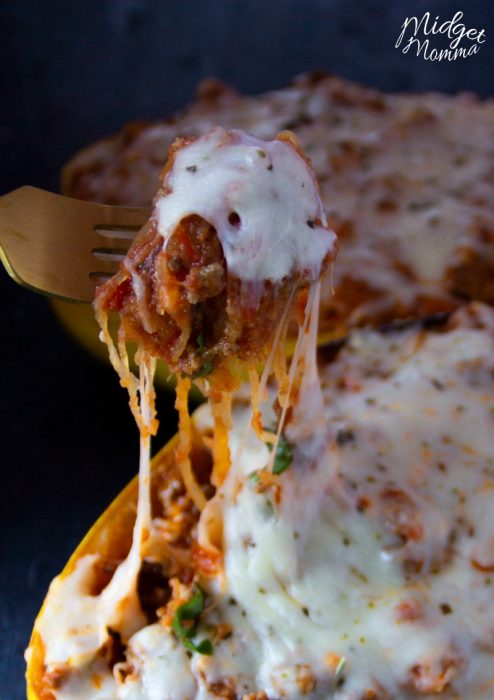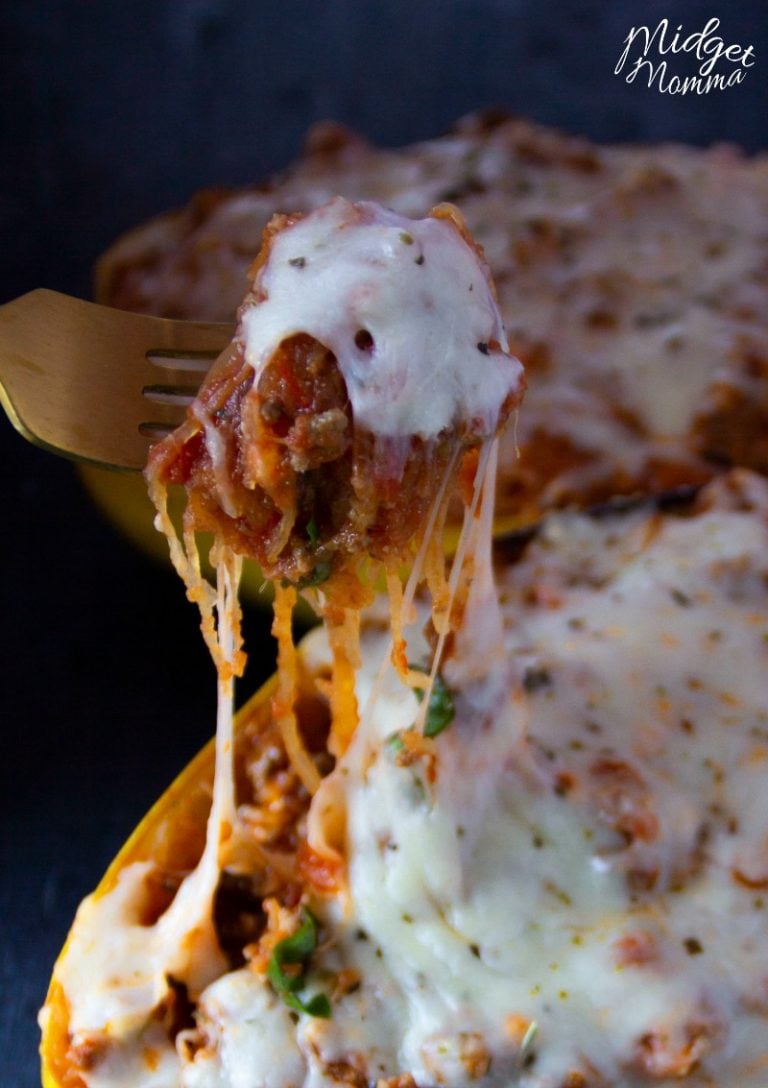 When I make the sauce for this lasagna spaghetti squash, I normally double the amount and then freeze it. It makes for a quicker prep the next time I am going to make it, or if I end up having a busy day where I don't have time to make the whole thing from scratch that night that I want to make it.
How long to bake Spaghetti Squash
This recipe will take about 50 minutes total to cook, however the spaghetti squash will only take about 30 minutes to 40 minutes to cook. You will want to make your sauce while you are doing the first part of the cooking of your spaghetti squash.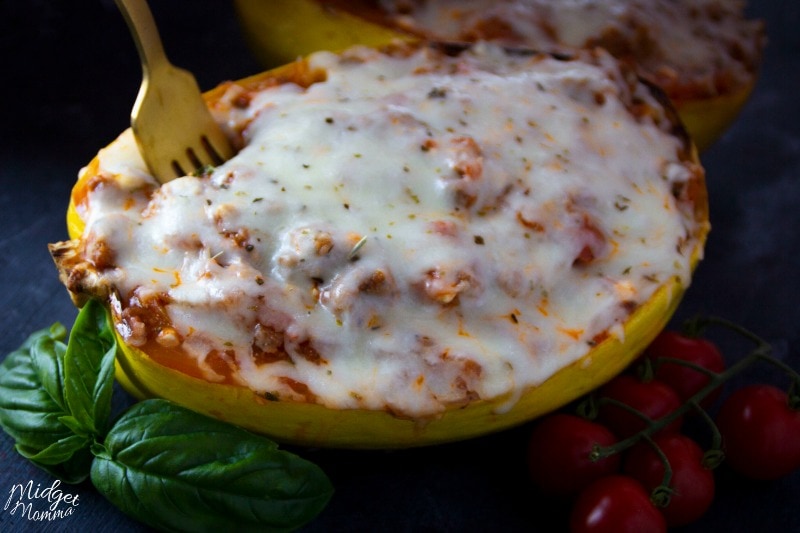 How to Make Spaghetti Squash Lasagna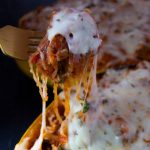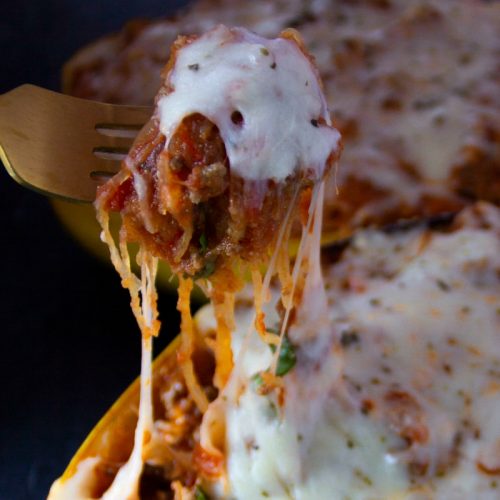 Spaghetti Squash Lasagna
Low carb spaghetti squash lasagna boats with meat are easy & delicious! This Spaghetti Squash Lasagna is amazing and low carb. Made with homemade sauce, ground beef and spaghetti squash. This Spaghetti Squash Lasagna Recipe is always a hit when I make it for dinner!
Pin Recipe
Print Recipe
Instructions
Preheat oven to 400 degrees.

Drizzle the cut side of the squash with the oil, salt, and pepper. Place them cut side down on an alumni foil lined sheet pan. Bake for 30 minutes, or until tender.

While the squash is cooking you can start the sauce.  In a large saucepan over medium heat cook the ground meat until cooked. Remove the meat from the pan.

Sauté the onion in the oil for five minutes. Add the garlic and red pepper flakes, cook for two minutes. Stir in your crush tomatoes, tomato paste, Italian seasoning, bay leaf, salt, and pepper.

Cook the sauce until the squash is ready to come out of the oven. Remove the squash from the oven and gently break up the flesh into noodles.

Remove the sauce from the heat and stir in the basil and cottage cheese.

Stir the sauce into each half of the squash.

Top the squash with the mozzarella cheese.

Place them under the broiler until they get golden brown. Top with the remainder of the basil.
Nutrition
Calories:
307
kcal
|
Carbohydrates:
30
g
|
Protein:
20
g
|
Fat:
13
g
|
Saturated Fat:
5
g
|
Cholesterol:
43
mg
|
Sodium:
530
mg
|
Potassium:
815
mg
|
Fiber:
7
g
|
Sugar:
5
g
|
Vitamin A:
800
IU
|
Vitamin C:
21
mg
|
Calcium:
304
mg
|
Iron:
3
mg
7 Weight Watchers SmartPoints per serving on the Freestyle Program
Looking for more Spaghetti Squash Recipes? Check these out! 
Make your life easier by printing the How many cups in a quart + Other measurements printable that also includes all other liquid measurements to keep in your kitchen!
Join the newsletter
Subscribe to get our latest recipes right in your inbox every time we post a new one!
Join the newsletter
Subscribe to get our latest content by email.