How to Pack a Healthy Lunch for Kids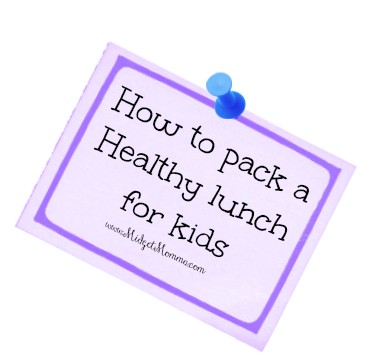 When it comes to school lunches, buying them from the school cafeteria or local fast food joint can be rather expensive. In order to cut costs, many parents choose to send their kids off to school with what is known as a brown bag. The term is known as "brown bagging it," and what this generally means is a prepared lunch from home. It will save you money on packing a lunch; however, it is important that it is a healthy one. Here are some tips on how to pack a healthy lunch for kids.
It is important to have a lunch box that is suitable for keeping your kids lunches cool, our household favorite lunchbox is the Packit, all the kids have one and so does Tom. It keeps lunches cold all day long and there is no room wasted by an ice pack because you stick the whole lunch box in the freezer over night.
Healthy Lunch Ideas for Kids
Kids need to eat healthy but you don't want it to be boring so here are some lunch ideas that will be fun for kids and healthy at the same time. Don't forget the drinks as well, my kids are big fans of the milk juice boxes for lunch.
1. Vegetable Soup- Vegetable soup and crackers make a terrific lunch for kids. Pack some water as well as some fresh fruit to round off their brown bag lunch. Grapes or a banana make good food choices, and the vegetable soup will ensure that they are getting their vegetables.
2. Sandwiches- Make sure to send them off to school with sandwiches a couple of times a week. Avoid peanut butter, as many schools do not permit this due to allergies. Make a variety of different sandwiches throughout the week. Tuna, salmon, egg salad, and chicken salad make good choices.
3. Use up Your Leftovers- If you happen to have meatloaf one night, make your child a meat loaf sandwich. A baked chicken could also be sliced into pieces and used as a sandwich or cut into chunks and then added on top of a green salad.
4. Chili- Chili makes a healthy lunch for kids. It is economical and contains lots of fiber. Avoid adding too much spice, if your child tends to like things on the mild side. Add some fresh bread such as a buttered roll and some carrot slivers for a snack.
5. Homemade Mac and Cheese- Homemade Mac and Cheese or any other one-pot meal that you have made during the week makes an affordable, yet healthy lunch alternative. Make sure to include some fruit or vegetables as a snack, and give them some water or fruit juice to go along with it.
The above tips will save you some money on the cost of purchasing school lunches. These lunches are healthier for your child when compared to fast food. They will ensure that they are getting the proper nutrition to keep them going throughout the day.