These awesome chocolate chip cheerio cereal bars are the perfect snack for during the day or adding to your lunch. These no bake cereal bars have no flour, marshmallows or oil like traditional cereal bars.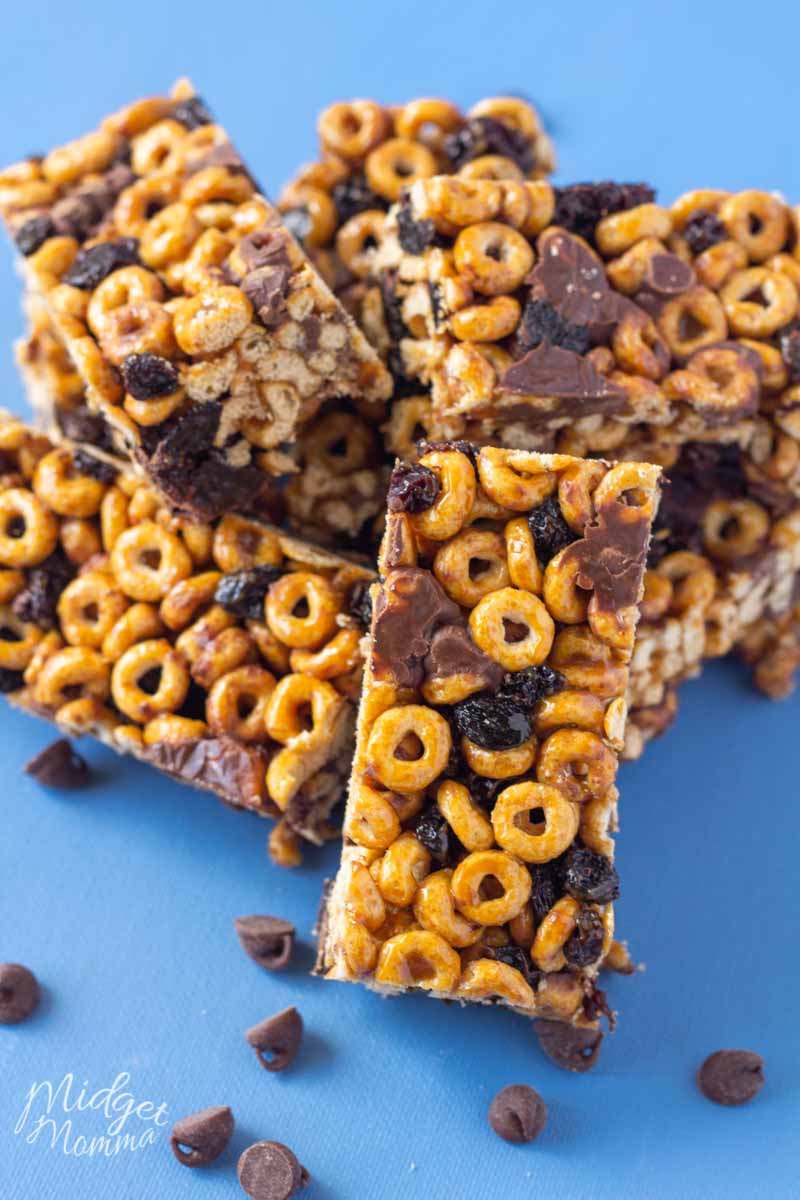 When I first moved to down south we were invited to a bunch of mommy and me groups. I was so overwhelmed on what is appropriate to bring. I figured I would play it safe and go with my kid friendly Cheerios Cereal Bars. I have made these cereal bars forever, since before I even had kids.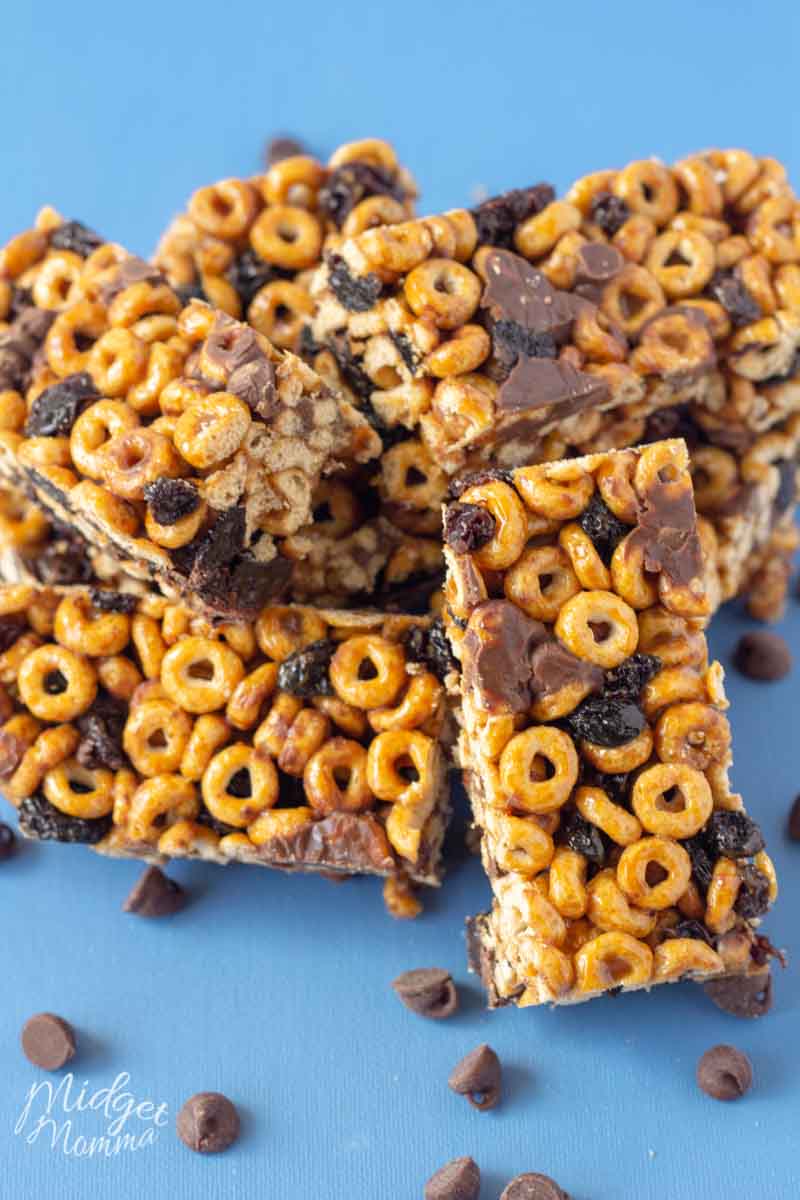 When I have brought these cereal bars to our playdates, they never lasted long. Both the kids and the adults enjoyed them. That told me that I for sure had to share the cereal bar recipe with all of you so you could enjoy these awesome cheerios cereal bars too!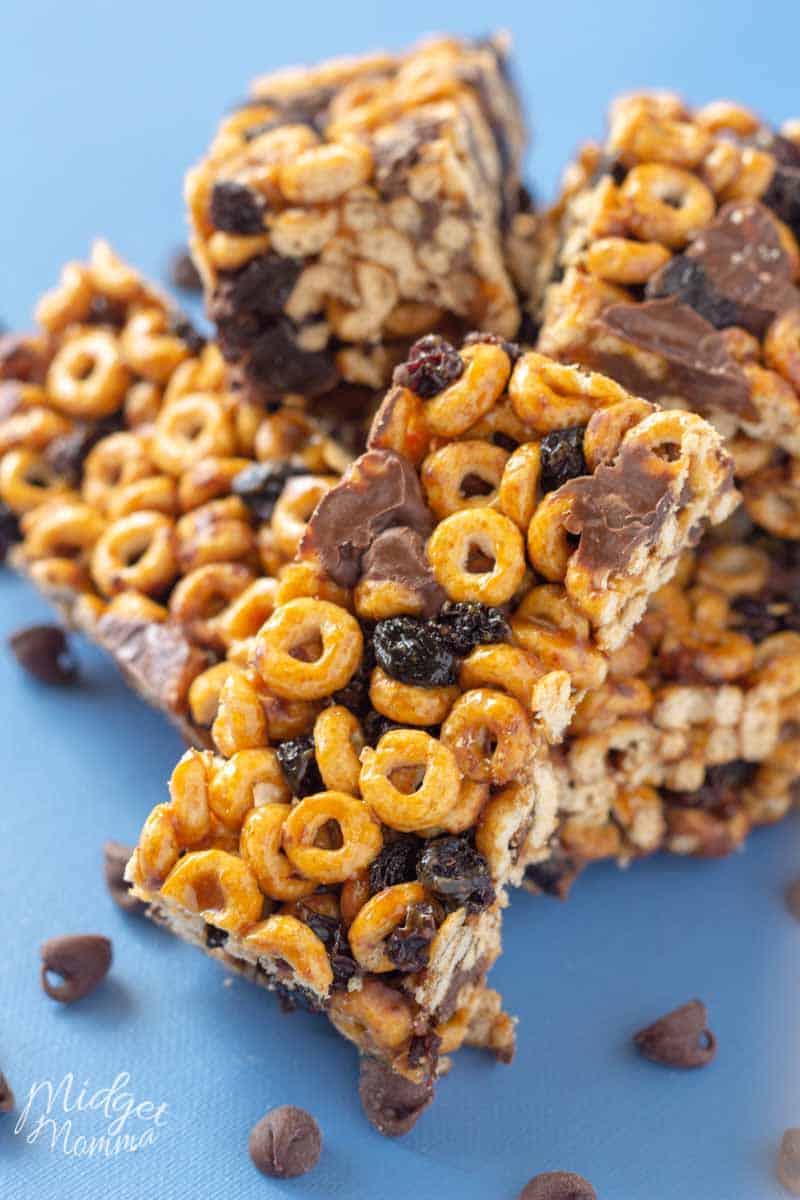 You can make a batch of these homemade cereal bars and use them to pack in the kids lunch boxes. These bars will keep in an airtight in the refrigerator for up to 2 weeks…. not that they will stay around that long. I wish these cereal bars would last 2 weeks LOL, then I wouldn't have to make them as often as I do. 😉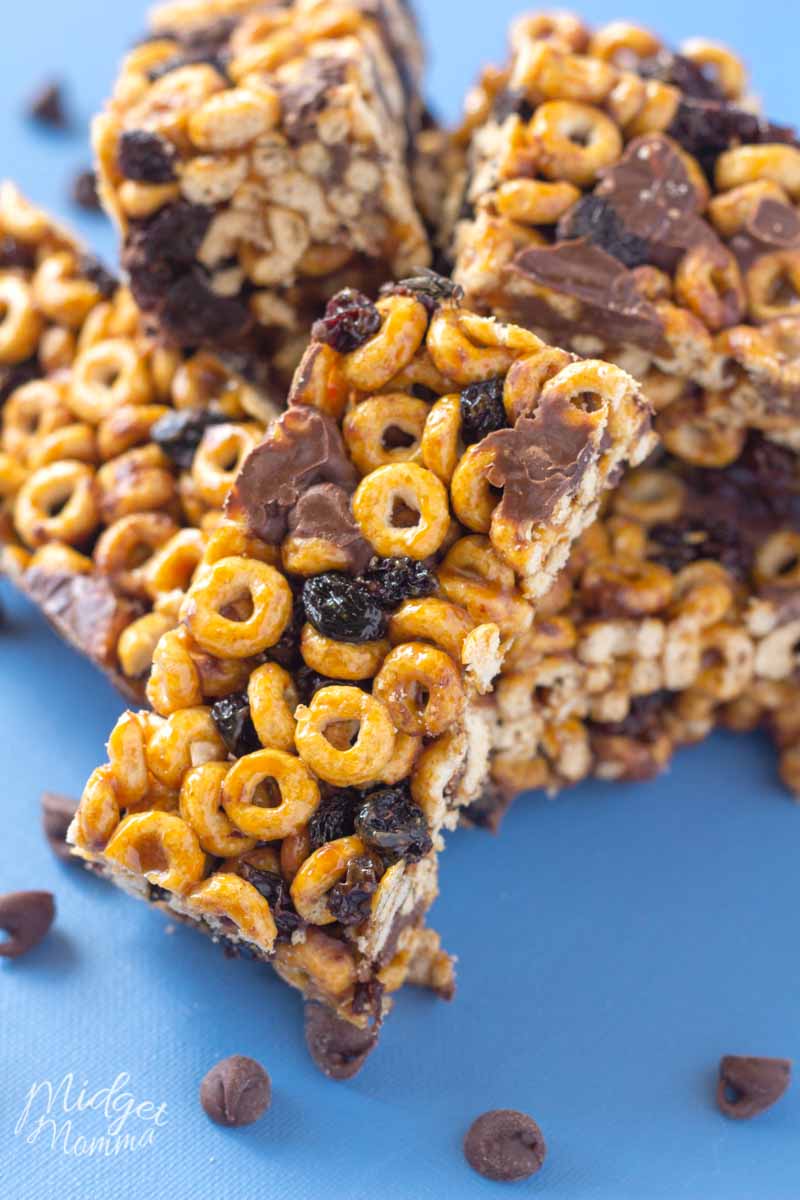 One of my favorite things about these homemade cereal bars, aside from the taste is that they are so simple to make! It literally takes less then 10 minutes to prep and make this cereal bar recipe. The hardest part about making this cereal bar recipe is waiting the 2 hours for them to harden up so you can take a big ol bite of tasty cheerios cereal bars!
How to Make Cheerios Cereal Bars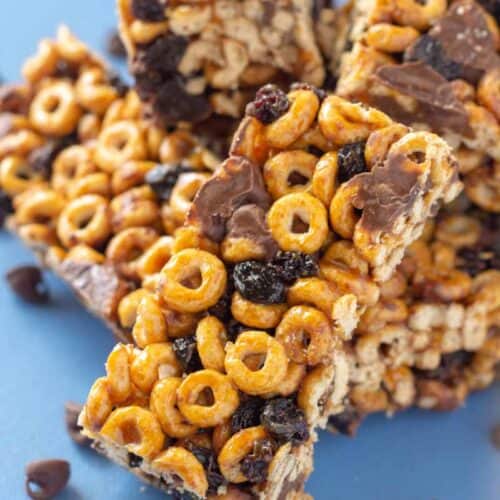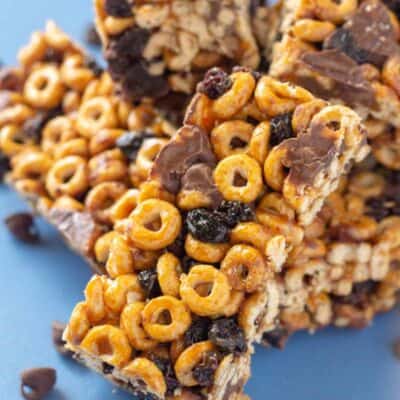 cereal bars
These cereal bars are the perfect snack with the perfect mix of cheerios, chocolate chips!
Print
Pin
Rate
Instructions
Line an 8-inch square pan with aluminum foil, spray with cooking spray and set aside.

In a large microwave-safe bowl, combine butter, honey, brown sugar, and heat on high power for 1 minute to melt. Stop to stir. Mixture will be on the grainy side.

Place in the Microwave on high power for three minutes, stopping to stir every minute.

Carefully stir in the vanilla. Stir in the cereal and raisins.

Let the mixture cool for two minutes than stir in the chips. Press out the mixture into prepared pan, packing down firmly with a spatula.

Cover pan with a sheet of foil and place pan in fridge to set up for at least 2 to 3 hours.
Share on Facebook
Pin Recipe
Tried this recipe?Mention @midgetmomma or tag #MidgetMommaRecipes
If you are looking for even more lunch kids, make sure you check out 101 Healthy School Lunch Ideas!
Plus don't miss these awesome lunch box recipes we love! 
Join the newsletter
Subscribe to get our latest recipes right in your inbox every time we post a new one!