This Strawberry Jam Baked Brie is amazing! It makes the perfect appetizer! For my sister in-laws bridal shower I want to make one of her favorite appetizers but with a twist on it.
Of course I like to make things my own when I am getting creative in the kitchen and that was the same when I was making Strawberry Jam Baked Brie. Normal baked brie is wrapped with puff pastry but I thought the crisp layers of phyllo dough would be a great texture to the brie. I of course tried it and it came out PERFECT!
I like using strawberry jam when making my baked brie however if you want to you can use any flavor jam. Another one of my favorites is using raspberry jam, oh it is soo good that way too!
As an added decoration I put together a few layers of extra phyllo with butter and cut them into hearts to celebrate the big day. You can skip that part when you are making Strawberry Jam Baked Brie, but I think it looks so nice with it on top of it!
Strawberry Jam Baked Brie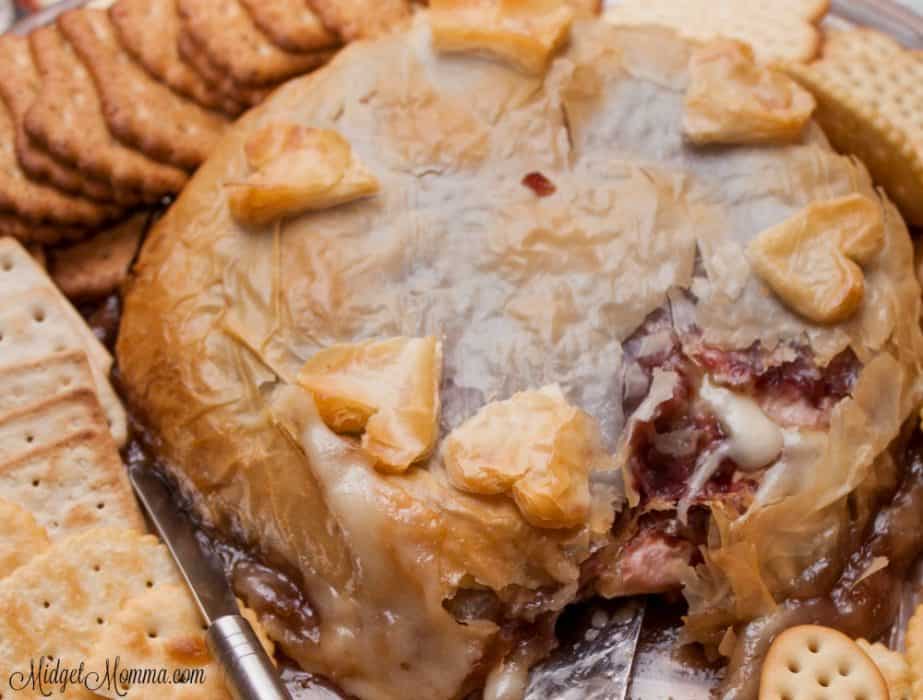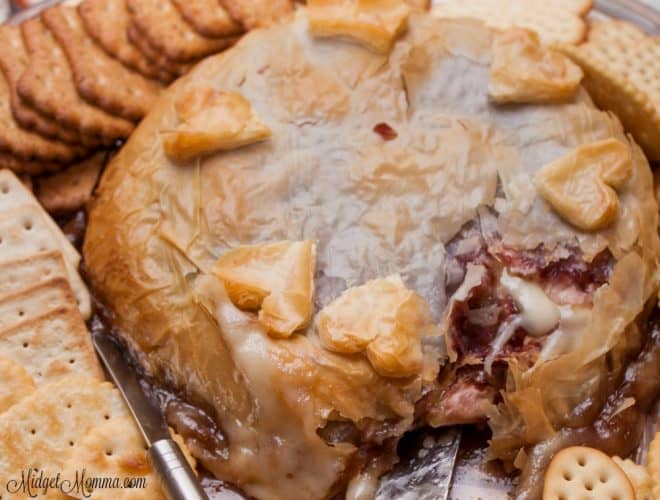 Baked Brie Ingredients
1 (6-inch) round of brie

8-10 sheets phyllo dough defrosted
4 tbsp. melted butter
3/4 cup good quality jam
Baked Brie Directions
Butter each sheet of phyllo dough and place in a pie plate or quiche dish, with the ends hanging over the edge.
Spread half the jam in the center of the dough, top with brie and the rest of the jam.
Bring the edges of the phyllo dough up over the top and seal well, using most of the remaining butter.
Turn the "package" over and brush the top well with the rest of the butter.
Bake in a preheated 375°F oven for 20 minutes.
Remove and let sit for at least 20 minutes before serving.