I know the picture does not look like it is going to be amazing but the beef mixture is so yummy and smells AMAZING while it is cooking! The whole family loves when i make these Crockpot Beef Lettuce Wraps and because they are made in the crockpot they make cooking them quite simple!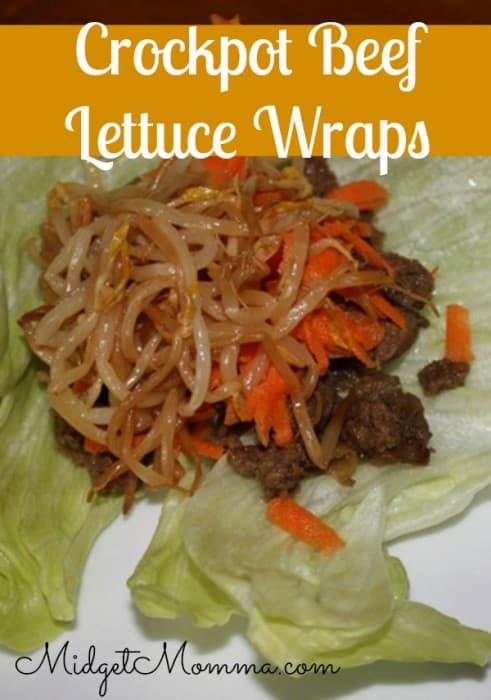 Crockpot Beef Lettuce Wraps
Using the Crockpot to make dinnertime easier to manage is a must. Whether it is a busy week, or you are trying to keep the kitchen cool in summer, or just to make a comfort food meal easier to manage, this is a great option.
Crockpot Beef Lettuce Wraps Ingredients:
1 pound 93%/7% ground beef
1/4 cup Hoisin  sauce
1 tablespoon and 2 teaspoons soy sauce
1 teaspoon garlic powder
1/2 medium onion, sliced
2 teaspoons Sesame seed Oil
1 can Bean Sprouts
Crockpot Beef Lettuce Wraps Directions: 
Add ground beef, onion, garlic, hoisin sauce, 1/2 teaspoon sesame seed oil, and 2 teaspoons soy sauce to the crockpot and stir well.
Cook for 4 hours on high, mixing occasionally so that meat is broken up and flavors are well mixed.
When ready to serve, heat bean sprouts, 1 1/2 teaspoons of sesame oil, and 1 tablespoon soy sauce on medium heat for 4-5 minutes or until heated through and beginning to caramelize.
Wash and separate lettuce leaves (butter or iceberg, depending on your preference)
Serve 1/4 cup meat mixture, a spoon of bean sprouts, and a sprinkle of shredded carrots in each lettuce wrap.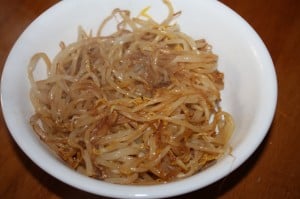 Makes 8 servings
4 SmartPoints per serving on Weight Watchers FreeStyle Plan
This is a great recipe to use for a slow cooker meal that will be ready when you get off work! It comes together easily, is easy to adapt to your preferences by adding in various toppings you prefer, and is kid-friendly!
More Beef Recipes: 
Join the newsletter
Subscribe to get our latest content by email.
This post may contain affiliate links. Please read my disclosure policy here