Sausage and peppers is such a simple and flavorful dinner recipe that you will wonder why you haven't made it sooner! This easy crockpot sausage and peppers recipe is super easy to make and a main dish that everyone will enjoy!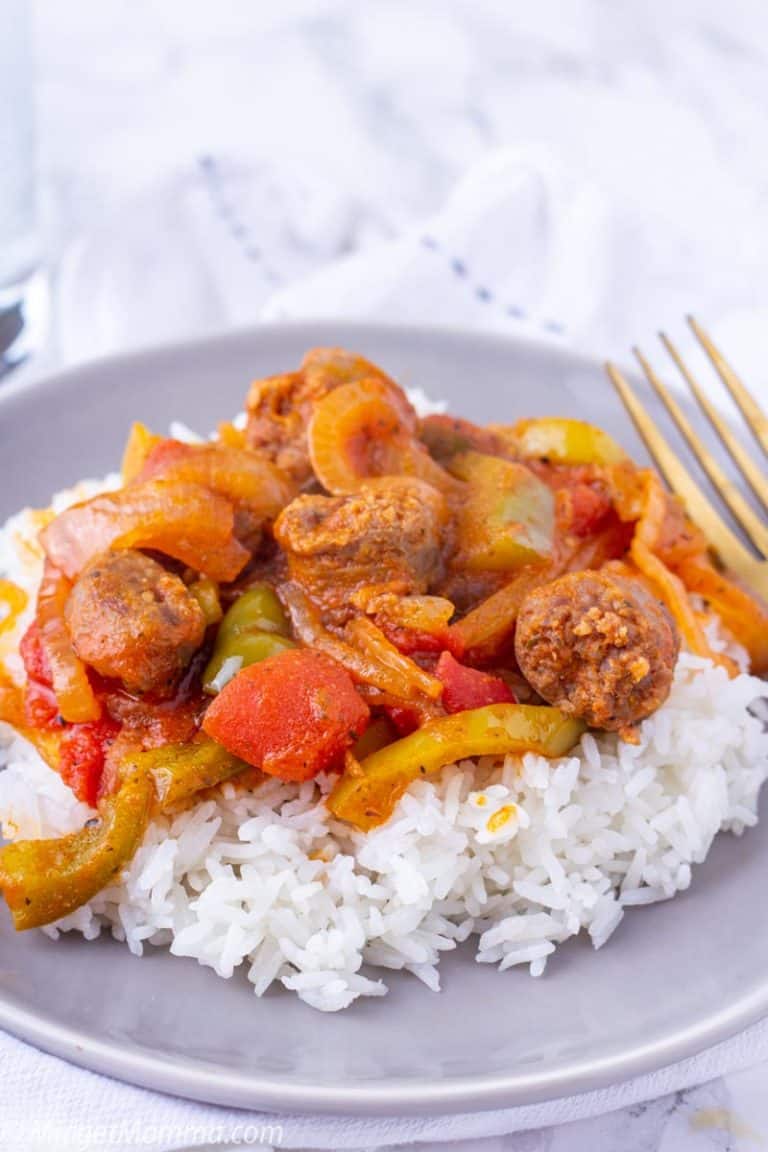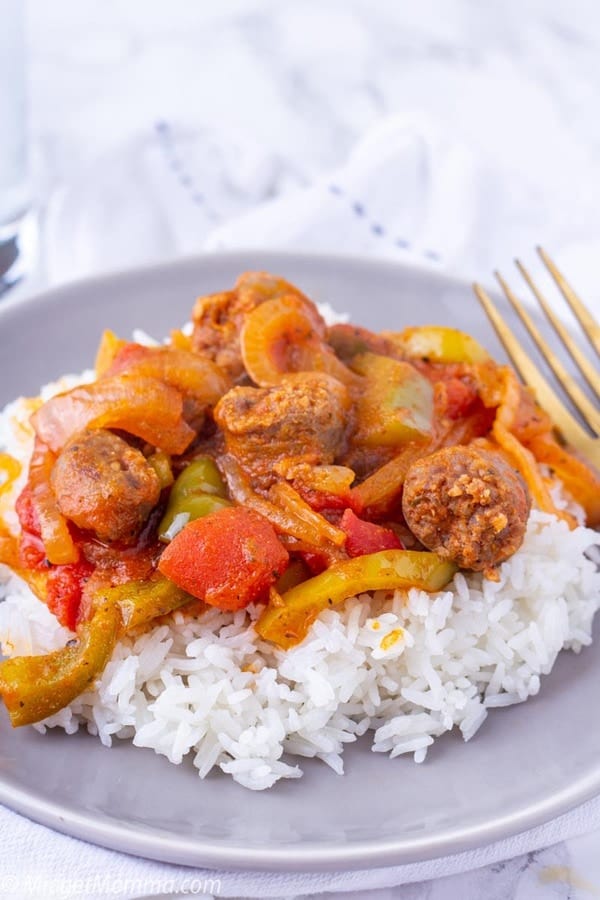 Crockpot Sausage and Peppers
Crock pot sausage and peppers is one of my go to easy recipes for night I know things are going to be busy. Tasty sausage, fresh peppers and onions with a tasty tomato sauce!
Crockpot meals are my favorite meals for busy school nights. I love that I can toss everything in the crockpot in the morning and then let it cook all day. Come dinner time there is not much for me to do to get dinner on the table. There are also a lot less dishes when I cook with my crockpot, which is a huge benefit and time saver!
Looking for more easy sausage recipes? Check these out!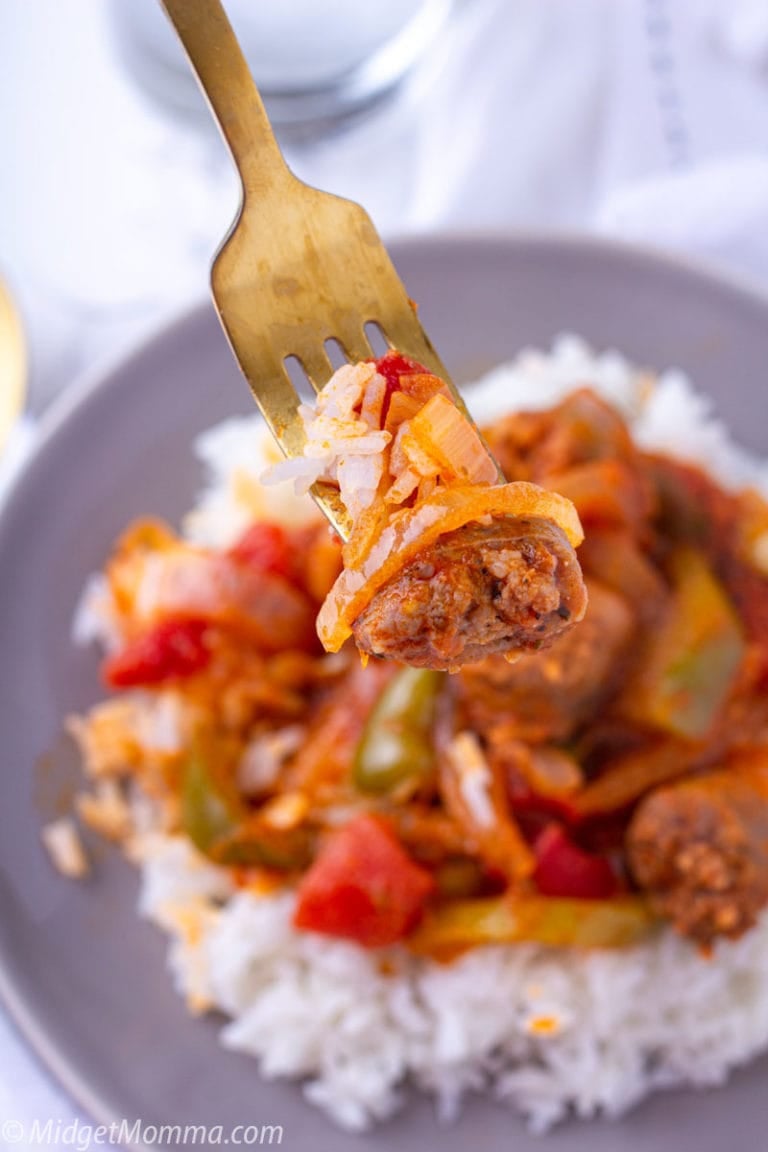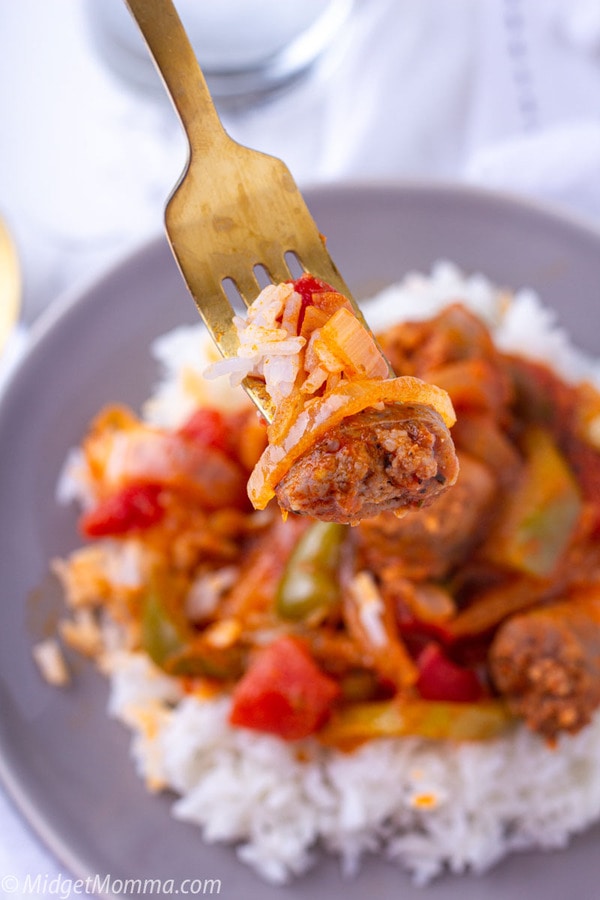 How to Serve Crockpot Sausage and Peppers
One of the biggest perks to making sausage and peppers is how easy it is to change up the ending main dish. It is super easy to change things up and make this a sausage and peppers sandwich, sausage and peppers pasta dish, or put it over rice.
Make a sandwich. This sausage and peppers in the crockpot recipe can be put in sandwich rolls to make sausage and pepper sandwiches.
Over Pasta. You can turn this easy crockpot dinner recipe into a pasta dish by spooning it over pasta. You can use any type of pasta to make sausage and peppers pasta. Just use whatever you have on hand or what ever type is your favorite. If you are wanting to get fancy, then you can totally make homemade pasta if you want to.
Over rice. To change things up even more, there are lots of times I serve Sausage and peppers over rice. Depending on the time I have and the mood I am in sometimes I make plain rice and other times I make garlic rice. Either way it still tastes great and the family loves it!
Serve over Zoodles. Make homemade zoodles and serve as a low carb dish.
Serve over Spaghetti Squash. Serve with spaghetti squash, bake the squash in the oven and then pour over the squash noodles. You can also use it to make sausage and peppers stuffed spaghetti squash.
Serve over cauliflower rice. Another option for keeping things low carb is to serve over cauliflower rice, you can use frozen or homemade cauliflower rice.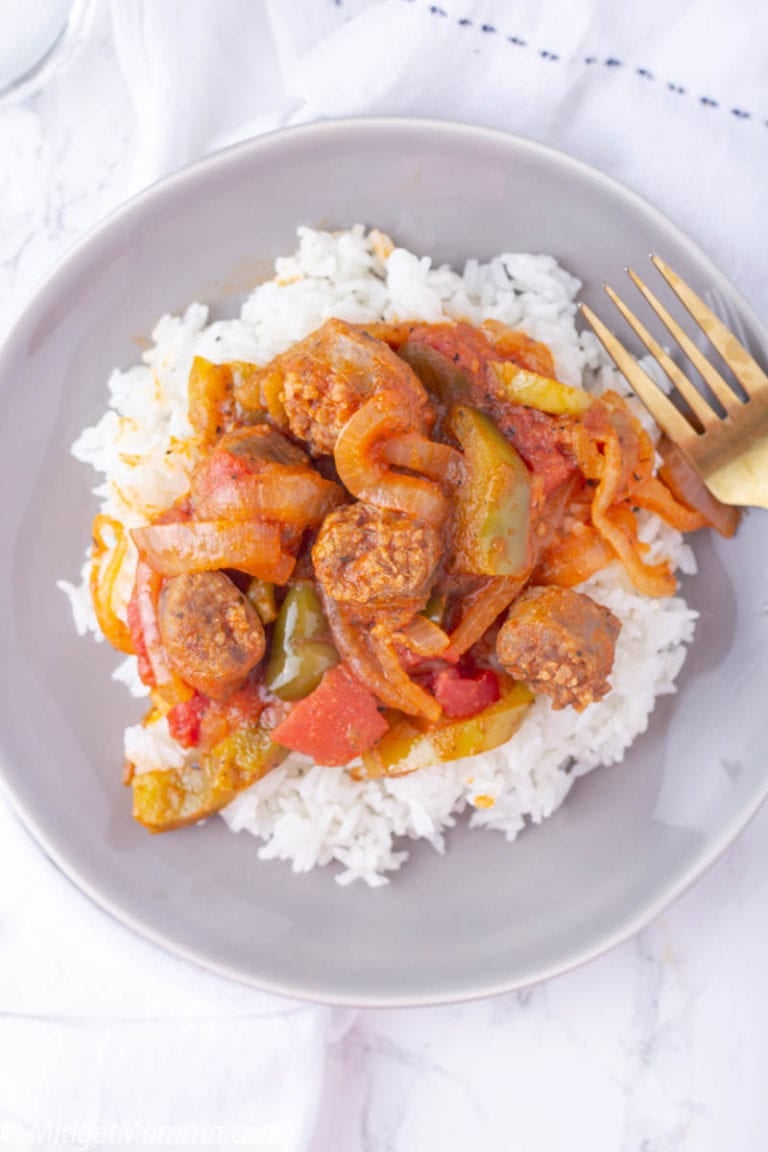 Jarred or Homemade Pasta Sauce?
If I don't have any homemade pasta sauce in the freezer or fridge then I use a jarred pasta sauce. Either sauce will work. There are also lots of times that I use my homemade marinara sauce recipe too.
If you are low carb, to lower the carbs and use a low carb and keto friendly pasta sauce like Rao's Pasta sauce or Yo Mamma's Pasta Sauce.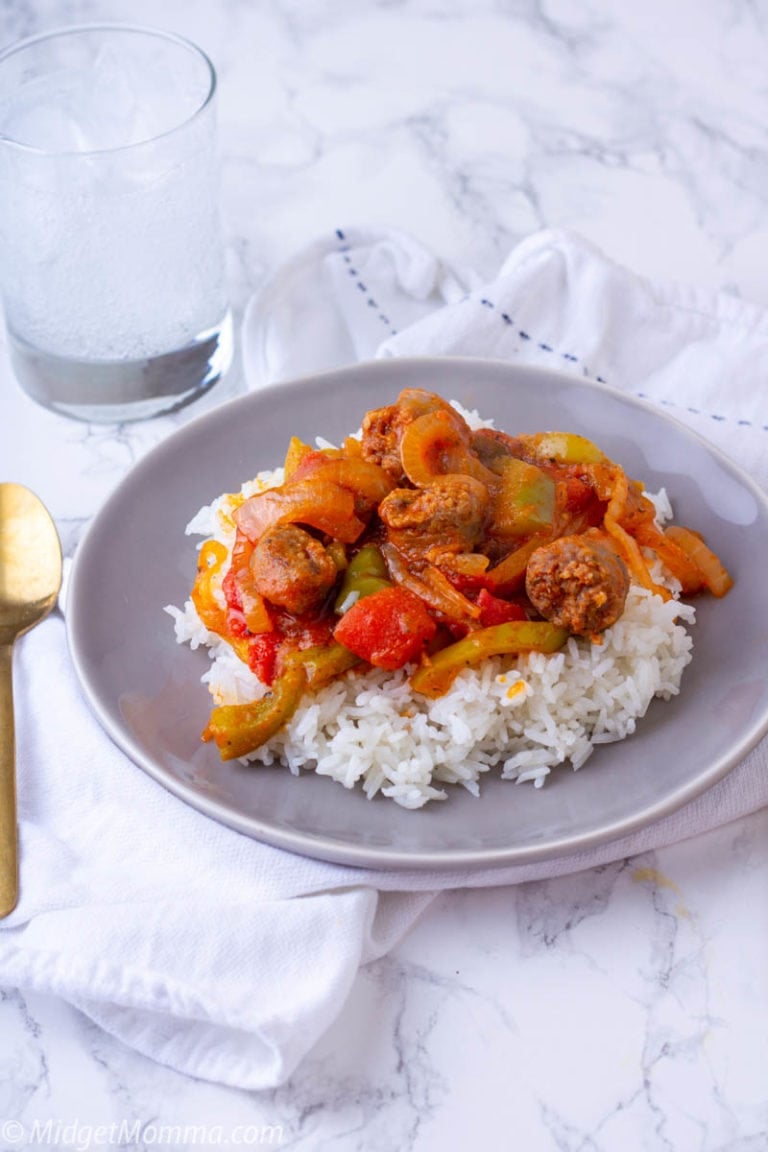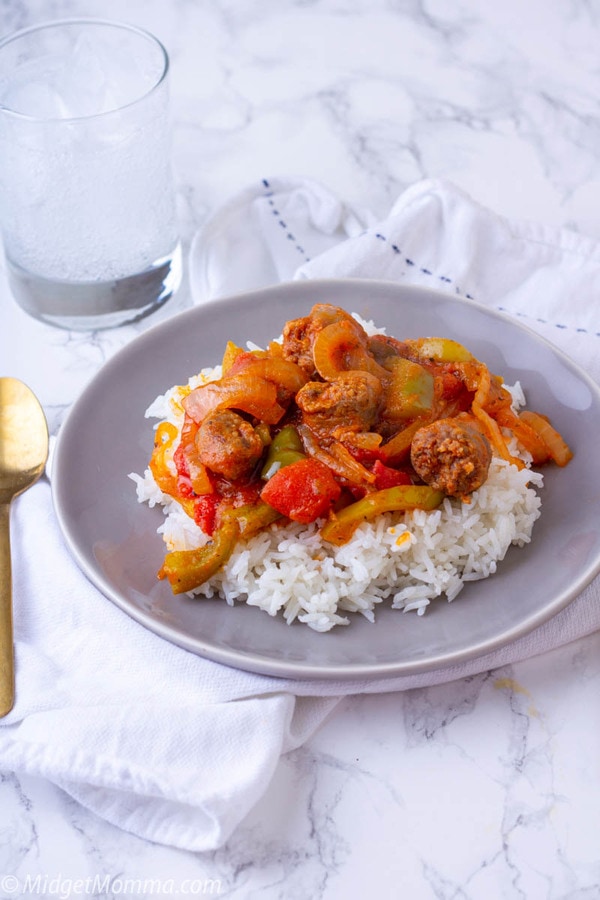 Can you Freeze Sausage and peppers?
Freezing sausage and peppers is simple and a great way to save time on busy weeks. Some people say that it works to freeze it after you have cooked it, personally I have found that it dries the sausage out when reheating it after it has been frozen. I much prefer to prepare all of the ingredients, freeze them and then cook everything when I am wanting to make the meal.
To freeze this recipe ahead of time, prep all of your veggies and sausage. Next put the sausage, peppers, onions and diced tomatoes into a Ziploc freezer bag. Zip the bag shut, and squeeze the air out of it and put in the freezer. It will stay fresh for up to 3 months.
Cooking everything after you have frozen it is simple. Remove the bag from the freezer and place in the fridge roughly 12 hours before you plan to cook it so it can defrost. Dump all of the ingredients into the crockpot, pour in the sauce and cook on high for 6 hours.
This recipe is a part of my freezer to crockpot cooking series. All of those recipes can be prepped for the freezer to make freezer meals quickly and easily so that you can dump them right into your crockpot when you want to cook them.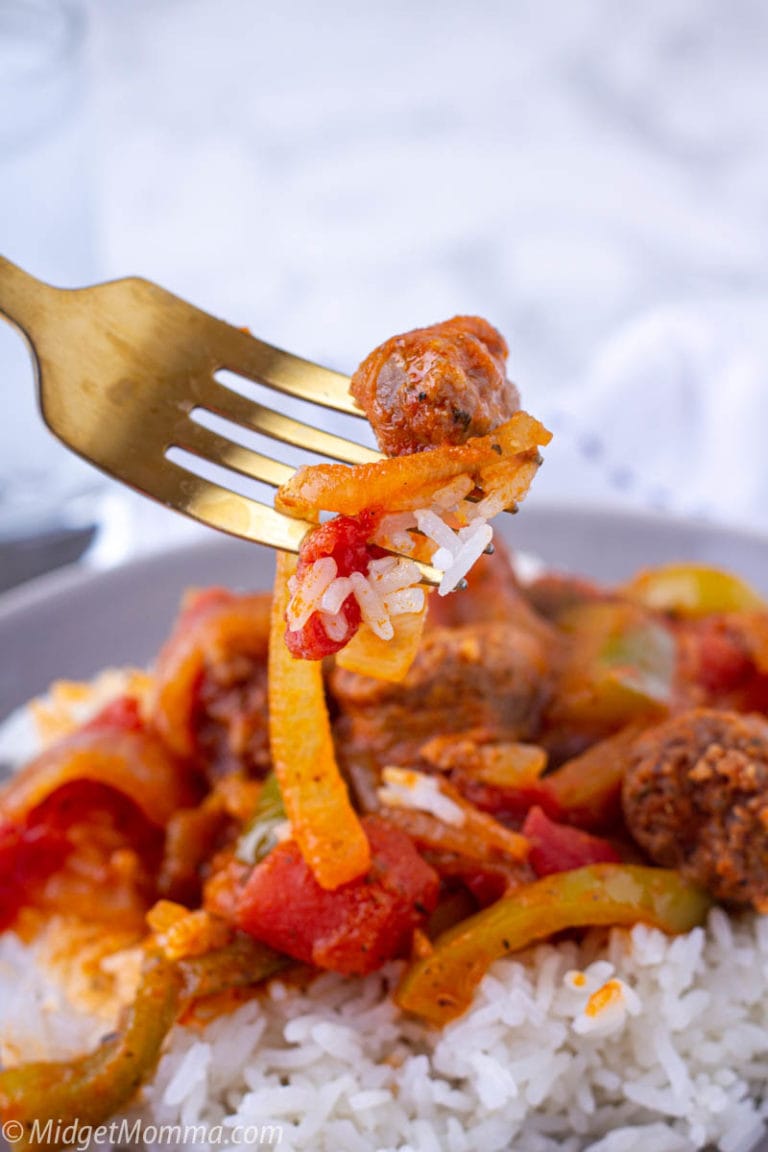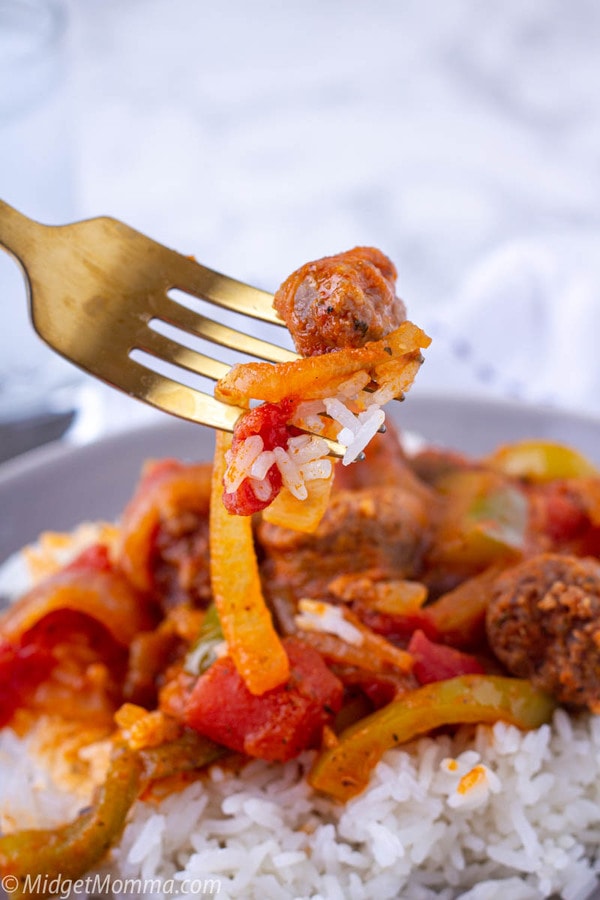 Crockpot Sausage and peppers Recipe Ingredients
Italian sausage
green peppers
onion
diced tomatoes
pasta sauce
How to Make Crockpot Sausage and Peppers Recipe
Spray crockpot with Nonstick Spray or line the crockpot with a disposable liner.
Slice the peppers and onions into thin slices. Next slice your sausage into small bite sized pieces.
Put your sausage, peppers an onions into the crockpot. Pour in the pasta sauce and mix everything well.
Turn crockpot on high and cook for 6 hours.
Serve over pasta, rice or zoodles or make sausage and pepper subs by putting it into fresh rolls and topping with cheese.
Easy Crockpot Recipes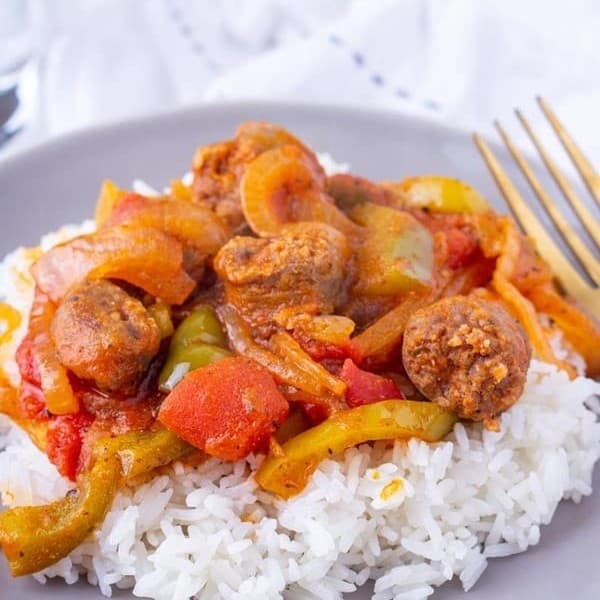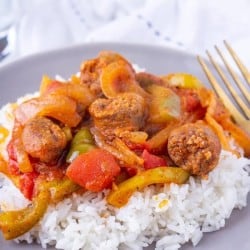 Crockpot Sausage and peppers Recipe
Servings
Sausage and peppers is such a simple and flavorful dinner recipe that can easily be changed up so you are not having the same thing time and time again. 
Ingredients
2 pounds Italian sausage sliced into bite sized circles
2 green peppers
2 onion
14.5 ounce diced tomatoes
12 ounces pasta sauce
Instructions
Spray crockpot with Nonstick Spray or use a disposable crockpot liner.

Wash and prep your peppers and onions. Slice the peppers and onions into thin slices.

Slice your italian sausage into bite sized circular pieces.

Add peppers, onions, chopped sausage to your crockpot.

Dump the contents of one 14.5 ounce can of diced tomatoes into the crockpot.

Stir to mix everything together.

Turn crockpot on high for 6 hours.
Calories: 571kcal | Carbohydrates: 12g | Protein: 24g | Fat: 48g | Saturated Fat: 17g | Cholesterol: 115mg | Sodium: 1412mg | Potassium: 822mg | Fiber: 3g | Sugar: 7g | Vitamin A: 472IU | Vitamin C: 48mg | Calcium: 68mg | Iron: 3mg
crockpot sausage and peppers, sausage and peppers
Dinner
12 Weight Watchers SmartPoints