Having meals prepped and ready to that you can just dump in the crockpot is one of the best ways to plan ahead of meals. You can add all of the ingredients into the freezer bags, store them in the freezer and then dump them into the crockpot to cook as needed.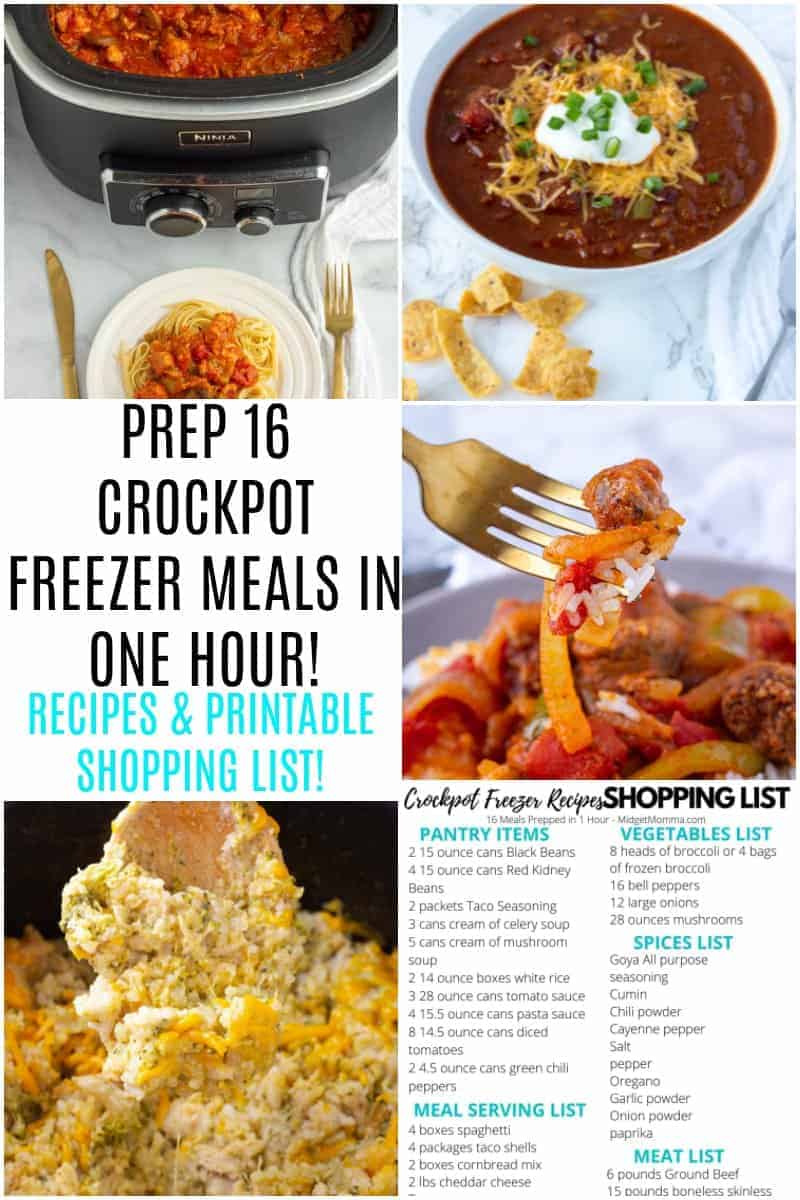 Crockpot Freezer Meals
If you are needing to get some meals prepped easily so you have them on hand and ready to go when things are busy you will love being able to prep 16 meals in about an hour that you can then just dump in the crockpot and cook as needed.
With all of our recipes the salt and pepper is left for to taste most of the time as many people have different preferences when it comes to flavor.
Each of these meals feeds my family of 6 if you have a larger family then you will want to pull 2 bags at a time. You can easily double this shopping list to make double the meals if you want to.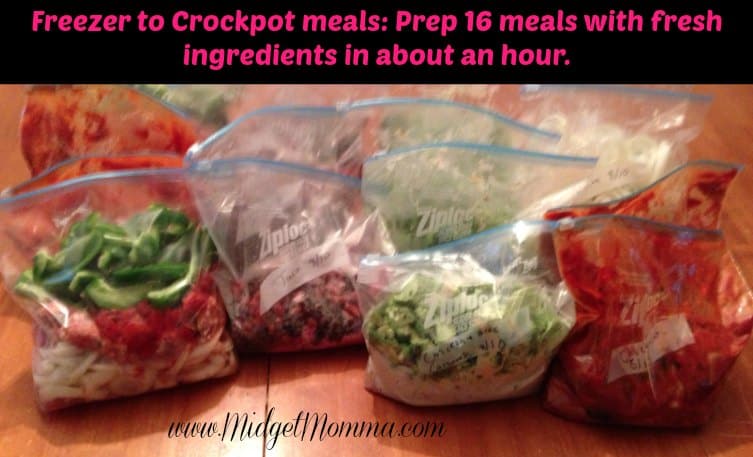 Serving Freezer Meals
Normally make other things to go along with them that are easy and fast to make. Salad is always an option at our dinner table.
For things like tacos and fajitas we always have the normal toppings that we enjoy. Those are added as optional to the shopping list.
Crockpot Freezer Meals Recipe
With this Freezer Meal plan you will end up with 16 meals. 4 Chicken and Rice Casserole, 2 Crockpot Taco Meat, 2 Crockpot Chili, 2 Crockpot Chicken Fajitas, 2 Crockpot Sausage and Peppers and 4 Chicken Cacciatore.
Crockpot Freezer Meal Recipe Ingredients
Head on over here to get the Printable Shopping List.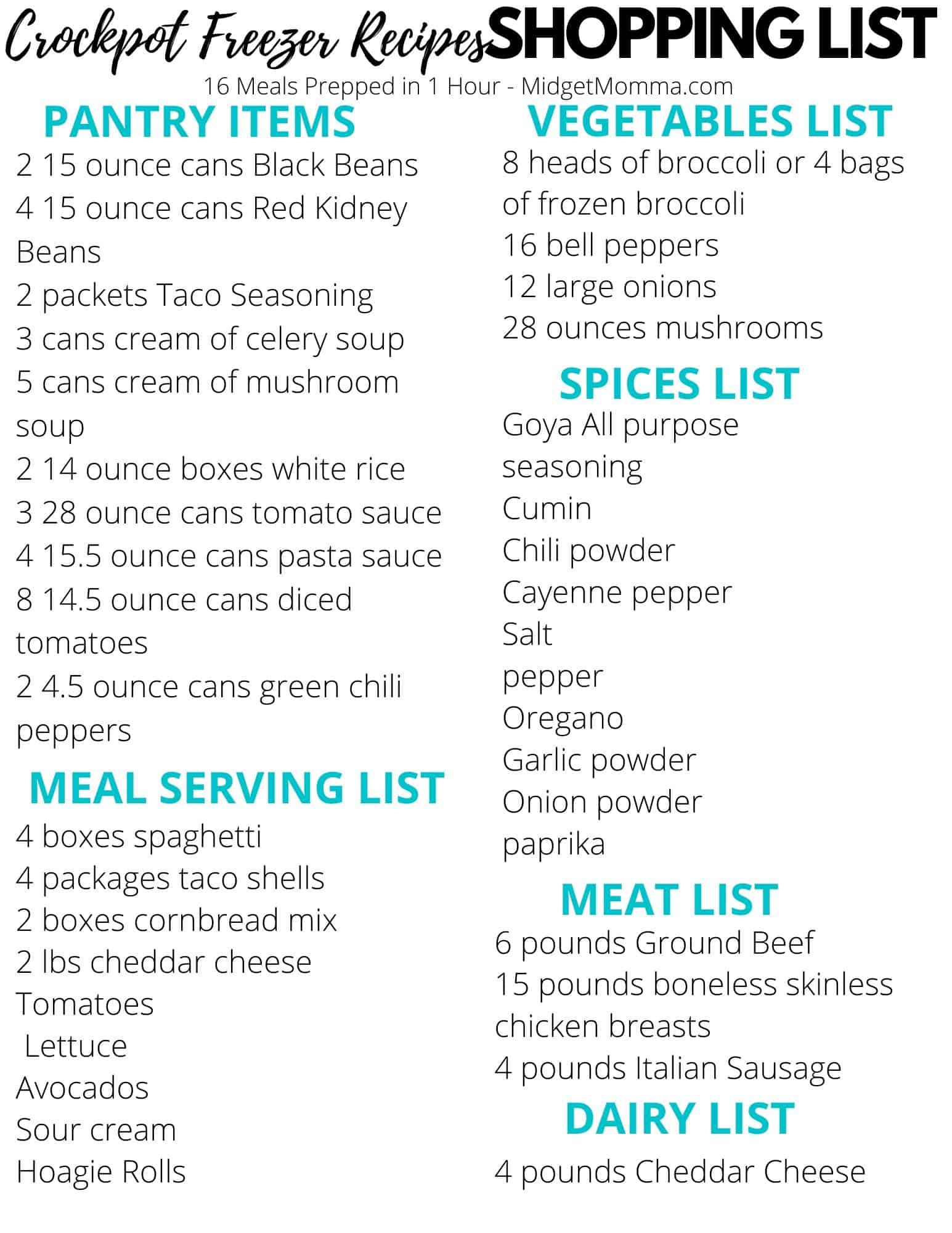 Meat Shopping List
6 pounds Ground Beef
15 pounds boneless skinless chicken breasts
4 pounds Italian Sausage
Veggies Shopping list
8 heads of broccoli or 4 bags of frozen broccoli
16 bell peppers
12 large onions
28 ounces mushrooms
Pantry Shopping list
2 15 ounce cans Black Beans
4 15 ounce cans Red Kidney Beans
2 packets Taco Seasoning
3 cans cream of celery soup
5 cans cream of mushroom soup
2 14 ounce boxes white rice
3 28 ounce cans tomato sauce
4 15.5 ounce cans pasta sauce
8 14.5 ounce cans diced tomatoes
2 4.5 ounce cans green chili peppers
Refrigerated Section shopping list
4 pounds cheddar cheese
4 cups grated Parmesan Cheese
Spices Needed
Cumin
Chili powder
Cayenne pepper
Salt
pepper
Oregano
Garlic powder
Onion powder
paprika
Goya All purpose seasoning
Additional items needed for toppings and serving Meals
4 boxes spaghetti noodles
4 packages hard or soft taco shells
2 boxes cornbread mix
2 pounds shredded cheddar cheese
Tomatoes
Lettuce
Avocados
Sour cream
Hoagie Rolls
How to Make Freezer to Crockpot Meals
Set up your kitchen area by sections. In one section have the meats, in another have the veggies and another the canned items.
Wash all of your veggies and cut all of your meats.
Following the Recipe directions fill gallon size freezer bags with the ingredients for each recipe. Label each bag with what each bag containers and the cooking instructions.
Squeeze the air out of the freezer bags and lay them flat in the freezer.
When making the freezer to crockpot recipes, remove them from the freezer the night before to thaw and cook as each recipe states or remove that day and add extra cook time.