Make sure you head on over here and check out all the other recipes I have shared and follow me on Pinterest to make sure you never miss a recipe. Follow Us on facebook and you will find AWESOME Recipes along with awesome deals and freebies too!
Last year things were crazy in my house and more times then I would like to admit we ate out and our budget felt the hit. This year I am doing things a bit differently and making it so not only will we not have to eat out but we will also have healthy meals that don't take much time at all to prepare.
To do so I am doing freezer to crock pot meals and in about an hour and a half (with the help of Tom and the kids so with out kids it will take less time) I was able to prepare 16 meals that have all the ingredients I need in a freezer bag so they can be pulled out the night before and defrosted and then I can just dump them into the crockpot in the morning turn it on and forget about it until dinner time. I am taking meals we normally eat and doing this to them so I know my family already likes what I will be serving.
Check out my Freezer Cooking: Breakfast foods so you can stock your freezer with breakfast items too! If you are looking to do more freezer cooking starting a Freezer meal cooking club might be a great way to get new meal ideas and have some fun with friends. Plus you can freeze many fruits and veggies after stocking up on them when you are paying the lowest prices for them. Make sure you also check out our Twelve Healthy Freezer Meals For $125 for another set of recipes and shopping list for freezer meals. How to Freeze Blueberries How to Freeze Bananas How to freeze green beans How to Freeze Strawberries . Crockpot freezer meals are a great way to help your budget and save you tons of time.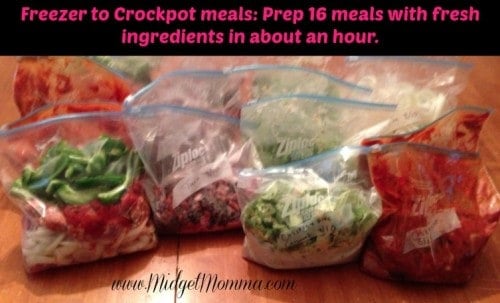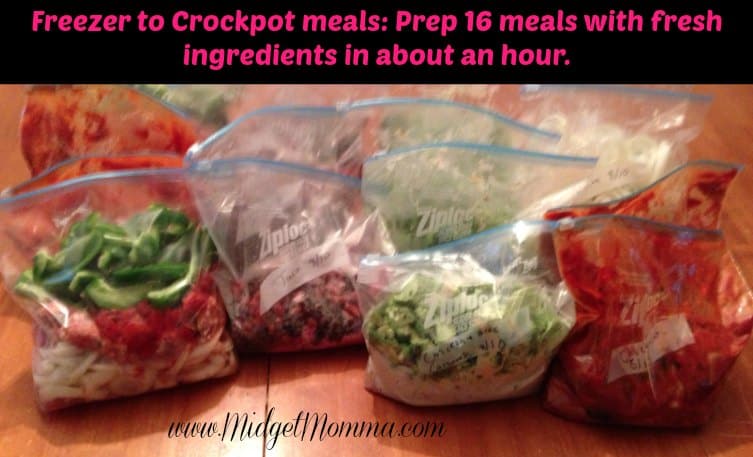 Please Note:: Adding things like salt and pepper is not included, add to the dishes as your taste prefers. If you like your tacos or fajitas spicy use spicy seasoning. All of these can easily be adjusted to your spice taste preference. You can also use ground turkey if you are not a fan of ground beef. These recipes should be used as a baseline and made to taste for what your family enjoys by adding spices. Each of these meals feeds my family of 5. If you have a larger family then you may need to pull out 2 bags at a time and put them in the crockpot (or 2 crockpots depending on how big yours is) when making them.
Crockpot Freezer meals
This round of freezer crockpot meals I made the following
Cheesy, chicken, broccoli and rice casserole (4)
taco meat (2)
chili (2)
fajitas (2)
Sausage and peppers (2)
Chicken Caccatori (4)
Crockpot freezer meal ingredient list
The shopping list for all these meals is
4 pounds hamburger meat
10 pounds chicken
8 green peppers
8 heads of broccoli
8 cups rice (i used brown but you can use white as well)
10 large onions
2 fajita seasoning mixes
2 taco seasoning mixes
2 cans white kidney beans
4 cans black beans
2 cans red kidney beans
4 cans cream of mushroom soup
2 cans cream of celery soup
4 cups shredded cheddar cheese
5 jars tomato sauce (I used ones that already had seasoning in them) – These are the regular sized glass jar ones, you can use your favorite brand
4 pounds italian sausage
8 cans diced tomatos – I used the large cans and you can use whatever your favorite brand is
2 packs mushrooms
2 packs chili seasoning
Crockpot Freezer meal Recipes
(Just click on the link to get to the recipe for each one) – to make them for the freezer just prep all the ingredients and then add them to the freezer bag. Multiplying the recipes makes it super easy to make more then one meal at a time. Label the bag with the meal name and date. Then to cook them just pull them out of the freezer the night before and dump the contents of the bag into the crock pot in the morning.
Crockpot Taco meat Recipe  – just get all your fixings too and you are done
Crockpot Cheesy, chicken, broccoli and rice casserole  – we add a salad to go with it
Crockpot chili   – we make cornbread to go with it
Crockpot fajitas – just add your favorite fixings the day you make it
Crockpot Sausage and peppers – on top of rice or as sandwiches
Crockpot Chicken Cacciatore – add a salad, bread and make pasta the day you make it
Join the newsletter
Subscribe to get our latest content by email.
This post may contain affiliate links. Please read my disclosure policy
here