I am not sure why it has taken me so long to get this Sausage Broccoli and Cheese Quiche recipe up for you all, I make it and then I forget to take a photo of it but it was one of the first recipes I ever learned to make. I actually learned how to make this Sausage Broccoli and Cheese Quiche from my best friends mom when I was in high school. It also one of the first recipes to become a staple in our dinner meal planning. It is so easy to make and everyone in my house loves it.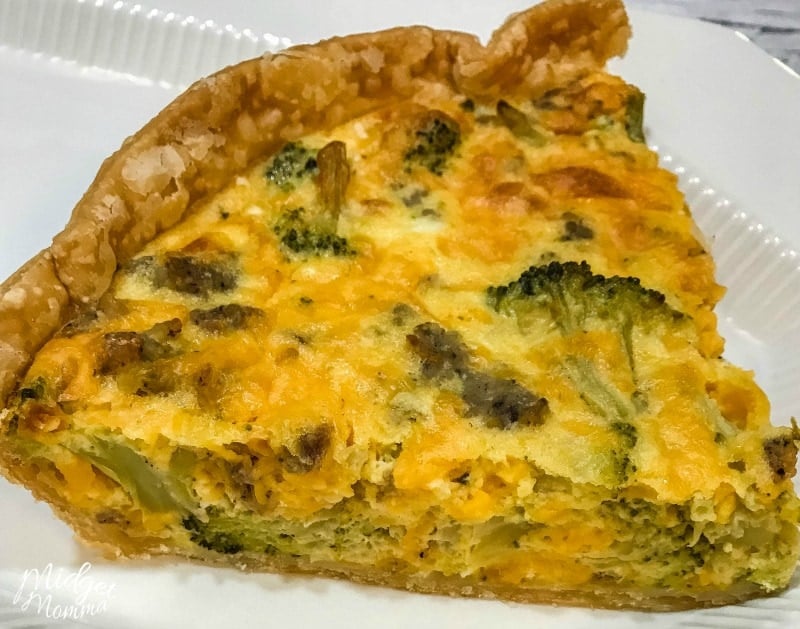 When I make Sausage Broccoli and Cheese Quiche I use a homemade whole wheat crust using this recipe (changing out the all purpose flour for whole wheat flour) and whole wheat flour or store bought crust depending on the time that I have. My friend and her mom grind the wheat berries up to make crust from scratch. I do not always have the time to be making my own flour so I opt for using the King Arthur Whole Wheat flour. Either one will work, either one will make it taste amazing, it all depends on the amount of time that you have to make it.
This Sausage Broccoli and Cheese Quiche recipe can easily be doubled, then you will just use 1 pie pan for each quiche. When I started making this I only needed to make one and we had left overs, now as my family as grown to 6 of us we make 2 and there are no left overs.
Sausage Broccoli and Cheese Quiche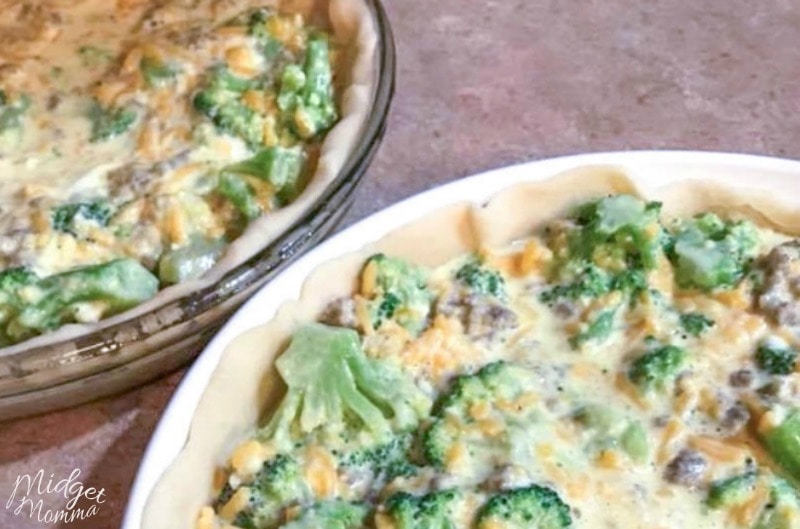 Sausage Broccoli and Cheese Quiche Ingredients:
1 pound ground sausage
1/2 cup mayo
1/2 cup milk
3 eggs
dash of pepper
2 1/2 – 3 cups cheddar cheese
pie crust (unbaked)
2 cups broccoli
Sausage Broccoli and Cheese Quiche Directions:
If you are making your own pie crust make the crust and then put into the fridge until you need it.
Brown your sausage in a large pot and drain and add back into the pot. While browning the sausage steam your broccoli.
Add in mayo, milk, pepper. broccoli, eggs and cheese and mix well. Remove from heat.
Put pie crust into your pie pan and Pour mixture into pie crust.
Bake at 350 for 35- 45 minutes. Until you can poke it with a knife and it comes out clean.
Take out of oven and then let cool and set for 15 minutes.
6 Weight Watchers SmartPoints per serving on the Freestyle Program using fat free mayo, fat free milk and fat free cheddar cheese.
Join the newsletter
Subscribe to get our latest recipes right in your inbox every time we post a new one!