I have always loved a classic baked ziti and this Sausage Baked Ziti is a tasty twist. My daughter is also a big fan of it but she kept asking where was the hot dogs…. she thinks sausages are hot dogs lol. So I decided to put a small twist on my normal baked ziti and add some sausage for my daughter and we all loved it! When making any pasta dishes in my house I stick with homemade sauce, the jar stuff works if you are short on time but I love homemade so much more.
Check out these sides that go amazing with this recipe to finish up the meal!
Sausage Baked Ziti
Sausage Baked Ziti  Ingredients
1 pound Italian sausage
1 tablespoon olive oil
1 pound ziti pasta
3 cup your favorite tomato sauce
8 oz mozzarella cheese
1 cup parmesan cheese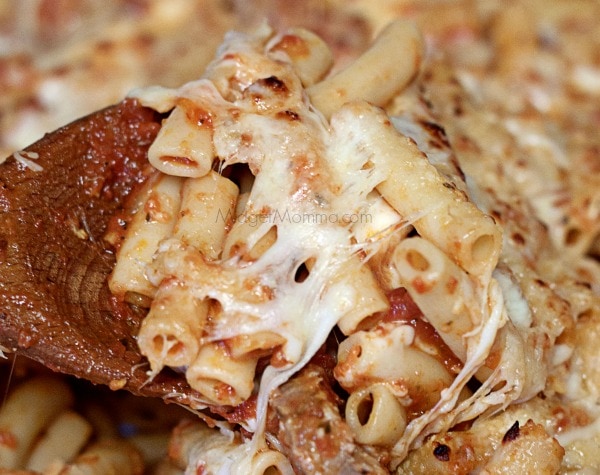 Sausage Baked Ziti Directions
Preheat your oven to 350 degrees.
Grease you 9 x 13 baking pan.
In a frying pan heat your olive oil over medium heat and add your sausage. Brown all sides of the sausage than remove them from the heat. Slice your sausages in to 1/3 of an inch pieces.
Cook your pasta just one minute shy of al dente and drain from the water.
Mix your sausage, pasta, sauce and half of the mozzarella cheese together, pour the mixture into your baking pan. Top with your remaining cheese.
Bake for 40 minutes until the cheese is golden brown. Let it rest for 5 minutes than serve.