Looking for naughty elf on the shelf ideas? Then you are going to love this easy naughty elf on the shelf ideas and the kids will love them too! Don't worry, these naughty elf on the shelf ideas are easy to set up and the kids will love them!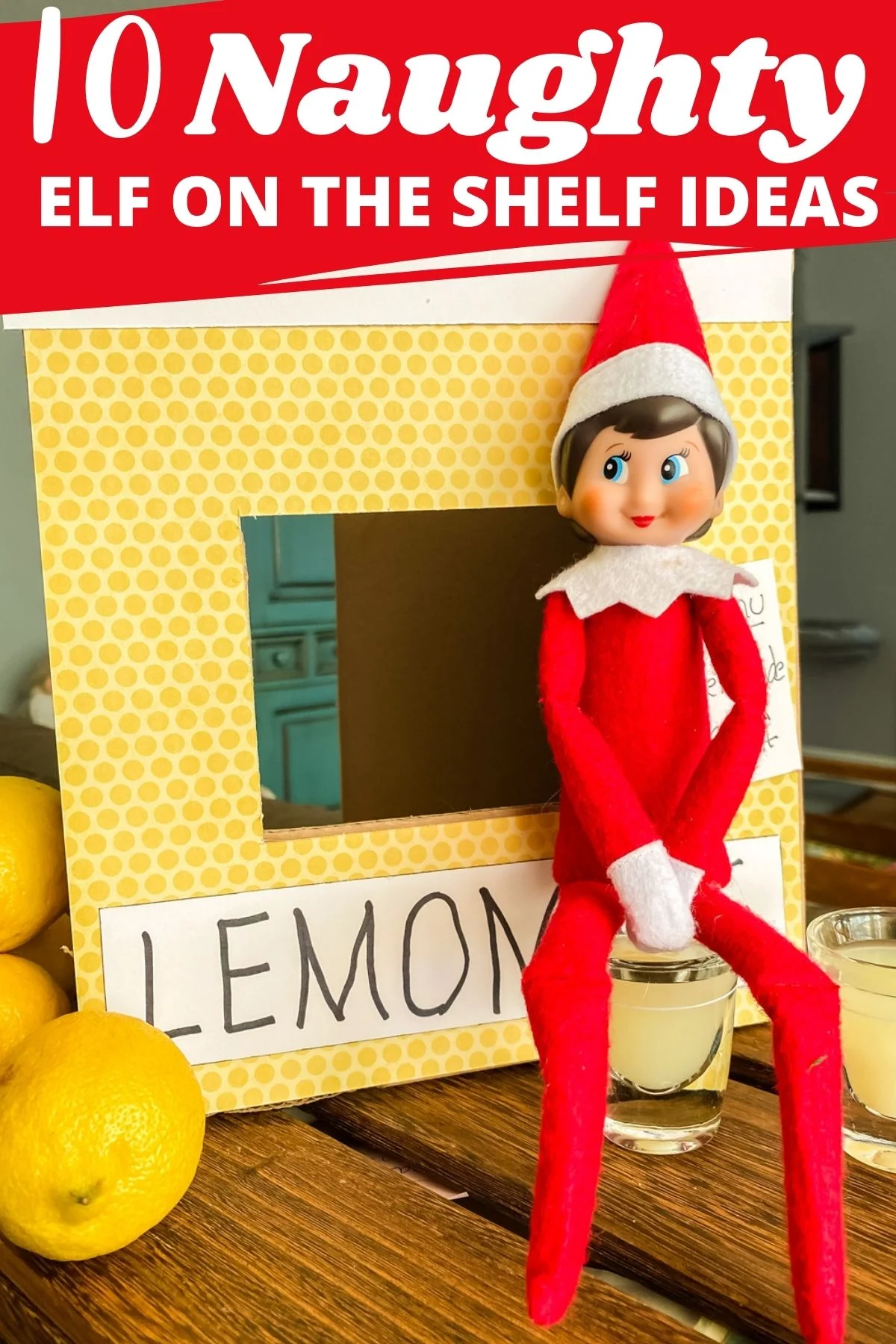 Naughty Elf on the Shelf Ideas
Who doesn't love a naughty elf at Christmas? The elf on the shelf is one of those things that you either love or hate. Some parents simply move their elf around the home, whereas others get a little more elaborate with their setups. However, a naughty elf is always going to get a great reaction from your kids. After all, it is all part of the magic you want to create a Christmas time. So if you are looking for naughty antics for your elf on the shelf then here are some of the suggestions to try.
What is Elf on the Shelf?
Year after year, children and adults alike are baffled by the mystery of how Santa really knows who's been naughty or nice. After much urging by the elves and Mrs. Claus, Santa has allowed his biggest secret to be revealed in The Elf on the Shelf: A Christmas Tradition. At the start of each Christmas season, the elf appears to serve as Santa's eyes and ears, traveling back to the North Pole each and every night to make a detailed report of the day's activities. Children can register their elf online to receive an official adoption certificate and a special letter from Santa.
Still need more Elf ideas? Check these out!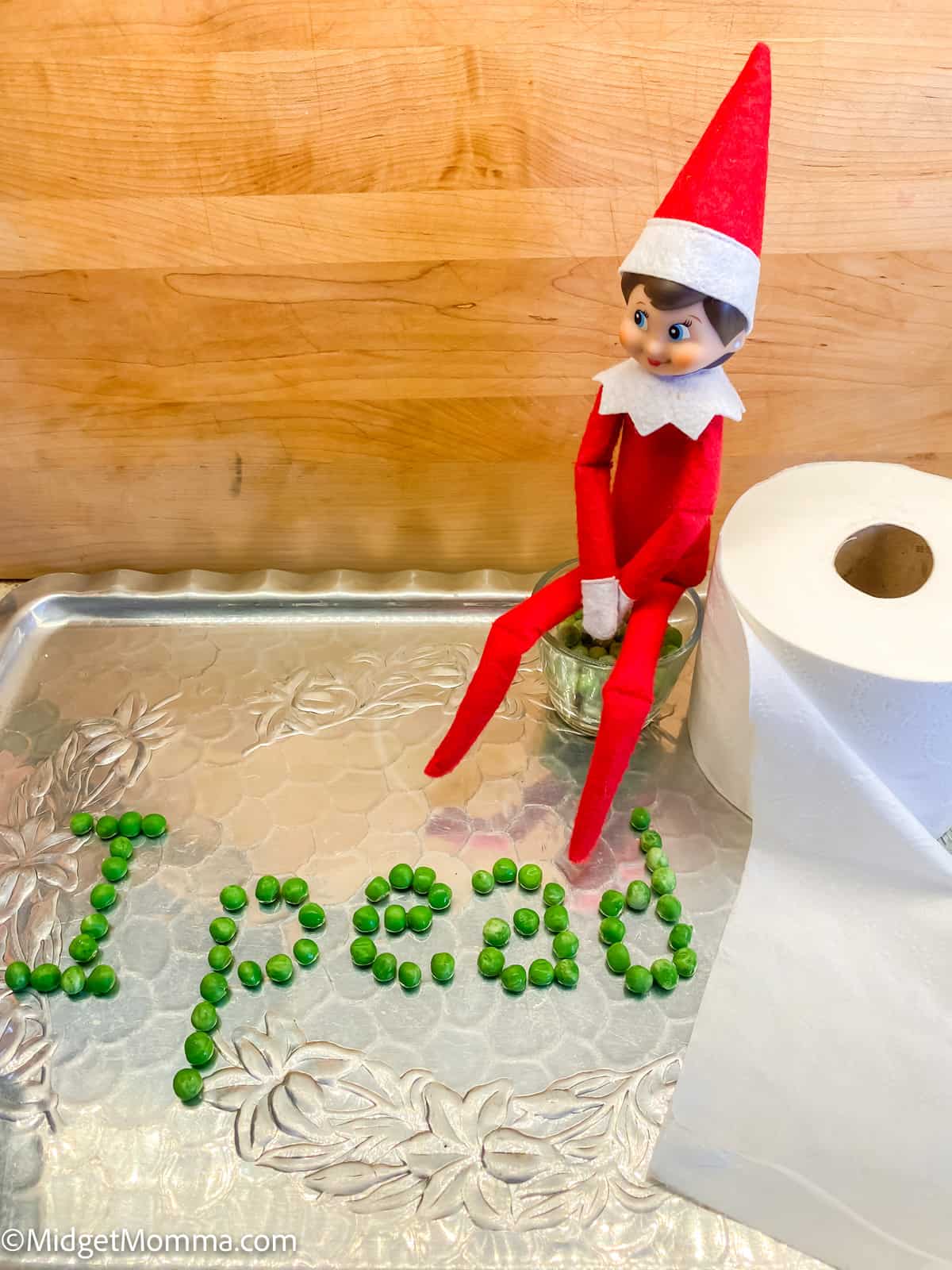 I Pead
Elves can pea anywhere, all you need is some fresh or frozen peas and a place for them to sit, and this naughty elf idea is done quickly. Naughty elves tend to pea on the counter in our house.
A fight with the toys
If your kids love the setups, then why not create a fight amongst the toys. Set up two sides, one team being your elf's side, and then perhaps another dominant toy like your child's favorite teddy, for example on the other side. Then set up the toys around it as if they are fighting. This is a great opportunity to use any army figures that your child might have.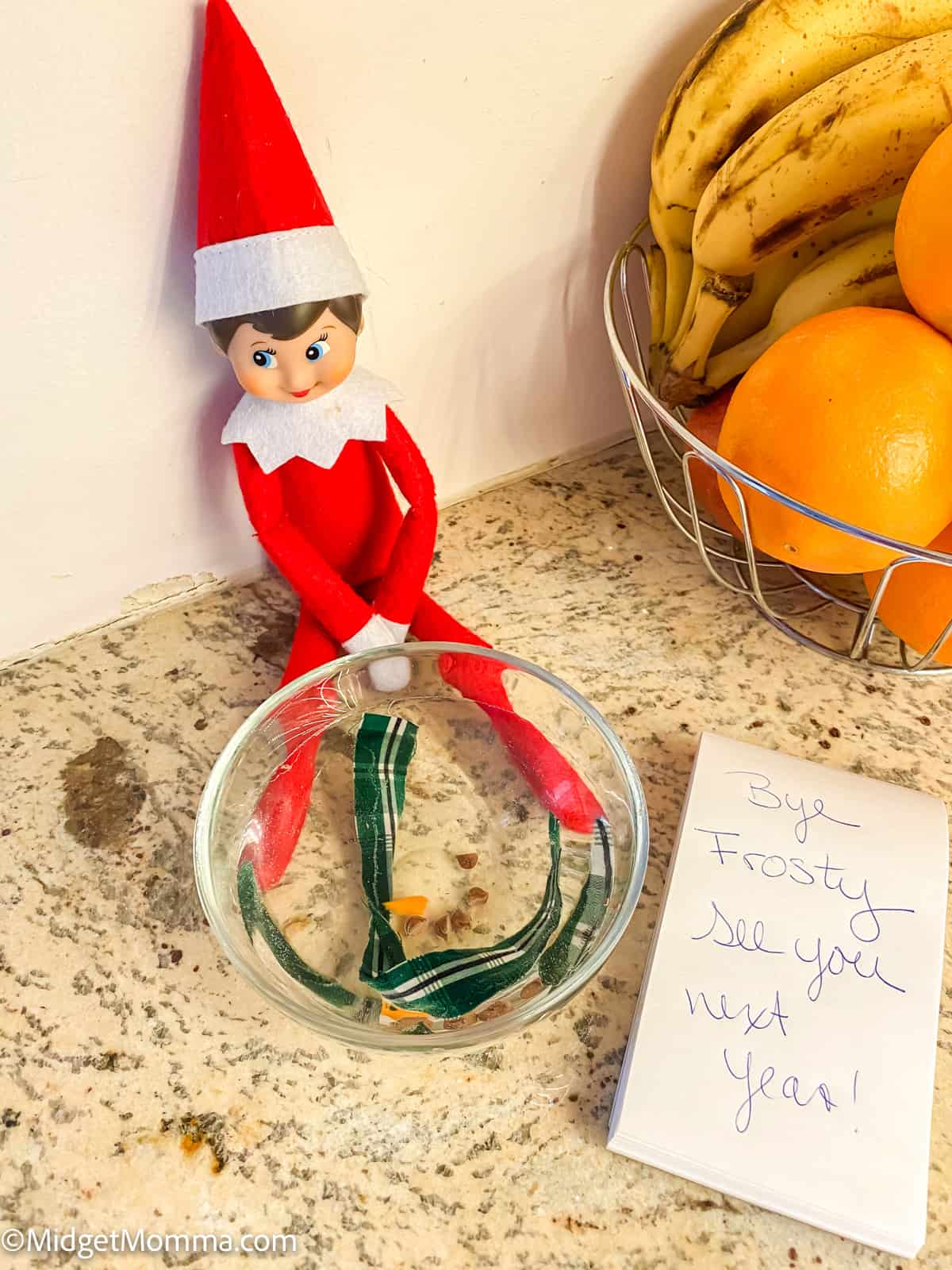 Bringing home a snowman
While the elf may have had good intentions this setup can also be seen as naughty. Get a bowl and fill it with water. Then add some chocolate drops for the buttons and the eyes. A piece of carrot for the nose, and then maybe a piece of fabric that looks like a small scarf. Then scatter them in the water to look like a melted snowman. Leave a note to say that the elf has brought home a snowman.
Snowball fight
This is a great one to set up and your kids will love it. You simply need flour, large and small marshmallows, your elf, and perhaps one or two other toys that your child loves. Then you simply set the scene. Scatter some flour, set up a larger wall for each toy with marshmallows, and then scatter some of the smaller ones around. There are some great ideas to set this up on websites like Pinterest.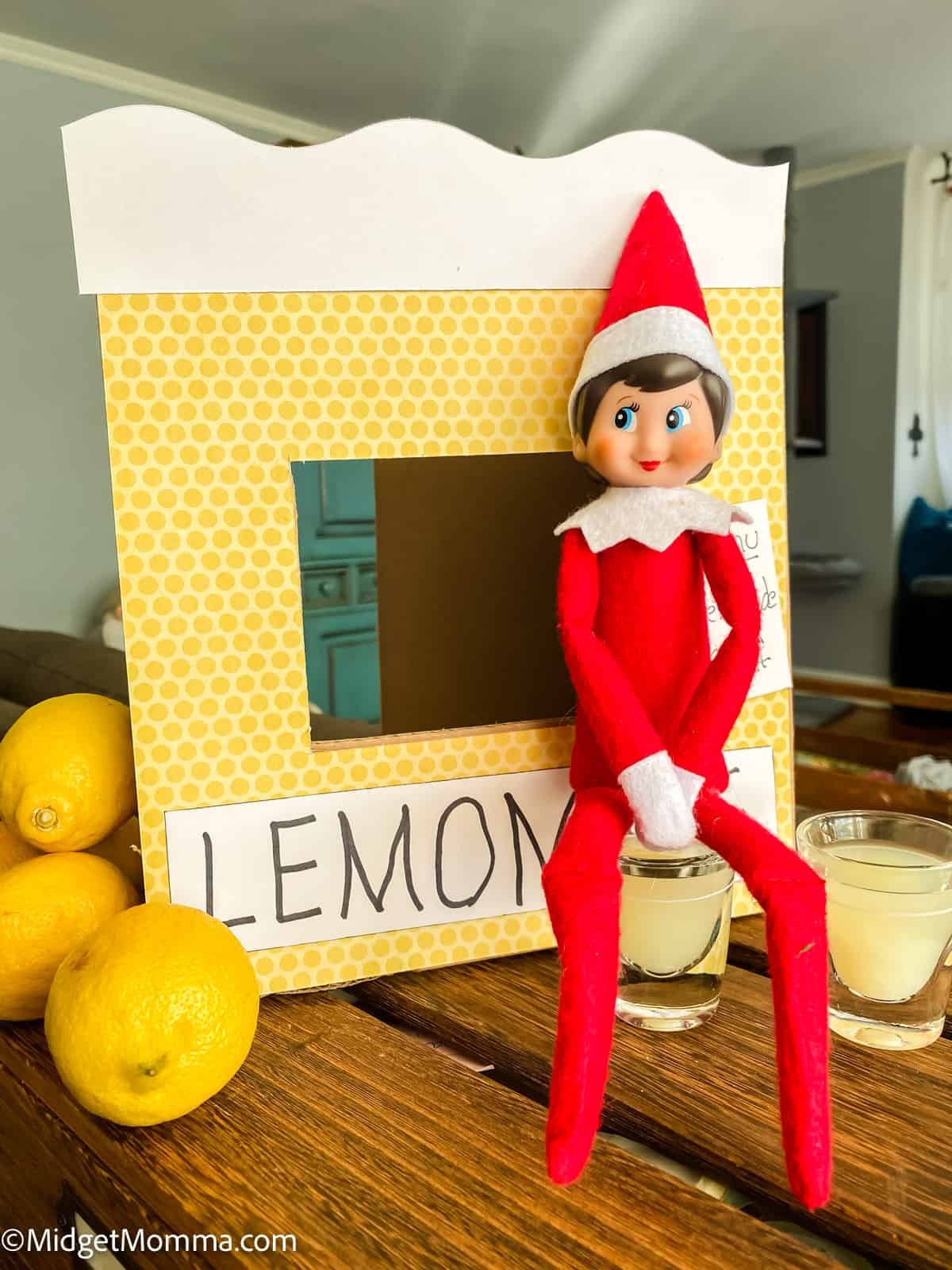 Selling "Lemonade"
Most kids love a bit of toilet humor, so this could be a great one to consider. Simply dilute some lemon juice in a few plastic shot glasses and set them up with a stand that says selling lemonade. The funny bit would be to stand your elf as if they are peeing into the cup. This is where the naughtiness and funny element comes into play.
"Poop" with chocolate drops
Another great toilet humor option would be to leave some chocolate drops and sit your elf as if they are pooping. You could do this into the cereal bowl. Add your child's cereal to the bowl, a few chocolate drops, and then sit your elf on the edge. You could even create or buy little props like a small roll of toilet tissue or have the elf holding a newspaper. Your kids will find this one really funny.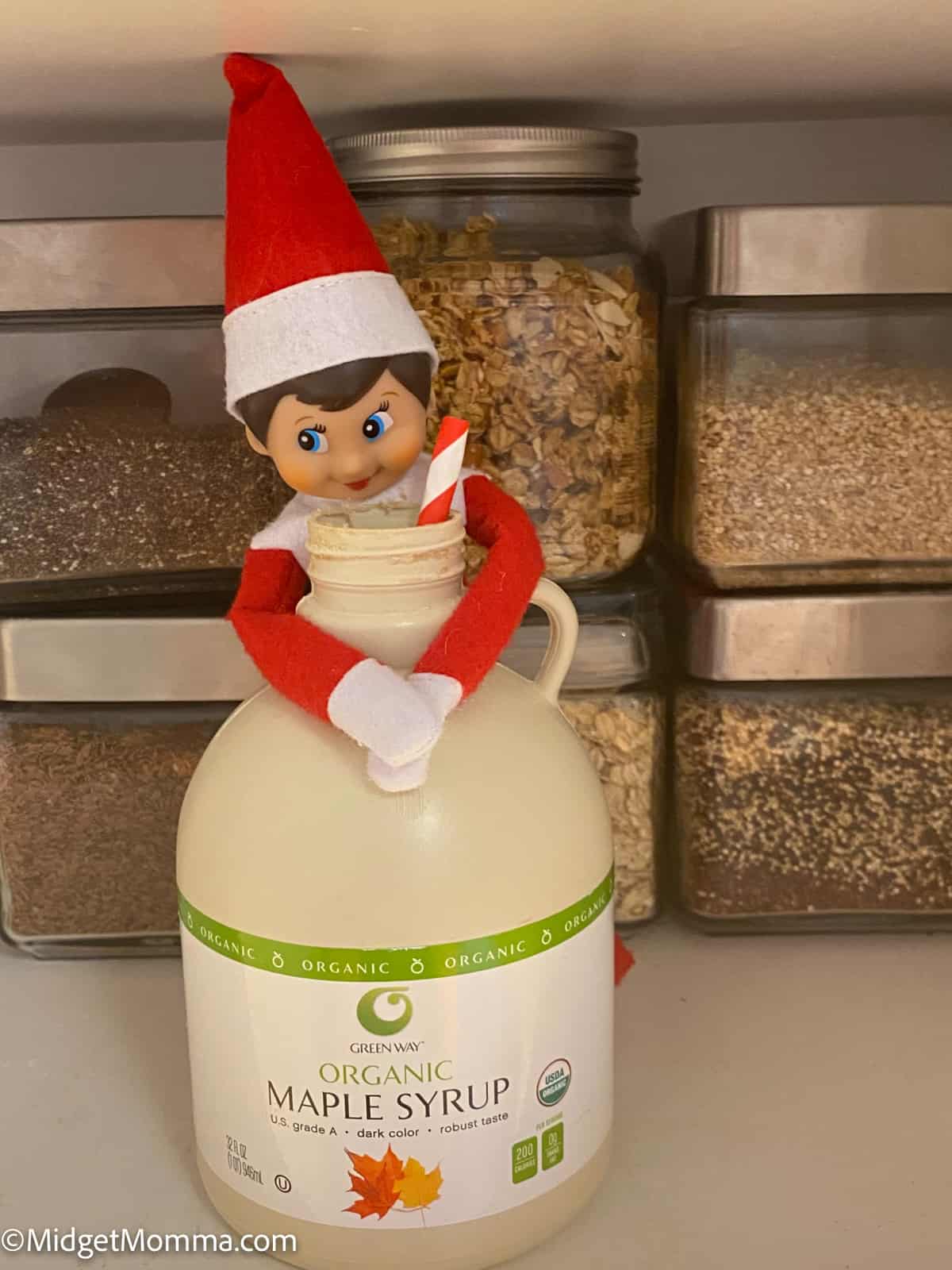 Drinking Maple Syrup
Getting into trouble is always a hit when it comes to the elf, and when an elf wants to be naughty a trip to the pantry for a bottle of maple syrup and a straw makes for the perfect drink! No one other than the elf could drink a bottle of maple syrup and not be hyper on sugar!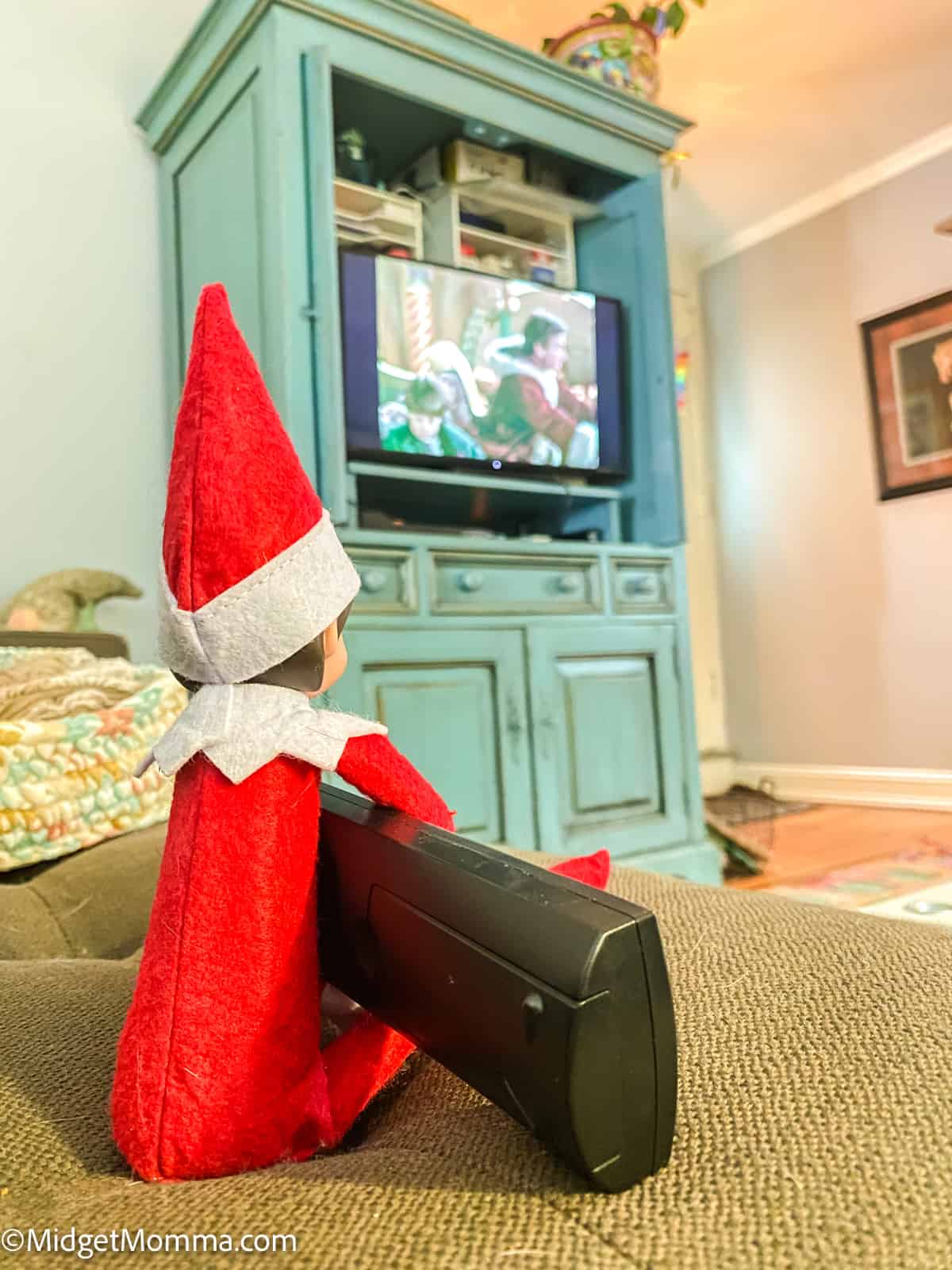 Watching TV till late
A quick and easy setup for your elf would be to place them with the TV remote and have the TV on a channel. Place wrappers around them or empty cans of pop and it will look as if the elf has been up all night watching TV. You could play along with this by saying you heard the TV on and it kept you up.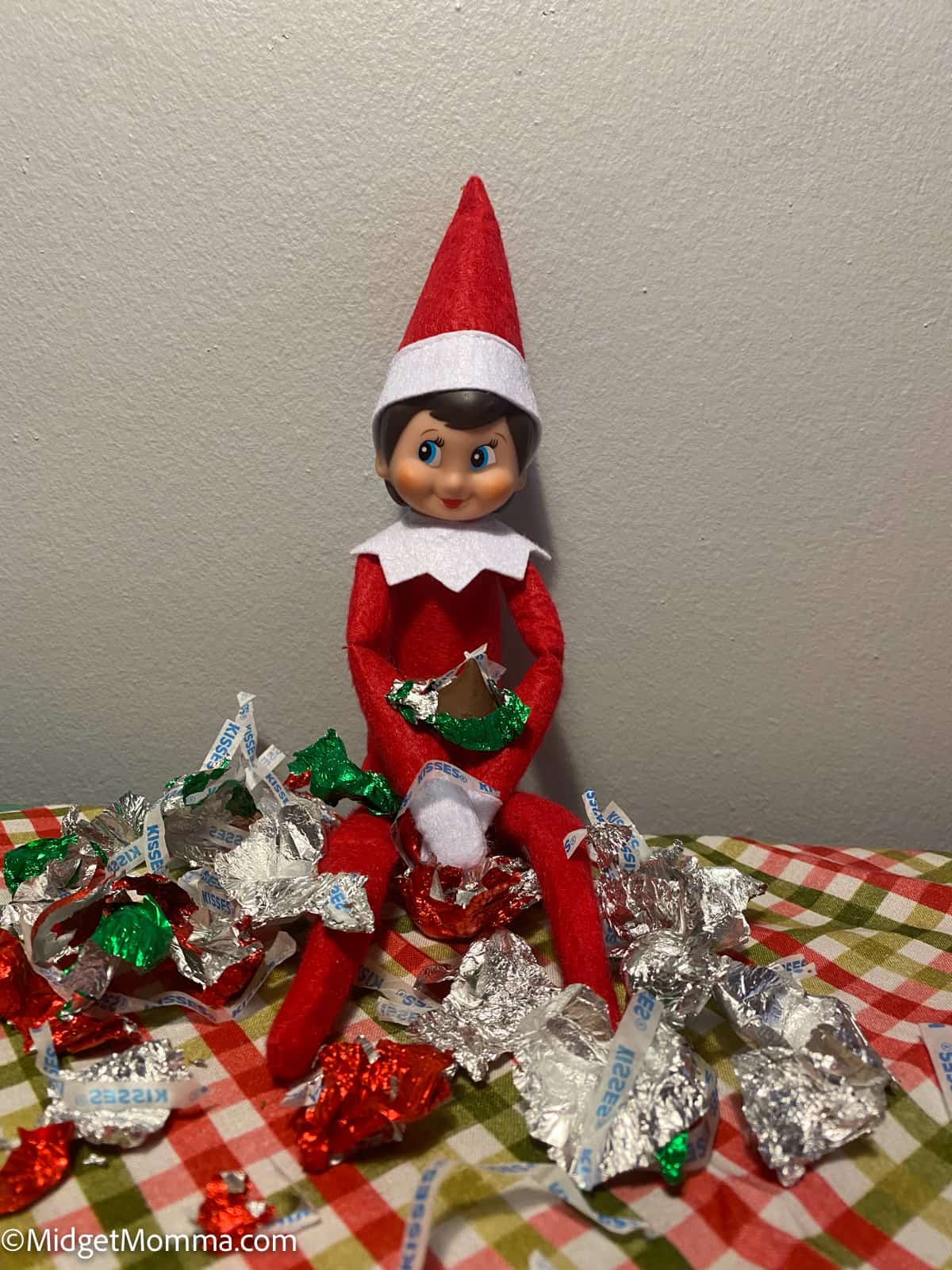 Eating all the candy
A naughty thing that you elf could do would be to eat all of the Christmas candy. This is a quick setup where you could simply empty the bowl in which there would be candy and place the elf inside it with empty wrappers.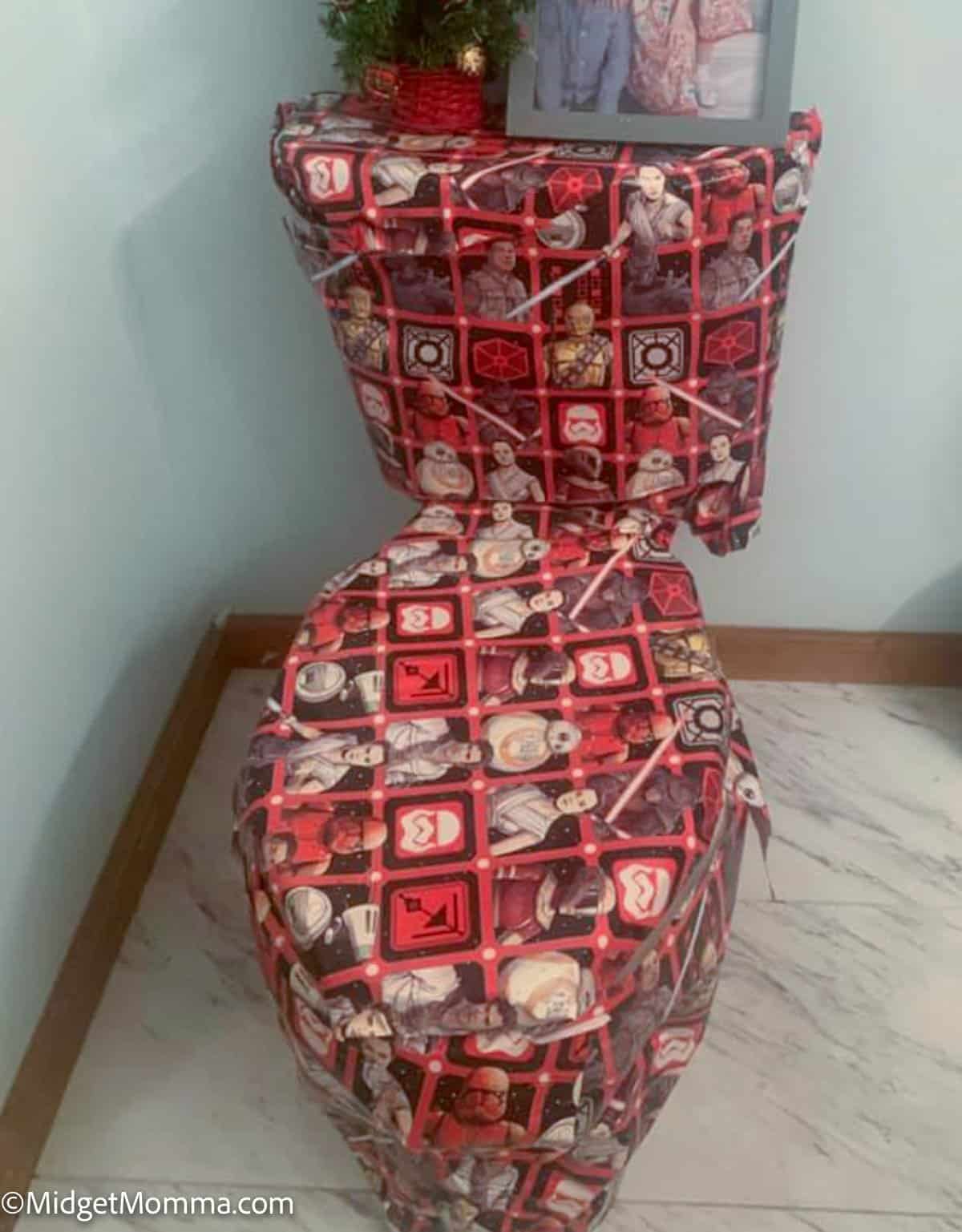 Wrapping up the toilet and other bathroom related antics
Finally, why not get creative in the bathroom. Your elf could have wrapped the toilet up with wrapping paper, made a mess with toilet roll up, brushed their teeth with your child's toothbrush, and left smears of toothpaste everywhere. Once you start to think about it, there are so many ways the bathroom can be a creative space to set up naughty elf antics.
Hopefully, this has given you plenty of ideas for naughty antics that your elf on the shelf can get up to.
Elf on the Shelf Printables
More Christmas Fun for Kids
You can Facetime Santa for a fun Santa Phone Call!
There are so many tasty Christmas treats that the kids will love and they are all perfect for any kids Christmas parties that you might have. Some of our favorite Christmas treats are Santa Hat Cupcakes and Whoville Cookies !
But you can check out the full list of Kid Friendly Christmas Treats and pick out your favorites to make with the kids!
If you are looking for cookie recipes we have you covered there too! Check out our Beautiful Christmas Sugar Cookies, and Christmas Tree Desserts Recipes!
If you want to have even more fun you can get Personalized Text Messages each day from Santa!
If you are looking for a totally fun activity to do with the kids, reindeer poop slime is always a BIG hit!