These Cranberry Oatmeal Cookies are amazing! Soft and chewy brown sugar oatmeal cookies with cranberries is the perfect oatmeal cookie. These cookies are the perfect sweetness and then the perfect tartness.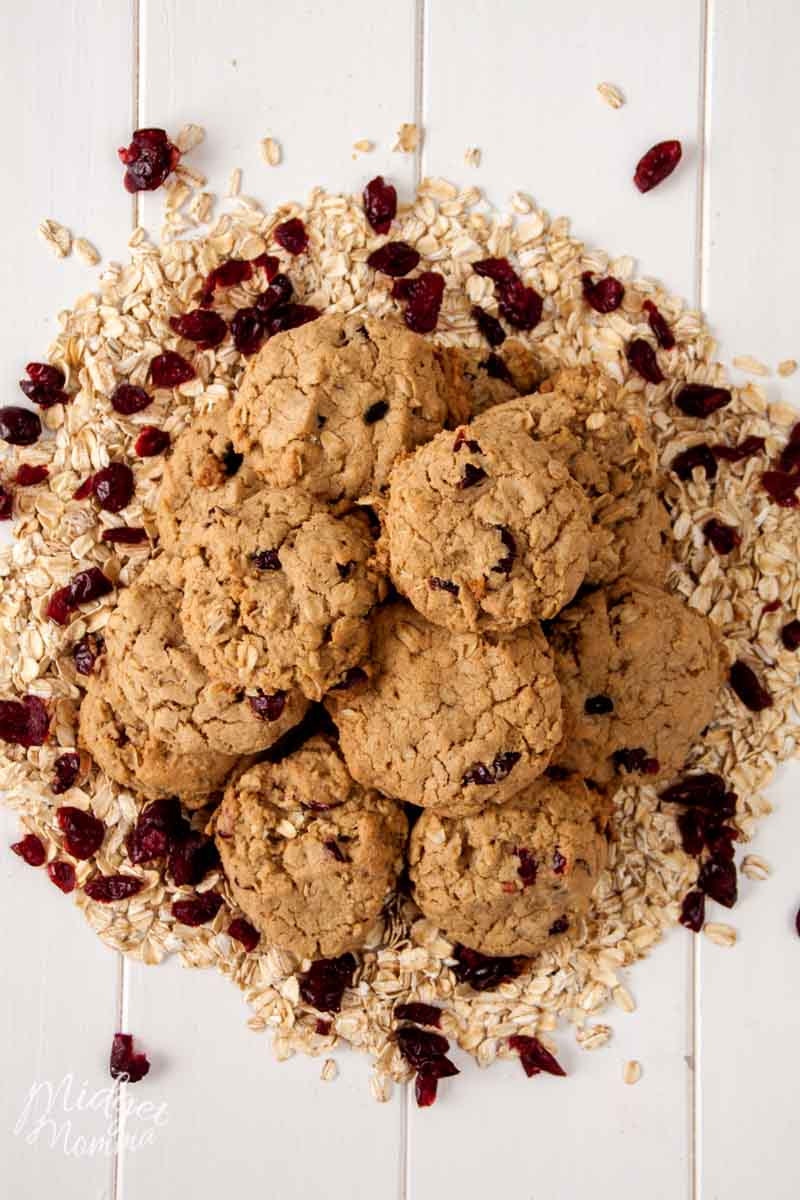 Cranberry Oatmeal Cookies
Cranberry oatmeal cookies are a soft and chewy cookie that is super easy to make. When making cookies I like my cookies to be soft and chewy and there is no exception when I am making these soft oatmeal cookies.
If this is your first time visiting Midgetmomma.com then you should know that I graduated from the Culinary Institute of America in baking and pastry arts. However when it comes to baking the basic cookie recipes in our house that is all on my husband. He is the creator of the cookie recipes including this chewy, soft amazing homemade oatmeal cookies recipe.
This oatmeal cookie recipe with dried cranberries is the beautiful creation of my husband and once I took a bite I knew I had to share it with all of you. It is seriously the most perfect oatmeal cookie I have ever eaten.
Easy Homemade Cookie Recipes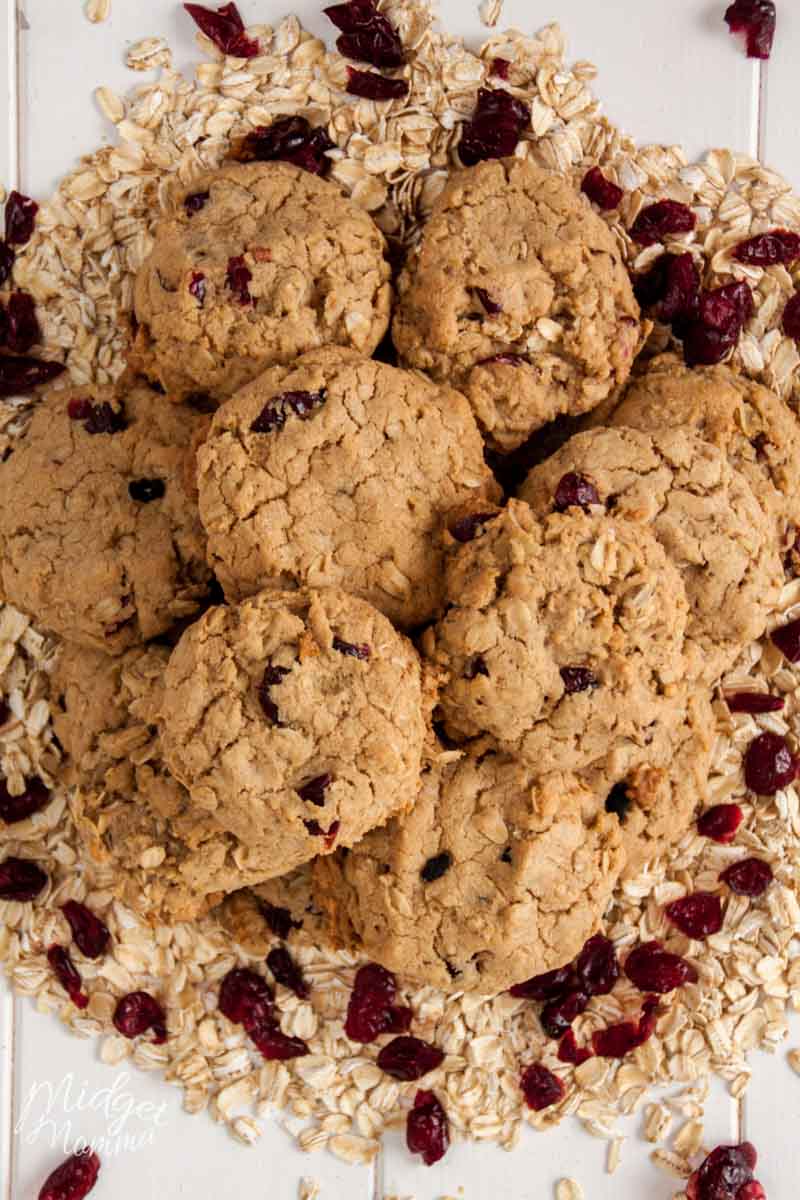 Tips for Making this recipe
We love these cranberry oatmeal cookies because they are the perfect twist on the classic oatmeal raisin cookies.
Use Rolled Oats or Quick Oats. You can use either one when you are making this recipe. I prefer to use old-fashioned oats as they hold up better.
Don't Over bake! It is important to not over bake these cookies. When you are done baking them, be sure to let them cool on the cooling rack.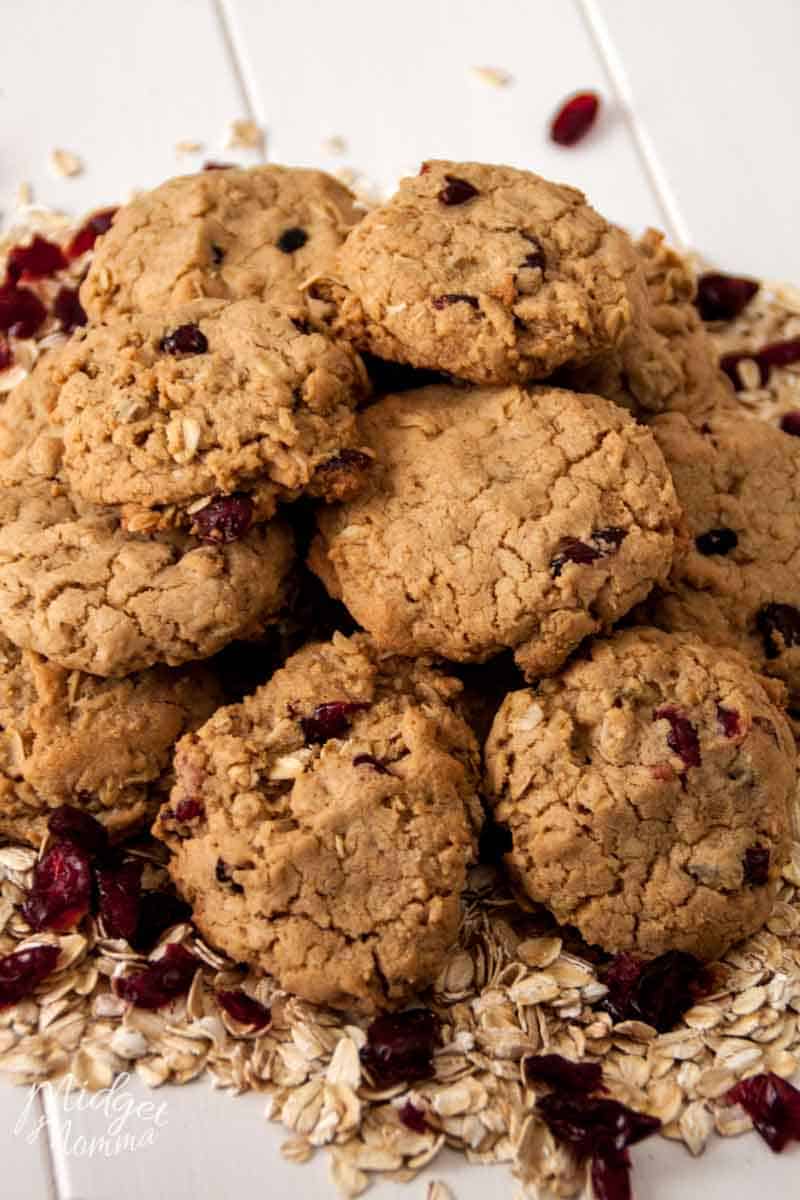 Cranberry Oatmeal Cookies Ingredients
All purpose flour
Baking soda
Salt
Cinnamon
Butter
Brown sugar
Granulated white sugar
Vanilla extract
Egg
Egg yolk
Old-fashioned oats
dried cranberries
How to Make Oatmeal Cranberry Cookies
Mix dry ingredients together.
Mix wet ingredients together.
Combine the dry ingredients with the wet ingredients.
Bake in the oven and then let cool on a cooling rack.
Tasty Cranberry Recipes
Cookie Making Supplies
Want delicious cookies that come out perfect every time? Check out some of our favorite tools to make super easy cookies with fun decorations!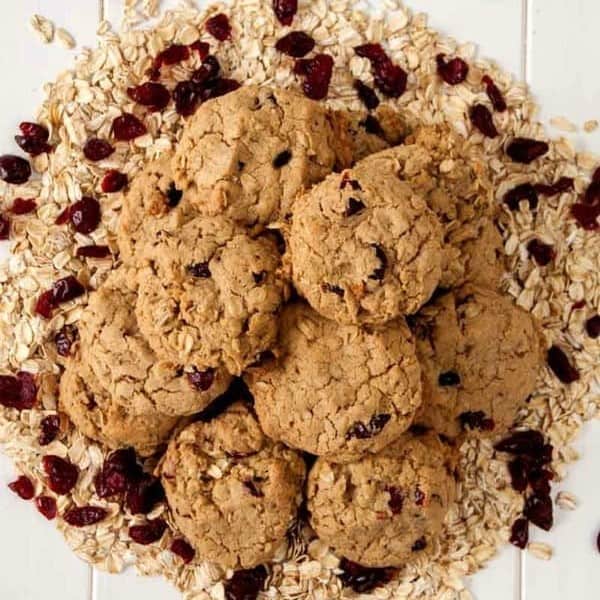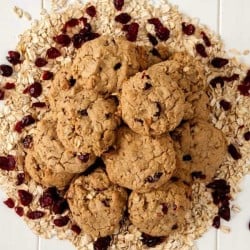 Cranberry Oatmeal Cookies
Servings
Cranberry Oatmeal Cookies are amazing, they are the perfect combination of sweet and tart.
Instructions
Preheat the oven to 325 degrees. Line cookie sheet with parchment paper or a silicone mat.

In a medium mixing bowl, whisk together the flour, baking soda, salt, and cinnamon; set aside.

In the bowl of your mixer, cream together the melted butter, brown sugar and white sugar until light and fluffy, about 2-3 minutes.

Add in one egg at a time until well combined.

Add the flour mixture, oats, and raisins, stir just until its combined.

Scoop ¼ cup balls of dough onto your prepared cookie sheet and bake for 14-16 minutes.

Let the cookies rest on the cookie sheet for 5 minutes than transfer to a cooling rack.
Calories: 166kcal | Carbohydrates: 25g | Protein: 2g | Fat: 7g | Saturated Fat: 4g | Cholesterol: 30mg | Sodium: 128mg | Potassium: 46mg | Fiber: 1g | Sugar: 13g | Vitamin A: 198IU | Calcium: 16mg | Iron: 1mg
Cranberry Oatmeal Cookies
cookie, cookies, Dessert
6 Weight Watchers SmartPoints on the Freestyle Program.
To make your kitchen life easier make sure you grab the how many cups is 4 quarts and all other liquid measurements printable chart!
Looking for more cookie recipes? Check these out!