I am going to eat your brains!!! On the plus side they will taste very yummy! This zombie brains are really just a nut cover in royal icing. These cookies will sure be a hit at your next Halloween party or just for you to enjoy while you watch your favorite zombie show.
Check out here on how to learn everything you need to know on making sugar cookies . You will want to use the perfect sugar cookie dough  recipe and the royal icing recipe when making these cookies.
For this recipe you are going to use the same cookie dough as our amazing homemade sugar cookies. This dough is amazing because it is a no spread cookie dough that holds its shape.
Zombie Brain Cookies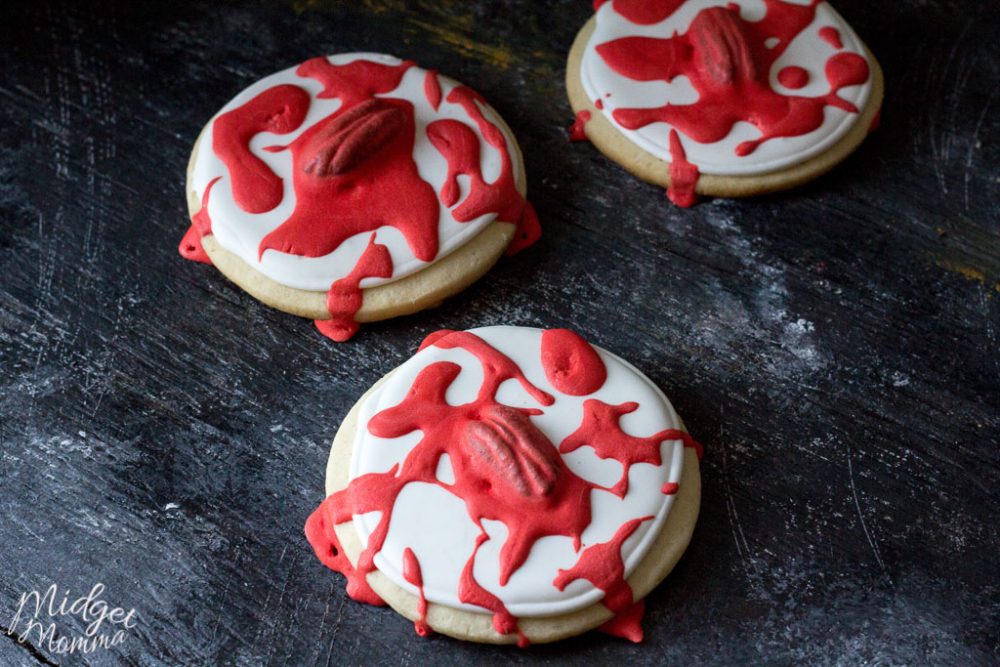 Zombie Brain Cookies Ingredients
Sugar cookie dough
Royal icing
Pecans or walnuts
Red food coloring
Zombie Brain Cookies Supplies
Rolling pin
Rolling pin bands
Parchment paper or

Silpat

Sheet pan
Cirlce cookie cutter
Scriber needle or toothpick
Piping tips
Couplers
Pastry bags or squeeze bottles
Zombie Brain Cookies Directions
Put half of the freshly made dough between two sheets of parchment paper and roll it out to 1/4 inch thick.
Repeat with the rest of the dough.
Put the rolled dough including the parchment paper, on a cookie sheet and refrigerate for 10 minutes or longer.
Your dough will be chilled and ready to cut and bake.
Repeat with scraps after cutting cookies.
Bake at 325° F for 10 -15 minutes. Let cool.
Thin out the icing to be about a 20 second icing.
Pipe the outline of the circle with a number #4 round tip. Let it dry for 10 minutes.
Flood the circle in with about 6 second icing, let dry.
Thin down your icing to about 3 seconds and color it with the red food coloring.
Dip your nuts into the icing and let them drip off a little before placing them in the center of the cookie.
Splatter the red icing over the cookies to look like blood drops, let dry.
More Sugar Cookies to Check out:
More Halloween Recipes to check out:
More Halloween Recipes to try: Click the picture to view the recipe!
Looking for more Halloween Recipes? Check these out! Click the Picture to see the Recipe!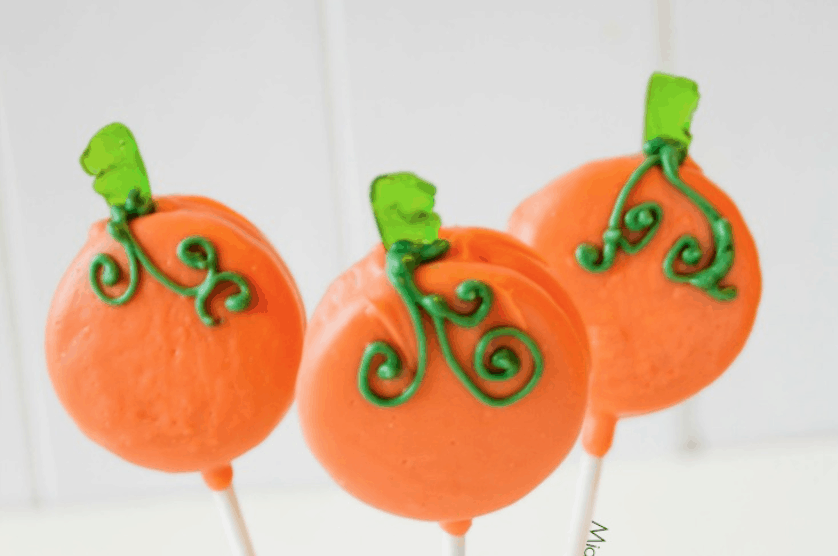 Join the newsletter
Subscribe to get our latest content by email.
This post may contain affiliate links. Please read my disclosure policy here