These simple step by step directions will tell you all you need to know on How to make pumpkin Oreo pops! These little pumpkin Oreo pops would make a great addition to your Thanksgiving table or as a Halloween treat. When you put them in a vase or a cup with something to hold them standing up like dried beans, dried corn or even mini marshmallows you will not need a big fancy centerpiece. The best part is this centerpiece would be something you can enjoy as your dessert.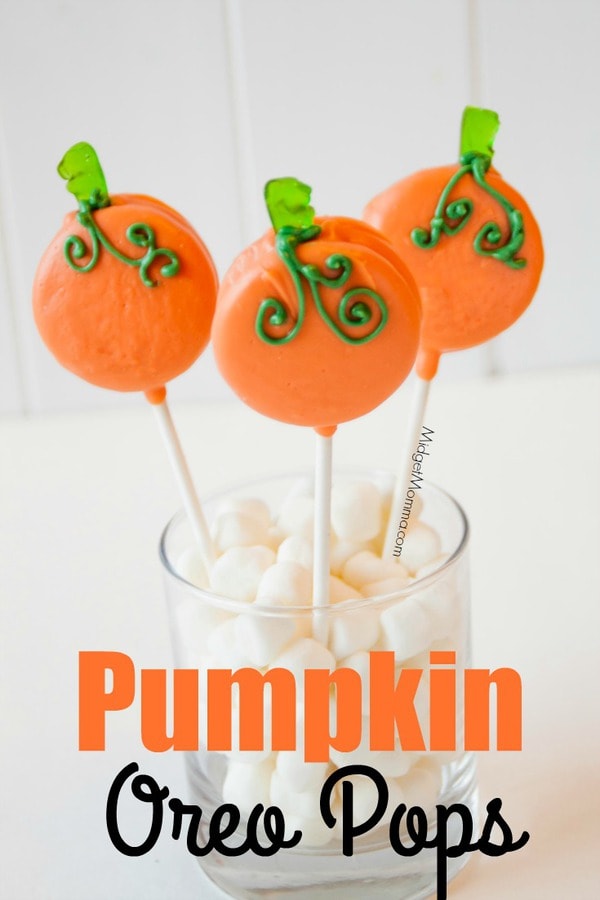 I used pumpkin spice Oreos so that way the taste followed the look of these pops. If you can't find the pumpkin spice Oreos at your store you can always use the vanilla Oreos or even just a classic Oreo. I do recommend sticking with the vanilla Oreos because you will not have to worry about seeing the Oreo sticking out from underneath the white chocolate.
My local grocery store now carries white and milk chocolate that is meant for dipping. You can always go this route and just buy an oil based food coloring to make your orange. You have to make sure it's the oil based food coloring not the classic food coloring or it will curdle the chocolate. If you're looking for the easy way you can go to any of your local craft stores and they have pre-colored chocolate chips that are meant for dipping chocolate. I like to use parchment paper bags for when I'm dealing with chocolate. I'm able to get a finger tip than if I'm using just a plastic pastry bag and piping tip. If you do not know how to make a piping bag out of parchment paper all you need to do is go onto YouTube and search parchment paper piping bag. If you g
uys request it I can always make a video on how I make my parchment paper bags. Check out these great tips on how to melt your chocolate .
How to make pumpkin Oreo pops
What you need to Make Pumpkin Oreo Pops:
1 package pumpkin Oreos
1 bag orange candy melts 
1 bag green candy melts
15 green gummy bears
Supplies
2-3 sheet pans
2-3 silicon mats or parchment paper
How to make pumpkin Oreo Pops:
Line cookie sheets with parchment paper or silicon mats.
Very carefully twist the tops off of all the Oreo's and set them on the prepared cookie sheets.
Melt your orange chocolate over a double boiler.
Dip the end of a lollipop stick into chocolate so its only 1/2 inch in the chocolate. Gently push the stick into the cream side of the Oreo half way in and all the way down. Top the blank side of the Oreo with a small amount of chocolate and sandwich it with the other side of the cookie.
Let the chocolate set for 10 minutes.
Cut your gummy bears in thirds length wise, Set aside.
Pour the melted chocolate into a glass. Dip the Oreo into the orange melted candy, turning to cover them completely. Tap the stick on the edge of the container to get off the extra chocolate.
Set the dipped Oreo Pop back on one of the prepared cookie sheets. Place on a piece of gummy bear into the top of each cookie before the chocolate to sets. I used a whole gummy bear to rest the gummy bear piece so it would stay upright. Let the chocolate set.
Melt your green chocolate over a double boiler.
Pour your melted  green chocolate into your parchment paper bag. Cut a hole at the bottom about the size of a pin tip. Make swirls on top of each cookie to look like the vines of the pumpkins. Allow the chocolate to set completely.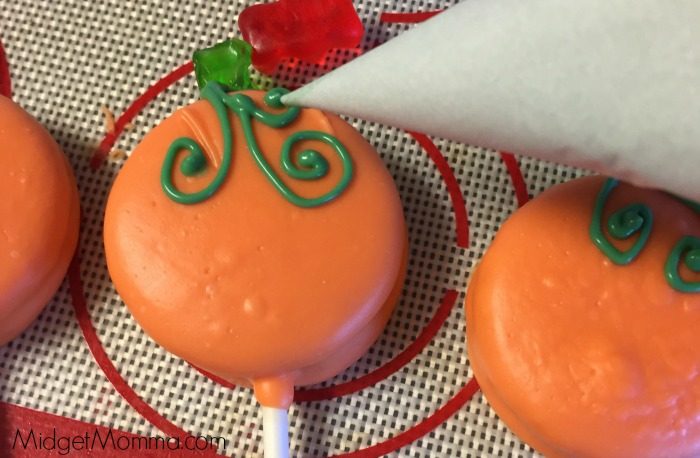 8 Weight Watchers SmartPoints each.
Love Pumpkin? Check out these amazing Pumpkin Recipes!
Join the newsletter
Subscribe to get our latest recipes right in your inbox every time we post a new one!
Join the newsletter
Subscribe to get our latest content by email.
This post may contain affiliate links. Please read my disclosure policy here