I wanted to say a special thanks for the USO. They are an organization that is there to help out military families. We were very lucky to have been able to go to a great Sesame Street show that the USO just put on for the military families on base. My daughter was just so happy to been able to see her favorite Elmo! These Red White and Blue Oreos Chocolate covered oreos are a great special treat to celebrate Fourth of July. To learn how to make a double boiler check out here. If you are going to be having a picnic for the 4th of july check out these Picnic Planning Tips to help your picnic be awesome. Everyone will love these Red White and Blue Oreos!
4th Of July Chocolate Covered Oreos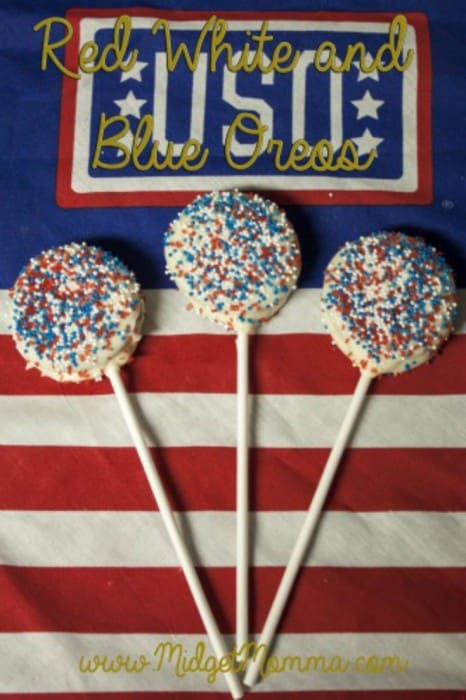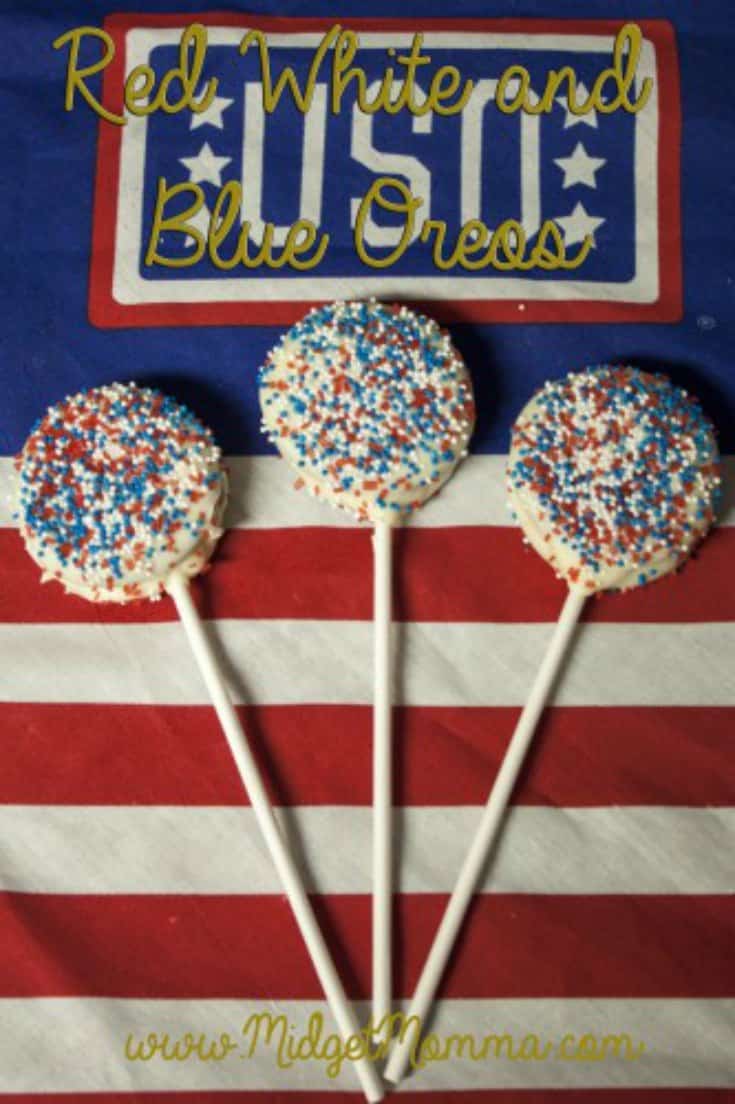 4th Of July Chocolate Covered Oreos Ingredients
1 package double-stuffed Oreos
2 bags white candy melts
lollipop sticks
red, white, and blue non perils
4th Of July Chocolate Covered Oreos Directions
Get out 2 or 3 cookie sheets and line them with parchment paper or silicon mats. Very carefully twist the tops off of all the Oreo's and set them on the prepared cookie sheets. Melt your chocolate over a double boiler. Don't crowd them. Dip the end of a lollipop stick in candy and gently push it into the cream side of the Oreo half way in and all the way down. Top the blank side of the Oreo with a small amount of chocolate and sandwich it with the other side of the cookie. Let them set for 10 minutes. Then dip the Oreo into the melted candy, turning to cover them completely. Tap the stick on the edge of the container to get of the extra chocolate. Set the dipped Oreo Pop on it's back on one of the prepared cookie sheets  and sprinkle with the non perils.
Scroll down below to get the printable recipe card.
Make sure you check out the other great dessert recipes that you can make for your holiday fun!
Join the newsletter
Subscribe to get our latest content by email.
This post may contain affiliate links. Please read my disclosure policy here