With the 4th of July right around the corner, we can't help but create foods and other things that will show how grateful we are for our independence. This set of Patriotic Dessert Recipes will have everyone excited for the day and ready to dig in. Everyone will love the look and taste of these easy Red, white and blue desserts!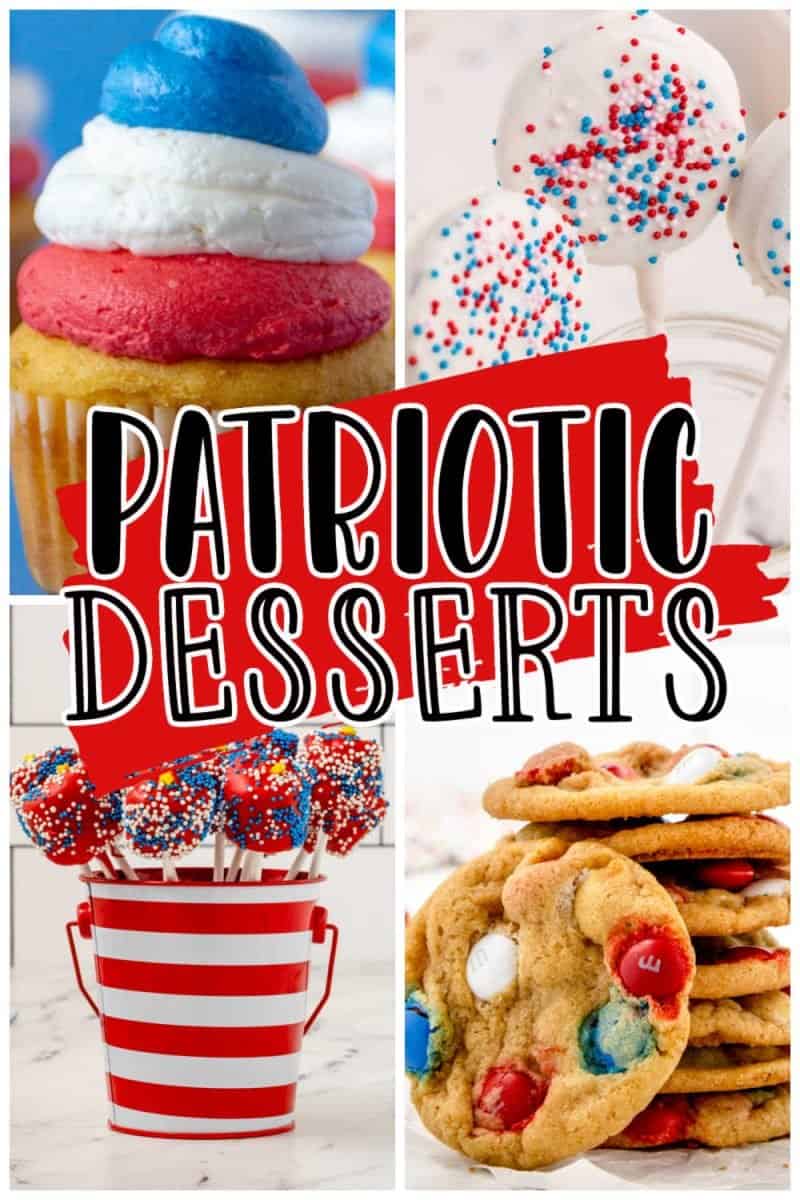 Easy Patriotic Desserts
I love having fun with holidays and when it comes to the 4th of July or Memorial day the top of my list is making fun and tasty Red, white and blue desserts! I love how festive the colors are, I love how Red, white and blue desserts look when set out on the tables and I love celebrating with tasty food.
These Patriotic Dessert Recipes are so delicious and easy to make. The recipes are perfect for picnics, BBQ's, and more. These red, white and blue recipes can be made throughout the year and are great for any occasion but we love how festive they are for the 4th of July. With desserts that are simple and quick to make, you will be ready to celebrate in no time.
Ways to Display These Desserts
Displaying patriotic desserts is one of my favorite parts of making recipes. You can find yourself tons of decorations and things to add to the recipe or find things to place around it to make it pop. Place your 4th of July desserts in bowls, plates, or serving platters with fresh ingredients or things people can add to it such as sprinkles or whipped cream. You can go crazy with ideas to make your dessert look even more delicious. Although I will tell you that you might not have much left over at the end of your party after everyone tastes how amazing these patriotic dessert recipes are!
Amazing Red White and Blue Desserts
This list of 4th of July desserts will have you totally covered for any dessert ideas you need. From cookies, to pops and everything in between.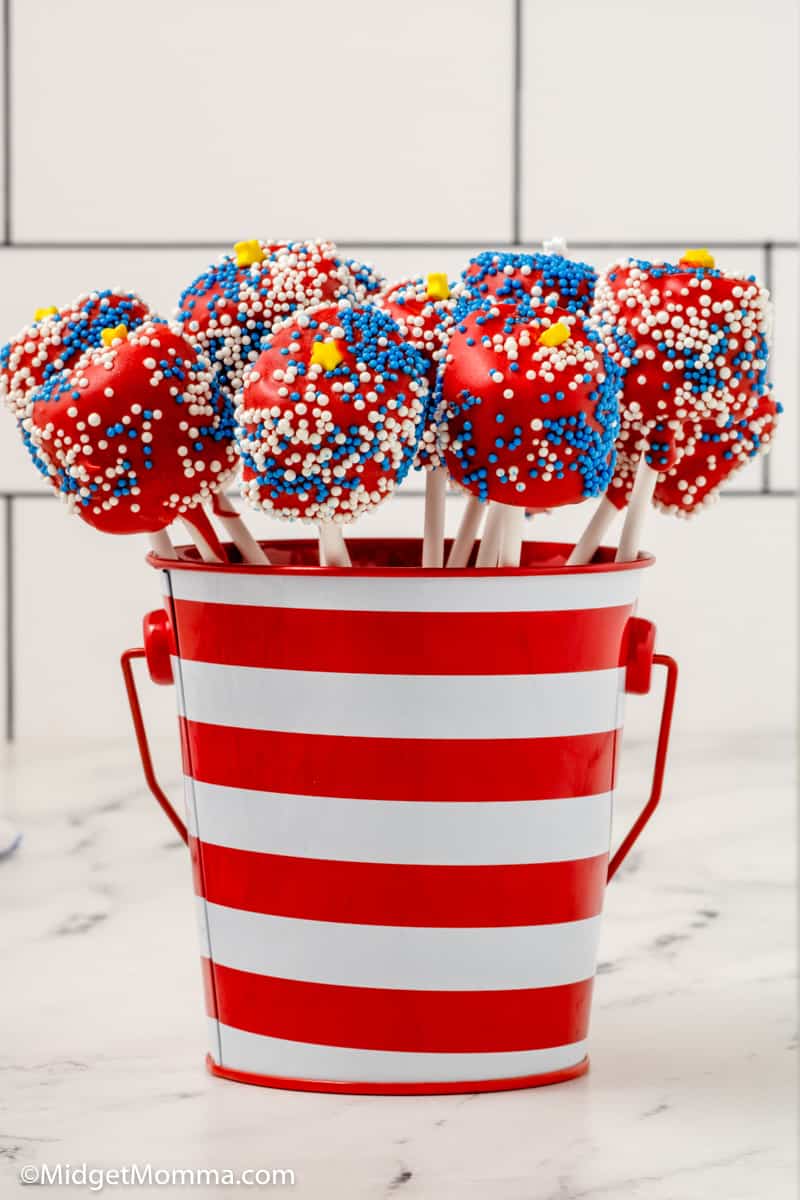 These Patriotic Marshmallow Pops are perfect for any 4th of July, Memorial Day or Labor day party. These patriotic marshmallow pops easy to make and will sure be a great hit at any event! Easy to make chocolate covered marshmallows that are red white and blue themed is one of our favorite no bake summer desserts.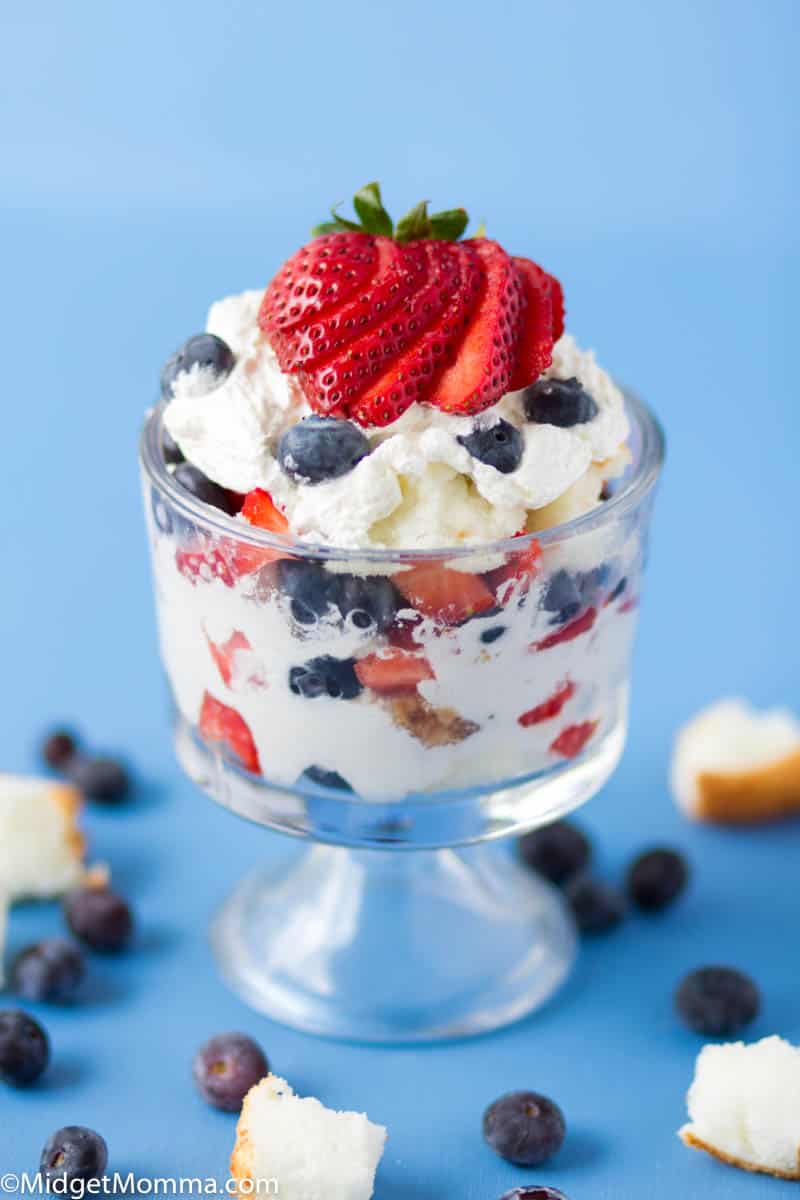 This Strawberry Blueberry Trifle is a great patriotic desert to bring to you Fourth of July picnic. This easy trifle dessert is exploding with flavors from the strawberries, blueberries and angel food cake. It's so delicious; everyone will be asking for seconds!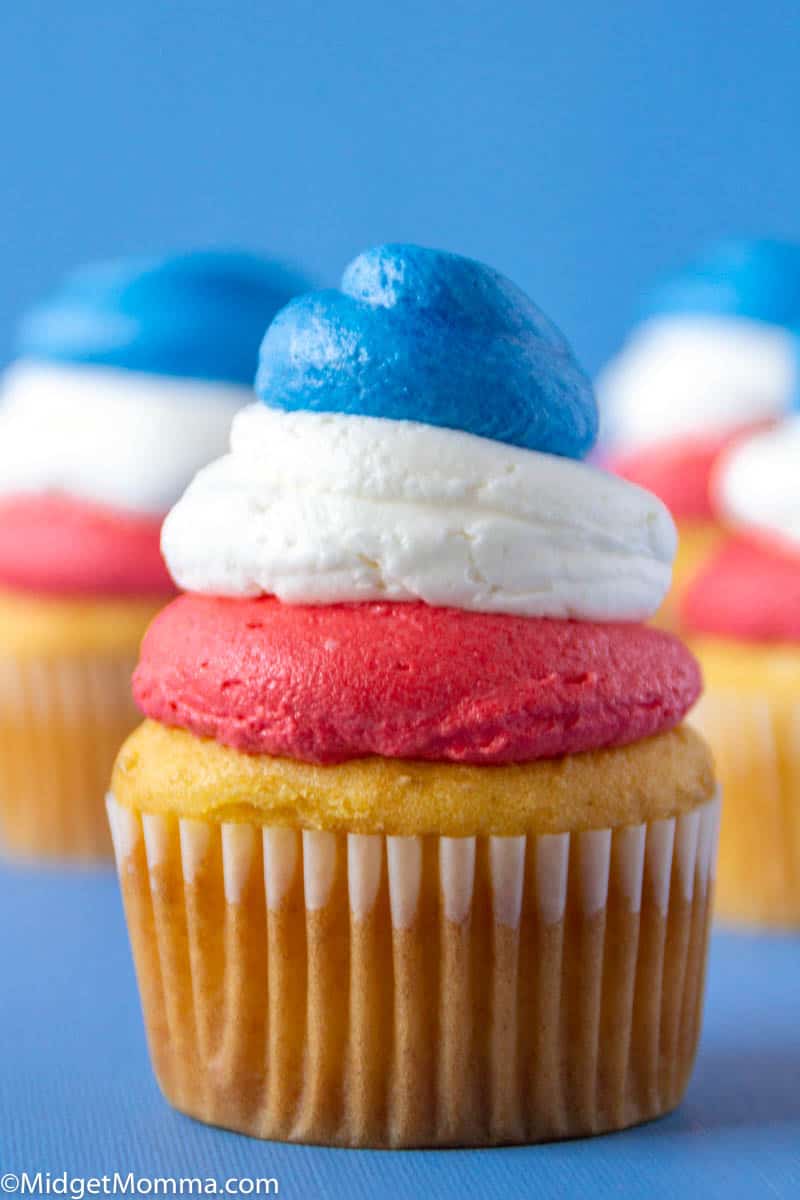 These 4th of July Cupcakes are the perfect red white and blue cupcake. They're easy to make homemade, topped with three different flavors of buttercream frosting-red, white and blue! These sweet treats would be a great way to celebrate America's birthday this year or any day for that matter.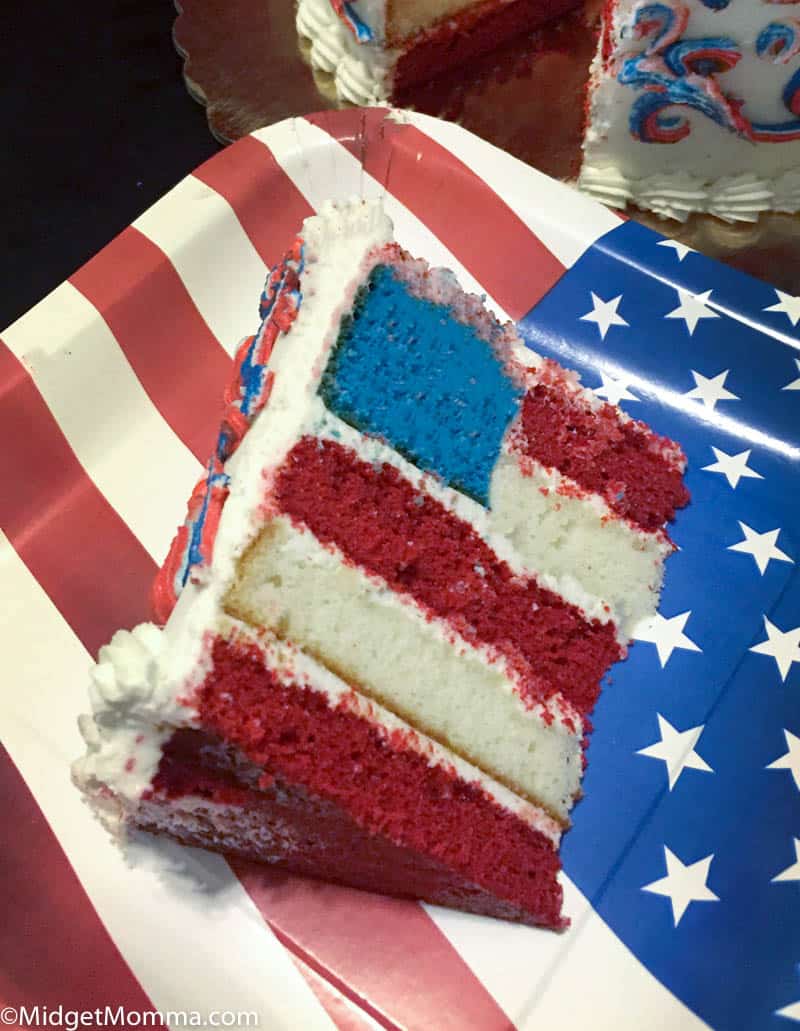 This American Flag cake is perfect for the patriotic holidays and everyone will love it. Using homemade cake and buttercream recipes, this cake is going to be a hit.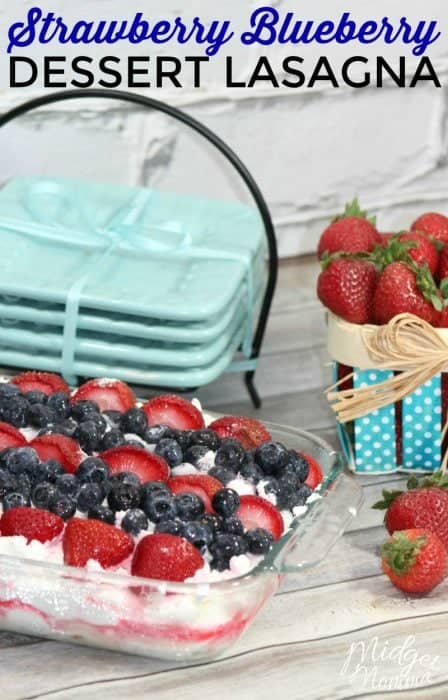 Fruit Lasagna Frozen Ice Box Cake is an easy, quick dessert that can be made in a pinch when the summer heat kicks into full gear. Heat up your oven and make this sweet treat to beat those pesky cravings!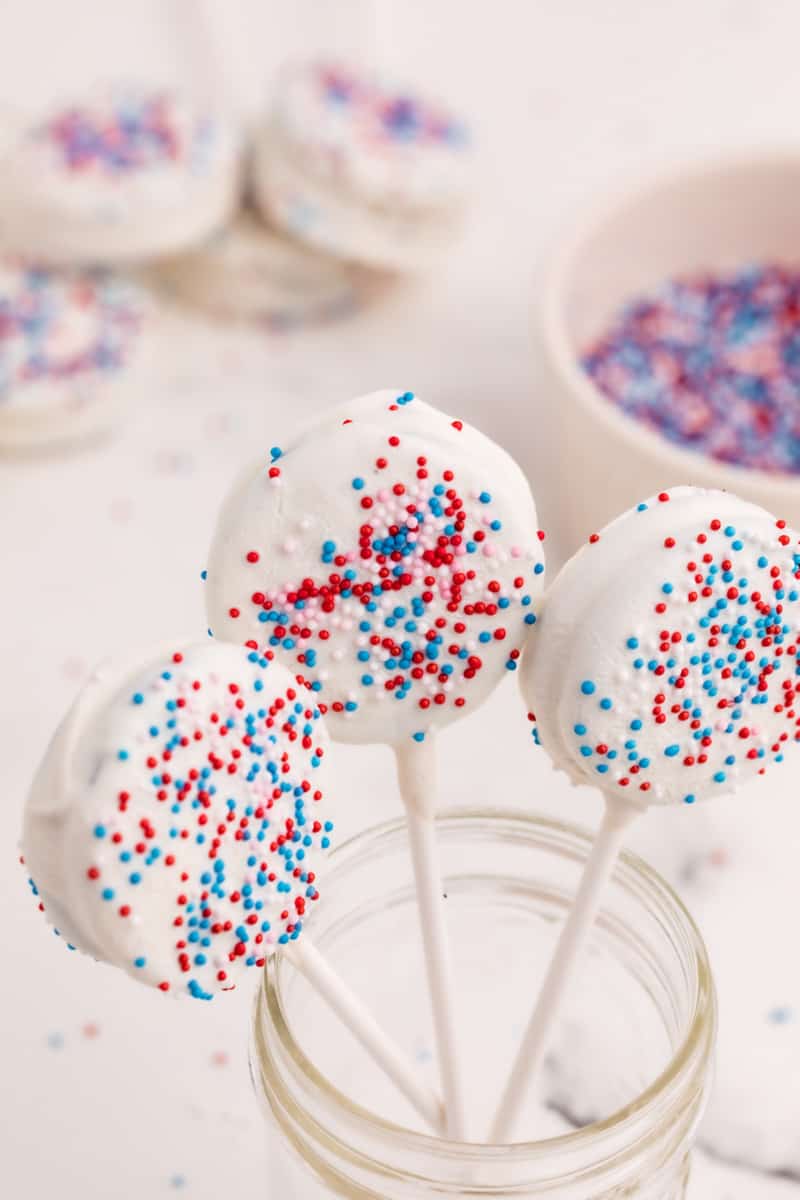 The Red, White and Blue Chocolate Covered Oreo Cookies are perfect for any holiday meal where red white and blue represent the theme. Crunchy cookies dipped in chocolate, these treats are decorated with sprinkles of red, white or blue to make them festive!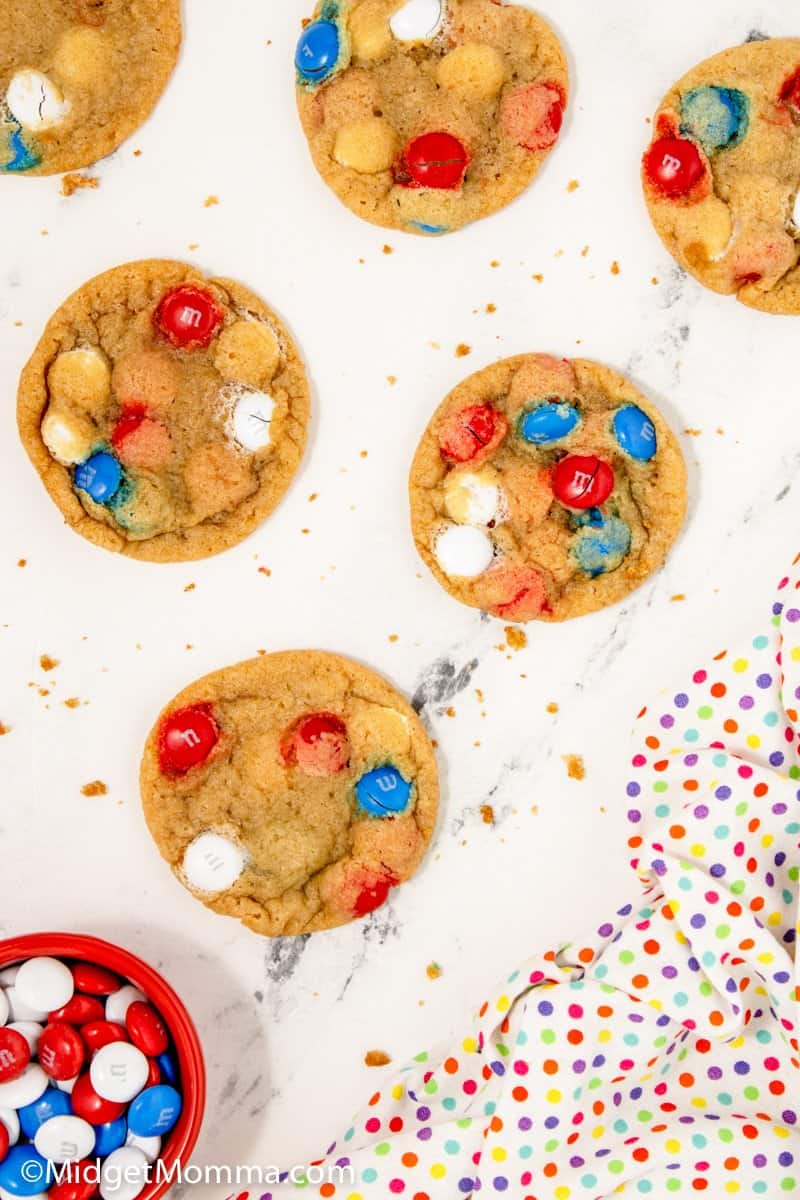 This Independence Day, you can get your sweet tooth satisfied with some Red White and Blue M&M Cookies! Take a look at these recipes for M&M Cookies and 4th of July Cookies. Whether it's the red stripes on American flag inspired cookie or blue stars in white chocolate chip dough that are calling to you, we've got just what you need this year!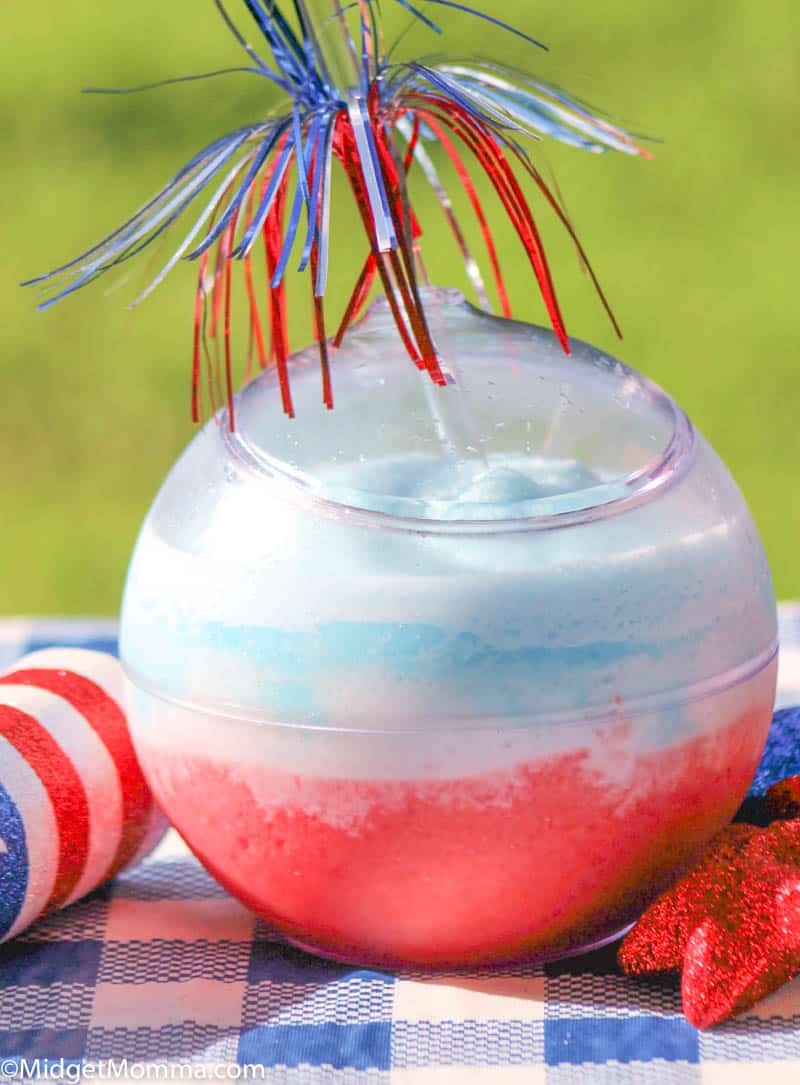 I love making Red, White and Blue Slushie for summer. And the best part is that you can make them with whatever fresh fruit and flavor of lemonade you want! If you are wanting solid color slushies be sure to check out our homemade slushies too.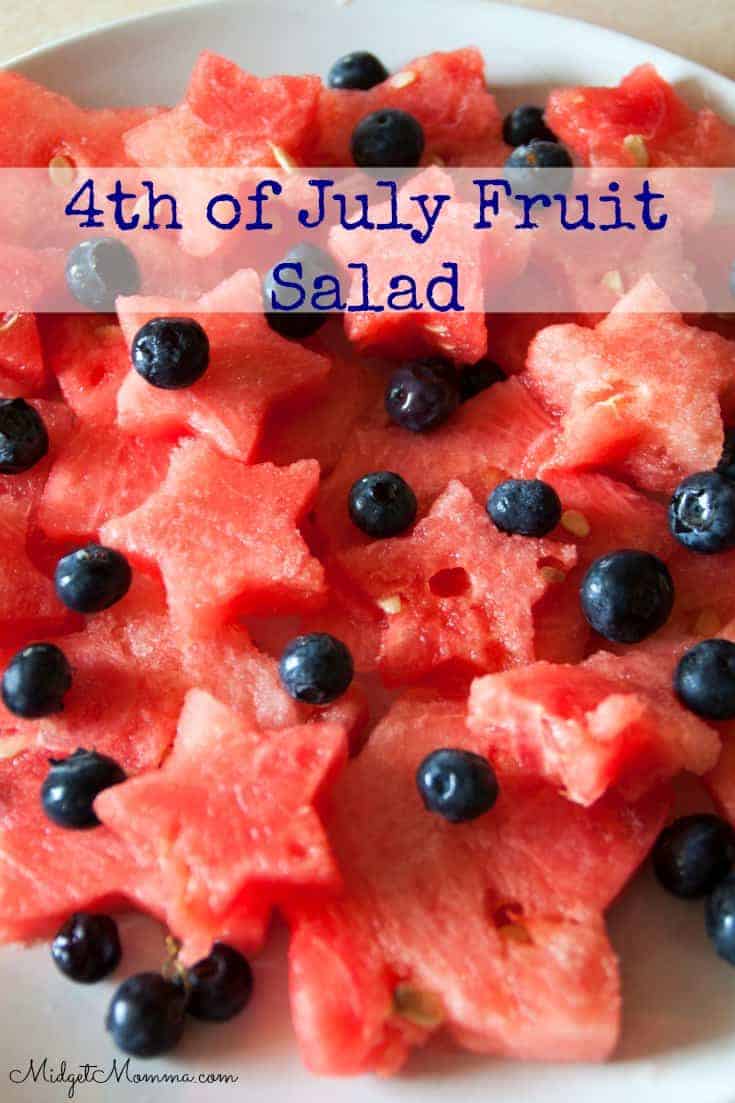 4th of July Fruit Salad. This strawberry blueberry fruit salad is perfect for the 4th of July. Put it in a white bowl to serve and the colors will pop of the fresh tasty fruit!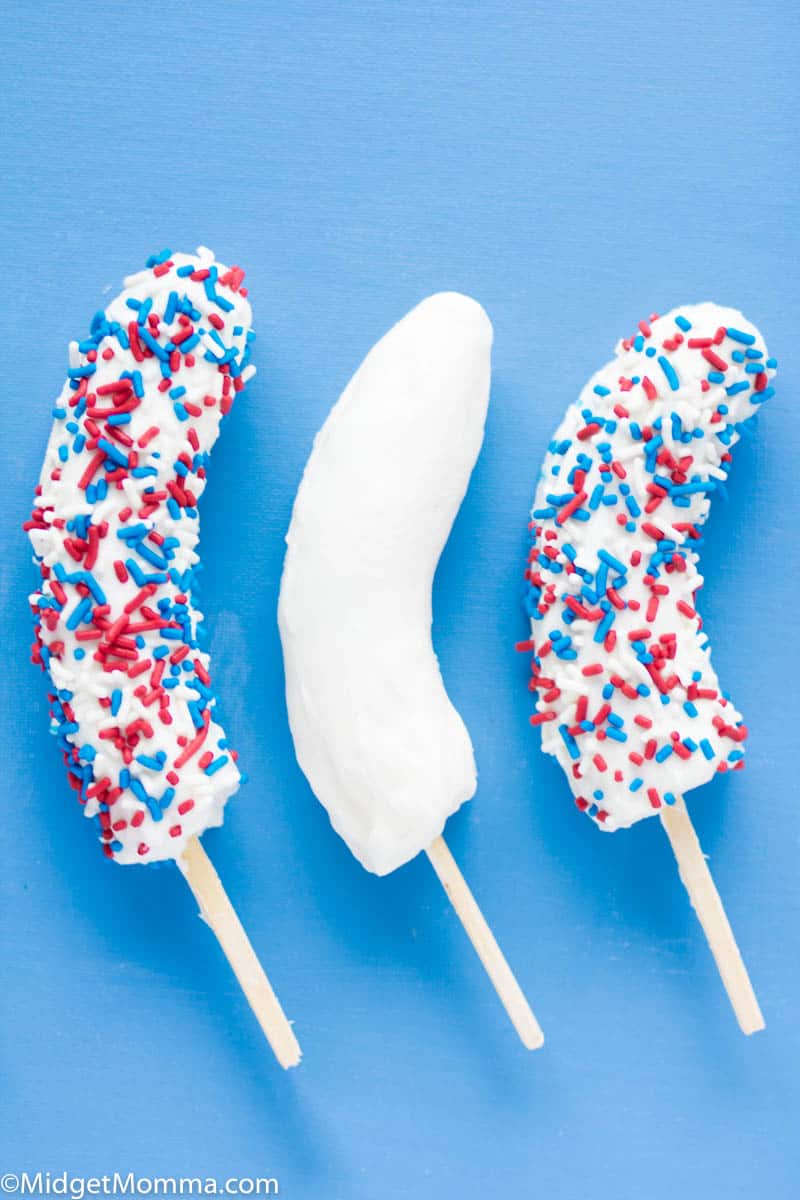 4th of july Banana Pops. A healthier but tasty dessert is perfect with these yogurt covered banana pops. Easy to make and if you are wanting something healthy but tasty for dessert this is the perfect dessert to make!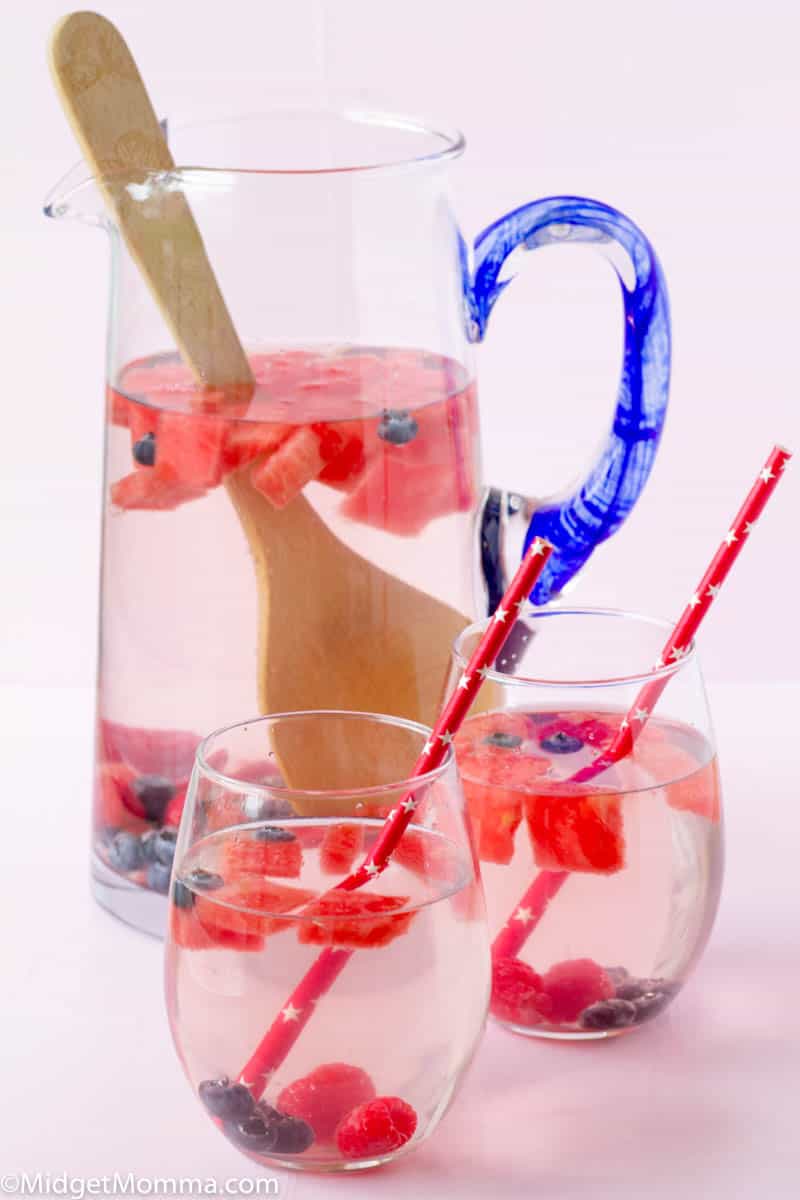 Red White and Blueberry Water. You gotta have drinks for a party, and while not a dessert item, I added it to the 4th of July dessert list because it is always a hit when I make it.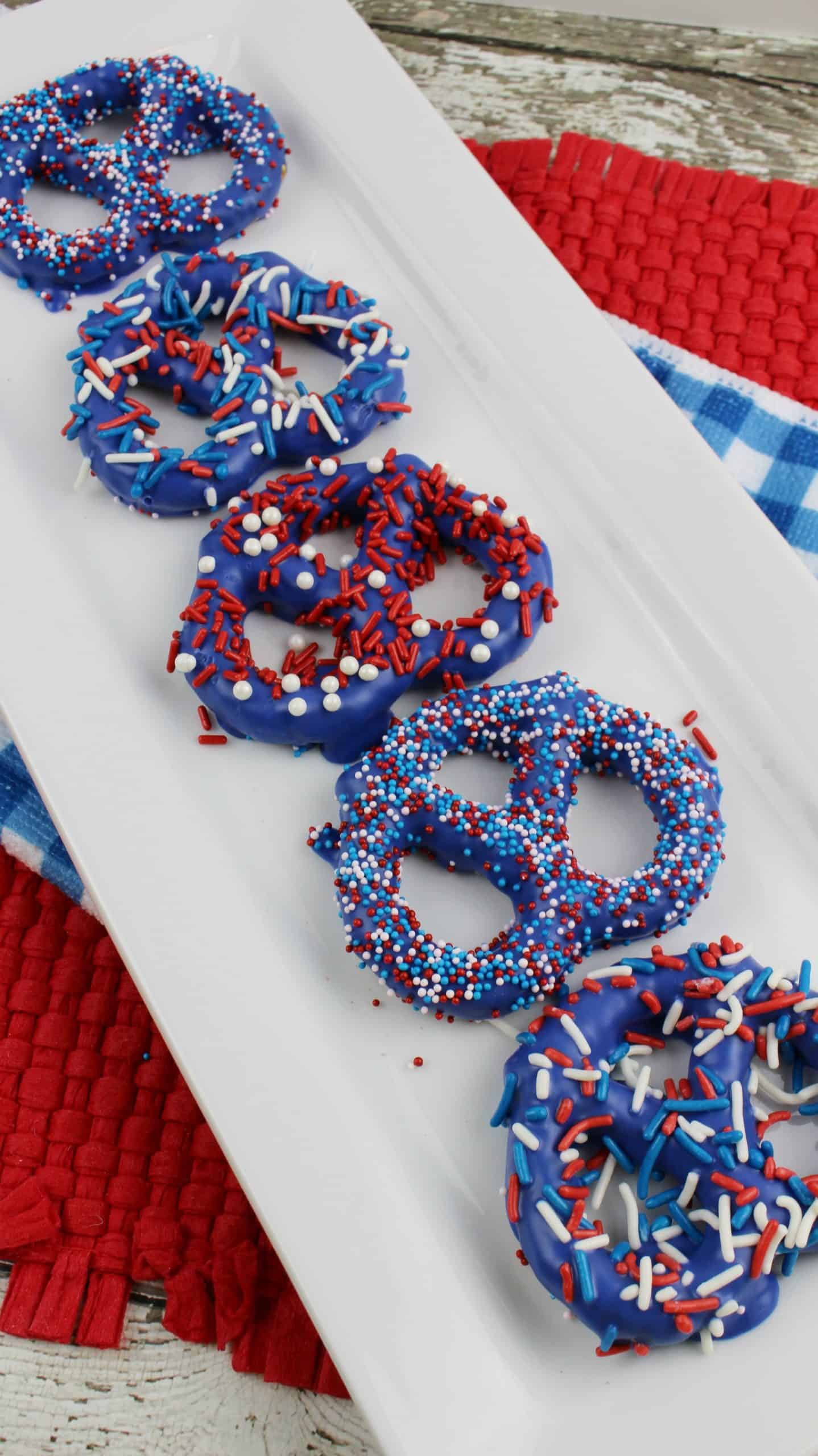 Patriotic pretzels are a great addition to any picnic. Kids will love helping make these chocolate covered treats that taste like freedom!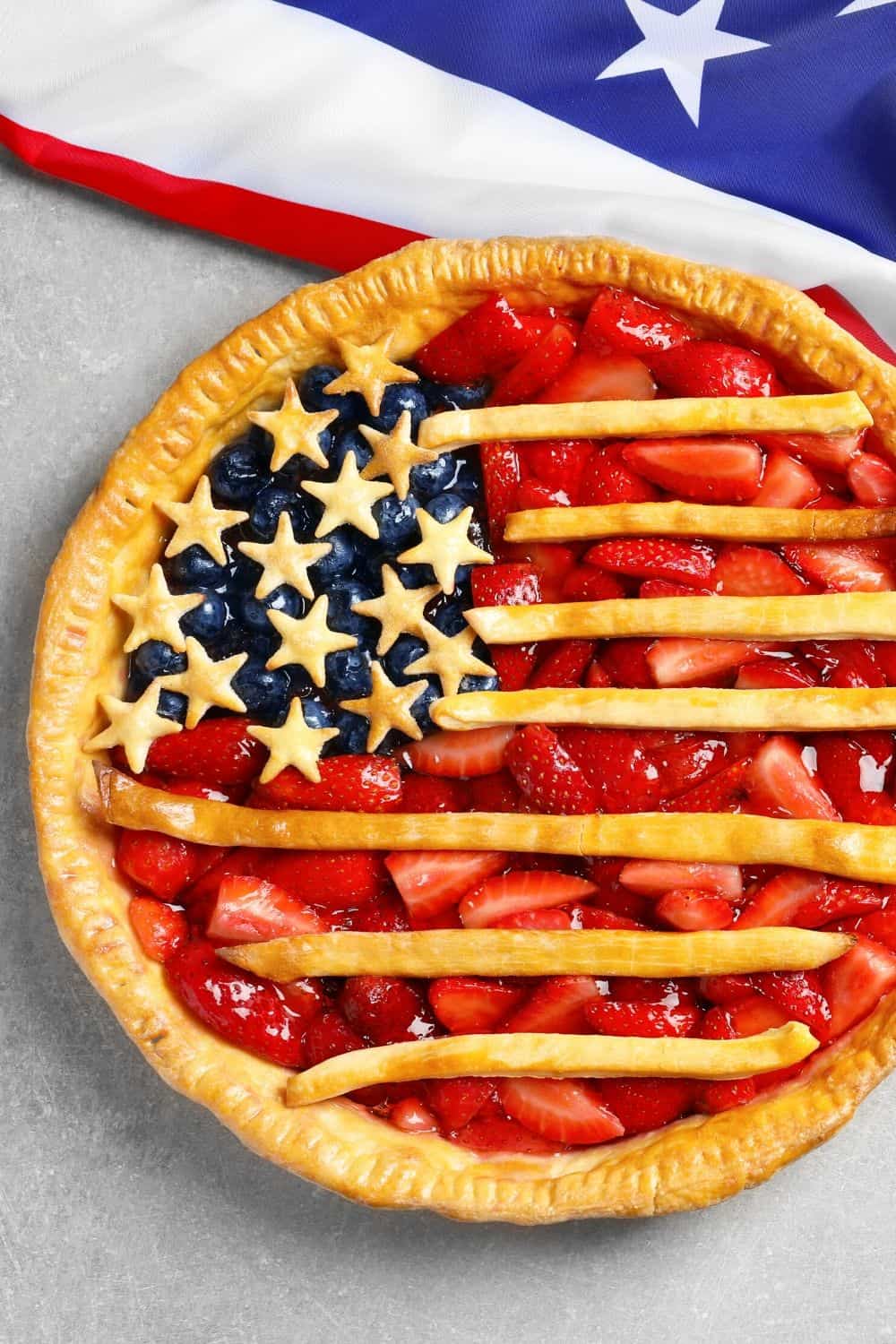 This easy strawberry pie recipe combines the delicious flavors of blueberries and strawberries in a skinny friendly way. You'll love this summer treat when you bake it for your next family get together.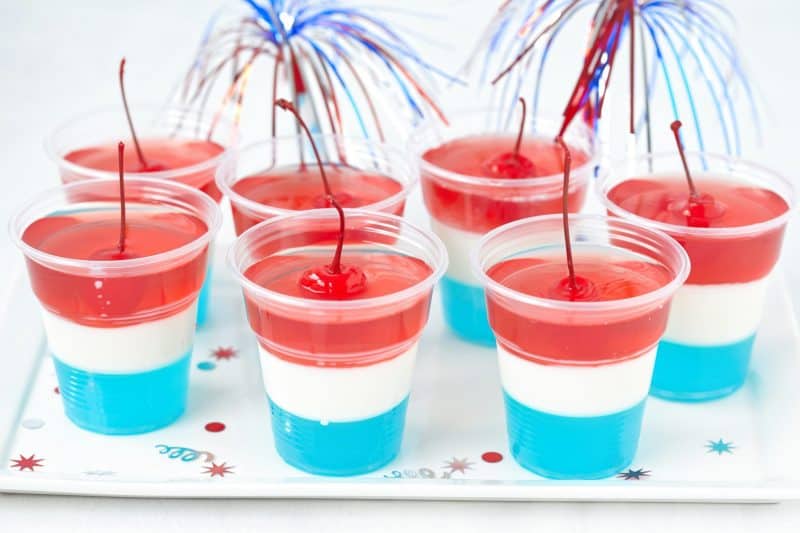 These Patriotic Jello Shots are the perfect layered jello shots for any celebration. This Red White and Blue Jello Shot recipe is sure to be a hit at your 4th of July party, especially with all its layers that will look amazing on display!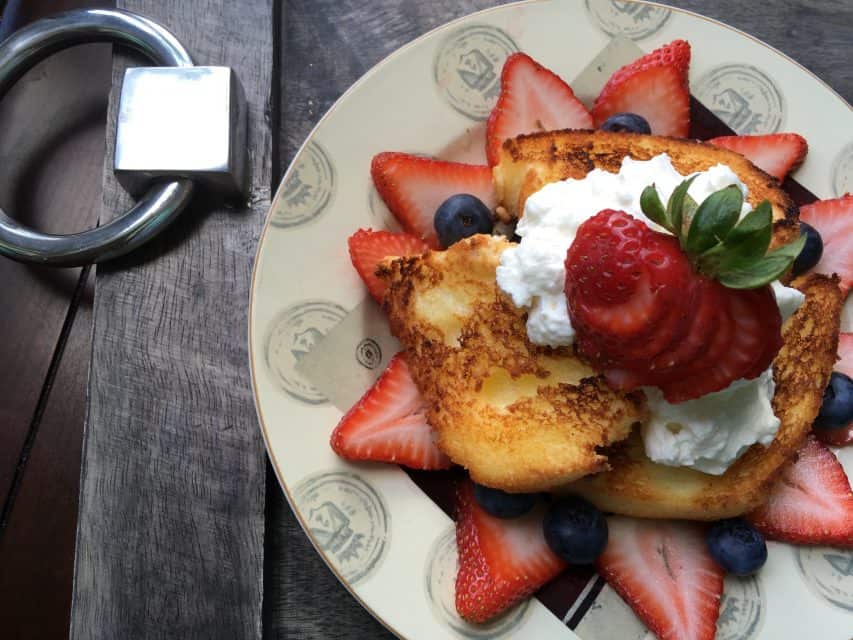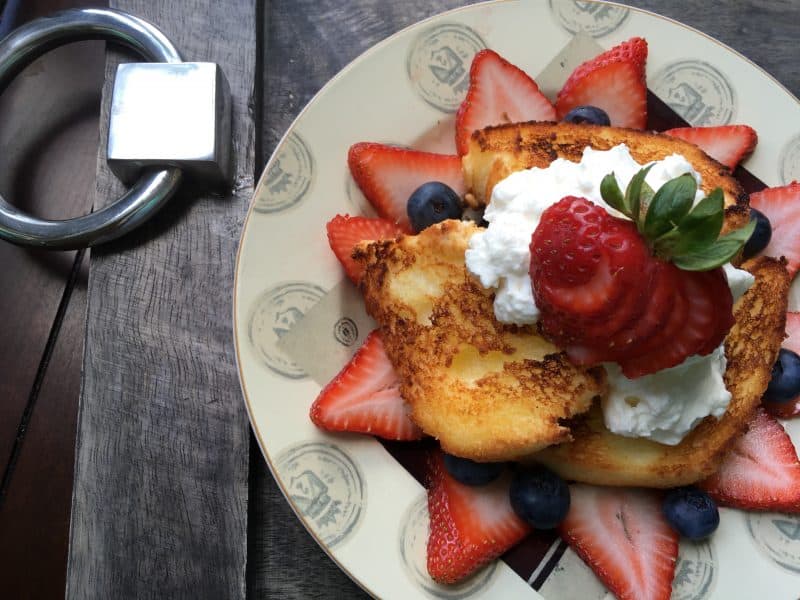 Broiled Angel Food Cake, with strawberries and blueberries, is a sweet, fluffy dessert that can be made in minutes. The following recipe will show you how to make this classic cake with just six ingredients and one step!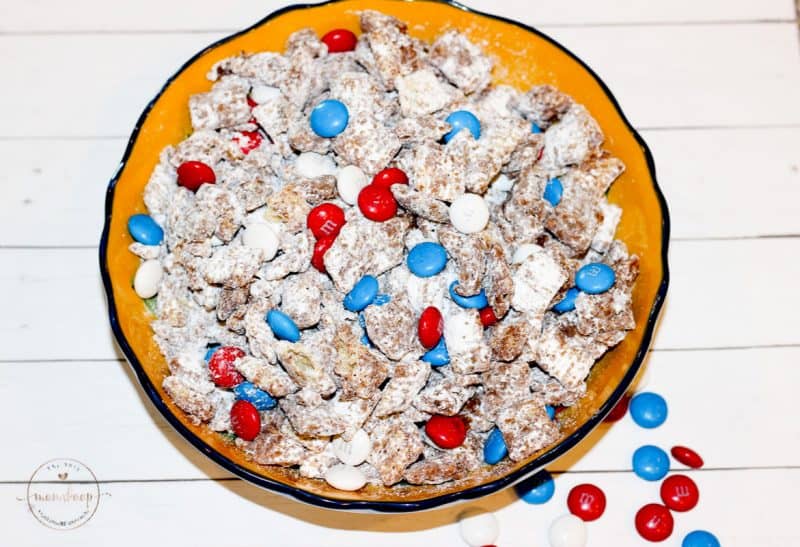 I love making Patriotic Puppy Chow, or mud buddies, for each holiday. It's a tasty snack treat that the kids can help make, and it tastes so good there is never any left!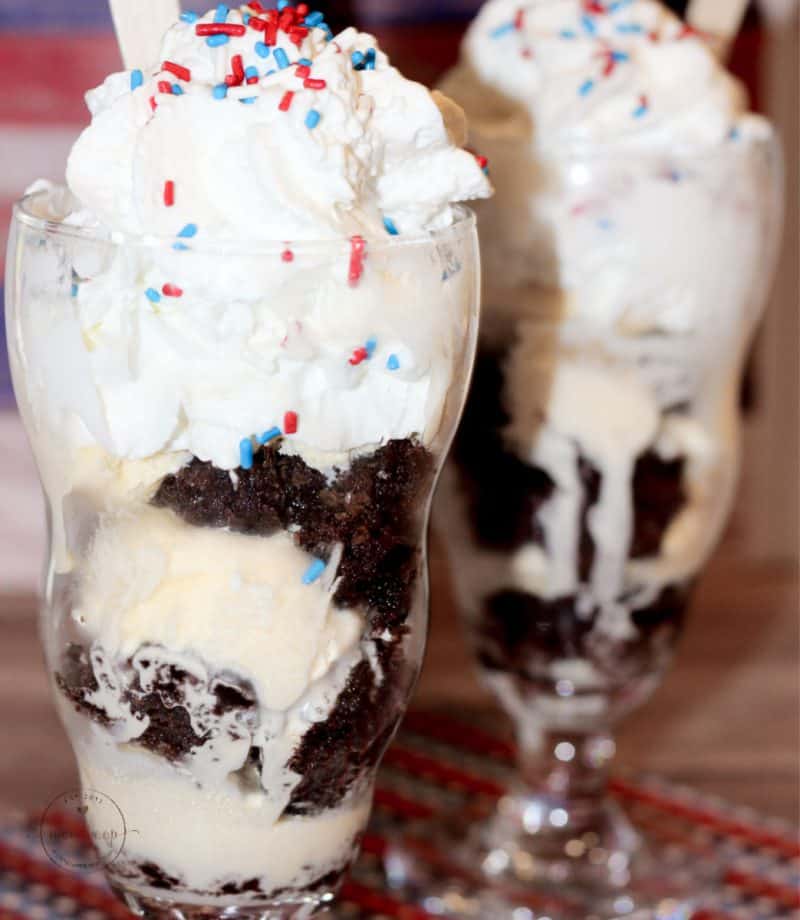 Patriotic Red, White, and Blue Ice Cream Brownie Parfaits are perfect for celebrating the Fourth of July. These delightful desserts have chewy brownies mixed with sweet vanilla ice cream topped off with whipped topping and festive sprinkles!
Looking for more tasty goodness? Check these out!