Sometimes you want to make a special treat without all the work. I think sometimes I go though so much work to make something special and then they get it and five seconds later its all gone. They love it but not to the point that they realize what went into it. Then as a mom we feel like we wasted time doing something that they didn't really care about as much as we did and there are other things that we could have been doing.
These Ghost Cheese Sticks are also great little way to add a little Halloween sprit into your kids school lunches, the kids love fun lunches, and when they are at school it does not need to be extravagant for them to realize that you put a little bit of extra time into their lunchbox fun.
The best part about this is the longest part of making them are trying to find where your sharpies are!
Ghost Cheese Sticks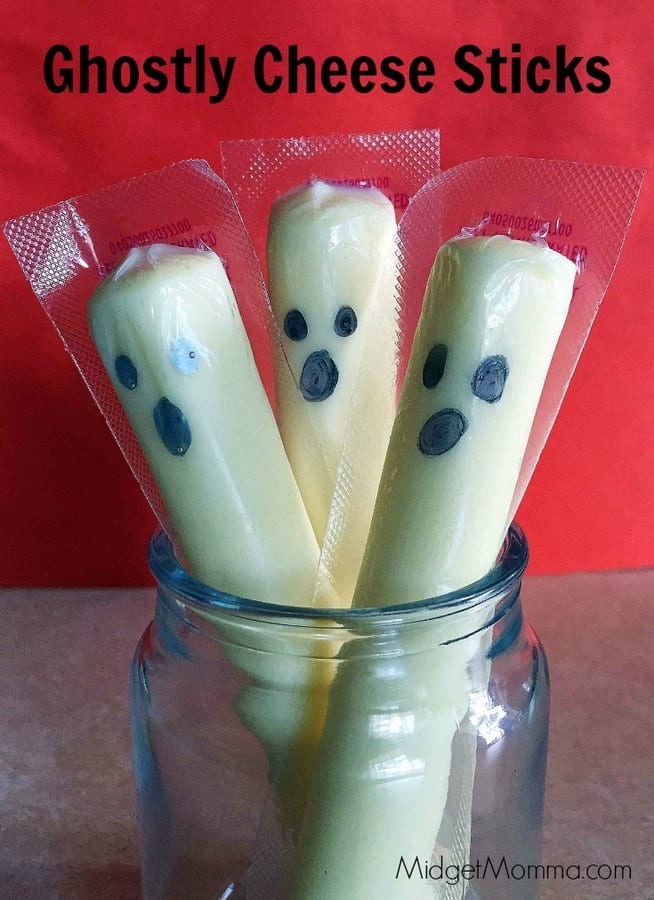 To make these String Cheese Ghosts just gran your string cheese, while still in the plastic and lay it flat side down on the counter. Then using your sharpie add the eyes and the mouth.
Tada! Super simple, takes about 10 seconds to do (if you don't include digging in the pen drawer for your sharpie) and the kids will have a fun little treat in their lunch box.
If they kids are younger and are at home for lunch time this is just a little added fun to do for them, you could do the whole bag of string cheese in less then 5 minutes and surprise them with it when they ask for a cheese snack 🙂
More Halloween Treats for kids! 
Join the newsletter
Subscribe to get our latest recipes right in your inbox every time we post a new one!