As a kid the last thing I ever thought that I would get excited about was an appliance, however since having kids appliances seem to be the thing that I get most excited about other then seeing my kids smile. Odd really but appliances are what make my life as a mom easier, so when one comes in the door of the house that is going to benefit the house and with my hope also bring a cleaning fairy I get excited. Sadly no cleaning fairy has ever come with an appliance however recently with the new addition of our Speed Queen Washer and Dryer one very well could have.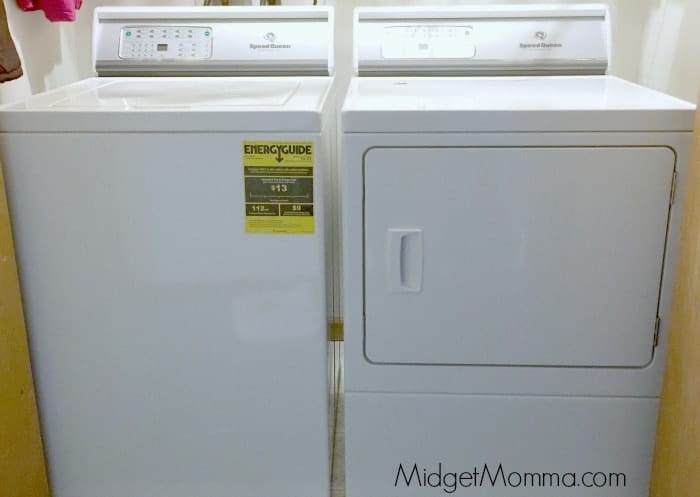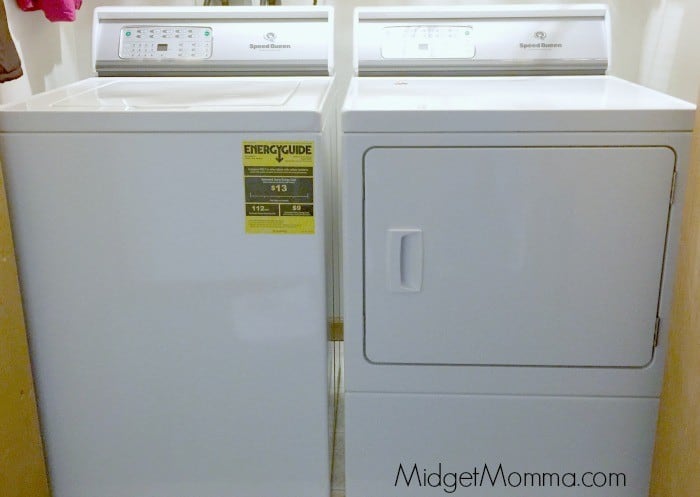 The fairy that came with the Speed Queen washer and dryer, is not one that cleans but one that proved me right.
Ever since I started talking to Speed Queen about being an ambassador for them, testing out their machines and then sharing what I learn, what I like and what I dislike Tom has been an avid complainer and I say this in the nicest way possible.
So I made a deal, If I was wrong then I would be in charge of doing all the laundry from now on, and he he was wrong then he was in charge of doing all the laundry from now on. After 10 years of marriage he should know I never make a bet that I am not 95% sure I am going to win 😉
Tom's List of complaints before we got the new set from Speed Queen:
Did not have a "see thru glass top" like the last one we had
He couldn't change certain silly settings
How heavy the Speed Queens were (after reading about how much they weigh online)
How much smaller it was compared to our other one and how that meant it would not be able to fit a comforter and he would have to go to the laundry mat.
It had to be delivered by an independent dealer
Was not sold at Home Depot (Don't ask my why as I still have not gotten a real reason to this one yet)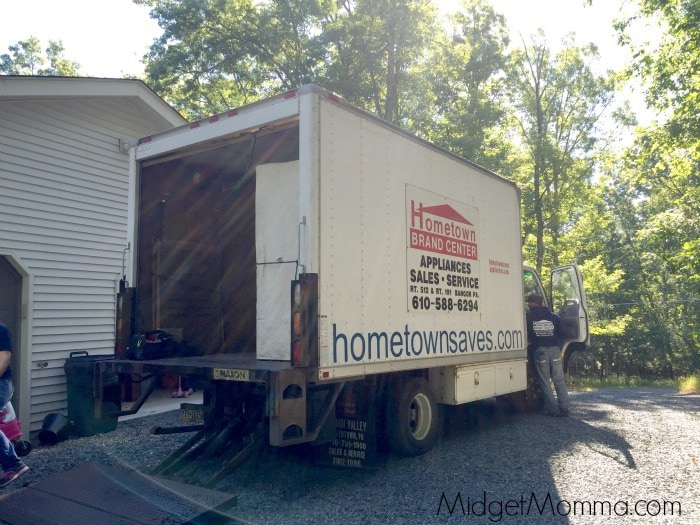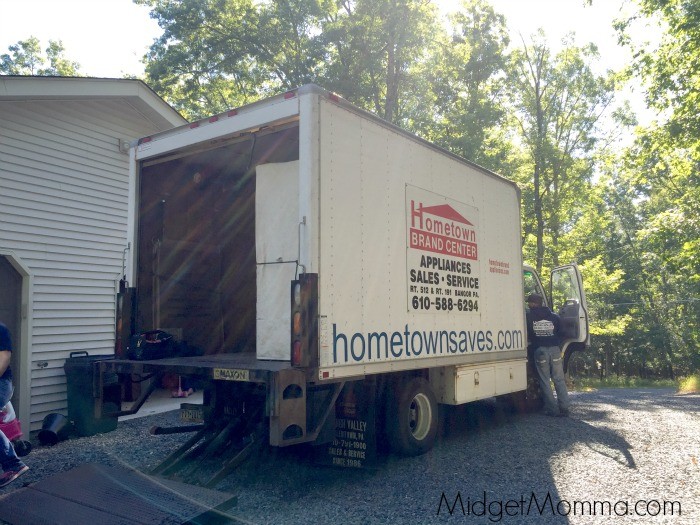 Ok so while the fairy did not bring me a clean house it brought me the power to win. Ok so we are a little competitive in this house, and when one of us makes the choice of an appliance (trust me you do NOT want us to both be in the store at the same time) that person always defends their previous choice. In this case, Tom picked out and bought our previous washer (the dryer came with the house).
So the day of installation came and he was ready to prove me wrong upon them being installed. Funny thing is that I don't bring things in the house with out researching them. Before I even took the tour of the Speed Queen factory I had researched the heck out of the brand. He really should know this by now 😉
Ok so they delivered them, right there was a win for me. Not only did they deliver my new Speed Queen washer and dryer, but they brought the old ones from upstairs down to my garage for me, then they gave me time to clean out the grossness from under the old ones and then the installed them and then they walked me thru using them. Independent dealer means one on one about the appliance and they know just about everything there is to know about them. Win #1 for me.
Of course like any man he had to go and push them, you know to see if they were sturdy I guess. Well upon his realization that they were sturdy, and solid and well put together he tossed out the complaint that they might be to heavy…. Win #2 for me.
He still had his complaint about how there was no glass top for him to see the wash being done, but with a little talk and me pointing out that he doesn't watch the laundry get washed as entertainment that complaint was thrown out as well. Win #3 for me.
The settings, this one was a bit odd as I guess he thought the washer was not going to have any and then upon his realization that the Speed Queen washer and dryer had LOTS of settings for laundry (not different buzzer noises) he retracted that statement as well. Win #4 for me.
I still had one win that he kept telling me he knew he was going to be right on and that was the size of the washer and if it could hold the comforter or not. This was a debate that went on for days until it was bedding wash day (which I was almost tempted to do sooner then it was due just to prove my point, but no need to add extra work for myself 😉 ) and then  he stuck the comforter in and that was win #5.
Every single complaint he had before the washer and dryer even arrived I was able to prove him wrong on, which thanks goes to Speed Queen because now he is fully in charge of laundry and I will help occasionally. But a deal is a deal!
So Here is a quick video sharing some information about the Speed Queen washer and dryer, plus something I am loving so far 🙂
Disclaimer: I am a Speed Queen Blogger. I was provided a washer and dryer in exchange for testing them out and sharing my honest opinions. No compensation was received and as always all opinions are 100% my own.
Join the newsletter
Subscribe to get our latest recipes right in your inbox every time we post a new one!