Fall is such a pretty time in Northeast Pennsylvania. The trees are bursting with bright colored leaves of orange, red and yellow. The weather tends to be great, where you can be comfy in a hoodie and jeans and no need yet for a huge parka. The activities in the area are also great for families. If you are looking for something to do then this list of Fall Activities for Families in Lackawanna County Pennsylvania will help you figure out what to do and where to go!
Fall Activities for Families in Lackawanna County Pennsylvania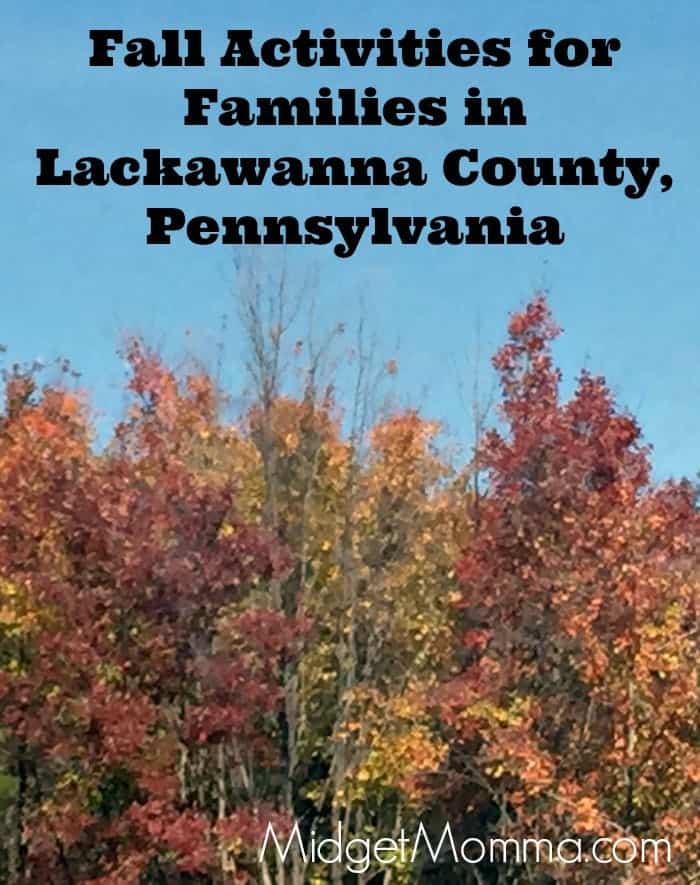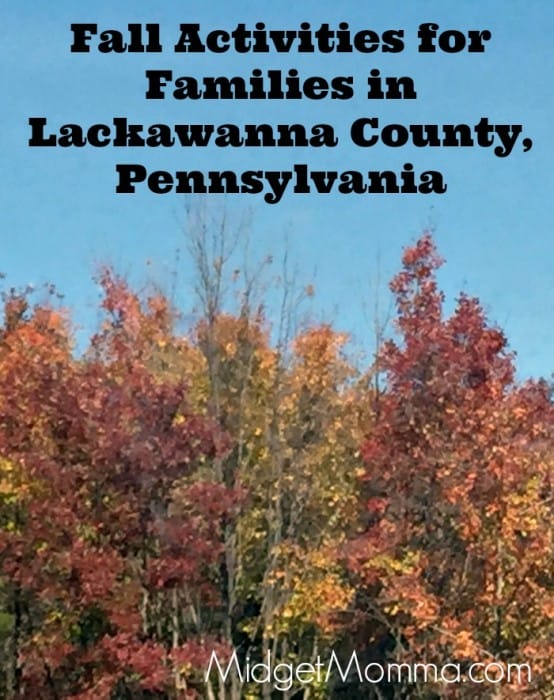 Steamtown National Historic Site
On October 31, visitors can take a 45-minute roundtrip train ride into the dark depths of the Nay Aug Tunnel as they hear spooky stories read by a park ranger. Dating back to 1850, the site also includes several interactive museums featuring rotating exhibits, theater presentations and walking tours that showcase the region's role in the Industrial Revolution. For more information, please visit www.nps.gov or call 570.340.5200.

Roba Family Farms
The Harvest Festival at Roba Family Farms continues until the moon rises on Halloween. Families and friends gather together to enjoy a day on the farm. Visitors can enjoy a festive Halloween Parade, navigate their way through a corn maze, trek around on a pony, pick their favorite pumpkin and ride around the farm aboard a hayride. For more information, please visit www.robafamilyfarms.comor call 570.563.2904.
Haunted Mysteries of the Beyond at The Houdini Museum
Voted as one of the "most haunted places in Pennsylvania" by the Pennsylvania Department of Tourism, fright seekers can join the Houdini Museum for a terrifying evening of paranormal activity in this 150-year-old haunted house. The event starts with experts telling haunting tales of the building's frightening history of the deaths that took place there. Visitors can shiver to experiments in mind reading, clairvoyance, telekinesis and more with audience members. The evening ends with a séance to summon the spirits of the three people who tragically died in the same room. For more information and available dates, please visit www.houdini.org or call 570.342.5555.
Bonfire at the Iron Furnaces
This fifth annual festival explores the roots of Halloween in Celtic Culture while highlighting Northeastern Pennsylvania's industrial past through live music, theater, dance, cultural exhibits and the ceremonial lighting of the bonfire. Vendors will offer fall inspired food and drinks. The Scranton Iron Furnaces' four massive stone stacks remain as part of the Lackawanna Iron and Coal Co., built in the mid 1800's. The festival takes place on October 17 from 6:00 p.m. to 10:00 p.m. For more information, please visit www.scrantonbonfire.com or call 570.963.4804.
Scranton Ghost Tour
The Scranton Ghost Walk and Tour takes visitors through historic downtown where they learn the haunted tales of some of the key downtown historic spots, as well as other nearby locations in what has been called one of the most haunted cities in the country. Visitors can view historic locations believed to be haunted, many of which have been certified by local paranormal investigation group. For more information, please visit www.scrantonghosttours.com or call 570.383.1821.
Halloween with Leatherface
Saturday, October 31, visitors can go for a horrifying ride on the Halloween Express at the Steamtown National Historic Site or take The Trolley of Terror with Dan Yeager, the actor who portrayed Leatherface in "Texas Chainsaw Massacre". These petrifying rides with one of the most infamous monsters will shock even the toughest of those who board the Halloween Express or the Trolley of Terror at their own risk. The Halloween Express runs at 10:30 a.m., 11:30 a.m., 1:30 p.m. and 2:30 p.m. For more information, please visit www.nps.gov/stea/index.htm or call 570.340.5204. Trolley of Terror rides run at 5:00 p.m. and 6:00 p.m. the evening of Halloween. For more information, please visit www.ectma.org or call 570.963.6590.
After the chilling train and trolley ride, visitors can take the Scranton After Dark Walking Tour through the highly haunted streets of Scranton with 'Leatherface' at 7:00 p.m. For more information, please visitwww.lackawannahistory.org or call 570.344.3841.
Halloween evening culminates with a frightening celebration at the Trax Halloween Bash where visitors will rub elbows with "Texas Chainsaw Massacre's" scariest character from 10:00 p.m. to 1:00 a.m. at the beautiful and historic Radission Lackawanna Station Hotel. For more information, please visit www.radisson.com/scranton-hotel-pa or call 570.342.8300.
Circle of Screams
Circle Drive-in, America's only haunted drive-in theater, is showing scary movies every Friday, Saturday and Sunday this October along with three shockingly scary attractions. Along with watching a movie on the giant outdoor screen, guests can board the Hayride of Torture to travel by a tractor-pulled wagon, deep into the dark woods where only the most evil creatures live. They can also tour the Carnival of Fear with 3D glasses, entering a world of spine chilling clowns and ghouls in the most horrifying carnival of their lives or step into the Asylum Vortex to see what insanely disturbing creatures lurk there. For more information, please visit www.circleofscreams.com or call 570.489.5731.
Reapers Revenge
Combining a haunted hayride, dark forest walkthrough, pitch-black indoor walkthrough and zombie maze, Reaper's Forest challenges those who dare to test their fate. Set on 60 acres of land, guests can board the Haunted Hayride to begin their journey into the woods after which they will have to leave the safety of the wagon to enter the Lost Carnival, filled with the souls of sideshow freaks and deranged midway clowns. They will make their way through the Tunnel of Love and venture next into Pitch Black, an indoor maze where they are robbed of their sight. If they make it to the outside world, a maze through a moonlit post-apocalyptic wasteland awaits. For more information, please visit www.reapersrevenge.net  or call 570.253.4746.
Lackawanna County Convention and Visitors Bureau
Located in Northeast Pennsylvania just west of the Poconos, Lackawanna County is named for the picturesque river which flows through it. The county, including its largest city, Scranton, saw rapid growth at the turn of the 20th century by producing coal during the growth of steel production. This early industrial heritage lent the county a rich multicultural heritage as mining drew immigrants from around the world. While the area has recently transitioned to a more diverse economy due to the globalization of the steel industry, the county preserves its cultural mix with various heritage festivals as well as outdoor activities. Lackawanna County is part of the Scranton/Wilkes-Barre, Hazleton Metropolitan Statistical Area.