This is a great beginners puzzle just got the Halloween season and a great craft for the kids. They can design their own puzzle and then they will be able to put it in the order that they belong in to put the puzzle together. You can pick up the popsicle sticks at the dollar tree or a craft store or order them from Amazon. My toddler loved to help me paint the sticks orange so we can put together the puzzle.
Popsicle Stick Halloween Puzzle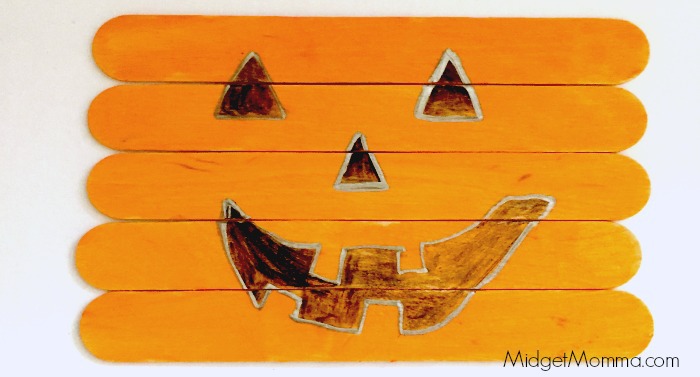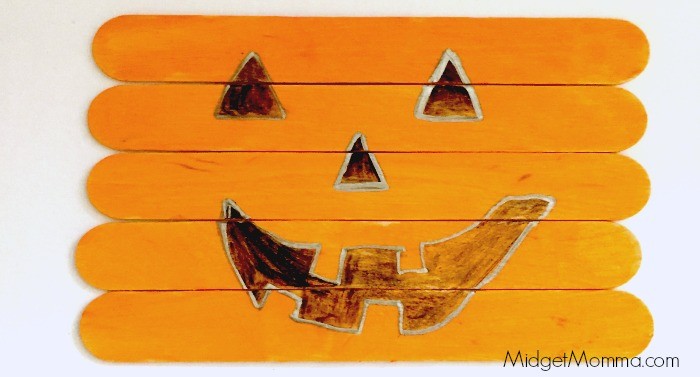 Popsicle Stick Halloween Puzzle Supplies:
Orange paint
Black sharpie
6 popsicle sticks
Popsicle Stick Halloween Puzzle Directions:
Paint the popsicle sticks orange and let them dry.
Line up the popsicle sticks so they are all touching.
Draw your jack o lantern face on the sticks.
When dry just mix the order of the sticks up and let them figure out how to put the face back together again.
You can also let them decorate the puzzle by taping the popsicle sticks together while they are getting their crafty on and then un tape them after they have dried so they can put the puzzle together.
If you are looking for more Halloween fun, then be sure to check these out!