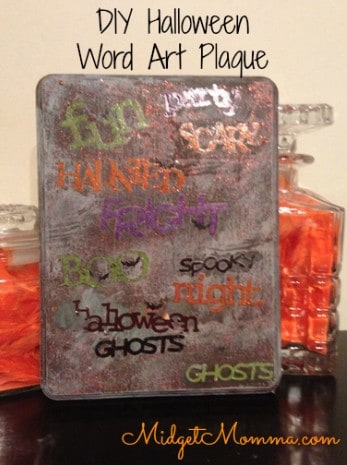 I have been getting all crafty (ok it was one night that I got crafty and did them all because I got "in the mood" and had a ton of fun and all of the projects I did were super easy so if you are like me and not all that crafty you will be happy to know you can make them too with out having to stress out that you are going to make crafts that look like a 5 year old did them. (I am not the only one who feels like that at times when they see other people's awesome craftiness right?!) This DIY Halloween Word Plaque is easy to make and you can put the words how you like and have fun with it.
Supplies for DIY Halloween Word Plaque
Wooden Rectangle (I got mine at AC Moore for $2 but you could also use a scrap of wood)
black paint
White Paint
Orange glitter Paint
Halloween Word rub ons (I got mine at AC Moore)
Paint brushes
Directions for DIY Halloween Word Plaque
Pour a little bit of black pain on to your wood piece, and use your brush to cover it all including the sides before it dries completely do the same with the orange glitter paint. Then let it dry completely and use the while paint and very lightly paint over the whole thing so you have the black and orange seen through the white paint. Once the paint is dry put the word rub ons on per the directions.
Tada! Super easy and it looks super cute too!!
If you are looking for more Halloween fun, then be sure to check these out!