I keep seeing all these pretty decorated house in my Facebook feed filled with sparkles, and oranges and browns and blacks all decorated for fall and Halloween and the "wanna be crafter" in me is screaming
I want some too! 
I know not everyone's is homemade, but some of my friends are insanely crafty and can whip up a beautiful craft that looks like a million bucks in the blink of an eye and well that is one talent that missed me.
However I have decided I am going to try and as I make things I am going to post about them, If I can make them ANYONE can!!
So this Easy DIY Halloween Wreath  is SUPER easy to make and will only take about 10 minutes (even for someone who has no crafty skills what so ever 🙂 )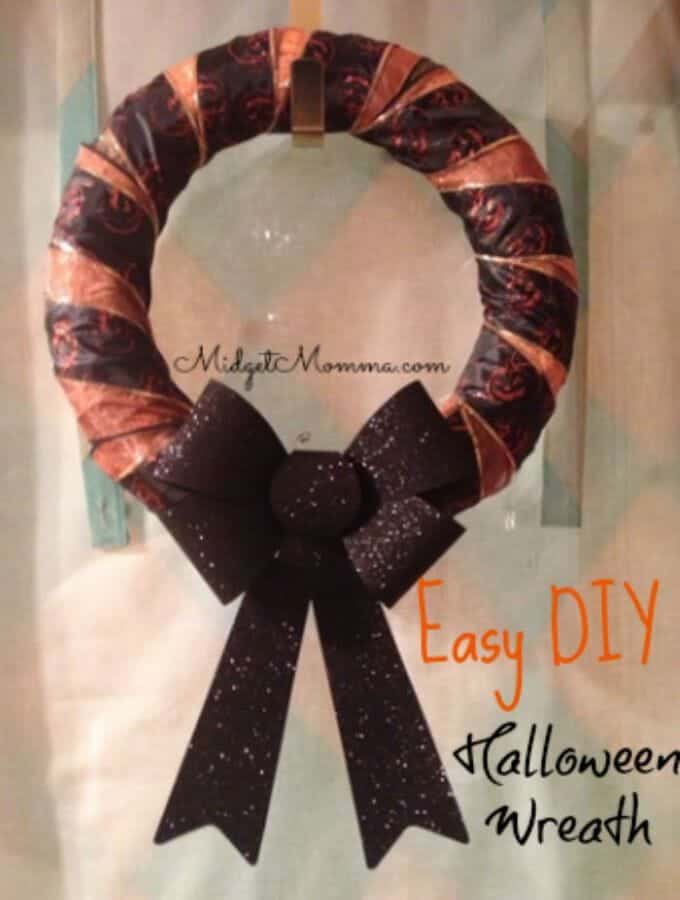 Supplies for Easy DIY Halloween Wreath
3 9 foot long (2.5-3inches wide) spools of thick width Halloween ribbon – You can pick any 3 that you want, I used orange, black and black with pumpkins that I found at the Dollar store for a buck each!
1 16 inch wreath circle (I used a hay one, but they have styrofoam ones you can use too)
Hot glue gun
Glue sticks 
1 Halloween colored bow
Directions for Easy DIY Halloween Wreath
Get your wreath and lay it flat on the table or counter. Get your first color of ribbon and wrap it around your wreath. When you start make sure you use the hot glue gun and glue the start of the ribbon to the wreath. When done wrapping the first ribbon glue the end to the wreath. There will be openings in your ribbon which is what you want to be able to keep going and have the different ribbons be seen. Take the second ribbon and wrap just like you did the first one filling in spots on the wreath, then do the same with the third color of ribbon. While wrapping the wreath make sure you start and end in the same spot with all of the color ribbon so the start and ending is in the same spot. take your Halloween colored bow and use your hot glue to glue it to the front of your wreath at the bottom where you have your ribbon ending. To hang the wreath you can use a hanger or use the option To Hang A Wreath Without Any Damage
If you are looking for more Halloween fun, then be sure to check these out!
Join the newsletter
Subscribe to get our latest recipes right in your inbox every time we post a new one!