This Halloween Slime is a super kid friendly slime recipe that is perfect for Halloween activities! If you are looking for how to make kid friendly slime then you are in luck with this easy Halloween Slime! Plus it is so much fun to play with!
Halloween Slime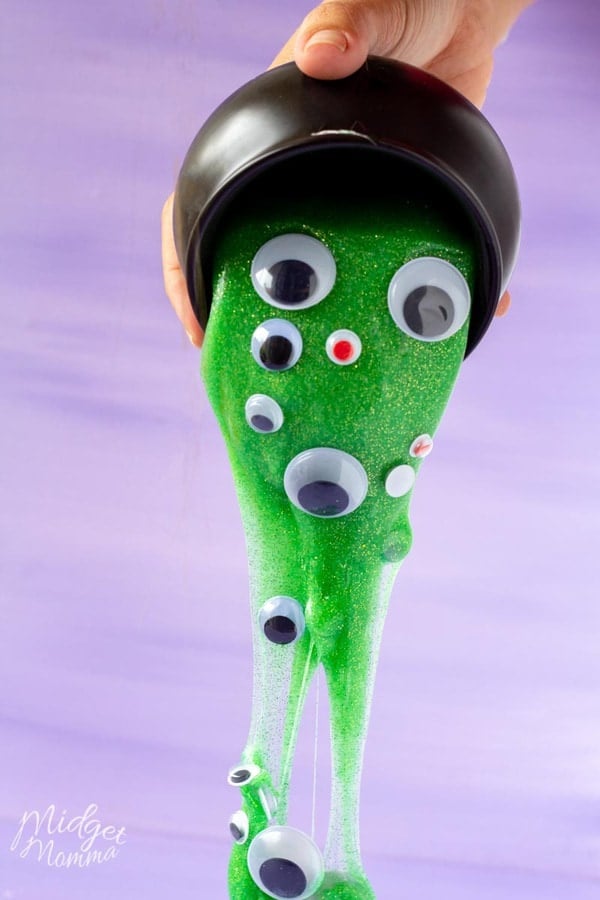 We like to name our slimes, which is the "cool thing" to do in the slime world according to my 13 year old who is slime obsessed, so we have named this Halloween slime "Witches Brew Slime".  Halloween Slime will make awesome Halloween Party treats if you use these cute Mini Black Witch Cauldrons and put the kids created Halloween slime into them.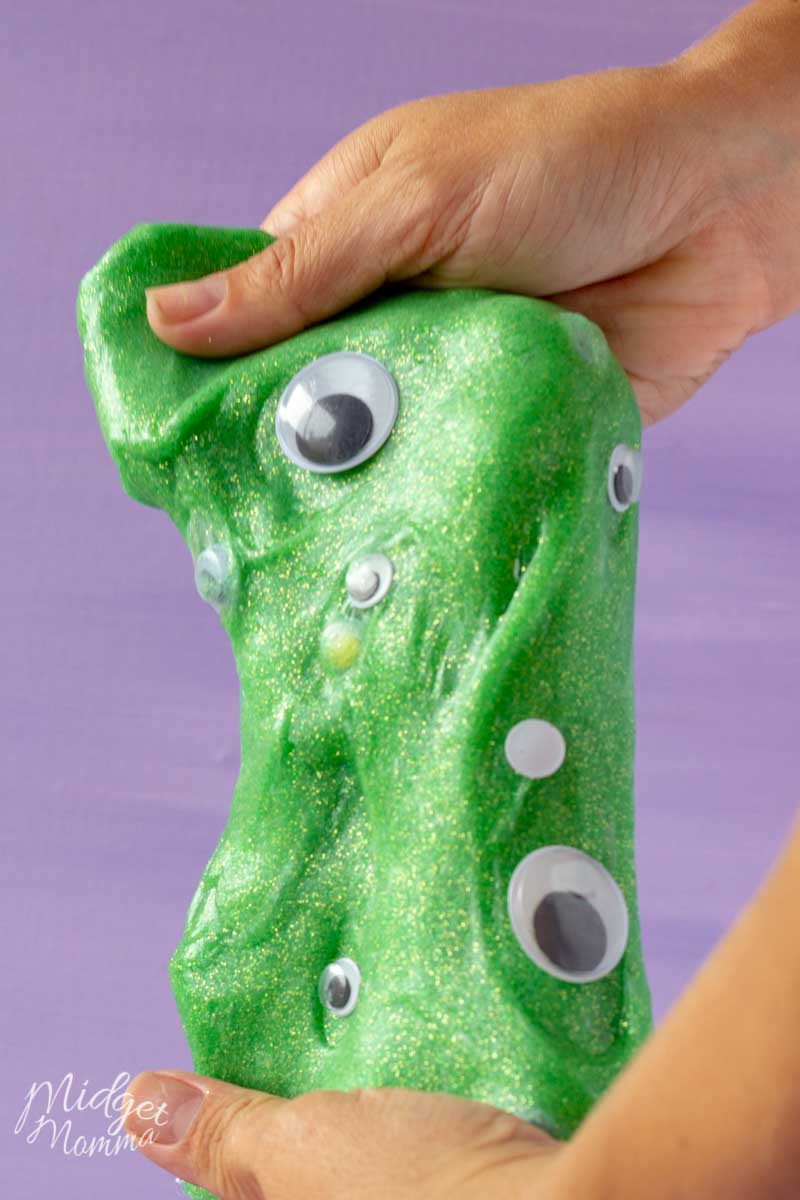 Kid Friendly Slime
To make this halloween slime, you won't need an elmer's slime kit or anything like that! You just need a few simple slime ingredients to make this kid friendly slime and you will have the perfect Halloween slime!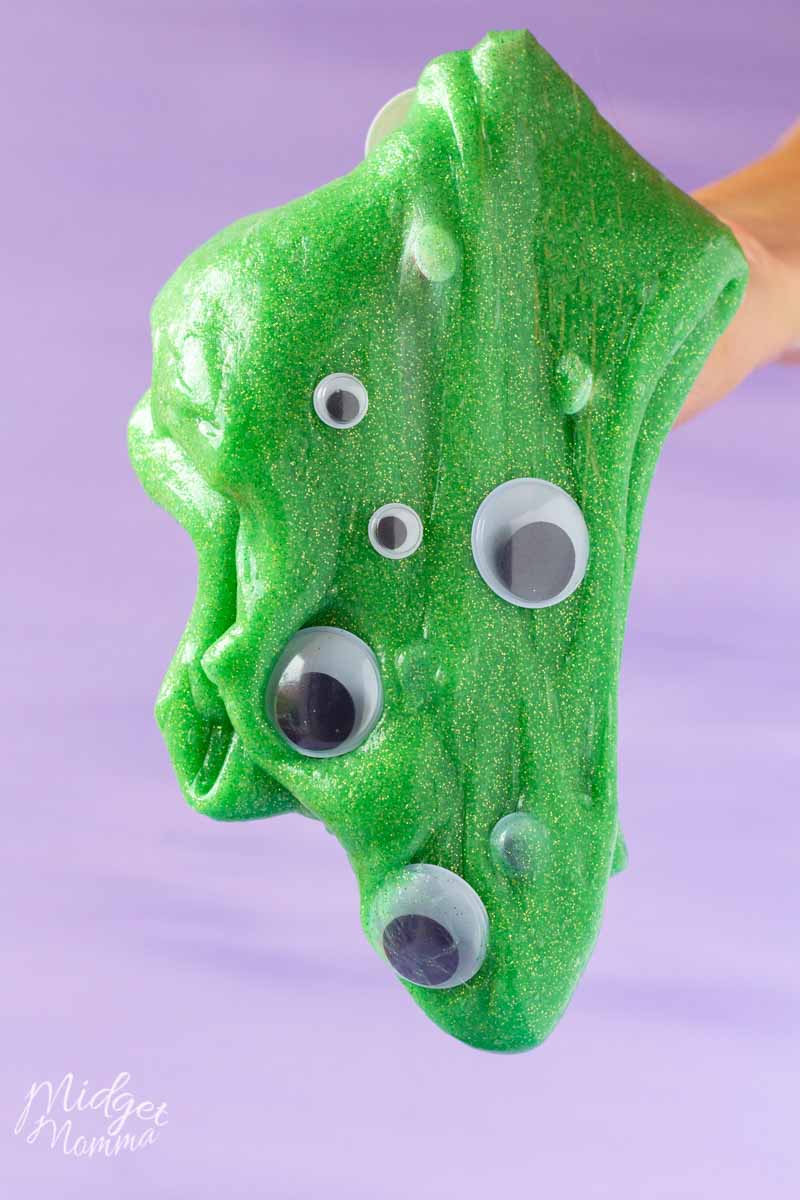 Green Slime
The great thing about this kid friendly slime recipe is that when making the slime you will only use 3 ingredients! All you need is Elmer's green glitter glue, baking soda and contact solution. I really love the green slime color you get with this slime recipe. The green slime color is bold but with a sparkle and looks amazing with the googley eyes!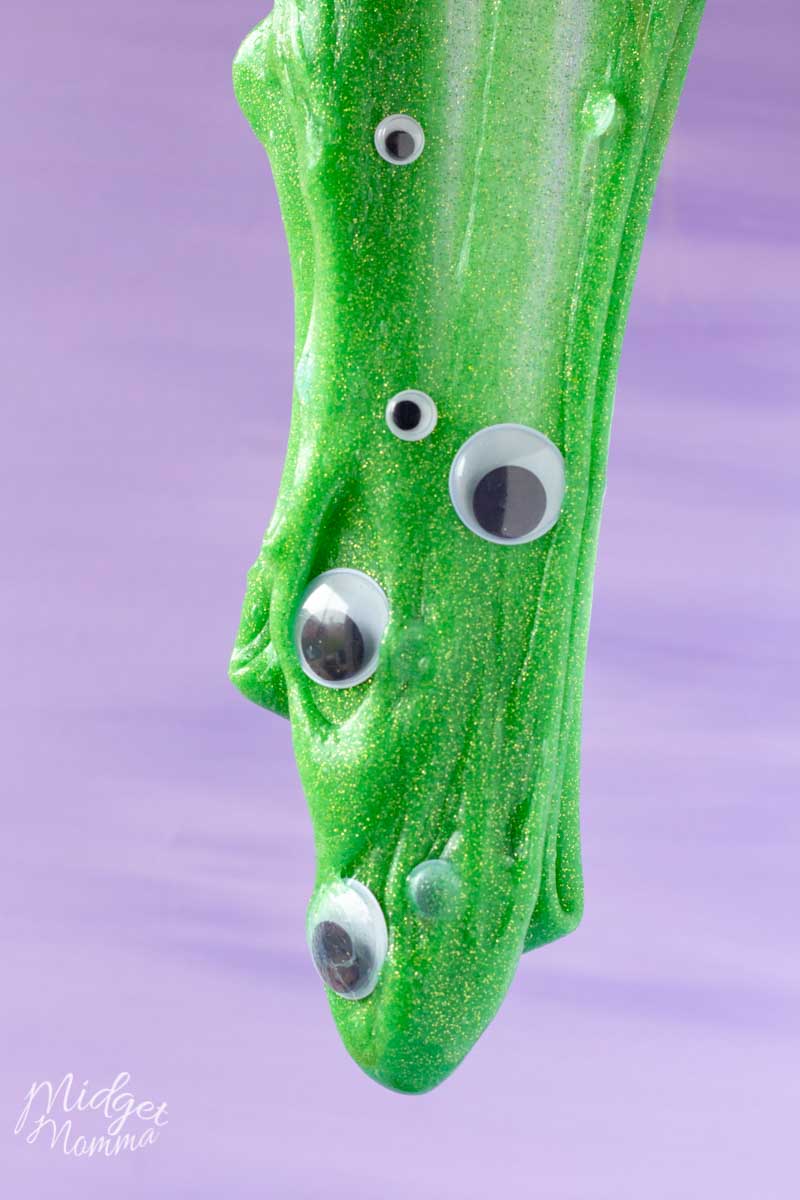 Then once it is made you will add in the googley eyes. If you want to add different things like spiders you totally could, but we love googley eyes in our Halloween Slime!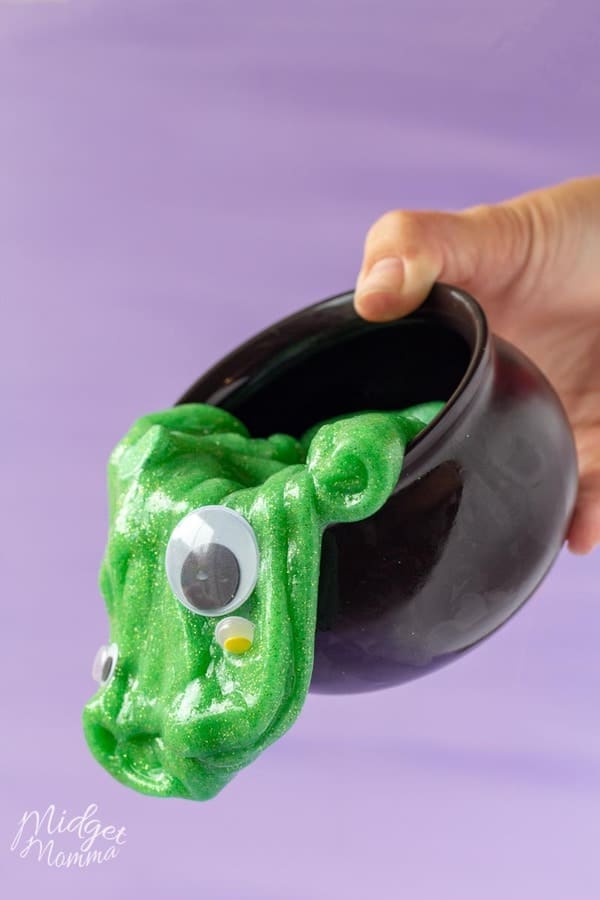 If you have never made slime with glitter glue before here are a few tips to make sure you have an easy and fun slime making time.
Slowly add the contact solution into the green glitter glue. Adding it in to quickly causes it to get firm. You may not use all of the contact solution or you might need a little bit more contact solution to get the consistency the way you like it.
We like using plastic spoons instead of metal ones when we are making slime. We find that it stirs better with a plastic spoon.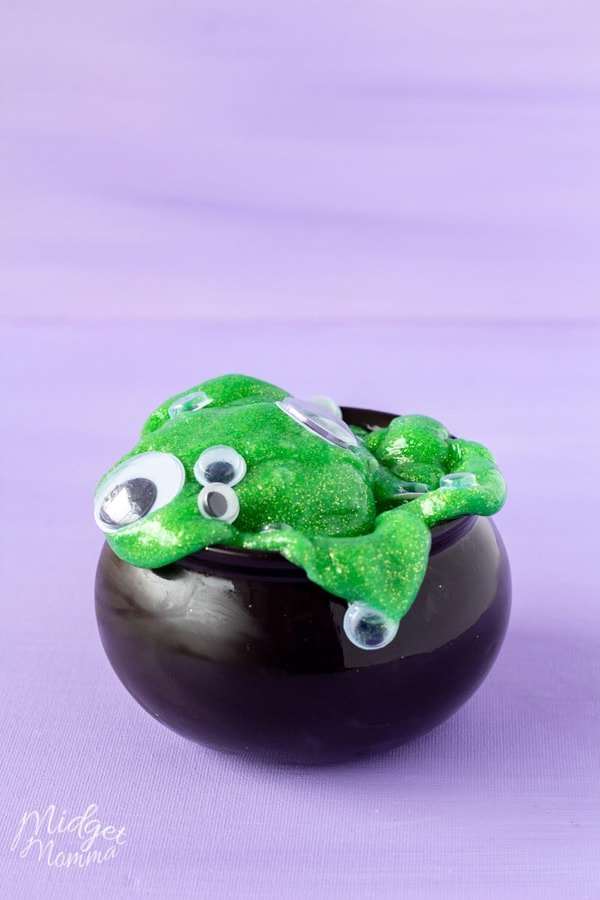 When you are done making your halloween slime, store it in an airtight container. When you go to play with your green slime again you may find a little bit of liquid in the container too. Just mix in the liquid back into the slime with your hands.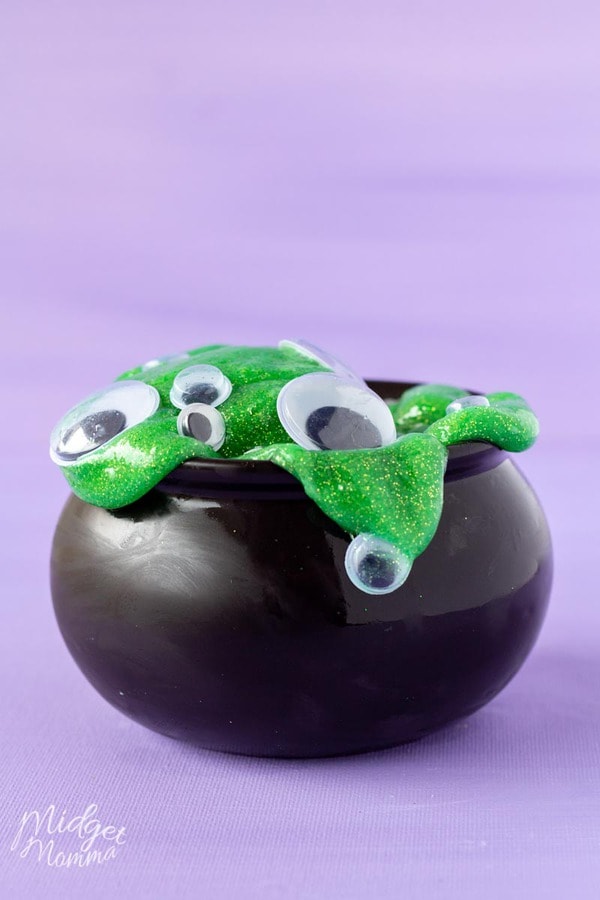 If you are wanting to make it super stretchy clear glue slime after it has been stored in an airtight container, place it in warm water for 30 seconds to clean it up and get it stretchy again.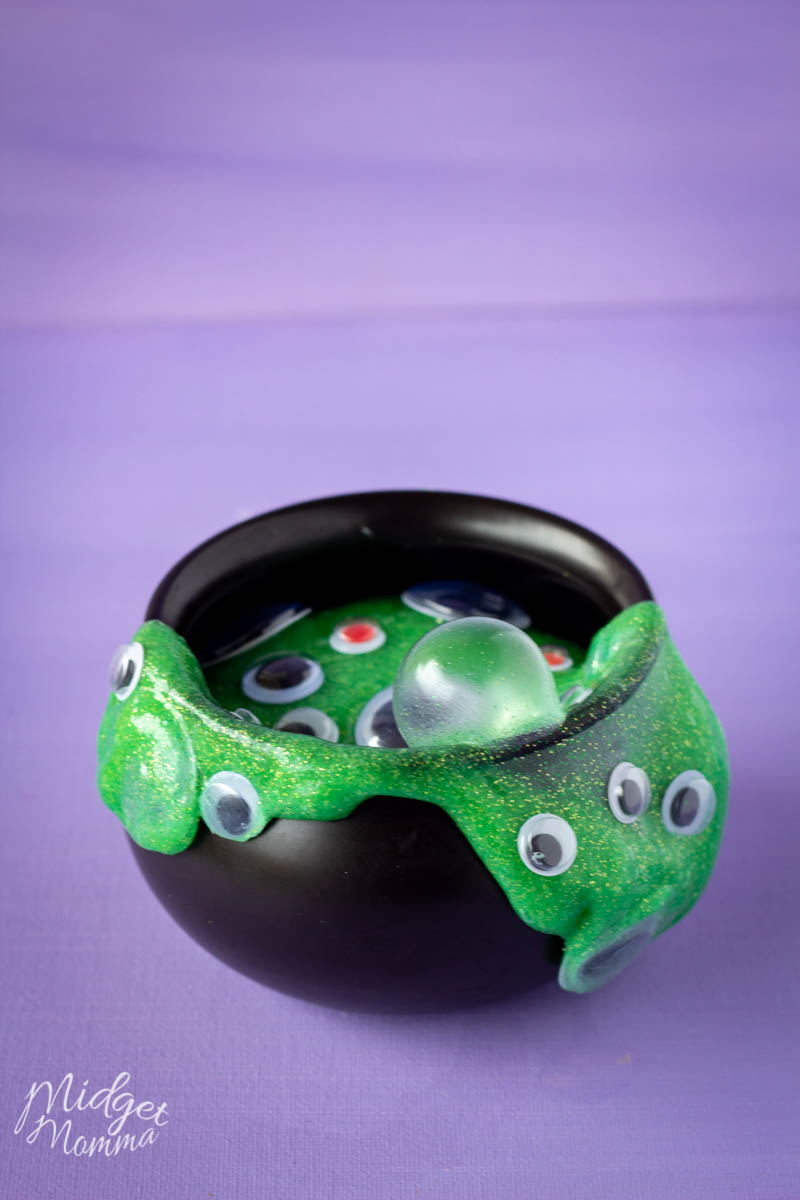 How to Make Halloween Slime
Halloween Slime Ingredients
4 fl oz Elmer's green glitter glue
1/2 Tablespoon of Baking Soda
1/2 Tablespoon of Contact Solution
Googly eyes
Halloween Slime Directions
In a medium mixing bowl stir together the glue and baking soda with a rubber spatula.
Stir in half of the contact solution and see if it is stiff enough if not add the remainder of the solution.
Add in some googly eyes.
Take the slime out and begin kneading with both of your hands.
If you are looking for different ways to make slime you are in luck! We have lots of fun slime activities and recipes that you can make! 
If you are looking for more Halloween fun, then be sure to check these out!

This post may contain affiliate links. Please read my disclosure policy here