Easy DIY Halloween Decoration | Hanging Boo Decoration
I got on a crafty kick tonight and along with the Easy DIY Halloween Wreath I made a few other things that you will see this week including this super cute Hanging Boo Easy DIY Halloween Decoration! It was super simple and really you can not mess it up:)
You can find all the supplies you need at the craft store or on Amazon.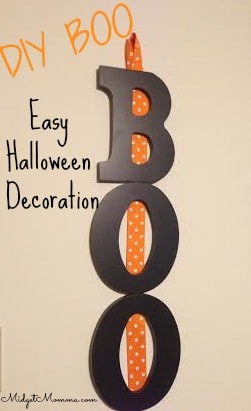 Supplies needed for Easy DIY Halloween Decoration | Hanging Boo Decoration
1 Wooden B letter
2 Wooden O letters
Glue gun
Hot glue sticks
Orange 2.5 inch wide ribbon
Easy Easy DIY Halloween Decoration | Hanging BooDecorations
Step 1: Lay letters upside down on a flat service.
Step 2: Measure your ribbon to the length of your letters
Step 3: Using your hot glue gun, put glue in the middle of the "B" at the top and then place the top of your ribbon, then put glue on the bottom of the "B" and lay more of the ribbon on it, continue until all letters are glued to the ribbon.
Step 4: Cut a 6 inch piece of the ribbon and use it to make a hoop and using the glue gun glue it to the top of the "B".
Step 5: Let the glue dry and then flip over and its done! Then all you need to do is hang it up 🙂