If you have a kiddo who loves Monsters Inc then you are going to love this awesome Boo From Monster Inc Costume that you can make at home! This easy DIY Boo From Monster Inc Costume is totally adorable when the kiddos are wearing it too!
This year for Halloween I wanted to dress the kids up to match our dog who is the best dog ever year but my husband had a different idea. He wanted her to be something that she loved which was Monster Inc. My daughter is in love with Monster Inc. I wish Monster University came out this year instead of last year because that it would be easy to find her so many monster inc items.
Boo Monster Inc Costume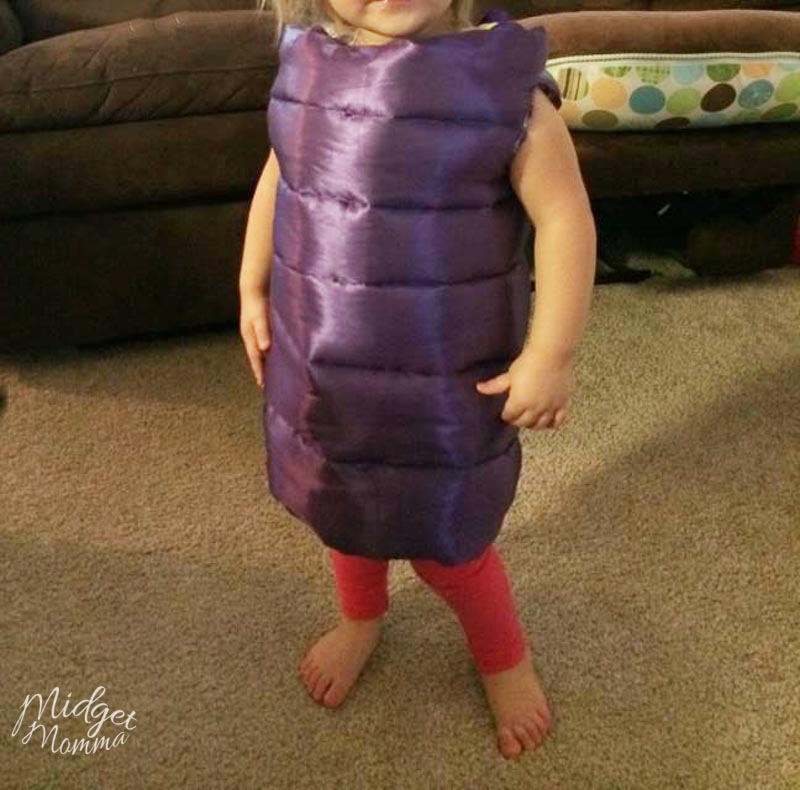 The only problem with that is they never made a boo costume! One of my friends had a sully outfit for the baby so that was covered!
I am not a sewing expert at all but I know how to use my sewing machine. One thing i kept telling myself is it doesn't have to be perfect it is just for my daughter who is 2. I figured two monsters made this costume out of a chair, mop and lamp that I could put it together too!
I recommend get matching purple thread, I forgot to pick some up and my nearest store that has the thread is 45 minutes away and I thought it would make that big of a different but it did. The best thing is all of my mistakes will save you from making them.
To go along with this awesome DIY Boo From Monsters Inc. Costume make sure you also check out the DIY Mike Wazowski costume and DIY Sully Costume!
Looking for more Kids Disney Costumes? You are in luck! Check out these 25 DIY Kids Disney Costumes!
DIY Boo From Monster Inc Costume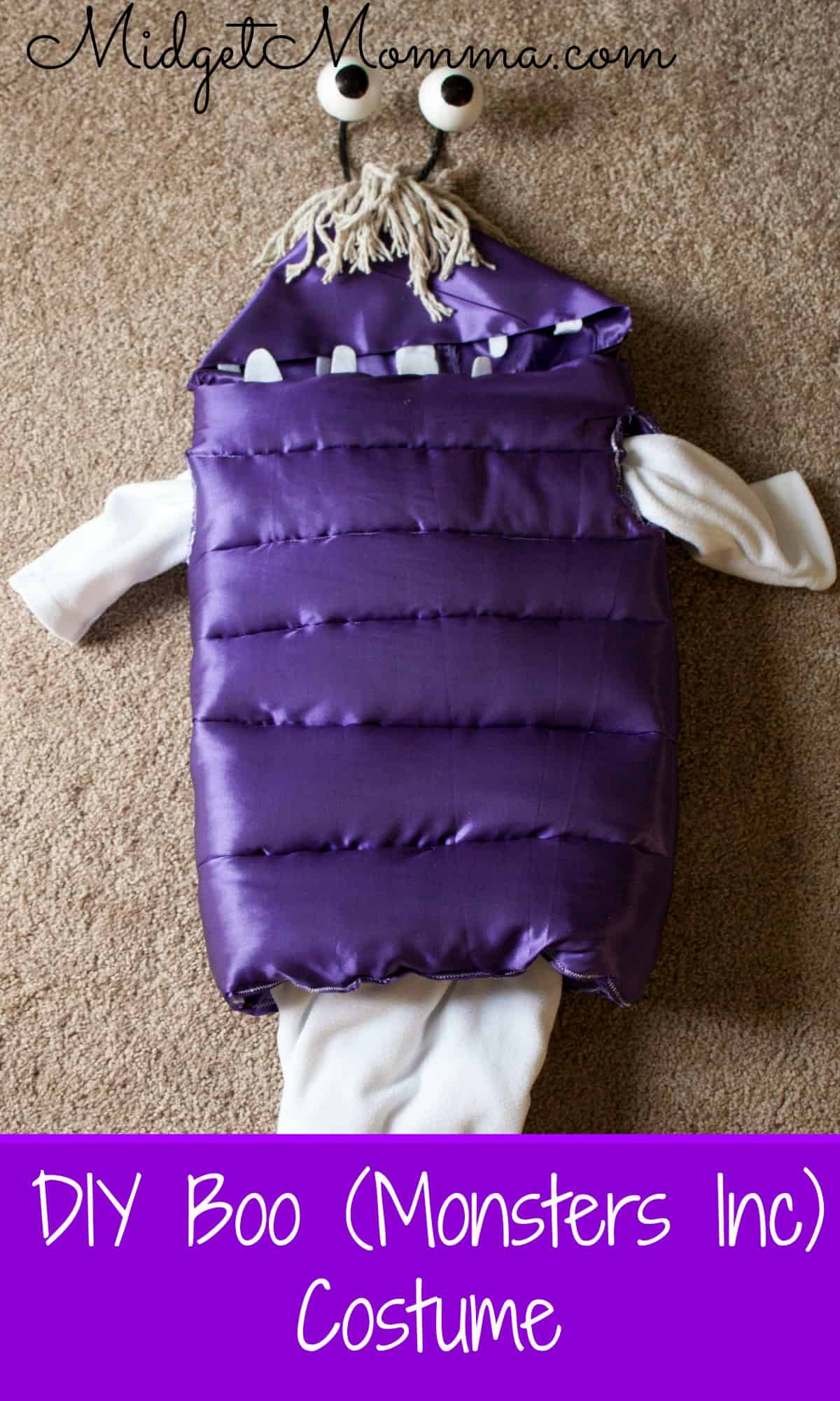 Supplies
1 1/2 yards of purple shinny fabric
matching purple thread
1 package of batting ( I used the sheet kind)
sewing machine
straight pins
sewing needle
1 mop head
2 small Styrofoam balls
black pipe cleaners
glue
black sharpie
matching ribbon
velcro
white long sleeve shirt and pants
white felt
 How to Make Boo Monsters Inc Costume
Fold your fabric in half, than measure the fabric around your child. Make sure you add an extra six of inches of fabric (which I didn't do so mind turned out a little tight.) Place the batting in between the fabric. Fold the fabric in around the edges and pin them shut.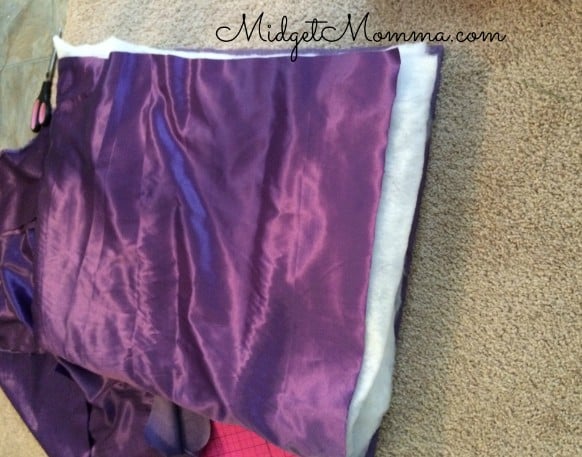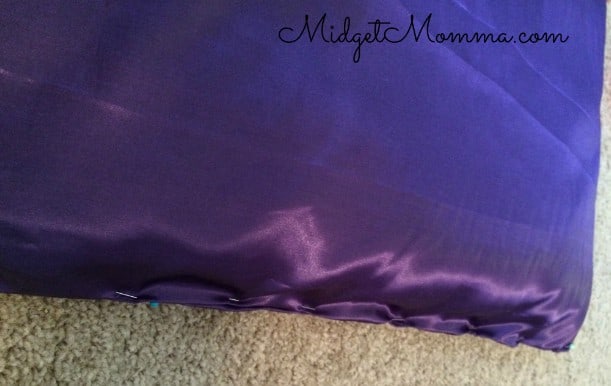 Sew around the open edges with a zigzag stitch. Measure where you need to place the arm holes than mark them. Cut a crescent shape large enough for you child's arms than sew the edges shut. With a straight stitch ever 3 to 4 inches across the body to create a pillow effect. Now you can either keep the back close with ribbon ties or Velcro. For the ribbon ties you need eight inches of ribbon on each side every few inches. Or you can attach Velcro to each side.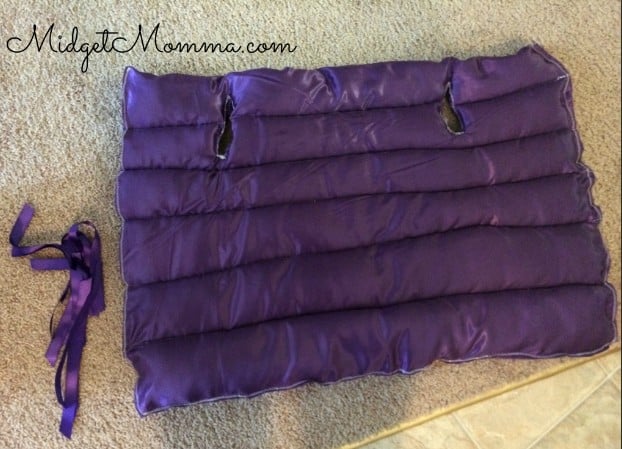 For the hood you need to fold your fabric in half and cut out a piece that is a 9in by 24in rectangle. With the folded edge as one of your long edges. Fold it in half so you have a 9in by 12in rectangle. Sew along the edge opposite of your finished edge with a zigzag stitch. Turn it inside out. Apply a strip of Velcro to the bottom of the outside of the hood. Cut the matching strip of Velcro in half and attach it to the inside  back top of the body of the costume.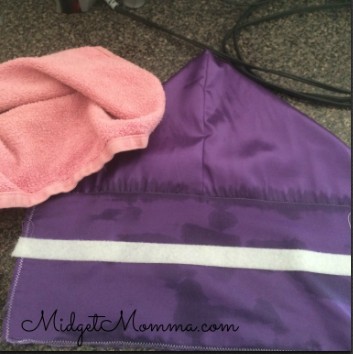 Twist four pipe cleaners together and stick them into one balls, repeat with the other ball. Using the sharpie color the eye balls. Cut piece of the mop and sew it to the hood. Sew the bottoms of the pipe cleaner into the top of the hood, hiding the ends in the mop hair. Cut out teeth shapes out of the white felt and sew them on.
If you are looking for more Halloween fun, then be sure to check these out!