If you are heading to Orlando I suggest making Kennedy Space Center a MUST do. Even if you are staying at Universal or Disney and staying on property rent a car for the day and take the drive to Kennedy Space Center. It is so worth it, the learning the kids will do, the behind the scenes things you will see and learn about will really spark something in the kids. Ever since our visit all three of my kids have been wanting to know more, more and more about space, planets, traveling in space, space ships and anything else they can come up with to google and ask Tom and I questions about.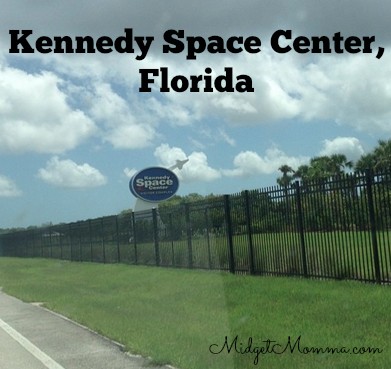 Kennedy Space Center is about 45 minutes from Orlando, but along the way you will see some very awesome scenery and the drive goes by quickly, but know ahead of time you will need quarters and dollar bills for the tolls 🙂 (We almost forgot lol)
When you get to Kennedy Space center the mood just hits you and it is totally awesome! We have not talked to our kids much prior to this trip about space and planets so we started at the Early Space building. If your kids are still new to it start there, there is sooo much that you can see from the original space suits, to artifacts and even a space vehicle. It really got the kids ready to go learn more through out the day.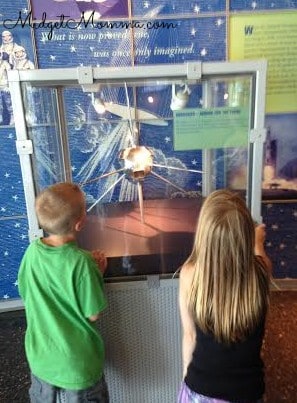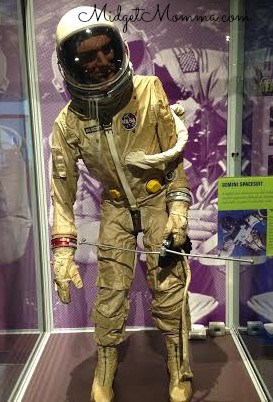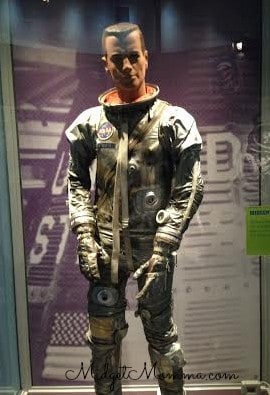 The bus tour is a MUST do! While you might think the kids will not enjoy sitting on a bus listening to someone talk my kids are 9,7 and 4 loved it. They take you back to restricted areas where us normal people can not normally go and you get an up close look at where the launches happen, the landing pads and they explain to you how they get a space ship from where it is built to the launch pad and how the launch works. It is such a fun and educational experience that you do not want to miss.
The final stop on the bus tour is the Apollo/Saturn V Center. Upon entering you get to have an awesome show, that takes you back in time to a launch and you see the real room where they dispatched and communicated to those on the ship. You even get to feel what it is like in the surrounding area when a ship launches. You will see one of only three Saturn V rockets in existence displayed horizontally across the length of the building, it is completely amazing!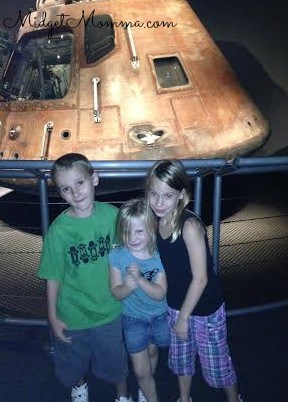 We stopped for lunch there and sat outside in the area where people sit to watch a launch happen. The closest you can be during a launch and be safe is 3 miles away! (Just a fun space adventure fact for you).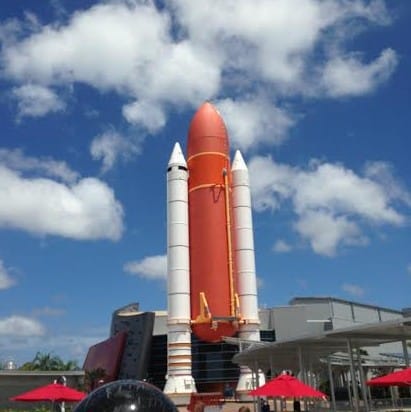 Our next stop was Space Shuttle Atlantis (if you are taking the bus tour you will be dropped off right in front of this building when you are done). You will see the actual Atlantis shuttle in this building, it is amazing. I will seriously leave you speechless when you see it! There are over 60 interactive activities for everyone to do! Our favorite thing was the launch simulation, McKenzie, Logan and I went on the simulation and it is so you have the experience to feel what an astronaut feels when they are on a launch is an amazing experience. They have slides for the kids (ok so Tom and I went on them too), they have a space shuttle climb that you climb through and feel what it would be like in a close tight area like those on a shuttle. They have so much information and fun that you can easily spend 2 hours in this building, so plan for it because you will want to see everything there is and will be in awe with the amazing information and hands on learning that you can do. It really is a learning experience not just for the kids but for the adults as well.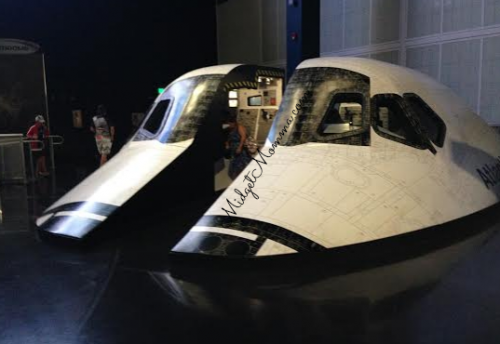 One thing we missed and I am super bummed about is the Astronaut Encounters! You get to meet a real astronaut with a short presentation and Q & A session followed by a photo opportunity with our visiting astronaut. Depending on the day that you are there depends on who the astronaut will be. Astronaut Encounters run approximately 30 minutes, but there are only three per day, so you would need to plan it into your day.
Another stop for the kiddos is there is a children's play dome and also Angry Birds Space Encounter, the kids were so absorbed with the hands on learning that they were doing and everything that they were seeing that we only had a few minutes in the Angry Birds Space Encounter, which has fun games and a fun maze for the kids to enjoy. The play dome we never made it to, but we walked past it and it looks awesome for the kids to have a place to get some energy out.
The next time we are in Orlando (which I can only hope is sooner rather then later)  we will be making a visit back to Kennedy Space Center, it was the perfect combination of education and fun for the whole family and weeks later the kids are still talking about it and are still wanting to learn more about space, and space travel.
Disclaimer: Kennedy Space Center provided us tickets for our trip. No compensation was received and all opinions are 100% my own.